Crossfire Trail is a 2001 Western television film directed by Simon Wincer and starring Tom Selleck, Virginia Madsen, and Wilford Brimley. Based on the 1954 Louis L'Amour Western novel of the same name, the film is about a wanderer known for his honesty and steadfastness who keeps his word to a dying friend despite great adversity to himself. The tagline of the picture is "A hero is measured by the enemies he makes." Crossfire Trail was originally broadcast on Turner Network Television on January 21, 2001.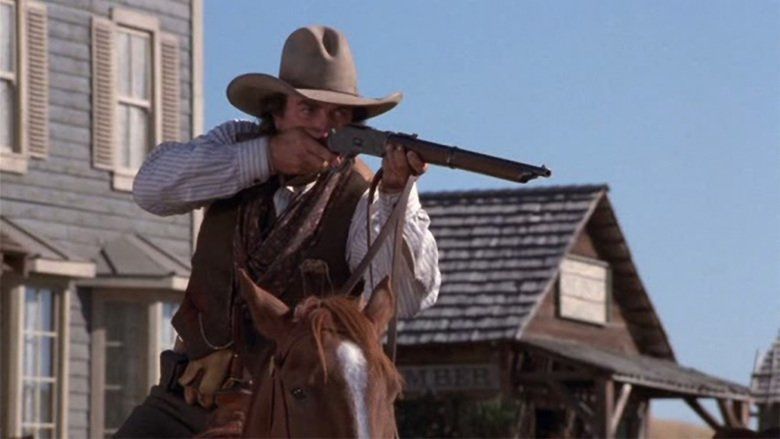 Selleck has also starred in other L'Amour novels adapted to films, including The Sacketts and The Shadow Riders with Sam Elliott, another veteran of L'Amour motion pictures. As Rafe Covington in Crossfire Trail, Selleck is believable in his portrayal of the laid-back cowboy certain in his beliefs, which he reveals were taught by his mother who hoped that her son would have become a Jesuit priest. Covington says that he has difficulty with the lesson on "turning the other cheek" when faced with evil.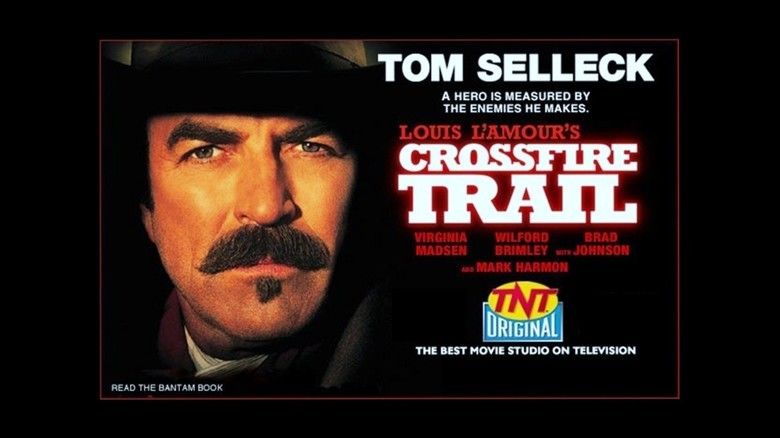 L'Amour's short story "Hondo" was the first of his voluminous works converted to film through a 1953 picture starring John Wayne and Geraldine Page. Hondo won L'Amour an Academy Award nomination. His books eventually sold over 260 million copies.
Crossfire Trail premiered to 12.5 million viewers, making it the most-watched made-for-cable television movie ever, until the premiere of High School Musical 2 in 2007.
In 1880, Rafe Covington (Tom Selleck) is with his best friend Charles Rodney (Crossfire Trail) on a vessel bound for San Francisco. However, Rodney picks a fight with the ship's captain (Mark Acheson), and the captain beats Rodney nearly to death. On his death bed, Rodney asks Covington to take care of his Wyoming ranch and his wife, Anne (Virginia Madsen). Covington promises, and Rodney dies peacefully. Covington, full of fury, beats up the captain, and then he and his other two best friends, Rock Mullaney (David O'Hara) and J.T. Langston (Christian Kane) head off to Wyoming, where they find the ranch deserted. They immediately start to take care of the ranch.
Covington heads off to pick up supplies in the local town, which is run by Bruce Barkow (Mark Harmon), who is wooing Anne Rodney, who has received news of her husband's death. Covington makes friends with Joe Gill (Wilford Brimley), an old cowboy who was a friend of Rodney's. Covington meets Barkow, but makes enemies with the Taggart brothers (Mike (Patrick Kilpatrick) and Luke (Rex Linn)) and Snake Corville (Marshall R. Teague). Covington meets with Anne, and tells her of what happened, but she refuses to believe him. Covington picks up the supplies, and Gill agrees to help out at the ranch.
Covington, Rock, J.T. and Gill round up the cattle and get the ranch going again, but this makes Barkow angry. Covington repeatedly tries to convince Anne that he was there when Rodney died and he is here to look after her and the ranch, but again and again she refuses to believe him. One day, Covington, Rock, J.T., and Gill go into town for a drink, and Covington buys a new Winchester rifle that was meant for Rodney. However, Mike Taggart challenges Covington to a fight. Taggart shoots at Covington and misses; Covington returns fire and kills Mike. Snake jumps out and tries to shoot Covington, but Covington shoots him, too. Covington rides out and Luke Taggart swears vengeance on Covington.
Angry at everything that has been going on, Barkow gives Covington, Rock, and J.T. three days to clear out of the ranch, or he will force them out. He offers Gill to stay, but Gill openly sides with Covington. Barkow hires Bo Dorn (Brad Johnson), one of the best gunfighters in the area. The three days run out, and Covington has still not cleared out, and Barkow sends Dorn to the ranch. Dorn takes cover among the trees using a sniper rifle. Anne rides to the ranch, and tells Covington that she believes him, and has had enough of Barkow. Anne shows Covington just how she feels when she kisses him. Just then, Dorn shoots and kills J.T.
Anne rides back into town while Covington, Rock, and Gill bury J.T. In town, Barkow forces Anne to marry him, therefore giving him control of the ranch. Barkow takes Anne to a hotel room, where he assaults her and knocks her out. He locks her in the room. Having had enough, Covington, Rock, and Gill load up and ride into town. Barkow, Dorn, and Barkow's thugs open fire and the battle begins.
While Rock, Gill, and the general store owner fight Barkow and his men, Covington takes on Dorn in a tense shootout. Dorn shoots Covington in the shoulder, but Covington plays dead. Just when Dorn is not looking, Covington shoots him twice. Covington approaches Dorn, who slowly dies. Covington holsters his weapon. Barkow suddenly appears and shoots Covington again in the back. Barkow prepares to finish off Covington, but Anne shoots Barkow as well with Covington's rifle, saving Covington.
Meanwhile, Rock, Gill, and the general store owner kill Barkow's thugs. However, Gill and the general store owner are both shot and wounded, but survive along with Rock. With Barkow and his thugs taken care of, Anne nurses Covington back to health and the town returns to a peaceful life. It is implied that Covington and Anne get married.
Tom Selleck as Rafe Covington
Virginia Madsen as Anne Rodney
Wilford Brimley as Joe Gill
David O'Hara as Rock Mullaney
Christian Kane as J.T. Langston
Barry Corbin as Sheriff Walter Moncrief
Joanna Miles as Melissa Thompson
Ken Pogue as Gene Thompson
Patrick Kilpatrick as Mike Taggart
Rex Linn as Luke Taggart
William Sanderson as Dewey (the bartender)
Daniel Parker as Taggart Gang (as Daniel T. Parker)
Marshall R. Teague as Snake Corville (as Marshall Teague)
Brad Johnson as Beau Dorn
Mark Harmon as Bruce Barkow
Carmen Moore as Dancing Flower
James Nicholas as Chief Red Cloud