Initially a member of the UK Independence Party (UKIP), Mackinlay served as deputy leader of UKIP in 1997, before joining the Conservative Party in 2005. Mackinley stood as the Conservative candidate in Kent at the inaugural police and crime commissioner elections in 2012 and was selected in July 2014 as the Conservative candidate for South Thanet at the 2015 general election.
In May 2015, he was elected as the Member of Parliament (MP) for South Thanet, defeating UKIP leader Nigel Farage. He was reelected in the general election of June 2017.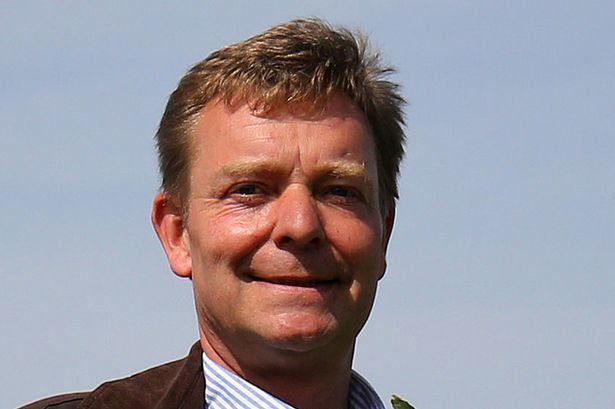 Of Scottish heritage, Mackinlay was born in Chatham and raised in Kent. After attending Rainham Mark Grammar School, he went up to the University of Birmingham, where he read zoology and comparative physiology. After graduating with the degree of BSc, he qualified as a chartered accountant (FCA) and as a chartered tax adviser (CTA) and is now partner in a Kent firm.
Mackinlay now mainly lives in Ramsgate.
Mackinlay first became engaged in politics after observing the impact of Britain's membership of the European Exchange Rate Mechanism on clients and friends who were going bankrupt as a result of soaring interest rates. After hearing Alan Sked, a professor at the London School of Economics, speak on a BBC politics programme, he was persuaded to stand at the 1992 general election as an independent in support of the Anti-Federalist League, receiving 248 votes in Gillingham.
When the Anti-Federalist League evolved into the UK Independence Party (UKIP), Mackinlay was appointed its founding treasurer and Vice-Chairman. He stood again in Gillingham at the 1997 general election, receiving 590 votes.
In July 1997, Sked resigned as UKIP leader, nominating Mackinlay as his successor. Mackinlay decided that the only way to keep the party going was to rework its constitution and hold a leadership election. Mackinlay stood in the election against Michael Holmes and Gerald Roberts. Holmes, with the backing of Nigel Farage, easily won and appointed Mackinlay as his deputy.
After the European Parliament election in 1999, Holmes dismissed Mackinlay and Party Secretary Tony Scholefield at an NEC meeting, which prompted an immediate vote of no confidence in Holmes, who agreed to resign the following month. After extensive wrangling, Jeffrey Titford was elected as the new party leader; Mackinlay stepped down as deputy, but remained on its NEC.
Mackinlay remained active in UKIP, standing in Totnes at the 2001 general election, at which he received 6.1% of the vote, then back again in Gillingham in 2005, where he polled 2.6%. He also stood unsuccessfully in the 1994, 1999 and 2004 European elections.
In July 2005, Mackinlay defected from UKIP to the Conservative Party. He was elected as a Conservative councillor on Medway Council in 2007 and re-elected in May 2011 with an increased majority.
In 2010, he fell out with Kent Police over Special Constable David Craggs, who was advised that there would be no conflict with him standing for election to Medway Council but, after being elected as a councillor, was informed that he could not hold both roles. In May 2011, Mackinlay was appointed a member of Kent Police Authority.
In June 2012, Mackinlay was selected as the Conservative candidate for the office of Kent Police and Crime Commissioner. In the November 2012 county-wide poll, he was defeated by the former Kent Police Authority chair Ann Barnes; Barnes: 114,137, Mackinlay: 60,248, on a turnout of just under 16%,
In 2015, he was elected as Member of Parliament for South Thanet at the general election, where he stood against UKIP leader Nigel Farage and comedian Al Murray among others. Conservative Laura Sandys had represented the constituency in the House of Commons. In July 2015, he was elected as a member of the Work and Pensions Select Committee.
In 2016-17, the United Kingdom general election, 2015 party spending investigation revealed that the Conservative Party had spent many thousands of pounds centrally on campaign buses to transport activists, and hotel accommodation for the activists, who went to campaign in marginal constituencies, including South Thanet. The expenditure on the buses was declared by the Conservative Party on its national declaration of "Campaign Spending", but in some cases the hotel accommodation was not declared at all as election spending when it should have been. In addition, there is controversy about whether the expenditure, both on the buses and the accommodation, should have been declared on the declarations of expenditure for the constituency made by each candidate's election agent. Kent Police began an investigation into the spending returns of Mackinlay following the Channel 4 report.
In a court case on 1 June 2016, brought by Mackinlay and his election agent Nathan Gray, District Judge Barron granted more time for investigation saying "In this case, the allegations are far-reaching and the consequences of a conviction would be of a local and national significance with the potential for election results being declared void."
On 14 March 2017, it was reported that Mackinlay had been interviewed under caution by officers investigating the allegations. The day after, Channel 4 News published leaked emails, alleging that Theresa May's Political Secretary Stephen Parkinson, and Chris Brannigan, Director of Government Relations at the Cabinet Office, also took a key role in Mackinlay's campaign. In 18 April 2017, Kent police passed Mackinlay's file to the Crown Prosecution Service to be considered for prosecution. The CPS decided on 2 June that it was in the public interest to authorise charges under the Representation of the People Act 1983 against three people: Mackinlay, his agent Nathan Gray, and a party activist, Marion Little. Appearing at Westminster Magistrates' Court on 4 July 2017, the three pleaded not guilty and were released on unconditional bail pending an appearance at Southwark Crown Court on 1 August 2017. The investigation of Party Treasurer Simon Day remained ongoing. On 15 August 2017, a trial date of 14 May 2018 was set for Mackinlay on charges relating to his 2015 general election expenses, alongside Little and Gray.
Mackinlay was appointed as a Justice of the Peace on the North Kent Bench in 2006.
A Freeman of the City of London, he serves as a trustee of three Kent charities: Chatham Historic Dockyard Trust, Foord Almshouses in Rochester, and Medway Sculpture Trust.
UK Parliament elections
Police and Crime Commissioner elections
Local elections
European Parliament elections