Covid-19
Cor Fuhler




Musician








Corkestra, The Flirts, Lighton




Gert‑Jan Prins, Tony Buck, Keith Rowe, Thomas Lehn, Marcus Schmickler




M.I.M.E.O. (Since 1997)



Cor Fuhler (born 1964 in Barger-Oosterveld, Drenthe, Netherlands) is a Sydney-based Dutch/Australian improvising musician, composer, instrument buider, inventor, visual artist and academic, whose practice is an interdisciplinary one crossing into installation, dance, puppetry, comic strip, music theatre and site-specific performance. His primary instrument is the piano (frequently prepared piano) which he explores through manipulating sound with various electromagnetic string stimulators like ebows (which he pioneered from 1991), and motorized actuators. Fuhler also performs on guitar, turntables, analogue synthesizer, and he is the inventor of the keyolin (a hybrid violin/keyboard).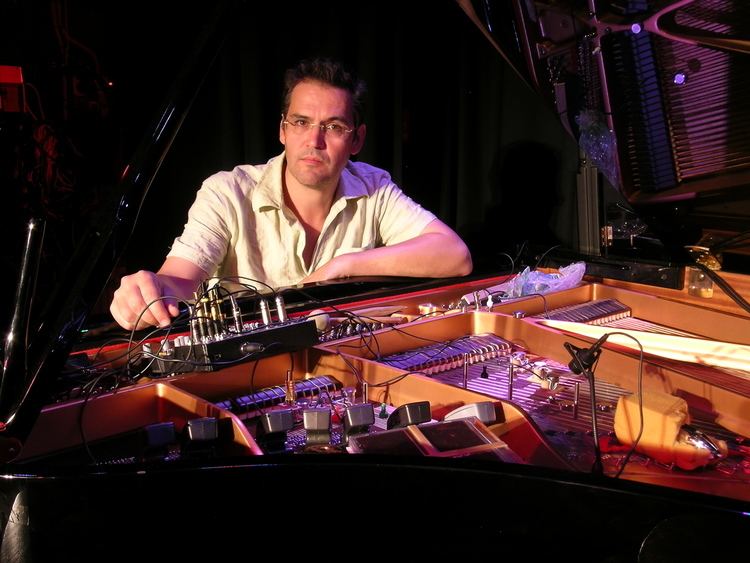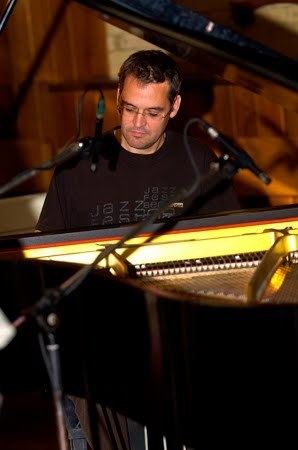 M.I.M.E.O.
ICP
Wayang Detective (with gamelan orchestra, shadow puppets, and improvisers)
Fuhler - Bennink - de Joode (with Han Bennink en Wilbert de Joode)
Corkestra (with a.o Ab Baars, Wilbert de Joode, Michael Vatcher, Andy Moor, Tony Buck, Nora Mulder, Tobias Delius, Anne La Berge)
Cortet (with John Butcher, Thomas Lehn, Rhodri Davies)
PPP5 (with Michael Moore, Alex Waterman)
The Flirts (with Gert-Jan Prins)
Kabinet
Otomo Yoshihide's New Jazz Orchestra.
the Gap (with Tobias Delius)
Truancy (with Jim Denley)
Splinter Orchestra
The Ex
Gert-Jan Prins
John Zorn
Jaap Blonk
Sonic Youth
Amanda Stewart
Jim O'Rourke
Ikue Mori
Mark Feldman
Christian Marclay
Louis Moholo
Roswell Rudd
Alvin Curran
Fred Lonberg-Holm
Steve Beresford
George Lewis
Jon Rose
Evan Parker
Bob Ostertag
Toshimaru Nakamura
Sachiko M
Gunter Muller
Oren Ambarchi
Robbie Avenaim
John Tilbury
Hamid Drake
Getatchew Mekurya
Mats Gustafsson
Tetuzi Akiyama
Cor Fuhler - 7CC IN IO (piano solo, 1995)
Palinckx - The Psychedelic Years (1996)
Fuhler Bennink de Joode - Bellagram (GeestGronden, 1998)
Fuhler Bennink de Joode - Tinderbox (Datarecords, 2002)
DJ Cor Blimey and his Pigeon (ConundromCd 01, 1999)
The Flirts (Erstwhile Records, 2001)
MIMEO/John Tilbury - Hands of Caravaggio (Erstwhile Records, 2002)
Moov Spot (Musica Genera, 2004)
Cortet - HHHH (Unsounds, 2005)
Stengam (Potlatch, 2006)
Lighton (Musica Genera, 2007)
Split LP Series #3 (Narrominded, 2008)
Corkestra - Corkestra, 2004
Corkestra - GasStationSessions, 2011
Truancy (Splitrec, 2013)
Mungo - Splinter Orchestra (Splitrec, 2017)
See The Sound, Hear The Space (Improvisation November Music, 2002)
Kraakgeluiden (Unsounds, 2003)
"SPEAK" New World Records 2011. Works featuring Cor Fuhler, Stephie Buttrich, Misha Myers, Josh Geffin, Amy Walker, Patrick Ozzard-Low and Anne La Berge.
Chairman of the Beroepsvereniging van Improviserende Musici (BIM, the Dutch national union for improvising musicians, 1998 - 2002)
Boardmember of Dutch Arts Council for composition (Fonds voor de Scheppende Toonkunst, 2002 - 2008)
Co-artistic director of Doek foundation (2001 - 2012)
Co-artistic director of the 'Kraakgeluiden' (weekly electronic music series, 2000 - 2006)
Cor Fuhler Wikipedia