Copeland bryan 2012 ufl higlights
Copeland Bryan (born July 14, 1985) is a former gridiron football defensive end. He was signed by the Tennessee Titans as an priority free agent in 2006. He played college football at Arizona. He has played for the NFL's Chicago Bears, Buffalo Bills, and Detroit Lions, as well as the Las Vegas Locomotives and Montreal Alouettes.
Contents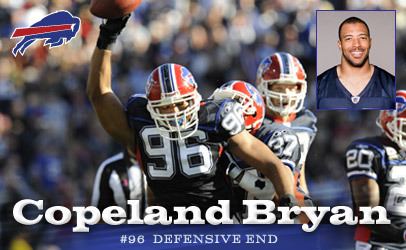 He is the brother of NFL safety Courtney Bryan. Who played 3 years with the Miami Dolphins.
Copeland Bryan: Football Defensive End
Early years
Bryan lettered in football and track at Bellarmine College Preparatory School (San Jose, CA). He participated in triple jump and long jump at the Junior Olympics while in high school. Earned two football letters for coach Mike Janda. Played tight end, offensive tackle and defensive end. Also earned two letters in track and field (triple jump, long jump, hurdles and 400 yards). He was a National Scholar-Athlete and worked as a counselor for track and football camps in San Jose, Calif, as well as for Tabia African American Theatre Ensemble.
College career
Bryan played in 43 games with 22 starts (2002–2005) after walking-on team as a freshman. He finished with 109 tackles, 14 sacks, 21 TFLs, 11 PBUs, blocked 1 kick, forced 2 fumbles and had 2 fumble recoveries. He started 9 games senior year, notching a team-high 7.5 sacks and 10.5 TFLs on 39 tackles and played in All-American Classic all-star game following senior campaign. He saw action in 11 games junior year, recording 15 tackles and 1 sack. The prior season, his sophomore season, played in 12 games and started 10 as a linebacker and recorded 29 tackles, 19 solo, along with 2.5 TFLs and 3 PBUs. He saw action in 11 games with 3 starts as a freshman and had 26 total tackles with 15 solos and 7.5 TFLs. Was also 2nd team Pac-12 winner and an Academic All American.
Expected to contend for a starting role at defensive end in 2004. Returns with 10 starts at end as a sophomore in '03. Began fall camp as an outside linebacker before UA shelved its 3-4 plans and changed defenses after camp. Finished with 29 tackles including 2.5 for losses and half a sack, plus knocked down three passes. Career-high six tackles and 2 sacks against co-national champion USC and a recorded 4 sacks against Cal of the same year. Had a breakout year as a redshirt freshman in 2002. Started three games and played in 11 games. Finished the season with 26 total tackles (15 solo), 7.5 tackles for loss (-27 yards) and five sacks (-20 yards). Second on the team in tackles for loss behind Lance Briggs (10.5) and second in sacks behind fellow linebacker Joe Siofele (5.5 sacks). Awarded a scholarship at the end of the season for his efforts at defensive end. Tallied five tackles, 1.5 tackles for loss and two sacks in the Arizona State game. Had two solo hits, including a tackle for loss in the California game. Finished with five tackles, including a tackle for loss, against UCLA. Had three tackles and a sack at Oregon State. Tallied five tackles, a tackle for loss and a sack versus Washington State. Had three tackles at Stanford. Had a sack for a loss in the Washington game. Had two tackles for loss and assisted on a sack against Oregon. Redshirted in 2001 after walking on to the team at the start of fall camp
Professional career
Bryan entered NFL as an undrafted free agent, signing with Tennessee on May 4, 2006. He was waived by Titans (9/3/06) and signed to the Chicago Bears (9/4/06). Helped the Chicago Bears run to the 2006 season Super Bowl, Super Bowl XLI. Losing to the Indianapolis Colts. Bryan signed 2-year contract with Bears. after being waived by the Bears following preseason, he signed with the Buffalo Bills in 2007 and played there 3 seasons. Signed with the Detroit Lions in 2009 for 3 years. Suffered a knee injury which put him out for the 2011 season before coming back to play for the Las Vegas Locomotives in 2011 and 2012. Bryan was signed by the Montreal Alouettes on February 14, 2013.
References
Copeland Bryan Wikipedia
(Text) CC BY-SA