Cause of death

Natural causes

Resting place

Barra, Scotland, UK




Full Name

Edward Montague Compton Mackenzie

Born

17 January 1883 (

1883-01-17

)

West Hartlepool, County Durham, England, UK

Occupation

Scottish croquet player, actor, broadcaster, writer and political activist

Notable work

Whisky Galore The Monarch of the Glen

Died

November 30, 1972, Edinburgh, United Kingdom

Spouse

Lillian McSween (m. 1965–1972), Christine McSween (m. 1962–1963), Faith Stone (m. 1905–1960)

Movies

Whisky Galore!, Sylvia Scarlett

Parents

Virginia Bateman, Edward Compton

Books

Whisky Galore, The Monarch of the Glen, Sinister Street, Vestal Fire, Greek Memories




Similar People

Fay Compton, Alexander Mackendrick, George Cukor, John Collier, Charles Crichton
Sir Compton Mackenzie, OBE (/ˈkvmptən məˈkenzɪ/; 1883–1972) was a prolific writer of fiction, biography, histories and a memoir, as well as a cultural commentator, raconteur and lifelong Scottish nationalist. He was one of the co-founders in 1928 of the Scottish National Party along with Hugh MacDiarmid, RB Cunninghame Graham and John MacCormick. He was knighted in 1952.
Contents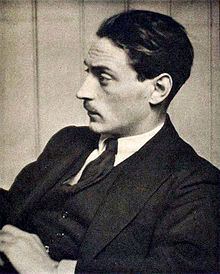 Background
Edward Montague Compton Mackenzie was born in West Hartlepool, County Durham, England, into a theatrical family of Mackenzies, many of whose members used Compton as their stage surname, starting with his grandfather Henry Compton, a well-known Shakespearean actor of the Victorian era. His father, Edward Compton, and mother, Virginia Bateman, were actors and theatre company managers; his sister, Fay Compton, starred in many of J. M. Barrie's plays, including Peter Pan. He was educated at St Paul's School, London, and Magdalen College, Oxford, where he graduated with a degree in modern history.
Writing
Sir Compton Mackenzie is perhaps best known for two comic novels set in Scotland—Whisky Galore (1947) set in the Hebrides, and The Monarch of the Glen (1941) set in the Scottish Highlands. They were the sources of a successful film and a television series respectively. He published almost a hundred books on different subjects, including ten volumes of autobiography: My Life and Times (1963–71). He wrote history (on the Battle of Marathon and the Battle of Salamis), biography (Mr Roosevelt, a 1943 biography of FDR), literary criticism, satires, apologia (Sublime Tobacco 1957), children's stories, poetry and so on. Of his fiction, The Four Winds of Love is sometimes considered his magnum opus.
He was admired by F. Scott Fitzgerald, whose first book, This Side of Paradise, was written under the literary influence of Compton. Sinister Street, his lengthy 1913–14 bildungsroman, influenced such young men as George Orwell and Cyril Connolly, who both read it as schoolboys. Max Beerbohm praised Mackenzie's writing for vividness and emotional reality. Frank Swinnerton, a literary critic, comments on Mackenzie's "detail and wealth of reference". John Betjeman said of it, "This has always seemed to me one of the best novels of the best period in English novel writing." Henry James thought it to be the most remarkable book written by a young author in his lifetime.
After his conversion to Roman Catholicism in 1914, Mackenzie explored religious themes in a trilogy of novels, The Altar Steps (1922), The Parson's Progress (1923) and The Heavenly Ladder (1924). Following his time on Capri, socialising with the gay exiles there, he treated the homosexuality of a politician sensitively in Thin Ice (1956). He was the literary critic for the London-based national newspaper Daily Mail.
Greek Memories
Mackenzie worked as an actor, political activist and broadcaster. He served with British Intelligence in the Eastern Mediterranean during the First World War, later publishing four books on his experiences. According to these books, he was commissioned in the Royal Marines, rising to the rank of captain. His ill-health making front-line service impractical, he was assigned counter-espionage work during the Gallipoli campaign, and in 1916 built up a considerable counter-intelligence network in Athens, Greece then being neutral. While his secret service work seems to have been valued highly by his superiors, including Sir Mansfield Smith-Cumming, his passionate political views, especially his support for the Venizelists, made him a controversial figure and he was expelled from Athens following the Noemvriana.
In 1917, he founded the Aegean Intelligence Service, and enjoyed considerable autonomy for some months as its director. He was offered the Presidency of the Republic of Cerigo, which was briefly independent while Greece was split between Royalists and Venizelists, but declined the office. He was recalled in September 1917. Smith-Cumming considered appointing him as his deputy, but withdrew the suggestion after opposition from within his own service, and Mackenzie played no further active role in the war. In 1919, be was appointed an Officer of the Order of the British Empire (OBE), and was also honoured with the French Legion of Honour, the Serbian Order of the White Eagle, and the Greek Order of the Redeemer.
After the publication of his Greek Memories in 1932, he was prosecuted at the Old Bailey under the Official Secrets Act for quoting from supposedly secret documents. His account of the trial, vividly described, is in Octave Seven (1931–38) of his autobiography: the result was a fine of £100 and (prosecution) costs of £100. His own costs were over £1,000. Mackenzie states that a plea-bargain (described in the text as "an arrangement") had been reached with the judge prior to the trial: in exchange for his pleading guilty, he would be fined £500 with £500 costs. However Sir Thomas Inskip, then attorney general who prosecuted the case, succeeded in annoying the trial judge to such an extent that he then reduced the penalties to a token amount. The – still banned – 1932 edition of Greek Memories was published in 2011 by Biteback, including the Secret Intelligence Service memo detailing the offending passages of the book.
He was president of the Croquet Association from 1953-66. He was president of the Siamese Cat Club. He was the subject of This Is Your Life in 1956 when he was surprised by Eamonn Andrews at the King's Theatre, Hammersmith, London. In 1923 he and his brother-in-law Christopher Stone founded The Gramophone, the still-influential classical music magazine.
A strong supporter of Edward VIII, Mackenzie was a leading member of the Octavians, a minor society that campaigned in support of Edward VIII and for his return to the UK after he became the Duke of Windsor. According to a 1938 Time article Mackenzie had intended to write a book in support of Edward but abandoned the plan when the Duke of Windsor asked him not to publish.
Capri
Between 1913 and 1920 he lived with his wife, Faith, on Capri at Villa Solitaria, and returned to visit in later years. This Italian island near Sorrento was known to be tolerant not just of foreigners in general, but of artists and homosexuals in particular. Faith had an affair with the Italian pianist Renata Borgatti, who was connected to Romaine Brooks.
Compton Mackenzie's observations on the local life of the Italian islanders and foreign residents led to at least two novels, Vestal Fire (1927) and Extraordinary Women (1928). The latter, a roman a clef about a group of lesbians arriving on the island of Sirene, a fictional version of Capri, was published in Britain in the same year as two other ground-breaking novels with lesbian themes, Virginia Woolf's love letter to Vita Sackville-West, Orlando, and Radclyffe Hall's controversial polemic, The Well of Loneliness, but Mackenzie's satire did not attract legal attention. He was a friend of Axel Munthe, who built Villa San Michele, and Edwin Cerio, who later became mayor of Capri.
Scottish identity
Mackenzie went to great lengths to trace the steps of his ancestors back to his spiritual home in the Highlands, and displayed a deep and tenacious attachment to Gaelic culture throughout his long and very colourful life. As his biographer, Andro Linklater, commented, "Mackenzie wasn't born a Scot, and he didn't sound like a Scot. But nevertheless his imagination was truly Scottish." He was an ardent Jacobite, the third Governor-General of the Royal Stuart Society, and a co-founder of the Scottish National Party. He was rector of University of Glasgow from 1931–34, defeating Oswald Mosley, who later led the British Union of Fascists, in his bid for the job.
From 1920-23, Mackenzie was the Tenant of Herm and Jethou. He built a house on Barra in the 1930s. On Barra he gained inspiration and found creative solitude, and befriended a great number of people that he described as "the aristocrats of democracy".
Private life
Mackenzie was married three times. In 1905, he married Faith Stone, who died in 1960; then in 1962, he married Christina MacSween – who died the following year. Lastly, he married his dead wife's sister, Lillian MacSween in 1965.
Mackenzie was a keen supporter of West Bromwich Albion Football Club. Although from the north east of England, he "was influenced in the choice of Albion as 'my' team by the fact that their ground was romantically called The Hawthorns and that they were nicknamed the Throstles".
Death and taxes
He converted to Roman Catholicism in 1914. He died on 30 November 1972, aged 89, in Edinburgh and was interred at Eolaigearraidh, Barra.
After his retirement Mackenzie sold the entire copyright in 20 of his books for a lump sum of £10,000 arguing that this was a capital receipt and not the proceeds of the business. The Court of Appeal held that this was assessable income as part of the proceeds of his business: Mackenzie v Arnold (1952) 33 TC 363.
References
Compton Mackenzie Wikipedia
(Text) CC BY-SA