Nationality

New Zealander




Wins

0




Active years

1963–1976




Name

Chris Amon




Entries

108 (96 starts)




Role

Racing driver




Championships

0








Born

Christopher Arthur Amon 20 July 1943 (age 72) Bulls, New Zealand (

1943-07-20

)


Teams

Cooper Amon Ferrari March Matra Tecno Tyrrell BRM Ensign Wolf Non-works Lola, Lotus, Brabham




Similar People

Bruce McLaren, Denny Hulme, Jacky Ickx, Graham Hill, Lorenzo Bandini
Vic elford and chris amon talk about racing at le mans
Christopher Arthur Amon MBE (20 July 1943 – 3 August 2016) was a New Zealand motor racing driver. He was active in Formula One racing in the 1960s and 1970s and is widely regarded as one of the best F1 drivers never to win a championship Grand Prix. His reputation for bad luck was such that fellow driver Mario Andretti once joked that "if he became an undertaker, people would stop dying". Former Ferrari Technical Director Mauro Forghieri stated that Amon was "by far the best test driver I have ever worked with. He had all the qualities to be a World Champion but bad luck just wouldn't let him be".
Contents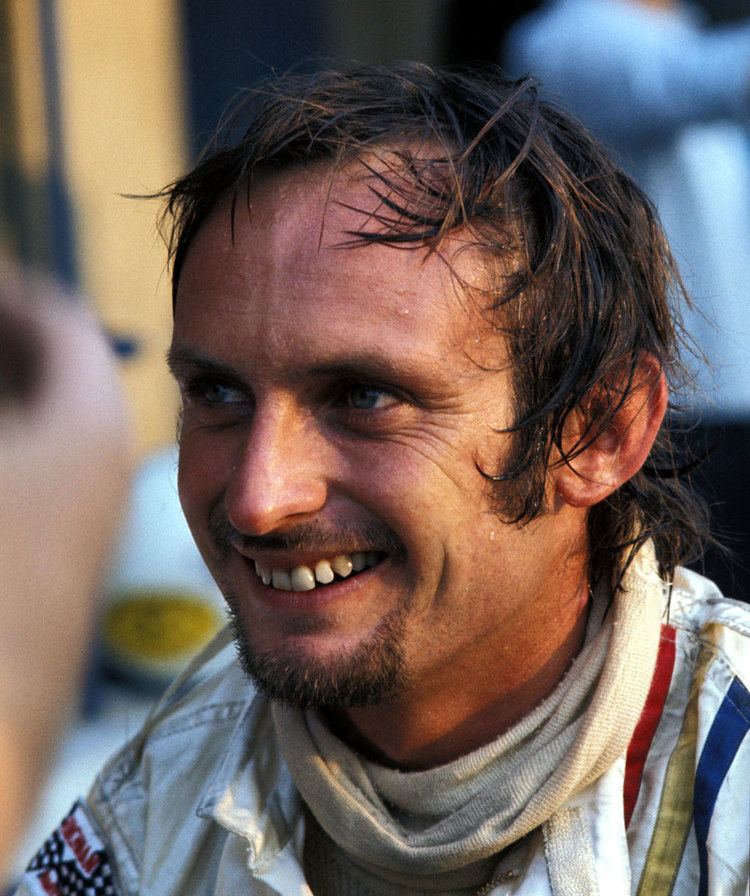 Apart from driving, Chris Amon also ran his own Formula One team for a short period in 1974. Away from Formula One, Amon had some success in sports car racing, winning the 24 Hours of Le Mans race in 1966.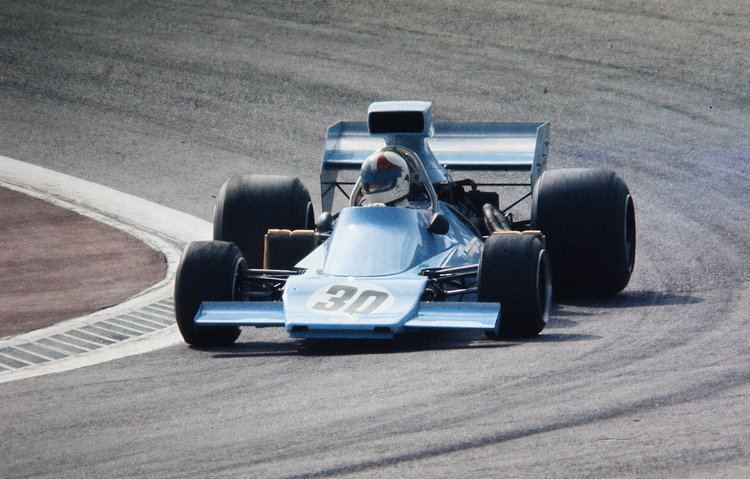 Chris amon speed painting by dean packwood
Early life
Amon was born in Bulls, and attended Wanganui Collegiate School. He was the only child of wealthy sheep-owners Ngaio and Betty Amon. He learned to drive at the age of six, taught by a farm worker on the family farm. On leaving school, he persuaded his father to buy him an Austin A40 Special, which he entered in some minor local races and hillclimbs along with practice on the family farm. He progressed to a 1.5-litre Cooper and then an old 2.5-litre Maserati 250F, but only began to draw attention when he drove the Cooper-Climax T51 which Bruce McLaren had used to win his maiden Grand Prix.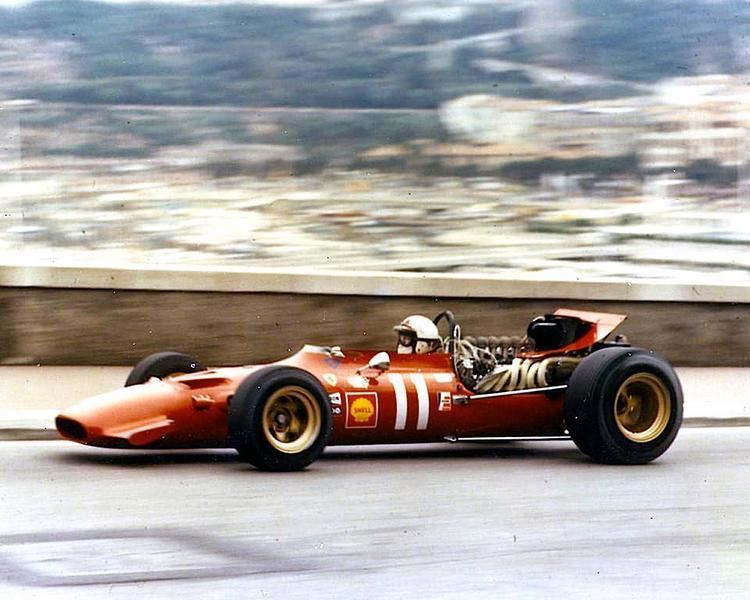 In 1962 Amon entered the Cooper for the New Zealand winter series, but was hampered by mechanical problems. However, Scuderia Veloce entered him in a similar car, and, in the rain at Lakeside, he performed well. One of the spectators there was the English racing driver Reg Parnell who persuaded Amon to come to England and race for his team. In a test at Goodwood Amon continued to impress and was on the pace in the Goodwood International Trophy and Aintree 200 pre-season races.
1963
For the 1963 Formula One season the Parnell team were using the year old Lola Mk4A, powered by 1962 specification Climax V8 engines. Amon was teamed with the very experienced Maurice Trintignant for the first race of the season at Monaco and his Grand Prix career started with what was to become typical bad luck: Trintignant's Climax developed a misfire, so he took over Amon's car.
At the 1963 Belgian Grand Prix, Amon was partnered by Lucien Bianchi and started ahead of him from 15th position. After nine laps, however, an oil fire ended his race. He continued to experience mechanical problems at the Dutch, Mexican and German Grands Prix; and after an accident in practice for the Italian Grand Prix left him hanging out of his car's cockpit with three broken ribs, he missed both the Italian and United States rounds.
Amon usually qualified in the midfield and generally outpaced his team-mates, who included his good friend Mike Hailwood. His best results of the year were seventh at the French and British Grands Prix. During this time, however, Amon's social life was attracting as much attention as his driving. He was a member of the Ditton Road Flyers, the social set named after the road in London where Amon shared an apartment with American Peter Revson, Hailwood and Tony Maggs.
Parnell was nonetheless impressed with Amon's results in what was regarded as less-than-competitive machinery and promoted him to team leader. Parnell died from peritonitis in January 1964 and his son Tim took over the team.
1964
In a series of four pre-season races in Britain and Italy, Amon recorded three fifth places at Snetterton, Silverstone and Syracuse. He failed to qualify for the first F1 race of the season, the Monaco GP, but at the next race, the Dutch GP, he scored his first World Championship points. The rest of his season, however, was blighted by mechanical problems.
1965
Parnell was offered BRM engines for 1965, but only if it ran Richard Attwood as its regular driver. Reluctantly, Parnell agreed and Attwood took Amon's place. Spotting an opportunity, Bruce McLaren quickly signed Amon for his new McLaren team, but when no second McLaren F1 car materialised, Amon could only drive in sports car races.
At the French GP Amon rejoined Parnell to stand in for an injured Attwood. Amon also competed in a Formula Two race in Stuttgart and won. He returned to Germany for the German GP as second Parnell driver, but mechanical failure again forced an early retirement. His last drive before Attwood's return, a non-championship race in Enna, Sicily, also ended in retirement.
1966
During 1966 Amon continued to race for McLaren in Can-Am. He was intended to drive the second McLaren M2B but difficulties with engine supply meant that the team never made the intended expansion to two cars. (James Garner's character Pete Aron's helmet and car livery in the film Grand Prix were modelled on Amon driving a McLaren, which caused the movie makers to have to encourage other cars to be painted in the 'Yamura' colours and other drivers (Bruce McLaren included) to wear Amon-style helmets.)
However, an opportunity arose to drive for the Cooper F1 team after Richie Ginther left them for Honda. Amon drove for Cooper at the French GP and was scheduled to drive for them for the rest of the season, until the more successful John Surtees left Scuderia Ferrari to join Cooper and Amon found himself dropped.
Amon made one other F1 appearance during the year, driving a Brabham BT11 powered by an old 2-litre BRM engine at the Italian GP under the banner of "Chris Amon Racing". He failed to qualify.
Amon did however, score his biggest success to date when he partnered Bruce McLaren in a 7-litre Ford GT40 Mark II at the 1966 Le Mans 24-hour race, spearheading a formation finish. He subsequently received an invitation to meet Enzo Ferrari at the Ferrari home in Maranello, where he signed to race for Ferrari in 1967 alongside Lorenzo Bandini, Mike Parkes and Ludovico Scarfiotti.
1967
Amon's first year with Ferrari did not begin auspiciously. En route to Brands Hatch for the pre-season Formula One Race of Champions, he crashed his road car and, following race practice, had to withdraw. Tragedy then struck the Ferrari team when Bandini died following a crash during the 1967 Monaco Grand Prix, Mike Parkes broke both his legs at the Belgian Grand Prix and, in the aftermath, Ludovico Scarfiotti went into temporary retirement. Amon, therefore, became Ferrari's only driver for the rest of the season, until joined by Jonathan Williams for the final race in Mexico. Amon scored his first podium in his first official outing for the Scuderia in Monaco and at the end of 1967 had achieved four third places finishing fifth in the Drivers' Championship, in what was going to be the most successful season of his career.
Amon's Ferrari contract also included sports car racing and he began 1967 by winning the Daytona 24 Hours and 1000km Monza events with Bandini in the 4-litre Ferrari 330-P4. He finished the year partnering Jackie Stewart to a second place at the BOAC 500, thereby clinching the manufacturer's world championship for Ferrari by one point over Porsche.
1968
1968 was the year aerodynamics first played a significant role in F1 car design and Amon worked with engineer Mauro Forghieri to place aerofoils on the Ferrari 312.
In January 1967 Amon had returned home to New Zealand and Australia to compete in the 1968 Tasman Series which was used by many of the top Formula One drivers as a warm up series to the World Championship. Ferrari allowed him to race but refused to go to the expense of designing and building a car specifically for the Tasman Series which, unlike F1, had a maximum engine capacity of just 2.5-litres. Instead, Amon convinced Enzo Ferrari to allow him to use a Ferrari Formula 2 chassis fitted with a 2.4-litre V6 Dino engine. Using the 246T he won the first two rounds of the Tasman Series, including the 1968 New Zealand Grand Prix, before narrowly losing the series to the Lotus-Ford of Jim Clark.
After the first race of the F1 season in South Africa, Amon achieved pole positions in three of the following four races (at the Spanish, Belgian and Dutch Grands Prix) but ever-present mechanical problems meant he secured only a single Championship point from them. Throughout the rest of the season he never qualified lower than fifth place and nearly scored victories at the British and Canadian rounds and he suffered a 100 mph crash in Italy which demolished his car. In Britain, he duelled to the line with Jo Siffert's Lotus 49B and in Canada he dominated the race despite a malfunctioning clutch. Seventeen laps from the finish, however, his car's transmission failed and a distraught Amon had to be consoled by Jacky Ickx. From at least ten promising starts that season he was only able to finish five races and score ten Championship points. His best finish was second place to Siffert's Lotus-Cosworth at the British Grand Prix.
Outside F1, Amon was runner-up in the Formula Two race at Zolder, Belgium, testing the Ferrari Dino F2. He also came third in that year's BRDC International Trophy.
1969
Amon began 1969 with success driving the Dino engined Ferrari 246T in the Tasman Series that included winning both the New Zealand and Australian Grands Prix. He would ultimately win the seven race Tasman Series, finishing with four wins, two thirds and one retirement, but in Formula One his poor luck continued. Despite six starts from top-six positions, he was only able to achieve a third-place at the Dutch GP. Ferrari's F1 V12 engine was too unreliable and although its replacement had proven very fast in testing, it had suffered many mechanical breakages. Amon had no reason to believe it would be any more dependable than the V12, so although the new engine was clearly more powerful, he decided to leave Ferrari for a Cosworth DFV powered team. Ironically, the new flat-12 engine would become one of the best Formula One engines of the 1970s.
In addition to Formula One, Amon also drove for Ferrari in the 1969 International Championship for Makes, partnering Pedro Rodriguez to a fourth place in the BOAC 500 at Brands Hatch and coming second at the 12 Hours of Sebring, but retiring from the 1000km Nürburgring and 1000km Monza races, all in the Ferrari 312P sportscar. He also drove in a few Can-Am races. His last race for Ferrari would be the 1970 1000 km Monza, where he finished as runner-up.
1970
For the 1970 Formula One season, Amon made what was to be the first of several moves to smaller, newer teams. March Engineering had been formed the previous year to build custom chassis for Formulas 2 and 3, but quickly moved into F1, designing and building the March 701. Amon and Siffert were signed as drivers, with IndyCar driver Mario Andretti making an occasional appearance in a third car. March also sold their 701 chassis to Tyrrell, where Jackie Stewart drove it to its first victory in that year's Spanish GP.
Amon won the pre-season Silverstone International Trophy, but once the F1 season began he found himself prevented from converting good qualifying positions into good results. He qualified second behind Stewart's Tyrrell-March for the season-opening South African Grand Prix only for his own March to overheat within fourteen laps. Amon then qualified sixth for the Spanish Grand Prix only for his March's Ford-Cosworth DFV engine to expire within ten laps. He qualified and ran second in the 1970 Monaco Grand Prix until his suspension failed twenty laps from the finish. This was the race where Amon refused to drive unless his entry number was changed from 18 – the number under which his then team-mate Lorenzo Bandini had crashed and died in Monaco – to 28.
Amon's close second place from a third-place start at the 1970 Belgian Grand Prix finally gave the March works team their first points finish. At that race, Amon set fastest lap at over 152 miles per hour, a lap record which still stands as of 2016, as it was the last race on the full-length Spa-Francorchamps circuit. However, after qualifying fourth for the next race, the Dutch Grand Prix, his car's clutch broke after just one lap. Amon duplicated his Belgian result at the 1970 French Grand Prix, but thereafter only achieved one further result of note in the year, a third place from sixth in Canada.
By the end of the year, disagreements with March co-founders Mosley and Robin Herd meant that Amon had decided to move to another relatively new team, Matra.
1971
In 1971, Amon, now driving for the Matra factory team, once again scored a pre-season victory, this time at the Argentine Grand Prix. Once the Formula One season had begun, he managed to convert a third-place start at the Spanish GP into a third-place podium finish and scored a couple of fifth places in the South African and French GPs. Apart from these results, however, his run of poor F1 returns continued. He had a major accident at the Nürburgring and it sidelined him for the next race at the Österreichring. At the Italian GP he qualified in pole position and despite a poor start to the race looked as if he would capitalise on it – until the visor on his helmet became detached. Amon had to slow to avoid risking a major accident, thereby allowing other drivers to catch and overtake him. He finished the race in sixth place, scoring just one Championship point.
During the year Amon also competed in the non-championship Questor Grand Prix at the new Ontario Motor Speedway, where he qualified second and, despite suffering a puncture during the race, managed to finish fourth.
In the Tasman Series Amon started from fourth at the Levin Circuit and in the race, he battled with David Oxton and John Cannon but managed to finish third. Amon's third race at Wigram Airfield starting fifth and spun at the start to drop him to the back of the field but managed to climb up to fifth.
1972
In the 1972 Formula One season, Amon, again driving for Matra achieved a handful of points-scoring finishes, but only one podium appearance, at the French GP. Here he achieved the fifth and final pole position of his career and was leading the race until a puncture forced him to pit. However, he climbed back through the field, breaking the circuit's lap record to finish third.
With the money he had made from motorsport, Amon decided to set up a racing engine firm with former BRM engineer Aubrey Woods. Amon Racing Engines supplied Formula 2 engines to a few drivers, but the company quickly became too expensive to run and was sold to March for a loss.
Matra decided to end their participation in Formula One at the end of 1972, so Amon found himself looking to return to March as a driver. The place, however, was given to Jean-Pierre Jarier, purportedly for financial reasons. Amon therefore signed for another recently formed F1 team, Tecno.
1973
Tecno had entered F1 the previous year, having been a successful chassis-builder for other Formulæ. Their first year in F1 proved to be dismal, however, so they had jumped at the chance to sign Amon in the hope he would help transform their performance.
Unfortunately, the team went from bad to worse and wasn't able to field the Tecno PA123/6 until the fifth GP of the season, the Belgian GP. Amon managed to finish in sixth position, but was unhappy with the car. He commissioned Gordon Fowell to build a replacement and although Amon commented at the time that it was "the best chassis I've ever sat in", it too proved virtually undriveable. By the time of the Austrian GP, four races from the end of the season, Amon's patience had run out and he left the team. He would later claim that the months he spent with the team "felt like ten [seasons]".
Tyrrell offered Amon a third car – the 005 – in which to drive the last two races of the season. After a mediocre first outing at the Canadian GP, he and Jackie Stewart withdrew from the final race of the year, the United States GP, following the death of their teammate François Cevert during qualifying.
1974
For the 1974 F1 season, Amon revived Chris Amon Racing. Gordon Fowell designed the car, the AF101, which featured a single central fuel tank, titanium torsion bars and a forward driving position. Structurally, however, it proved to be weak and was not ready for an F1 appearance until the fourth race of the season, the Spanish GP. Amon was only able to qualify 23rd, thanks to brake-disc vibration that only became worse with the tyres for the wet race that followed. Despite cautious driving, a brake shaft finally broke and Amon was forced to retire after 22 laps.
Following further work and testing, Amon returned for the Monaco GP and qualified twentieth, but, thanks to mechanical problems, he was unable to start the race. Further problems and illness meant Amon was not able to reappear with the F101 until the Italian GP, three races from the end of the season, but this time he was unable to qualify. That sealed the fate of both the car and Chris Amon Racing, leaving Amon to drive the season's last two races with the faltering BRM team. He would later reveal that he had turned down a chance to join the Brabham team earlier in the season.
1975
Amon won a Tasman Series victory in January 1975 in rainy conditions where he won by 24.2 seconds. His next race at Oran Park saw Amon finish fourth after a long battle with John Walker. At Surfers Paradise, Amon was forced to miss most of the practice session when customs seized his car's gearbox. In the race, Amon retired due to a blown engine.
Apart from these successes, Amon's racing career seemed once again to have stalled. However, a chance meeting with Mo Nunn of Ensign Racing led to two GP drives in the Ensign N175 at the Austrian and Italian GPs. Although the results were unremarkable, he and Nunn worked well together, so Amon joined Ensign for the 1976 F1 season.
1976
Ensign's first race of the season was the South African GP where Amon qualified 18th and finished 14th. Thereafter results began to improve, with Amon qualifying 17th and finishing 8th in the USA West GP; qualifying 10th and finishing fifth in the Spanish GP; and then qualifying eighth for the Belgian GP. More points then seemed likely from the race until his car lost a wheel 19 laps from the finish and Amon was lucky to escape unhurt from the ensuing accident. He then achieved an incredible 3rd grid position start for the Swedish GP and in the race looked as if he would join Tyrrell drivers Jody Scheckter and Patrick Depailler on the podium, until suspension failure threw him from the track after 38 laps.
Amon had again been lucky to escape serious injury and decided to miss the next race, the French GP. He returned for the British GP, qualifying in sixth and running fourth in the race when his Ford-Cosworth DFV engine developed a water leak. Rather than risk losing an engine, his team called him in to retire.
At the German GP problems dogged his attempts to qualify well, but it was Niki Lauda's crash during the second lap of the race that had a far greater impact. Amon refused to restart the race and Nunn fired him from the team. Amon declared his retirement from the sport and returned to New Zealand.
"I'd seen too many people fried in racing cars at that stage. When you've driven past Bandini, Schlesser, Courage and Williamson, another shunt like that was simply too much. It was a personal decision..."
(Amon, on his retirement in 1976)
However, Walter Wolf contacted Amon and persuaded him to drive for his Wolf-Williams team in the North American races near the end of the season. After recording some promising times in preparation for the Canadian GP, however, Amon was involved in a heavy collision with another car during qualification and once again was lucky to walk away unharmed. He didn't then take part in either the Canadian or United States Grands Prix.
1977
Amon turned down an offer of a full-time F1 drive for 1977, but did attempt a return to Can-Am racing in 1977 with a Wolf-Dallara WD1. However, after only one race he quit, saying "I'm just not enjoying this anymore". His place was taken by the young and then unknown Canadian Gilles Villeneuve, whom Amon would, later that year, recommend to Enzo Ferrari.
In the meantime, Amon returned once again to New Zealand, this time to retire from F1 motor racing for good.
2000s
2003
Amon came out of retirement for a one-off appearance in the 2003 Dunlop Targa New Zealand with motorsport commentator Murray Walker as his navigator. The pair completed the week-long Auckland to Wellington Tarmac Rally in a Toyota Camry Sportivo, the same car previously used by Walker and Colin Bond in Australia's Targa Tasmania.
Retirement
After his retirement from F1, Amon dedicated himself to running the family farm in New Zealand's Manawatu District for many years. After retiring from farming, he lived in Taupo in New Zealand's North Island. In the early 1980s he became more well known in New Zealand from test-driving vehicles on the TV motoring series Motor Show and later consulted for Toyota New Zealand, tuning the 1984 Toyota Corolla and subsequent cars for sale there. He also appeared in TV commercials for the company, where much was made of the acclaim he won from Enzo Ferrari. Amon participated in the 2004 EnergyWise Rally where he won ahead of Brian Cowan. Amon drove a Toyota Prius for the event.
Amon was involved in the design of the upgraded Taupo Motorsport Park circuit, used for the New Zealand round of the 2006-07 A1 Grand Prix season in January 2007. At the New Zealand Festival of Motor Racing in 2011, Amon's life and career were honoured with a selection of his cars being driven and also used the event to raise funds for the Bruce McLaren trust. Amon was also honoured at the festival in January 2013.
Amon died in Rotorua Hospital on 3 August 2016, aged 73, of cancer. He was survived by his wife (they married in 1977) their three children and their grandchildren.
Legacy
Despite never winning a championship Formula One Grand Prix, Amon won eight non-championship GPs, the Silverstone International Trophy, the 1000 km Monza, the Daytona 24 Hours, the Tasman Series and, perhaps most significant of all, the famous 24 Heures du Mans (alongside Bruce McLaren). Many of these races attracted some of Amon's otherwise more successful fellow F1 drivers, all of whom he was able to beat.
In Formula One, Chris Amon took part in 96 Grands Prix, achieving 5 poles, leading 183 laps in 7 races, reaching the podium 11 times and scoring a total of 83 Championship points. Amon holds the record for the most different makes of car raced by a Formula 1 World Championship driver, with thirteen. A biography Forza Amon by journalist Eoin Young charts Amon's racing career and gives some insights into his personal life. The book makes clear one point on which Amon himself disagrees with most commentators, the issue of his bad luck. Amon has pointed out on several occasions that he competed for a decade and a half in Formula One and survived some serious accidents, notably in 1976, whilst others, including friends like Bruce McLaren, suffered serious injury and death. In 2008, motorsport journalist Alan Henry rated Chris Amon as his 13th greatest driver.
Reflecting on the 1968 racing death of Jim Clark, Amon said: "If this can happen to Jimmy, what chance do the rest of us have? I think we all felt that. It seemed like we'd lost our leader." In 1995, Amon was inducted into the New Zealand Sports Hall of Fame.
Amon's name has been given to a motorsport series involving Toyota cars and to the Chris Amon International Scholarship to support drivers who have become champions in the New Zealand Toyota Racing Series to further their careers in single-seater racing. Following his death, his name was also lent to the Manfeild Autocourse in Feilding, Manawatu.
Formula One World Championship results
(key) (Races in bold indicate pole position; races in italics indicate fastest lap)
Non-Championship results
(key) (Races in bold indicate pole position) (Races in italics indicate fastest lap)
References
Chris Amon Wikipedia
(Text) CC BY-SA