Covid-19
6

/

10

1

Votes

Alchetron

Rate This




Jose Luis Massa




Carlos Nilson




Argentina






Adventure, Comedy, Drama





Spanish







July 12, 2001 (Argentina) December 6, 2001 (Israel)




Alex Ferrara, Walter Ferreira, Daniel Garcia Molt, Marcela Geraghty, Marcela Guerty, Patricia Maldonado, Marcos A. Villalon




Adventure Film, Family film




Luisana Lopilato

(Luisana Maza),

Romina Yan

,

Benjamin Rojas

,

Camila Bordonaba

,

Felipe Colombo




Luisana Lopilato and Benjamin Rojas appear in Chiquititas: Rincon de luz and Erreway: 4 caminos



Chiquititas: Rincón de luz (English: Tiny Angels: Corner of Light) is a 2001 Argentine fantasy-adventure film directed by José Luis Massa and written by Alex Ferrara and Walter Ferrara. It stars Romina Yan, and is based on the television series of same name which began on Argentine television in 1995. The film was released in Argentina on July 12, 2001, and is produced by Cris Morena, creator of Chiquititas original television series.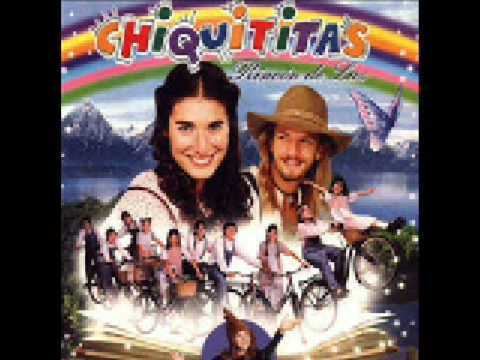 Alongside Yan, it guest stars Facundo Arana as her romantic interest (also from the television show, third and fourth seasons), Franklin Caicedo as the Wise Man, Alejandra Flechner and Juan Leyrado as the antagonists. The young cast is formed by Camila Bordonaba, Benjamín Rojas, Felipe Colombo, Luisana Lopilato, Nadia Di Cello, Natalia Melcon, Cristian Belgrano, Sebastián Francini, Agustín Sierra, and Brian Vainberg as Tok the Elf, all of them from the show's sixth season, Chiquititas 2000.
Belén is a young woman who leaves her world of magic, music and fantasy, in order to live her own fairy tale, following the offerings from an old Wise Man and his tiny elf assistant, Tok. She picks a story she is going to create by living it. As Belén starts reading the Tale of the Blue Diamonds, she is taken to a small village where she immediately looks for a job. Through the handsome miner Alejo, Belén learns about the legend of the Blue Diamonds surrounding that region. Nearby the kindly town, she discovers the Rincón de Niños Huerfanos, a horrendous place where a group of oppressed young orphans is forced into heavy labor. Their masters are the Colonel Estévez and the janitor Marga. The lives of the young prisoners are touched and changed after Belén starts working at the manor, as she relieves their pain, filing their lives with love and songs. Belén helps the children in her persistence toward a better life, that guides them to Alejo and the Diamonds themselves, also wanted by Estévez.
Romina Yan as Belén Fraga
Facundo Arana as Alejo Méndez Ayala
Juan Leyrado as Coronel Francisco Estévez
Alejandra Flechner as Marga
Cristian Belgrano as Cristián Maza
Agustín Sierra as Agustín Maza
Milagros Flores as Juana Maza
Benjamín Rojas as Bautista Arce
Luisana Lopilato as Luisana Maza
Felipe Colombo as Felipe Mejías
Camila Bordonaba as Camila Bustillo
Natalia Melcon as Natalia Ramos
Nadia Di Cello as María Fernández
Federico Barón as Federico Martínez
Sebastián Francini as Sebastián Mansilla
Gilda Gentile as Gitana
Carlos Kaspar as Huevero
Lelio Lesser as Man in town
Gustavo Pastorini as Conejero
Alejandra Perlusky as Vendedora de pescado
Brian Vainberg as Tok
Belén Fraga (Romina Yan) is a beautiful young girl, who wants to find her own destiny. She finds the secret cave, where a wise man offers her to choose the destiny of Cinderella, Sleeping Beauty or Rapunzel, but Belén decides to write her own story, not knowing how it will finish. Her only wish is to find her happiness between the orphans. Magically, she finds herself in the village Ciervo Dorado, and falls in love with Alejo. She starts working as a chef. Soon, the orphans discover that she is the best thing that ever happened to them.
Alejo Méndez Ayala (Facundo Arana) is a young man, who believes he can find the blue diamonds. There is the legend, who tells the story of blue diamonds, hidden in the mountain near the village Ciervo Dorado. With his young friend Felipe, he tries to find those diamonds. He falls in love with Belén.
Felipe Mejías (Felipe Colombo) is a young boy from the village, who helps Alejo to find the blue diamonds. He is in love with Camila Bustillo, a girl from the orphanage, and their relationship is a secret. Camila can't see him anymore when Marga finds out about their relationship, but, thanks to Belén they keep seeing each other.
Sebástian Mansilla (Sebastián Francini) is one of the youngest orphans. He is a rebel, and tries to escape from the orphanage, because Coronel Francisco and Marga ill-treat the children. He tries to escape from their regime. But, Coronel finds him in the village and lock him at the attack. Belén sings him and gives him the blanket, so Sebas starts loving her. After releasing him, he lock Sebas once again, when Belén saves him.
Federico Martínez (Federico Barón) and Agustín Maza (Agustín Sierra) are best friends of Sebastian. Three of them believe in the blue diamonds and they are trying to find them, because they believe that they will set them free of Marga, Coronel and the life of an orphan.
María Fernández (Nadia Di Cello), Juana Maza (Milagros Flores) and Natalia Ramos (Natalia Melcon) are best friends, the youngest children in the orphanage. María is the first who finds out how nice Belén is, but says that to nobody. All three girls find out when there is a storm outside, and they're scared. They go to the room of Belén, where she sings them "Había Una Vez". They start loving her and María is now sure that Belén is always nice.
Bautista Arce (Benjamín Rojas) and Luisana Maza (Luisana Lopilato) are best friends. They hate Belén at the beginning and they try to send her away, but they soon change their mind. Bautista falls in love with Luisana and makes two necklaces, one for her and one for him. He tells Luisana that he loves her, but Luisana is not sure. Camila tells her that she can see they are in love. Bautista and Luisana start wearing those necklaces and start a relationship.
Coronel Francisco Estévez (Juan Leyrado) and Marga (Alejandra Flechner) are the owners of the orphanage. They ill-treat children, forcing them to work hard. Belén, trying to help the children, faces with them. Coronel uses some illegal ways to find the blue diamonds and get rich. The care of the orphans is, for them, only a way to get more money from the Government of Ciervo Dorado.
The first plans of a Chiquititas film began four years before the start of this production. The project was supposed to be made for the Brazilian audience but ideas later dropped out.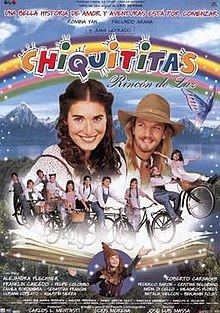 The movie was shot in 2000, with locations at Villa La Angostura. Rincón de Luz features, in addition to the television show's cast, the songs that became a hit with the Chiquititas Argentine young (and adult) audience, such as "Pimpollo" ("Sapling"), "Había Una Vez" ("Once Upon a Time"), "Penitas" ("Sadness"), and the main title song that featured in Chiquititas show's third season, "Rinconcito De Luz" ("Little Corner of Light").
The Chiquititas feature film was not screened for critics, as it was basically a result of the huge success among children from Argentina and other countries, like Israel. However, it received mixed to negative reviews. Reviewers stated that Rincón de Luz presented typical elements from famous American musical/fantasy films (which Cris Morena herself enjoys) such as The Sound of Music and The NeverEnding Story. The film received a positive review from Argentine newspaper La Nación.
The film was a huge success at the Israeli box office, and was adapted into a musical production in the country. Actors Sebastián Francini and Nadia Di Cello were featured in a presentation.
Chiquititas: Rincón de luz Wikipedia