Calories 100

Calories from fat 15




Saturated fat 0.5 g

3%




Sodium 140 mg

6%




Total fat 2 g

3%




Cholesterol 0 mg

0%




Potassium 180 mg

5%






Similar

Breakfast cereal, Sugar, Raisin Bran, Water, Cereal
Cheerios is an American brand of cereal manufactured by General Mills, consisting of pulverized oats in the shape of a solid torus. In some countries, including the United Kingdom, Cheerios is marketed by Cereal Partners under the Nestlé brand; in Australia and New Zealand, Cheerios is sold as an Uncle Tobys product. It was first manufactured in 1941 and was originally called CheeriOats.
Contents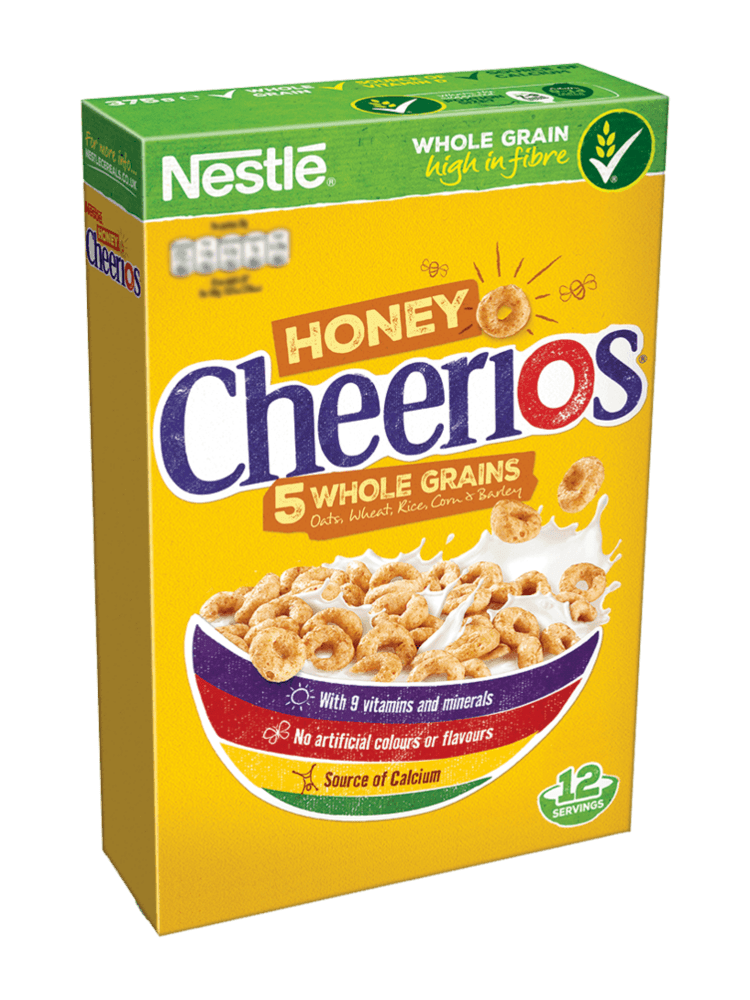 History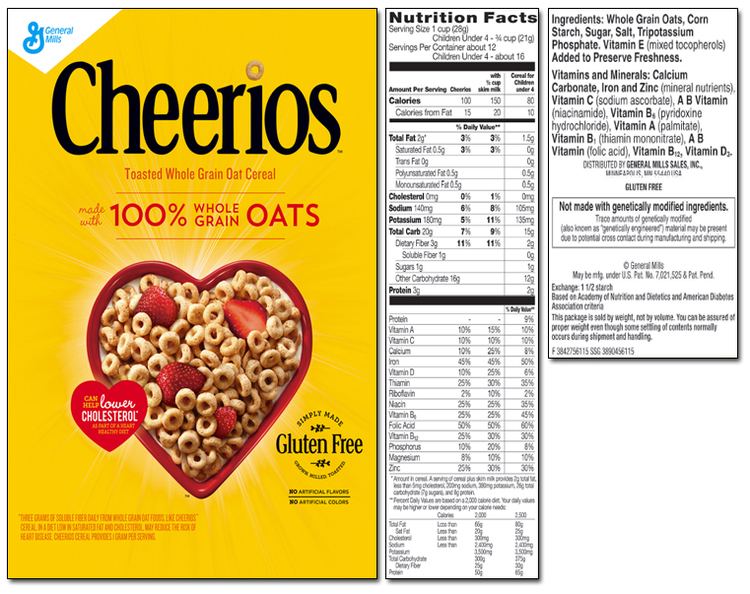 Cheerios was introduced on May 1, 1941 as CheeriOats, but the name was changed to Cheerios in 1945. Cinnamon Nut Cheerios were the first departure from original Cheerios in mid-1976, while the second were Honey Nut Cheerios, introduced in 1979. Successful marketing led General Mills to become highly successful and sell approximately 1.8 million cases of Honey Nut Cheerios in its first year alone.
Manufacturing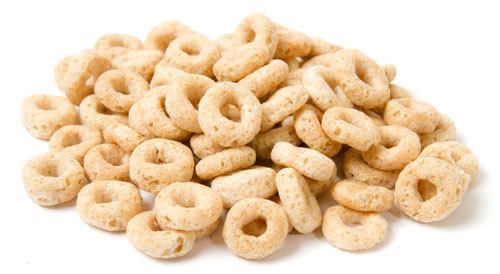 In January 2014, General Mills announced that it would halt the use of genetically modified ingredients in original Cheerios. In February 2015, the company announced they would be making Cheerios gluten-free by removing the traces of wheat, rye, and barley that usually come into contact with the oat supply used to make Cheerios during transportation.
Advertising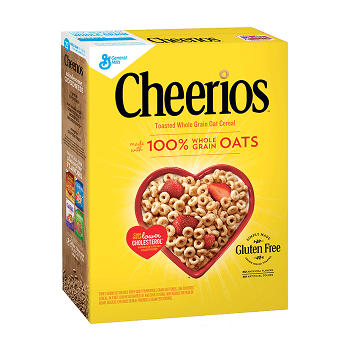 Many television commercials for Cheerios have targeted children featuring animated characters (such as an animated Honeybee). Bullwinkle was featured in early 1960s commercials; being his usual likably klutzy self; the tag line at the end of the ad being "Go with Cheerios!" followed by Bullwinkle, usually worse for wear due to his Cheerios-inspired bravery somewhat backfiring, saying "...but watch where you're going!" Also, Hoppity Hooper was featured in ads in the mid-1960s, as General Mills was the primary sponsor of his animated program.
The Cheerios Kid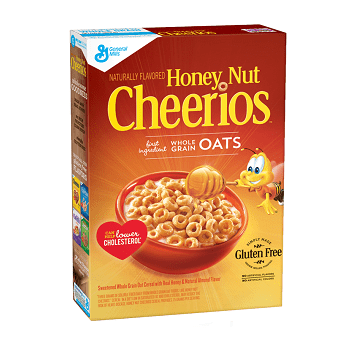 Beginning in the mid-1950s and continuing through the early 1960s, "The Cheerios Kid" was a mainstay in Cheerios commercials. The Kid, after eating Cheerios, quickly dealt with whatever problem presented in the commercial, using oat-produced "Big-G, little-o" "Go-power". The character was revived briefly in the late 1980s in similar commercials. In 2012, The Cheerios Kid and sidekick Sue were revived in an online internet video that showed how Cheerios "can lower cholesterol". Video clips of "the Kid" and Sue are part of a montage included in a 2014 TV commercial, along with clips of the Honey Nut Cheerios bee's early commercials. Mill Creek Entertainment has the DVD of The Cheerios Kid and Sue Commercials in 2017.
Spoonfuls of Stories
The Spoonfuls of Stories program, begun in 2002, is sponsored by Cheerios and a 50/50 joint venture of General Hills and Simon & Schuster. Mini-size versions of Simon & Schuster children's books are published within the program when the book drive occurs. The program also includes a New Author contest; winners' books are published in miniature, in boxes of Cheerios.
Shawn Johnson
In 2009, Olympic gold medalist and World Champion gymnast Shawn Johnson became the first athlete to have her photo featured on the front of the Cheerios box. The limited edition was distributed in the Midwestern region of the United States by the Hy-Vee grocery store chain.
Just Checking
In 2013, a Cheerios commercial aired, titled "Just Checking," showcasing an interracial family in which a daughter asks her mother (white) if Cheerios is good for the heart, as her father (black) mentioned. The mother says the cereal is good according to the box which states that the whole grain oats lowers cholesterol. The next scene features the father waking up as a pile of Cheerios spill down his chest, which the daughter placed there having taken her father's words literally. The commercial received unintentional notoriety due to the racist anger at the commercial showing a biracial family. This was so extreme that General Mills was forced to disable further comments on the video. However, there was a larger outcry towards the critics of the ad, and many users on YouTube defended the ad and its social statement. The same year, Ben and Rafi Fine, known as The Fine Brothers, featured the commercial on their weekly series "Kids React", in which the kids reacted bewildered from learning of the negative criticism. In 2014, General Mills released a Super Bowl ad titled "Gracie", featuring the same family: in the commercial, the father, using Cheerios to illustrate his meaning, tells the daughter that a new baby coming, that her mother is pregnant, and the daughter accepts - as long as they also get a puppy and the father agrees while the mother looks a little surprised. Both commercials were given mostly positive reviews.
Discontinued products
Cheerios and X's (1993)
Team Cheerios (formerly Team USA Cheerios) (1996)
Millenios (Cheerios with "2"-shaped cereal pieces) (1999–2000)
Berry Burst Cheerios (including variations of Strawberry, Strawberry Banana, Cherry Vanilla and Triple Berry) (2003)
Dulce de Leche Cheerios (2012) (sweetened Cheerios made with caramel)
Banana Nut Cheerios (2015–2016) (sweetened Cheerios made with banana puree)
2009 FDA demand
In May 2009, the U.S. Food and Drug Administration sent a letter to General Mills indicating that Cheerios was being sold as an unapproved new drug, due to labeling which read in part:
• "You can Lower Your Cholesterol 4% in 6 weeks"
• "Did you know that in just 6 weeks Cheerios can reduce bad cholesterol by an average of 4 percent? Cheerios is ... clinically proven to lower cholesterol. A clinical study showed that eating two 1½ cup servings daily of Cheerios cereal reduced bad cholesterol when eaten as part of a diet low in saturated fat and cholesterol."
The FDA letter indicated that General Mills needed to change the way it marketed Cheerios or apply for federal approval to sell Cheerios as a drug. General Mills responded with a statement that their claim of soluble fiber content had been approved by the FDA, and that claims about lowering cholesterol had been featured on the box for two years.
In 2012, the FDA followed up with a letter approving the Cheerios labeling and declaring that the matter was moot and required no further action.
References
Cheerios Wikipedia
(Text) CC BY-SA