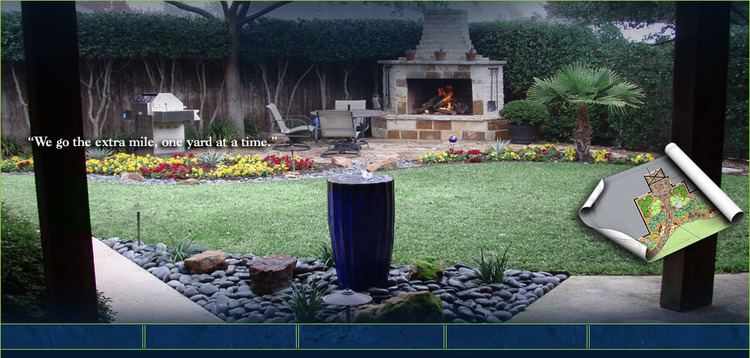 The area was first settled by Jared Ford in 1842 by William and Mary Larner on a site within the Peters Colony grant. In 1844, the A. W. Perry family claimed land in the area around Trinity Mills where, in partnership with Wade H. Witt, a mill was established.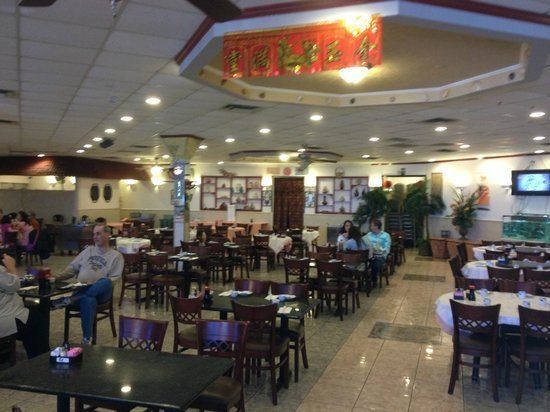 The English colony, a group of families in the northeastern area of settlement which crossed into Denton County, was home to large landowners including the Furneaux, Jackson, Morgan, and Rowe families. It is most likely that Carrollton was named for Carrollton, Illinois, the original home of many of these settlers.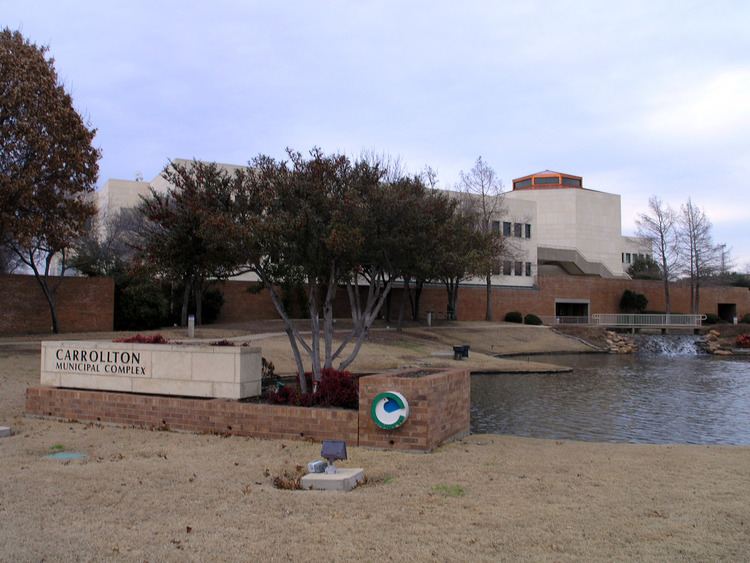 Early on, Carrollton's livelihood was exclusively agricultural, but following the construction of the Dallas-Wichita Railroad through Trinity Mills in 1878, the community began to grow in its industrial significance. Carrollton's significance was further strengthened when the railroad was extended to Denton in 1880 by Jay Gould, who sold the line to the Missouri–Kansas–Texas Railroad (the Katy) in 1881. By 1885, Carrollton had flour mills, cotton gins, two churches, a school, and a population of 150. The St. Louis Southwestern Railway (the "Cotton Belt") crossed the Katy in 1888, and the town became a shipping center for livestock, cotton, cotton seed, and grain, helping the town surpass Trinity Mills to the north.
In 1913 Carrollton was officially incorporated, and W.F. Vinson was elected mayor. A gravel industry that began in Carrollton in 1912 transformed the city, by the late 1940s, to a "grain and gravel" town. The city also supported a brick plant and a dairy industry, and National Metal Products established itself in the city in 1946.
After World War II the city grew rapidly. In 1950 its population stood at 1,610, and it grew to 4,242 in 1960 and 13,855 in 1970. At this point, significant suburban growth began spilling out of north Dallas, and the city grew tremendously between 1970 and 1980, with a documented growth of 193% to 40,595 inhabitants. By 1983, the population was 52,000, by 1990, it had reached 82,169, and by 2010 the population had grown to 119,097.
It is a suburb of Dallas and in 2006 was named to America's "Top 100 Places to Live" by Relocate America. Also in 2006, it was selected as the 19th best place to live in the United States by Money magazine. In 2008 it was named by Money magazine the 15th best place to live among small cities.
According to the United States Census Bureau, Carrollton has a total area of 37.1 square miles (96.1 km2), of which 36.3 square miles (94.0 km2) is land and 0.81 square miles (2.1 km2), or 2.19%, is water.
Carrollton is located in portions of three counties: Dallas County, Denton County, and Collin County.
On average, the warmest month is July. The highest recorded temperature was 112 °F in 1980. The average coolest month is January. The lowest recorded temperature was 1 °F in 1989. The most precipitation on average occurs in May. Carrollton is considered to have a humid subtropical climate.
As of the 2010 census, the total population was 119,097, with 43,299 households and 31,073 families residing in the city. The population density was 3,209.8 people per square mile (1,239.3/km2). There were 45,508 housing units at an average density of 1,253.7 per square mile (484.1/km2). The racial makeup of the city was 63.6% White, 8.4% African American, 0.6% Native American, 13.4% Asian, 0.03% Pacific Islander, 10.8% some other race, and 3.1% from two or more races. Hispanic or Latino of any race were 30.0% of the population.
There were 43,299 households at the 2010 census. Of these, 35.9% had children under the age of 18 living with them, 71.8% were headed by married couples living together, 12.4% had a female householder with no husband present, and 28.2% were non-families. 22.5% of all households were made up of individuals, and 4.6% had someone living alone who was 65 years of age or older. The average household size was 2.74, and the average family size was 3.25.
In the city, the population was spread out with 26.0% under the age of 18, 8.5% from 18 to 24, 29.7% from 25 to 44, 27.8% from 45 to 64, and 8.0% who were 65 years of age or older. The median age was 35.6 years. For every 100 females there were 95.7 males. For every 100 females age 18 and over, there were 92.4 males.
At the 2010 census, the median income for a household in the city was $70,960 and the median income for a family was $68,672. The per capita income for the city was $26,746. About 4.1% of families and 5.6% of the population were below the poverty line, including 7.4% of those under age 18 and 6.3% of those age 65 or over.
The city houses headquarters for:
FASTSIGNS International, Inc.
Halliburton has North America operations for Easywell in Carrollton.
Heelys, Inc.
Jokari
Motel 6 (G6 Hospitality)
Dymatize Corporation
Parks Coffee / ProStar Services, Inc.
Sleep Experts
According to the city's most recent Comprehensive Annual Financial Report (2016), the city's various funds had $100,262,393 in Revenues, $91,667,190 in expenditures, $24,802,004 in total assets, $5,006,429 in total liabilities, and $30,581,414 in cash and investments.
The city of Carrollton is a voluntary member of the North Central Texas Council of Governments association, the purpose of which is to coordinate individual and collective local governments and facilitate regional solutions, eliminate unnecessary duplication, and enable joint decisions.
The City of Carrollton has a City Council that consists of seven members and a Mayor, the current Mayor of Carrollton is Kevin Falconer. The City Council is responsible for establishing city policies, considering city resolutions and ordinances, appointing citizens to various city boards and commissions, adopting the city's Comprehensive Plan and annual budget, approving or rejecting zoning changes, and meets on the first and third Tuesday of every month.
Most of Carrollton is a part of the Carrollton-Farmers Branch Independent School District. Dallas Independent School District also serves a small portion of Carrollton in the south, along with the Lewisville Independent School District in the north.
CFBISD operates three high schools in Carrollton: Newman Smith High School, R.L. Turner High School, and Creekview High School. Lewisville ISD operates Hebron High School.
The DISD portion is served partially by Jerry R. Junkins Elementary School in Carrollton, Ewell D. Walker Middle School in Dallas, and W. T. White High School in Dallas. Private schools in the area include The Saint Anthony School, Carrollton Christian Academy. At one time Coram Deo Academy had a campus in Carrollton.
The Japanese School of Dallas, a supplementary Japanese school, conducts its classes at Ted Polk Middle School in Carrollton. The school has its main offices in Farmers Branch.
Responsive Education Solutions has two charter schools in Carrollton. Carrollton Classic Academy, grades K-5, which holds classes at First Baptist Church, and Quest of Coppell, grades 6-8, which holds classes at The North Church.
Rhema Marvanne, child gospel singer featured in the movie Machine Gun Preacher
Jason Maxiell, Detroit Pistons forward player, attended Newman Smith High School
Katie Meili, Olympian swimmer who won Gold and Bronze Medals at the 2016 Summer Olympics.
Keith Moreland, Professional baseball player and broadcaster. He attended R.L. Turner.
Noah Ringer, Taekwondo champion and The Last Airbender actor
Melissa Rycroft, former Dallas Cowboys cheerleader and Dancing with the Stars and The Bachelor contestant
Ron Simmons, investment advisor in Carrollton and Republican member of the Texas House of Representatives since 2013
Burt Solomons, Denton County lawyer; Republican member of the Texas House of Representatives from District 65 from 1995-2013
Taylor Teagarden, Baltimore Orioles catcher, attended Creekview High School
Corbin Van Arsdale, former member of the Texas House of Representatives from Harris County, 2003-2008; reared in Carrollton; lawyer and lobbyist in Austin
Deron Williams, point guard for the Cleveland Cavaliers, attended Arbor Creek Middle School
Travis Wilson, wide receiver for the Cleveland Browns, attended Creekview High School
Vanilla Ice, rapper and reality TV star. He attended R.L. Turner.
Amanda Bouldin, from Carrollton, a New Hampshire politician
Rafael Cruz, father of Ted Cruz, US Senator from Texas and 2016 Presidential candidate
Laganja Estranja, drag performer, jewelry designer, and rapper. Laganja (also known as Jay Jackson) competed on season 6 of RuPaul's Drag Race.
Yung Ho, Taiwan