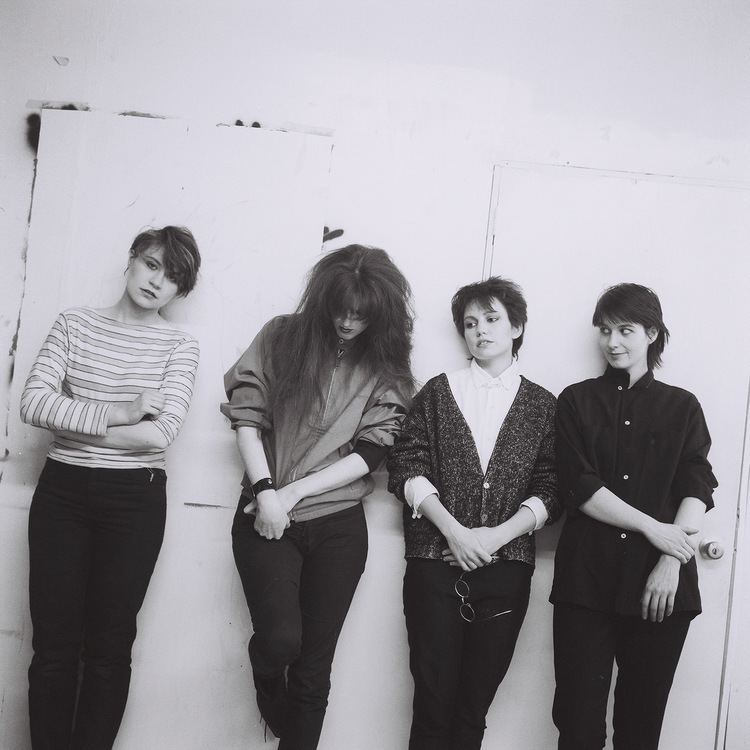 The experimental all-women punk band Fifth Column began in the mid 1980s in Toronto, Ontario, Canada.
The band self-released two albums, To Sir With Hate and All-Time Queen Of The World. They also released several cassettes, and their recordings appeared in several compilations. They recorded three singles, the best known being "All Women Are Bitches, Repeat!", released on the independent record label K Records. Despite the controversy surrounding the song, it was reviewed by Everett True and named 'Single of the Week' in the UK music magazine Melody Maker. The song was also included on the bands' last full-length recording, 36-C. The band's last release was the song "Imbecile", which appeared on the Fields and Streams compilation in 2002 on the Kill Rock Stars label.
Azar and Fifth Column raised close to $50,000 for women's shelters and varied abortion clinics throughout North America over a 17-year span. Azar organized two International Women's Day Events in the late 1990s at The McGill Women's Club in Toronto in support of the Native Women's Shelter and 'Andayyan', which featured the work of Aboriginal, Metis and non-native women artists.
Azar has also recorded with several other bands including Kickstand from New York City, Shadowy Men on a Shadowy Planet, Greek Buck, and The Hidden Cameras from Toronto.
Along with G.B. Jones, Jena von Brucker, Johnny Noxzema, Rex, and others, Azar edited Double Bill, a zine that was sometimes referred to as an "anti-zine" and provoked much commentary, including articles in The Village Voice, from its inception in 1991 until 2001, when it ceased publication. The editors of Double Bill also contributed collectively to the Riot Grrrl fanzine, Girl Germs.
Azar has appeared in a number of films, as well as on television. She played a lead role in the films The Troublemakers and The Yo-Yo Gang by G.B. Jones, and appeared in films, videos and performances on television by Fifth Column. She has also played characters in films for directors Jeremy Podeswa, Midi Onodera and Bruce LaBruce. She has done extensive voiceover work, including the narration for the feature documentary about the Orange Revolution in the Ukraine, Colour Me Free.
Azar has acted in a number of stage productions, including Cut by Kevin Killian, The Molly Murders by Anthony Furey, for which she was selected "Outstanding Performer" by Now Magazine, and Phae by Julian Doucet.
Azar directed music videos for Sylvia Tyson's Quartette and for Bob Wiseman's song "Airplane on the Highway". She has directed about 20 plays; most recently, the 2010 production of The Getaway by Bruce Hunter, at the Toronto Fringe Festival. She worked as directorial assistant for the Judith Thompson productions of Perfect Pie, Habitat, Capture Me and Body and Soul, story editor, and dramaturg for other writers, Azar has also written several plays, including Satan's Mistress, The Surreal Detective vs John Nothing and Man-O-Rexic. Man-O-Rexic featured songs written by Azar and recorded with Fifth Column alumni G. B. Jones and Beverly Breckenridge along with Joel Gibb of The Hidden Cameras. She also designed and taught classes of an acting method which she named "archival technique".
In 2012, a documentary film by Kevin Hegge, called She Said Boom: The Story of Fifth Column was released featuring interviews with band members Caroline Azar, G.B. Jones, and Beverly Breckenrige, with commentary on the influence of Fifth Column by Kathleen Hanna and Bruce LaBruce. Soon after Azar and Jones launched a musical performance installation for The Theatre Centre Pop-Up called 'The Bruised Garden'. In 2014, the installation was incorporated into the stage set for Jones and Minus Smile's group 'Opera Arcana', for which Azar wrote a script named 'Opera Arcana in The Bruised Spirits of Southern Ontario'. This played for two nights at Videofag performance space in Kensington Market.
Azar launched her live workshop production of 'Dink' at The Next Stage Theatre Festival in downtown Toronto at The Factory Theatre in January, 2015, starring the broadway stage star David Keeley. The show received mediocre reviews. Later that year Azar combined Wilfred Owen's anti-war poem 'Anthem for Doomed Youth' with original music for Peter Hinton's play The End at Theatre 20.
She Said Boom: The Story of Fifth Column directed by Kevin Hegge (2012)
Colour Me Free directed by Areta Lloyd (2007)
Touch directed by Jeremy Podeswa (2001)
She's Real directed by Lucy Thane (1997)
Evelyn Be My Valentine directed by Virginia Rankin (1995)
Airplane On The Highway video for Bob Wiseman, directed by Caroline Azar (1994)
The Yo-Yo Gang directed by G.B. Jones (1992)
No Skin Off My Ass directed by Bruce LaBruce (1991)
Like This video for Fifth Column, directed by Bruce LaBruce and Fifth Column (1990)
The Troublemakers directed by G.B. Jones (1990)
Urban Underground directed by John Porter (1985)
One If By Land, Two If By Sea, directed by Midi Onodera (1984)
Fifth Column at the Funnel directed by John Porter (1982)
The Bird That Chirped On Bathurst, directed by Midi Onodera (1981)
'DINK', a full-length play by C Azar (live workshop run for NSTF Toronto 2015) Factory Theatre MainStage, Toronto Jan 8-18 2015.
'The Bruised Spirits of Southern Ontario', written by C Azar for the musical group OPERA ARCANA, featuring GB Jones and Minus Smile. At Videofag, Halloween 2014 Videofag
"The Bruised Garden" a performance installation in partnership with gb jones and the theatre centre for nuit blanche 2012 Toronto.
'Honour Killings. a full-length play rewritten by C. Azar from a text by Harvey Markowitz. Toronto Fringe 2012 Helen Gardiner Phelan Theatre.
"What Tucci saw" - Editor, Dramaturge and Co-Writer 2012 (Archival Workshop)
"What you think of me is none of my business" - Editor, Dramaturge and Co-Writer 2012 (Archival Workshop)
"Juvenalia" - Editor, Dramaturge and Co-Writer 2011 (Archival Workshop)
"Steeltown Trilogy" - Editor, Dramaturge and Co-Writer 2010 (Archival Workshop)
Man-O-Rexic, Writer, 2005
The Surreal Detective,Co-Writer with Robert Brown 1998
Satan's Mistress, Co-Writer with Rosa Von Praunheim 1996
(For Fifth Column recordings, see Fifth Column)
Mississauga Goddam, The Hidden Cameras (2004)
Bucquiem, Greek Buck (2003)
Messing With Greek Buck, Greek Buck (1998)
Kickstand, Kickstand (Queenie) (1994)
It's A Wonderful Record!, Shadowy Men on a Shadowy Planet (1994)
Apple Strudel Man, Jolly Tambourine Man (1984)
Canada Council of The Arts, Professional Development Award, 2000;
Ontario Arts Council Multi Disciplinarian Award, 1998;
Theatre Ontario Professional Development Award, 1999;
Toronto Arts Council Award, 1998;
Laidlaw Foundation Award, 1998;
Buddies and Bad Times Theatre Playwrights' Reserve, 2003;
Factor Recording Grant, CITY TV 1991;
Factor Video Grant, CITY TV 1993;