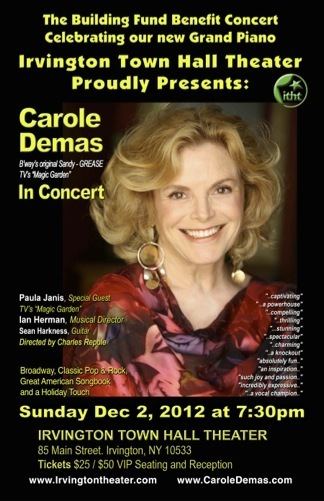 Demas was born in Brooklyn, New York in 1940. She holds a B.A. in English from the University of Vermont and continued her studies at the New York University Graduate School of Education. She spent several years as a teacher in the New York City Board of Education system including a sentimental semester teaching at P.S. 198 in Brooklyn, which she had attended from grade 5 through her graduation as the smallest kid in the eighth grade. She made her theatrical debut with the Champlain Shakespeare Festival. Later, she was featured for four seasons with the New York Shakespeare Festival Elizabethan Singers as one of a quartet consisting of Paula Janis (her eventual co-star on The Magic Garden) and their brothers, Jonathan Rosen and Alex Demas. During her appearances she was "discovered" by theatrical agents, which lead to her ingenue lead in Fred Ebb's new book musical "Morning Sun", and her continued career on stage, television and film. While in attendance at the University of Vermont she comped to become Miss Vermont in the Miss Universe pageant.
Demas' theater career began in 1963 as the ingenue lead (opposite Bert Convy and starring Patricia Neway) role in Morning Sun, an early Fred Ebb effort (before his partnership with John Kander). She was later cast as a replacement for the role of "Louisa (The Girl)" in The Fantasticks, and starred in that role for more than 2 years. Her work with Tom Jones and Harvey Schmidt continued with the Portfolio workshop and her starring in their productions of Philemon and The Bone Room. In 1971, Demas was cast in the title role of the revival of No, No, Nanette, but was dismissed from the cast during rehearsals, owing to a disagreement between the director and the casting director.
Demas was next cast as "Sandy" in the original Broadway production of Grease. She worked with writers Jim Jacobs and Warren Casey to develop the role, which, in the original Chicago play (Grease Lightning) on which the musical was based, was considered too dark for the mainstream Broadway audience. For her role in Grease, Demas, along with the rest of the original Broadway cast, was inducted into the Rock and Roll Hall of Fame.
Demas left Grease to join the cast of a new musical, The Baker's Wife, produced by David Merrick. The play, which was being produced in Los Angeles in preparation for a national tour prior to a Broadway opening, proved problematic from the start, and several efforts were made to fix it, including replacing Demas with Patti LuPone, but to no avail. The Baker's Wife never came to Broadway.
Her regional theatre credits include major roles in Barefoot in the Park (with Joan Bennet), Enter Laughing, Absence of a Cello (as Hans Conried's daughter), A Funny Thing Happened on the Way to the Forum as "Philia", Oh, What a Lovely War, and her favorites, "Regina" in Another Part of the Forest at the Pennsylvania State Repertory Theatre, and "Angel" in Celebration at ACT in Seattle.
In 2011, at The New Amsterdam Theatre for Gypsy of the Year, Carole re-united with several original Grease cast members for a special performance.
While working in Grease, Demas and long-time friend Paula Janis began starring in the television show The Magic Garden for WPIX-TV in New York City. She and Janis continued presenting this daily children's television show from 1972 until 1984, with live concerts continuing long after the television show stopped being broadcast. the also co-wrote and appeared in two 1-hour specials, A Magic Garden Christmas, and The Magic Garden——Still Growing. WPIX-TV has continued to feature them in news stories and on the web with Magic Garden Moments.
For the popular PBS Series Great Performances, Carole joined other stars of the Great White Way for Lorimar's Showstoppers—The Best of Broadway, in which memorable moments from Broadway musicals were recreated by the original stars. Demas has also appeared as a guest actor on many daytime and primetime series, including One Life to Live, The Edge of Night, Barnaby Jones, Mannix, Kojak, N.Y.P.D., The Man from Atlantis, and more recently Blue Bloods and Allegiance.
Carole was featured in the films, The 300 Year Weekend ( with William DeVane), and her other films include The Space Works for Trans-Lux Corp. and A Lovely Way to Die for Universal Films.
Demas has turned to concerts and cabaret in her later life. She has produced her one-woman show Summer Nights at the Laurie Beechman Theatre, and appears often in Broadway reviews, retrospectives, and fundraiser concerts:
Town Hall's Broadway Originals concert, Town Hall, NYC — featured
Off-Broadway Close Up, Merkin Concert Hall, NYC
50th Anniversary concerts for WBAI Radio, The Fantasticks (Night of 1000 Luisas) and The Lincoln Center Library For The Performing Arts
Gypsy of the Year at the New Amsterdam Theater, NYC
Afternoon of Broadway Stars, Crystal Cruise Symphony, Galaxy Theatre, French Polynesia
Steve Ross' Broadway, Ziegfeld Society, Lang Hall, NYC
Broadway by the Year 1972 at Town Hall, NYC
Carole Demas and Friends benefit for the Westchester Land Trust, Westchester Broadway Theatre, Elmsford, NY
Broadway on St. Croix, The Reef Pavilion, St. Croix, U.S.Virgin Islands
Broadway Returns to Barbados, Frank Colymore Hall, Bridgetown, Barbados
One Enchanted Evening, The Caribbean Theatre, Christiansted, St. Croix, U.S.Virgin Islands
Winter Rhythms, Urban Stages, NYC
Concerts for City Greens, Tudor City, NY
Actor's Fund, Broadway Cares benefit at Signature Theatre, NYC
benefit concert for the Irvington Town Hall Theatre, Irvington, New York
Primary Stages annual gala
Benefit concert for Zani's Furry Friends, Birdland, New York City
Huntington's Disease benefit concert, NYIT Auditorium
"Broadway Ballyhoo" at 54 Below, New York City
Sondheim Unplugged - 54 Below, New York City
Broadway Concerts Direct - Blooming Grove Series
Broadway Originals - 54 Below, New York City
Grease - Original Broadway Cast Album (1972)
How to Steal an Election - Original Off-Broadway Cast Album
Carole and Paula in the Magic Garden - Original Cast Album
Carole and Paula: Tales from the Storybox
Carole and Paula: Musical Goose on the Loose
Green Songs - Champlain Shakespeare Minstrels
Festival Line Singers In Concert - New York Shakespeare Festival Line Singers
Demas was inducted into the Long Island Music Hall of Fame in 2010
Demas serves on the advisory board of The New York Children's Theatre Festival
Demas presently resides in Westchester County with her husband, Stuart Allyn.