Peru


392.47 km2


Cajamarca Region




Ramiro Bardales Vigo




283,767




Universidad Nacional de Cajamarca, Private University of the North, Universidad Privada Antonio Guillermo Urrelo



Cajamarca is the capital and largest city of the Cajamarca Region as well as an important cultural and commercial center in the northern Andes. It is located in the northern highlands of Peru at approximately 2,750 m (8,900 ft) above sea level in the valley of the Mashcon river. Cajamarca has an estimated population for 2014 of about 218,775 inhabitants.
Cajamarca has a mild highland climate, and the area has a very fertile soil. The city is well known for its dairy products and mining activity in the surroundings.
Among its tourist attractions, Cajamarca has numerous examples of Spanish colonial religious architecture, beautiful landscapes, pre-Hispanic archeological sites and hot springs at the nearby town of Baños del Inca (Baths of the Inca). The history of the city is highlighted by the Battle of Cajamarca, which marked the defeat of the Inca Empire by Spanish invaders as the Incan emperor Atahualpa was captured and murdered here.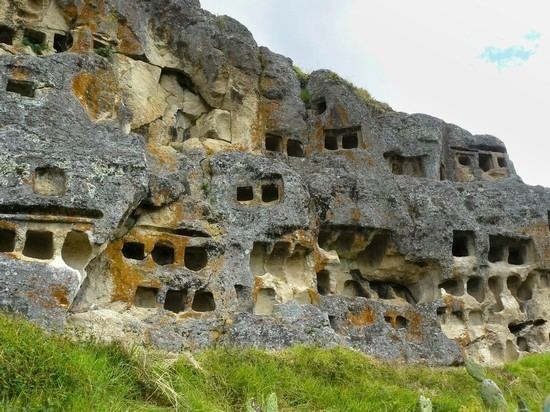 The city and its surroundings have been occupied by several cultures for more than 2000 years. Traces of pre-Chavín cultures can be seen in nearby archaeological sites, such as Cumbe Mayo and Kuntur Wasi.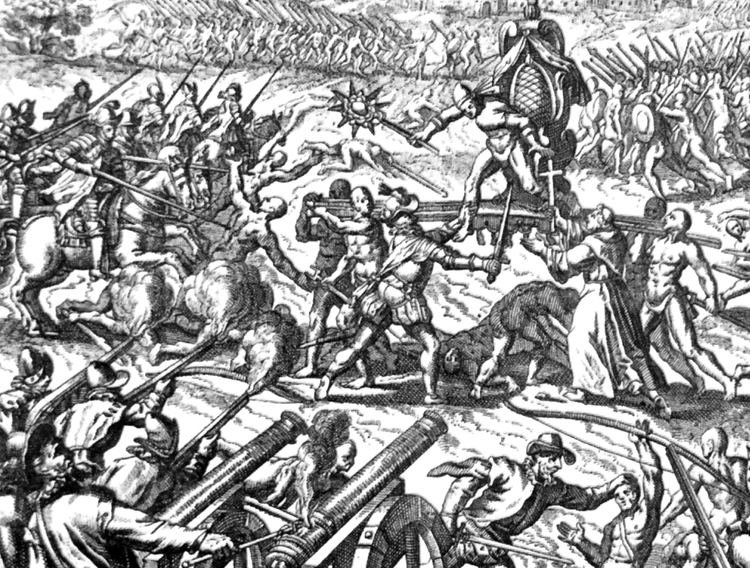 During the period between 1463 and 1471, Tupac Inca conquered the area and brought Cajamarca into the Tawantinsuyu, or Inca Empire. At the time, it was ruled by Tupac Incas father Pachacuti.
In 1532 Atahualpa defeated his brother Huáscar in a battle for the Inca throne in Quito (in present-day Ecuador). On his way to Cusco to claim the throne with his army, he stopped at Cajamarca.
Francisco Pizarro and his 168 soldiers met Atahualpa here after weeks of marching from Piura. The Spanish Conquistadors and their Indian allies captured Atahualpa in the Battle of Cajamarca, where they also massacred several thousand unarmed Inca civilians and soldiers.
Having taken Atahualpa captive, they held him in Cajamarcas main temple. Atahualpa offered his captors a ransom for his freedom: a room filled with gold and silver (possibly the place now known as El Cuarto del Rescate or "The Ransom Room"), within two months. Although having complied with the offering, Atahualpa was brought to trial and executed by the Spaniards.
In 1986 the Organization of American States designated Cajamarca as a site of Historical and Cultural Heritage of the Americas.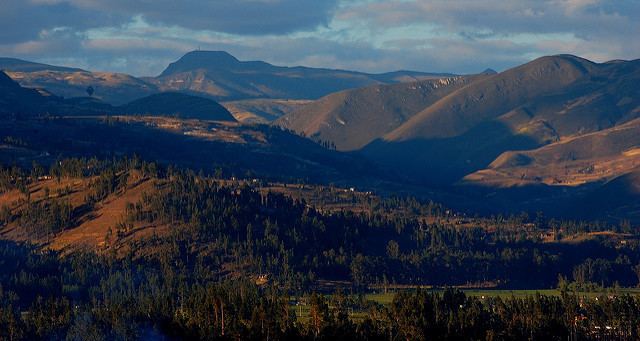 Cajamarca is situated at 2750 m (8900 ft) above sea level on an inter-Andean valley irrigated by three main rivers: Mashcon, San Lucas and Chonta; the former two join together in this area to form the Cajamarca river.
Cajamarca is surrounded by a fertile valley, which makes this city an important center of trade of agricultural goods. Its most renowned industry is that of dairy products. Yanacocha is an active gold mining site 45 km north of Cajamarca, which has boosted the economy of the city since the 1990s.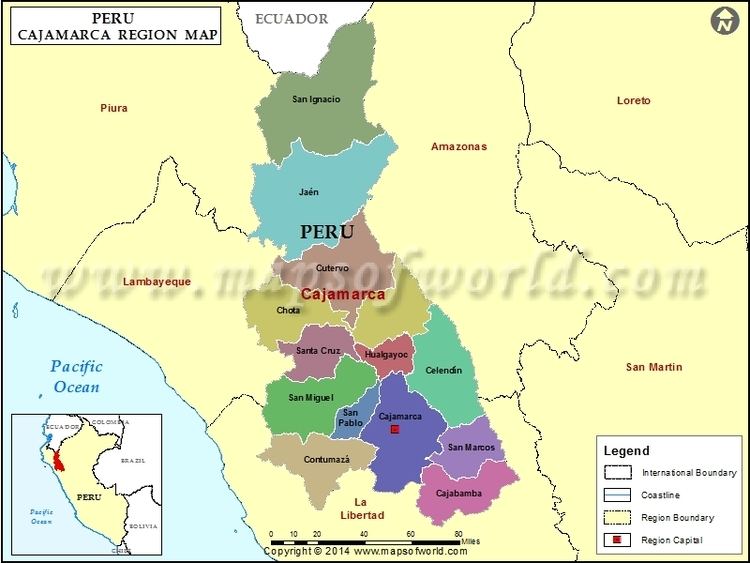 Cajamarca is home to the annual celebration of Carnaval, a time when the locals celebrate Carnival before the beginning of Lent. Carnival celebrations are full of parades, autochthonous dances and other cultural activities. A local Carnival custom is to spill water and/or some paint among friends or bypassers. During late January and early February this turns in to an all-out water war between men and women (mostly between the ages of 6 and 25) who use buckets of water and water balloons to douse members of the opposite sex. Stores everywhere carry packs of water balloons during this time, and it is common to see wet spots on the pavement and groups of young people on the streets looking for "targets".
Cajamarca Wikipedia
(,)http://images.placesonline.com/photos/34249_ancient_history_cajamarca.jpg(,)http://upload.wikimedia.org/wikipedia/commons/3/39/Inca-Spanish_confrontation.JPG(,)http://www.sungodperu.com/wp-content/uploads/2009/10/ventanas-otuzco-cajamarca.jpg(,)http://upload.wikimedia.org/wikipedia/commons/1/13/Atahualpa_seizure.jpg(,)https://www.forumancientcoins.com/historia/earlyprinting/db5cu.jpg(,)http://www.ancient-origins.net/sites/default/files/styles/large/public/field/image/circular-pyramid-peru.jpg%3Fitok%3DsxBmm3VG(,)http://upload.wikimedia.org/wikipedia/commons/e/eb/Conquest_peru_1531.jpg(,)http://4.bp.blogspot.com/-cMAQe9jDgcg/UTp0bnwvErI/AAAAAAAAApY/z1WbPsZ3xO4/s1600/Peru_2013_03%2B1025.jpg
(,)https://c2.staticflickr.com/2/1124/718388469_06c0cde4aa_z.jpg(,)https://c1.staticflickr.com/3/2831/10965808076_855ba246cb_b.jpg(,)http://www.bradtguides.com/media/wysiwyg/destinations/central-and-south-america/peru/cajamarca_peru.jpg(,)http://images.travelpod.com/tw_slides/ta00/9c2/f22/south-highland-ecuador-landscape-cajamarca.jpg(,)http://media.clemson.edu/ia/contest/2014/landscape//14.JPG(,)http://busportal.pf-control.de/welterfahren/wp-content/uploads/2013/09/CajamarcaHuaraz-3.jpg%3Fw%3D574(,)http://www.digitaljournal.com/img/1/8/4/8/5/1/i/7/6/6/p-large/4050783033_90861a866a_z.jpg(,)http://images.fineartamerica.com/images-medium-5/landscape-of-cajamarca-stefan-pettersson.jpg(,)http://www.aracari.com/wp-content/uploads/2010/12/northern-peru-travel-cajamarca.jpg(,)http://farm3.static.flickr.com/2606/4168363693_67315f7e41_s.jpg
(,)http://media-cdn.tripadvisor.com/media/photo-s/03/b1/12/0d/gran-restaurant-el-zarco.jpg(,)http://media-cdn.tripadvisor.com/media/photo-s/01/b7/79/3e/caption.jpg(,)http://media-cdn.tripadvisor.com/media/photo-s/03/b1/12/08/gran-restaurant-el-zarco.jpg(,)http://media-cdn.tripadvisor.com/media/photo-s/03/b1/12/06/gran-restaurant-el-zarco.jpg(,)http://www.peru-hotel.us/images/cajamarca/laguna-seca-cajamarca-hotel-restaurant.jpg(,)http://www.peru-hotel.us/images/cajamarca/costa-del-sol-cajamarca-hotel-restaurant.jpg(,)http://media-cdn.tripadvisor.com/media/photo-s/03/b1/12/0b/gran-restaurant-el-zarco.jpg(,)http://www.costadelsolperu.com/images/seccion/cajamarcaint2.jpg(,)http://www.costadelsolperu.com/images/seccion/cajamarca.jpg(,)http://images.pacarama.com/hotel-14834/cpd/hostal-los-girasoles-13.jpg(,)http://farm5.static.flickr.com/4011/4306702427_4d6264251c.jpg
(,)http://www.inkaterra.com/blog/wp-content/uploads/2013/07/screen-shot-2013-07-26-at-17-40-51.png(,)http://www.travelgogirl.com/wp-content/uploads/2014/09/diablo1.jpg%3F22fa78(,)http://e.peruthisweek.e3.pe//ima/0/0/0/2/1/21326/624x468.jpg(,)http://www.perutravels.net/images/img7.jpg(,)http://machupicchucoupons.com/thebestwayenjoyingperu/wp-content/uploads/2013/02/Carnaval-Cajamarca-2012-RCH-1.jpg(,)http://www.go2peru.com/destinos/large/foto_danza_tijeras_promperu.jpg
(,)http://www.mapsofworld.com/peru/maps/cajamarca-map.jpg(,)http://thumbs.dreamstime.com/z/ventanillas-de-otuzco-cajamarca-peru-16764953.jpg(,)http://previews.123rf.com/images/yolka/yolka1011/yolka101100004/8153383-Ventanillas-de-Otuzco-Cajamarca-Peru-The-Ventanillas-Windows-are-a-huge-pre-Inca-necropolis-where-th-Stock-Photo.jpg(,)http://previews.123rf.com/images/yolka/yolka1011/yolka101100010/8153387-Ventanillas-de-Otuzco-Cajamarca-Peru-The-Ventanillas-Windows-are-a-huge-pre-Inca-necropolis-where-th-Stock-Photo.jpg(,)http://thumbs.dreamstime.com/z/ventanillas-de-otuzco-cajamarca-peru-16760860.jpg(,)http://previews.123rf.com/images/yolka/yolka1011/yolka101100003/8153382-Ventanillas-de-Otuzco-Cajamarca-Peru-The-Ventanillas-Windows-are-a-huge-pre-Inca-necropolis-where-th-Stock-Photo.jpg(,)http://previews.123rf.com/images/yolka/yolka1011/yolka101100005/8153384-Ventanillas-de-Otuzco-Cajamarca-Peru-The-Ventanillas-Windows-are-a-huge-pre-Inca-necropolis-where-th-Stock-Photo.jpg(,)http://farm3.static.flickr.com/2276/2240670786_a3b2e0b6e9.jpg%3Fv%3D0
(,)http://www.cuscotouristinformation.com/pictures/Cajamarca/cajamarca_lg.jpg(,)http://www.minelinks.com/peru/assets/cajamarca_peru.jpg(,)http://www.toperu.nl/wp-content/gallery/headers/image22.jpg(,)http://media-cdn.tripadvisor.com/media/photo-s/06/08/9b/30/hotel-costa-del-sol-cajamarca.jpg(,)http://www.akademifantasia.org/wp-content/uploads/2008/10/cajamarca2.jpg(,)http://www.comollegarperu.com/Fotografias/fotosgrandnorte/N1/Cajamarca1-Cajamarca.jpg(,)http://i.ytimg.com/vi/fpXBX9gLKFY/maxresdefault.jpg(,)http://www.in-peru.travel/wp-content/uploads/2015/01/iglesia-san-francisco-cajamarca-peru.jpg(,)http://aff.bstatic.com/images/hotel/max500/282/28221613.jpg(,)http://www.tambopata.com/images/fotos/cajamarca.jpg