State championships

4 (Utah)




Role

Coach




NCAA championships

4




Spouse

Kelly Sanderson (m. 2002)




Olympic medal

Gold




Education

Iowa State University




Name

Cael Sanderson







Born

June 20, 1979 (age 36) Salt Lake City, Utah (

1979-06-20

)


High school

Heber City (UT) Wasatch




Olympic team

United States of America




Status

Head Coach for Penn State Nittany Lions Wrestling




Gold medals

Wrestling at the 2004 Summer Olympics - Men's Freestyle Middleweight




Awards

Best Male College Athlete ESPY Award




Nominations

Best Male Athlete ESPY Award




Similar People

Dan Gable, Kyle Dake, Jake Varner, Tom Brands, Moon Eui‑jae




Profiles




Twitter
Asics coach interview of the week cael sanderson
Cael Norman Sanderson ( ; born June 20, 1979) is an American college wrestling icon who rose to prominence while at Iowa State University. He is currently the head wrestling coach of Penn State University. He is considered one of the best American amateur wrestlers in recent history. A 2004 Olympic champion in Athens, Greece, he went undefeated in four years of college wrestling at Iowa State University (159–0), winning four consecutive NCAA titles (1999–2002). He is the only wrestler in NCAA Division I history to go undefeated in official matches with more than 100 wins. Sports Illustrated named his college career as the second most impressive college sports feat behind the setting of four world records by Jesse Owens in a single hour at the 1935 Big Ten track and field conference championship meet.
Contents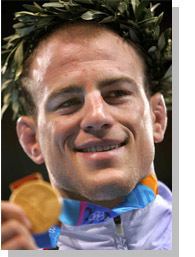 Since becoming Penn State's head coach in 2009, Sanderson's accomplishments include leading the Nittany Lions to both four-straight conference titles and four-straight national titles (2011 to 2014), 19 individual All-Americans, eight national champions, three Gorriaran winners, one two-time NCAA tournament outstanding wrestler and one two-time Hodge Trophy winner.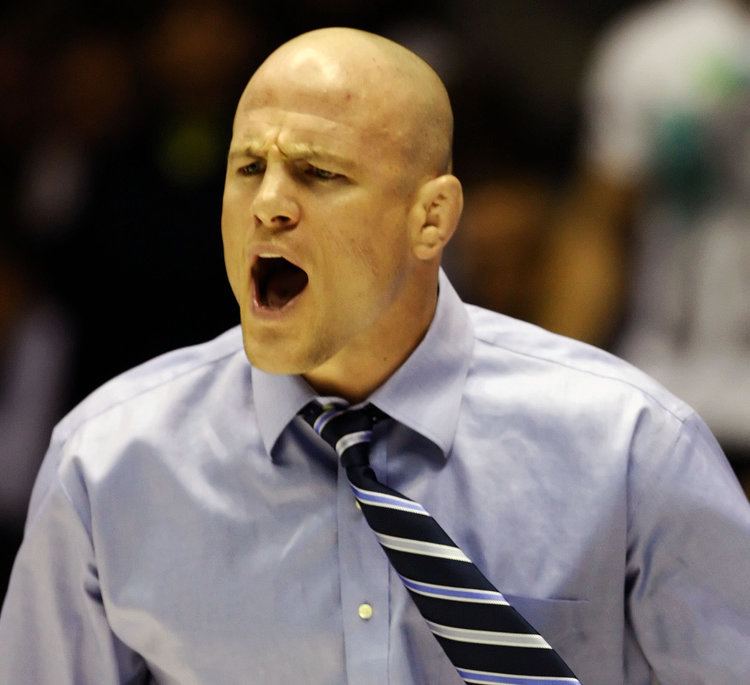 Ncaa team championship coach cael sanderson
High school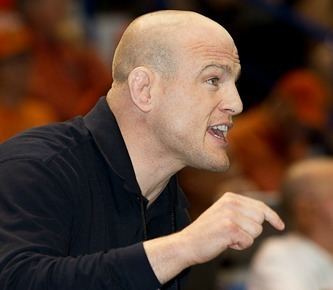 Sanderson was born in Salt Lake City, Utah, and was the third of four Sanderson brothers to win Utah high school state wrestling titles, while wrestling for Wasatch High School in Heber City, Utah. Sanderson had a 127–3 record with four state titles. He was coached by his father, Steve. He was also an All-region selection in football.
College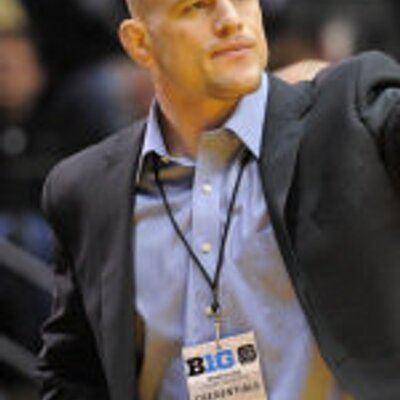 After graduating from Wasatch High in 1997, Sanderson competed at Iowa State (ISU). He redshirted the 1997–98 season. As a redshirt freshman, Sanderson won all 39 matches and the NCAA title at 184 pounds (83 kg). He became the first freshman in NCAA tournament history to be named the NCAA Wrestling Team Championship's most outstanding wrestler.
Sanderson was also undefeated in the 1999–00 season, going 40–0 and winning another NCAA title. He also won the Dan Hodge Trophy as the nation's most outstanding college wrestler. He was the first underclassman to win the Hodge Trophy. In the off season, he won the World University title in Tokyo, Japan.
As a junior, Sanderson went 40–0, raising his record to 119–0. He broke the prior record, held by Iowa State alumnus Dan Gable, of 98 consecutive wins. He was also named outstanding wrestler in the NCAA tournament and was the first two-time winner of the Dan Hodge Trophy.
Sanderson's 2001–02 campaign was a coronation of sorts. He again went undefeated at 40–0. He became the second wrestler to win an NCAA Division I individual title four times, the first being Pat Smith. He also won his third Dan Hodge Trophy as outstanding wrestler. Sanderson set an NCAA record with 159 straight wins. His success brought attention even from non-wrestling fans. Sanderson was the first wrestler since 1988's "Wheaties Search for Champions" winner, Sammy Chagolla, to be featured on Wheaties cereal boxes for his achievement. His final college accomplishments were a record of 159–0, 4 NCAA titles, 3 Dan Hodge Trophy awards, 4-time NCAA Outstanding Wrestler, and 4-time Big 12 Conference Champion.
Freestyle wrestling
In 2000, he went 17–6 and didn't make the U.S. Olympic team while being defeated by Justin Abdou (Canada), Les Gutches (Sunkist Kids), Lee Fullhart (Hawkeye WC), Ray Brinzer (Dave Schultz WC), Mike Van Arsdale (U.S. Army), and Alexei Kaziev (Russia).
When he concentrated on freestyle wrestling after his collegiate career was over, he had to work his way up to the Olympic Games. In 2003, Sanderson was defeated by Yoel Romero (Cuba) at the Titan Games and later lost to Romero again at the Pan-Am Games, Vadym Tokaev (Russia) at the Kiev Grand Prix, Khadzhimurat Gatsalov (Russia) at the World Cup, and Sazhid Sazhidov (Russia) at the World Championships.
In 2004, Sanderson was also downed by Sazhid Sazhidov (Russia) at the Golden Grand Prix Ivan Yarygin and Lee Fullhart (Gator WC) at the U.S. Nationals. However, he was able to secure the Olympic team berth and proceeded to the Athens games.
Sanderson competed at the 2011 World Championships in Istanbul, Turkey. He lost to Sharif Sharifov of Azerbaijan and Albert Saritov of Russia and did not earn a medal.
2004 Olympics
After graduation, Sanderson became an assistant coach with the Iowa State wrestling team while training for the 2004 Summer Olympics in Athens. Sanderson won gold at the 84 kg (184.8 lb.) weight class, defeating Eui Jae Moon of South Korea in the finals.
He was also the 2003 World Championship silver medalist, and a three-time national freestyle champion (2001–03).
Iowa State's coach, Bobby Douglas, supervised Sanderson's training for the 2004 Olympics.
Iowa State
Sanderson began his coaching career at his Alma Mater, ISU, as an assistant coach in 2004. A season later, he was promoted to become the associate head coach. In 2007, Sanderson became ISU's head coach. In his rookie campaign, Sanderson led the Cyclones to a second-place finish at NCAA championships, and was named National Coach of the Year. In three seasons as ISU's head coach, Sanderson led the team to a runner-up finish at the NCAA Championships and three Big 12 Conference team titles.
Penn State
In 2009, Sanderson accepted the position as the 12th head wrestling coach at Penn State University (PSU), starting with the 2009–10 season. In his second year, he led the Nittany Lions to the 2010–11 Big Ten Championship and the NCAA Championship. This was the first Big Ten wrestling championship in the school's history and their first NCAA team title since 1953. The team posted 139 points in the Big 10 tournament, with 5 individual champions (Andrew Long, Frank Molinaro, David Taylor, Ed Ruth, and Quentin Wright). The team posted 107.5 points in the NCAA tournament, with one individual champion (Quentin Wright). Cornell University placed second with 93.5 points.
During the 2011–12 season, Sanderson led the Nittany Lions to their second straight Big Ten Title posting 149 points with three champions (Taylor, Ruth, and Molinaro). The team went on to claim its second Division I NCAA Team title in Sanderson's third year as head coach. The team posted a score of 143.5 points with three individual champions (Taylor, Ruth, and Molinaro). Minnesota placed second with 117.5 points.
Under Sanderson, Penn State won four consecutive national titles from 2011 to 2014, along with two more in 2016 and 2017.
Awards and honors
Sanderson was inducted into the Iowa Sports Hall of Fame in 2012, the 210th member to earn membership.
Personal life
Sanderson's three brothers also wrestled at Iowa State. Cody, Cole, and Cael all graduated from ISU, while the youngest brother, Cyler, was a 157 pounds (71 kg) wrestler. Cyler transferred to PSU to continue wrestling with his brother Cael and in 2010 won the Big Ten championship at 157 lbs.
Sanderson is also a lifelong member of The Church of Jesus Christ of Latter-day Saints.
References
Cael Sanderson Wikipedia
(Text) CC BY-SA