Genre

Comedy, Family, Sci-Fi

Initial DVD release

August 12, 2008





Music director

Raymond Wong




Release date

30 January 2008 (2008-01-30) (China)31 January 2008 (2008-01-31) (

Hong Kong

)

Cast

Stephen Chow

(Ti Chow),

Lam Tze-Chung

(Boss),

Lee Sheung-Ching

(Mr. Cao),

Huang Lei

(Johnny)




Similar movies

Independence Day

,

Close Encounters of the Third Kind

,

Edge of Tomorrow

,

Avatar

,

Men in Black

,

Transformers: Age of Extinction




Tagline

It's out of this world.
CJ7 (Chinese: 長江七號; Cantonese Yale: Cheung gong chat hou) is a 2008 Hong Kong-Chinese science fiction comedy-drama film co-written, co-produced, starring, and directed by Stephen Chow. It was released on 31 January 2008 in Hong Kong. It was also released on 14 March 2008 in the United States.
Contents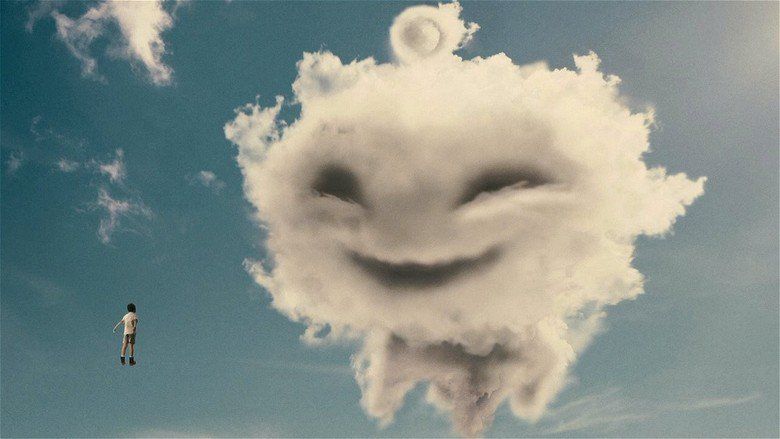 In August 2007 the film was given the title CJ7, a play on China's successful Shenzhou manned space missions—Shenzhou 5 and Shenzhou 6. It was previously known by a series of working titles—Alien, Yangtze River VII, Long River 7 and most notably, A Hope.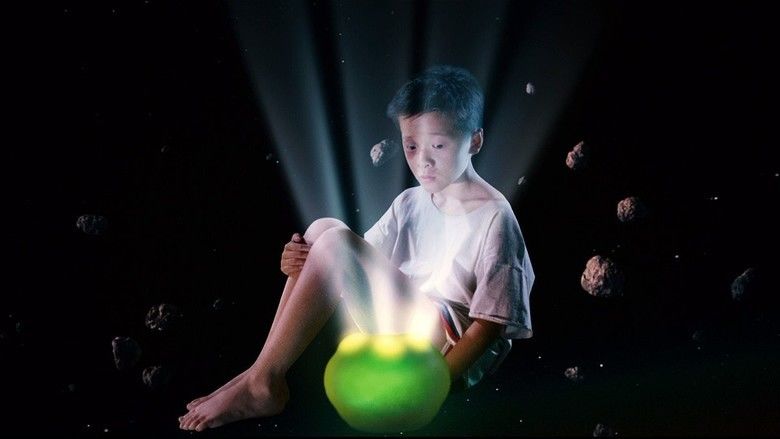 CJ7 was filmed in Ningbo, in the Zhejiang province of China.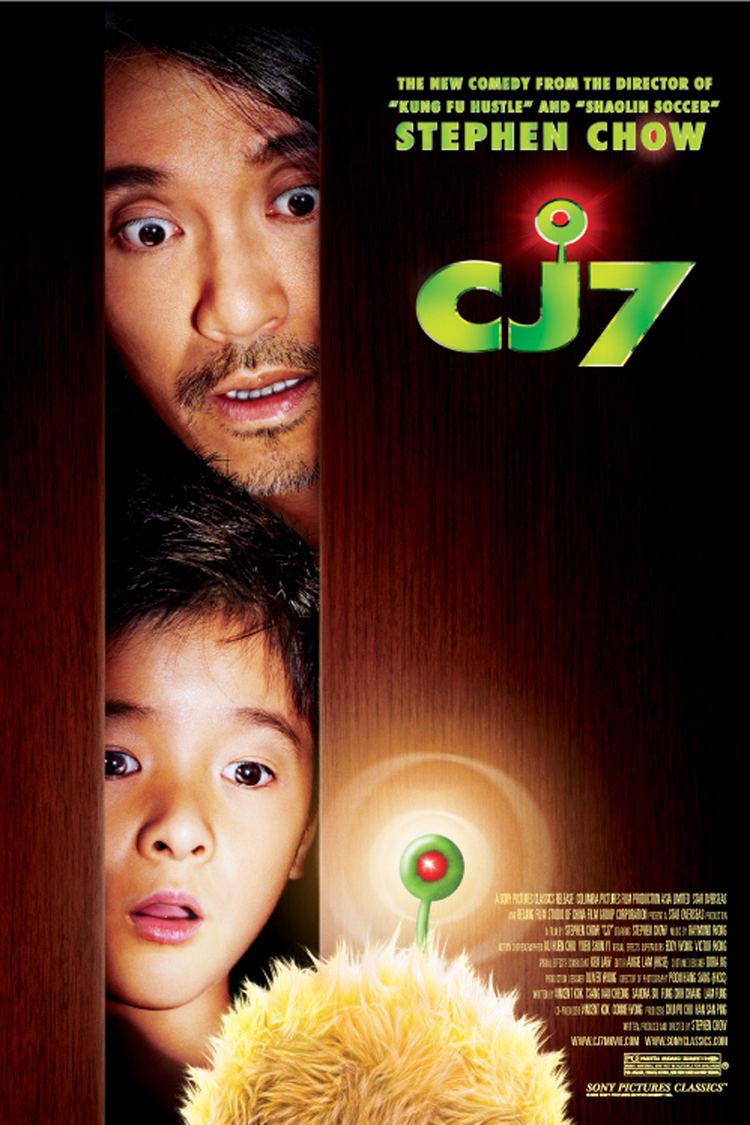 Cj7 exclusive stephen chow and jiao xu
Plot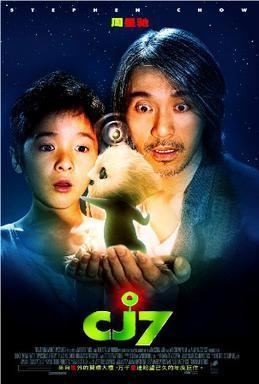 Chow Ti is a poor construction worker. He lives in a partially demolished house with his nine-year-old son, Dicky. Ti is eager to save money so he can continue sending his son to private school. However, Dicky is often bullied by other children and chided by his teachers at school.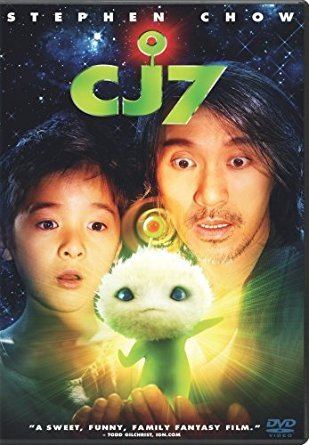 One day, while at a department store, Dicky begs his father to buy him a popular robotic toy called CJ1. Ti cannot afford it, and the situation ends badly when Ti spanks the stubborn Dicky in front of other customers. Dicky finds comfort in Ms. Yuen, his schoolteacher, who is passing by. That night, Ti visits the junkyard where he often picks up home appliances and clothes for Dicky. He finds a strange green orb and takes it home, telling Dicky that it is a new toy. He is hesitant at first, but later accepts it. The following evening, the green orb transforms into a cuddly alien creature that befriends Dicky. After playing with the alien, he names the alien "CJ7", and then falls asleep. He dreams that the alien will help him gain popularity and good grades at school.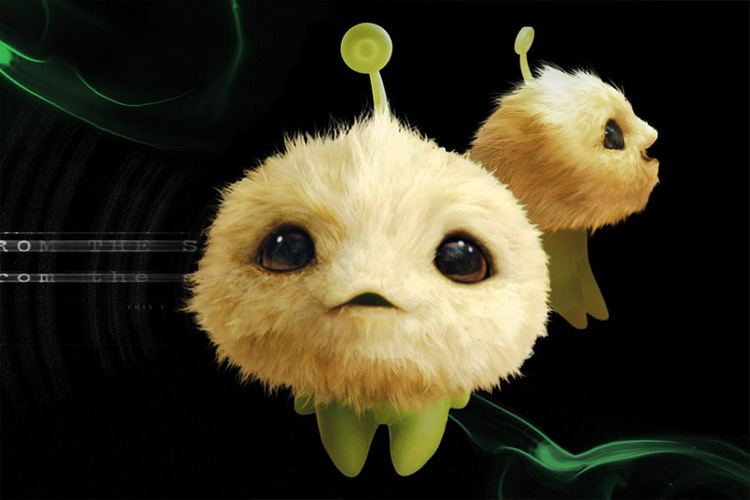 When a group of students see the alien with Dicky they forcibly take it and try to cut it but nothing seems to work. At last they try to use a drill and Dicky jumps on them. Dicky tries to hit one of the students but a fat boy stops him who in turn is stopped by Maggie, a fatter and much larger girl. They are then punished for fighting. When the teacher, Mr. Cao left, CJ7 comes out from hiding and Dicky gets it to perform tricks for the other students and they are awed. Dicky thanked Johnny, the leader of the group of students, for not letting Mr. Cao know about CJ7. They shake hands and agree to not letting the adults know about it.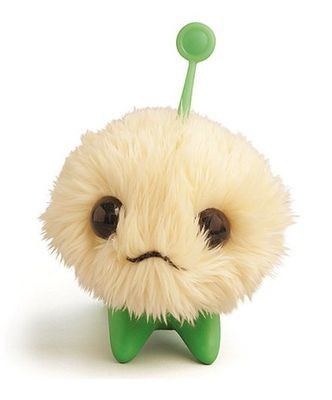 At the construction site Ti shows everyone Dicky's test paper in which he scored a 100. His boss tells him that Dicky changed the marks from a 10 to a 100 and is a cheater. Then Ti threatens his boss that if he continues saying his son cheated he will hit him. This results in a fight that leads to Ti running off while his boss shouts after him that he is fired. Ti meets Dicky at home and gets angry with him for lying. He takes CJ7 from him, saying he does not get to play since he does not work hard. When Dicky tells Ti to leave him alone, he promises he will if Dicky can score more than 60 on his own effort.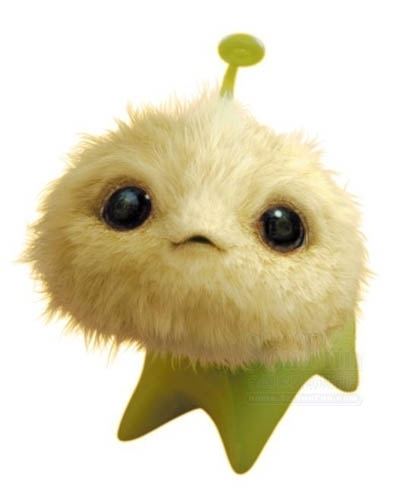 The next day Ti comes to Dicky's school to give him his lunchbox. There he meets Ms. Yuen, who offers to help Dicky study. Ti goes back to his boss and apologizes; his boss does the same and gives him back the job. At work, an accident happens and Ti dies. Ms. Yuen tells Dicky about it just when he gets his test result in which he scores 65 - as promised, his father has left him alone.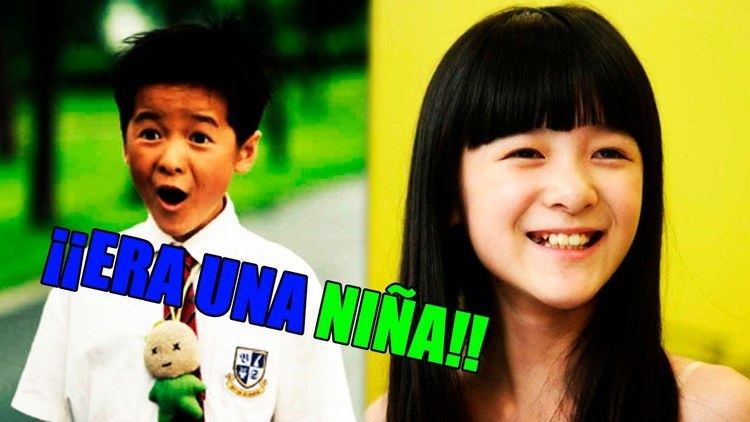 The alien, still in the backpack which is now under the table on which Ti's dead body is lying, gets out of the backpack and uses his repairing power on the body, even though he knows it will take his full power and he will die.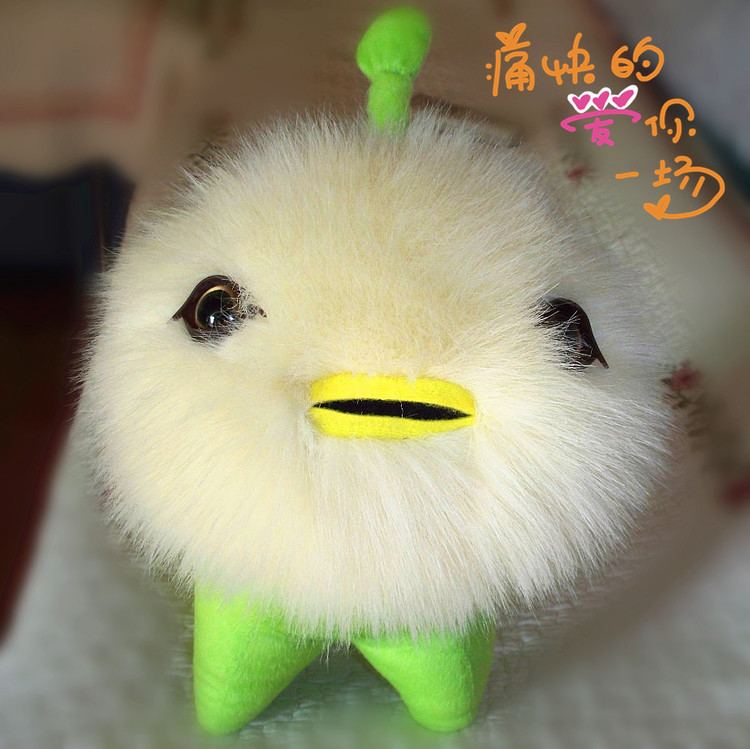 The next morning Dicky finds Ti sleeping next to him. The alien comes out of the backpack, and lies on the table, powerless. The ball inside his antenna falls and disintegrates, and he turns into a doll. They try many ways to get him back but are unsuccessful.
In the end, it is shown that everything is back to normal. The fat boy is in love with Maggie who is in love with Dicky who is in love with another girl who the bully Johnny takes away. Ti is in love with Ms. Yuen but is "not funny enough" for her. Dicky wears the alien doll as a neck pendant all the time, expecting it to come back to life.
In the end, Dicky sees a UFO landing and many other alien dogs like CJ7 of different colors and patterns come out and realizes that that the CJ7s are headed by his very own toy.
Cast
Stephen Chow as Chow Ti
Xu Jiao as Dicky Chow
Kitty Zhang Yuqi as Ms. Yuen
Lam Chi Chung as The Boss
Lee Sheung Ching as Mr. Cao
Huang Lei as Johnny
Min Hun Fung as P.E. Teacher
Production
As with the title CJ7, the earlier working titles, A Hope, Yangtze River VII, and Long River 7, referred to the Chinese manned space program. The mission of Shenzhou 6 was completed in 2006 and the real Shenzhou 7 successfully launched in September 2008. The film had a budget of US$20 million, and heavily uses CG effects. Xu Jiao, the child who plays Dicky, is in fact female. She had to cross-dress to be in the film.
Music tracks featured in CJ7 includes "Masterpiece" and "I Like Chopin" by Gazebo and "Sunny" by Boney M.
Homages
References to Chow's other films are made during some scenes, particularly during Dicky's dream sequence. These references include Dicky using his super sneakers to kick a soccer ball into the goal, which subsequently collapses (referencing Shaolin Soccer) and Dicky flying into the sky with his sneakers, jumping from the head of an eagle, seeing CJ7's shape as a cloud and using the Buddha's Palm, (referencing Kung Fu Hustle). The scene where Dicky tosses away his glasses while they self-destruct is a reference to John Woo's Mission: Impossible 2. On one of the DVD featurettes, Chow cites E.T. the Extra-Terrestrial and Doraemon as an influence on the film.
Critical reception
During its North American limited release, CJ7 received mixed reviews from critics. The review aggregator Rotten Tomatoes reported that 51% of critics gave the film positive reviews, based on 73 reviews, much lower than Stephen Chow's previous films Shaolin Soccer (91%) and Kung Fu Hustle (90%). Metacritic reported the film had an average score of 46 out of 100, based on 18 reviews.
The film fared no better with local Hong Kong critics. Perry Lam of Muse gave a decidedly negative review of the film: 'We go to see a Stephen Chow movie for its great entertainment value and, occasionally, its terrific cinematic panache. We don't need to be told that we are morally superior because we don't have much money.'
References
CJ7 Wikipedia
(Text) CC BY-SA
CJ7 (film) IMDb
CJ7 (film) Rotten Tomatoes
CJ7 (film) Roger Ebert
CJ7 (film) Metacritic
CJ7 themoviedb.org