Cause of death

Brain tumor

Occupation

Actor, Bank manager




Children

Karen Merryfield


Full Name

Harry Merryfield

Spouse

Iris Mountford (m. 1942–1999)

Similar People

Died

23 June 1999 (aged 78) Poole, Dorset, England
Buster Merryfields grave a.k.a "Uncle Albert Only Fools and Horses" 1920 - 1999
Harry "Buster" Merryfield (27 November 1920 – 23 June 1999) was an English actor best known for starring as Uncle Albert in the BBC comedy Only Fools and Horses.
Contents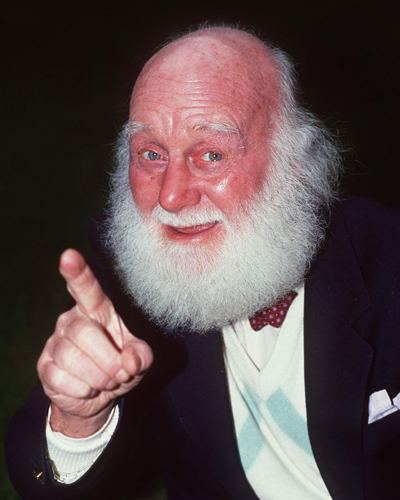 David Jason, Nicholas Lyndhurst BAFTA / BCA Award Ceremonies.
Early life
Born in Battersea, south London, England, Merryfield was from a working-class background. His father, also called Harry Merryfield, was a packer, and his mother Lily Merryfield (née Stone), was a part-time waitress. His sister Irene Merryfield died when she was eight years old. He was given the name "Buster" by his grandfather, as he weighed nine pounds at birth, and it stuck throughout his entire life, not least because he refused to divulge his real name to anyone during his lifetime and it only became open knowledge after his death.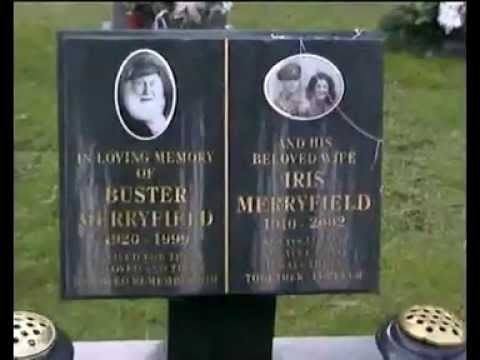 He always prided himself on his fitness, following a strict fitness regime of daily press-ups and swimming sessions. In contrast to Albert's pipe-smoking and rum drinking character, Merryfield was a teetotal non-smoker his entire life. His efforts to stay fit could be traced back to his time as a child boxing star in the 1930s. He was British schoolboy champion in 1936 and Southern Command army champion in 1945. Merryfield was also a keen amateur football player and Millwall fan, regularly attending games at The Den.
Career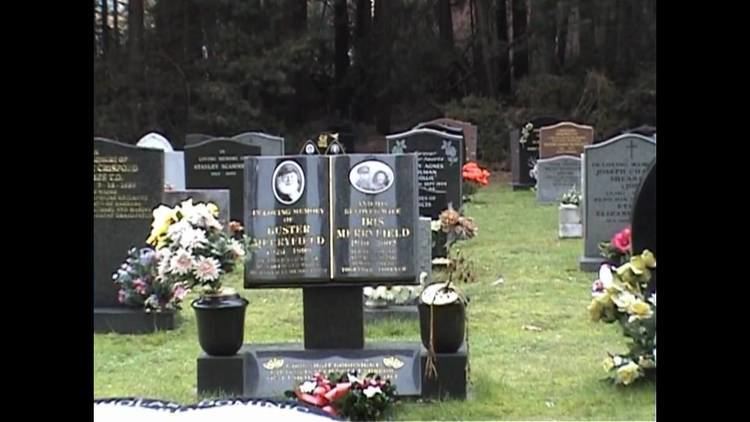 Before turning professional as an actor Merryfield was a keen amateur actor and director. His productions of John Osborne's The Entertainer, The World-My Canvas by Ruth Dixon and A View from the Bridge by Arthur Miller, for the now defunct amateur theatre group The Characters, won Best Play at the Woking Drama Festival in 1966, 1968 and 1969 respectively. He also won the Best Actor trophy for his roles in The Entertainer and The World-My Canvas.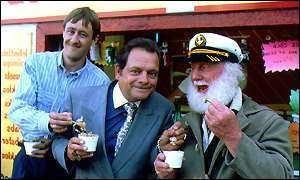 Merryfield finally became a professional actor at the age of 57, after working for the Westminster Bank (later the National Westminster Bank) for nearly 40 years, interrupted by his war service. In contrast to his most famous character, Merryfield spent the war in the army, where his fine physique resulted in him being made a PT and jungle warfare instructor. It was during the war that he first discovered his love of acting when he served as an entertainments officer, putting on shows for the other troops. However, upon the end of the war, married and with his wife expecting a daughter, he opted to return to his job at the bank. At Natwest he rose through the ranks, and by the time of his early retirement, in 1978, he was a bank manager at the Thames Ditton branch in Surrey.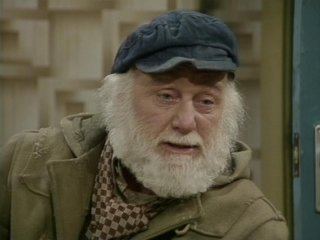 When he retired, Merryfield persuaded a repertory company to take him on. He performed at the Connaught theatre in Worthing in Joseph and the Amazing Technicolour Dreamcoat and Equus. Small parts on television also came his way. Merryfield appeared in Hannah in 1980, as Professor Challis in The Citadel in 1983 and as a Bishop in Strangers and Brothers in 1984.
Merryfield joined Only Fools and Horses in January 1985, as the former seafaring Albert Gladstone Trotter, known as Uncle Albert, who was Grandad Trotter's globetrotting long-lost younger brother, and who was known for Uncle Albert's catchphrase of "During the war..." The character took over the role of senior citizen member of the Trotter family from Lennard Pearce, who played Grandad, after Pearce died unexpectedly in December 1984. Coincidentally, nine months earlier, in March 1984, Merryfield appeared in two episodes of a Shroud for a Nightingale alongside Lennard Pearce. He did much work for various charities, notably the Royal National Lifeboat Institution. He wrote his autobiography, During the War and Other Encounters, in 1996.
In December 1997, he fell over at the British Comedy Awards while walking to the stage to collect an award for David Jason for his part in Only Fools and Horses. Despite cutting his forehead, he continued on and collected the award. Merryfield appeared in pantomime at Christmas 1997 and 1998.
Death
Buster Merryfield died in Poole General Hospital on 23 June 1999, as a result of a brain tumour. He was survived by his wife Iris, whom he married in June 1942, his daughter, Karen and two grandchildren. His body was buried in Verwood, Dorset. Iris died in 2002 from natural causes and was buried alongside him.
Appeared in
Only Fools and Horses
Strangers and Brothers
The Citadel
The Entertainer
Filmography
Actor
1997
Only Fools and Horses: Only Fools Cutaway (TV Short)
as
Uncle Albert Trotter
1985
Only Fools and Horses (TV Series)
as
Uncle Albert Trotter
- Time on Our Hands (1996) - Uncle Albert Trotter
- Modern Men (1996) - Uncle Albert Trotter
- Heroes and Villains (1996) - Uncle Albert Trotter
- Fatal Extraction (1993) - Uncle Albert Trotter
- Mother Nature's Son (1992) - Uncle Albert Trotter
- Miami Twice (1991) - Uncle Albert Trotter
- Miami Twice: The American Dream (1991) - Uncle Albert Trotter
- Three Men, a Woman, and a Baby (1991) - Uncle Albert Trotter
- He Ain't Heavy, He's My Uncle (1991) - Uncle Albert Trotter
- The Class of '62 (1991) - Uncle Albert Trotter
- Stage Fright (1991) - Uncle Albert Trotter
- The Chance of a Lunchtime (1991) - Uncle Albert Trotter
- The Sky's the Limit (1990) - Uncle Albert Trotter
- Rodney Come Home (1990) - Uncle Albert Trotter
- The Jolly Boys' Outing (1989) - Uncle Albert Trotter
- Little Problems (1989) - Uncle Albert Trotter
- Sickness & Wealth (1989) - Uncle Albert Trotter
- The Unlucky Winner Is- (1989) - Uncle Albert Trotter
- Chain Gang (1989) - Uncle Albert Trotter
- Danger UXD (1989) - Uncle Albert Trotter
- Yuppy Love (1989) - Uncle Albert Trotter
- Dates (1988) - Uncle Albert Trotter
- The Frog's Legacy (1987) - Uncle Albert Trotter
- A Royal Flush (1986) - Uncle Albert Trotter
- Who Wants to Be a Millionaire? (1986) - Uncle Albert Trotter
- Video Nasty (1986) - Uncle Albert Trotter
- Tea for Three (1986) - Uncle Albert Trotter
- The Longest Night (1986) - Uncle Albert Trotter
- The Miracle of Peckham (1986) - Uncle Albert Trotter
- From Prussia with Love (1986) - Uncle Albert Trotter
- To Hull and Back (1985) - Uncle Albert Trotter
- As One Door Closes (1985) - Uncle Albert Trotter
- Watching the Girls Go By (1985) - Uncle Albert Trotter
- Sleeping Dogs Lie (1985) - Uncle Albert Trotter
- It's Only Rock and Roll (1985) - Uncle Albert Trotter
- Hole in One (1985) - Uncle Albert Trotter
- Strained Relations (1985) - Uncle Albert Trotter
1992
Noel's House Party (TV Series)
as
The Old Soldier
- Episode #1.14 (1992) - The Old Soldier
1985
Love Song (TV Movie)
as
Sir Joshua Stokes
1984
Shroud for a Nightingale (TV Mini Series)
as
Sir Miles Honeyman
- Episode #1.3 (1984) - Sir Miles Honeyman
- Episode #1.2 (1984) - Sir Miles Honeyman
1984
Strangers and Brothers (TV Series)
as
Bishop
- Episode #1.1 (1984) - Bishop
1983
The Citadel (TV Mini Series)
as
Professor Challis
- Part 6 (1983) - Professor Challis
- Part 4 (1983) - Professor Challis
1980
Hannah (TV Series)
as
Uncle Jim
- Episode #1.3 (1980) - Uncle Jim
Soundtrack
1986
Only Fools and Horses (TV Series) (performer - 2 episodes)
- The Sky's the Limit (1990) - (performer: "Step Back in Time" - uncredited)
- Tea for Three (1986) - (performer: "Hey There" - uncredited)
Thanks
2001
Only Fools and Horses (TV Series) (this programme is dedicated to the memory of - 1 episode)
- If They Could See Us Now-..! (2001) - (this programme is dedicated to the memory of: 1920-1999)
Self
1997
Telly Addicts (TV Series)
as
Self
- Episode #13.0 (1997) - Self
1997
An Audience with Ronnie Corbett (TV Special)
as
Self - Audience Member (uncredited)
1991
Surprise! Surprise! (TV Series)
as
Self
- Episode #14.8 (1997) - Self
- Episode #8.2 (1991) - Self
1995
Big Break (TV Series)
as
Father Christmas
- Christmas Panto (1995) - Father Christmas
1995
That's Showbusiness (TV Series)
as
Self - Panelist
- Episode #7.14 (1995) - Self - Panelist
1994
The Hypnotic World of Paul McKenna (TV Series)
as
Self
- Episode #2.1 (1994) - Self
1994
Noel's House Party (TV Series)
as
Self
- Episode #3.16 (1994) - Self
1991
Family Fortunes (TV Series)
as
Self - Guest
- Episode #11.5 (1991) - Self - Guest
1991
Comic Relief (TV Special)
as
Self
1991
Third Wave (TV Series documentary)
as
Self
- Change of Direction (1991) - Self
1990
The Paul Daniels Magic Show (TV Series)
as
Uncle Albert Trotter
- Episode #11.7 (1990) - Uncle Albert Trotter
1989
Blankety Blank (TV Series)
as
Self
- Episode #13.2 (1989) - Self
1988
Comic Relief (TV Special)
as
Self
1986
The Royal Variety Show (TV Special)
as
Uncle Albert Trotter
Archive Footage
2020
What We Were Watching (TV Series documentary)
as
Uncle Albert Trotter / Father Christmas
- Christmas 1991 (2021) - Uncle Albert Trotter (uncredited)
- Christmas 1995 (2020) - Father Christmas (uncredited)
2020
Sir David Jason at 80: A Lovely Jubbly Celebration (TV Movie)
as
Uncle Albert Trotter
2017
David Jason: My Life on Screen (TV Mini Series documentary)
as
Uncle Albert Trotter
- Episode #1.2 (2017) - Uncle Albert Trotter
2008
50 Greatest Comedy Catchphrases (TV Movie documentary)
as
Uncle Albert Trotter (uncredited)
2007
The Comedy Christmas (TV Movie documentary)
as
Uncle Albert Trotter (uncredited)
2007
Comedy Connections (TV Series documentary)
as
Uncle Albert Trotter
- It Ain't Half Hot, Mum (2007) - Uncle Albert Trotter (uncredited)
2006
The Best of the Royal Variety (TV Series)
as
Uncle Albert Trotter
- The Comedians (2006) - Uncle Albert Trotter
2003
More Great Comedy Moments (Video)
as
Uncle Albert Trotter (uncredited)
2001
Only Fools and Horses (TV Series)
as
Uncle Albert Trotter
- If They Could See Us Now-..! (2001) - Uncle Albert Trotter
References
Buster Merryfield Wikipedia
(Text) CC BY-SA