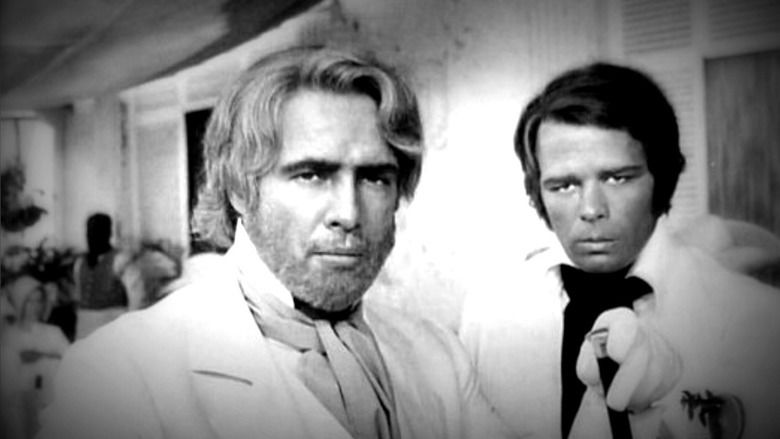 In 1844, the British Admiralty sends Sir William Walker (Brando), an agent provocateur, to the fictional island of Queimada, a Portuguese possession in the Lesser Antilles. Britain seeks to open the island to exploitation by the fictional Antilles Royal Sugar Company. Walker's task is to organize an uprising of African slaves against the Portuguese regime, which the British intend to replace with a government dominated by pliable white planters.
When he arrives in Queimada, Walker befriends José Dolores (Márquez), whom he entices to lead the slave revolt, and induces leading landowners to reject Portuguese rule. Dolores's rebellion is successful, and Walker arranges the assassination of the Portuguese governor in a nighttime coup. Walker establishes a puppet regime beholden to British sugar interests, headed by the idealistic but weak revolutionary Teddy Sanchez (Salvatori). Walker convinces Dolores to recognize the new regime and to surrender his arms, in exchange for the abolition of slavery. Having succeeded in his mission, he returns to Britain.
In 1848, Dolores–disgusted by the white government's collaboration with British interests–leads a second uprising, jeopardizing the Antilles Royal Sugar Company. After six years of the uprising, in 1854, the company returns Walker to Queimada with the consent of the British Admiralty, tasking him with suppressing the revolt and pacifying the island. Resentful of the company's exploitation of Queimada, President Sanchez is uncooperative. Sanchez is ousted and executed in a coup engineered by Walker, who establishes a regime wholly beholden to the company. British forces are invited to the island; guided by Walker, they rapidly quell the rebellion and capture Dolores. Walker attempts to save Dolores's life but the rebel leader rejects his assistance, asserting that freedom is earned, not received.
The government kills Dolores by hanging. Soon after, Walker, guilt stricken, is accosted as he prepares to depart Queimada. A man greets him just as Dolores did when Walker first arrived on the island, and then stabs him to death. Before dying, Walker looks around and sees himself surrounded by accusatory or passive looks of the poor people in the port.
Marlon Brando as Sir William Walker, named after American filibuster William Walker
Evaristo Márquez as José Dolores, named after José Dolores Estrada, the Nicaraguan general who defeated the historical Walker
Renato Salvatori as Teddy Sanchez
Dana Ghia as Francesca
Valeria Ferran Wanani as Guarina
Giampiero Albertini as Henry Thompson
Carlo Palmucci as Jack
Norman Hill as Shelton
Thomas Lyons
Joseph P. Persaud as Juanito
Álvaro Medrano as Soldier
Alejandro Obregón as English Major
Enrico Cesaretti
Brando had the opportunity to have a role on Butch Cassidy and the Sundance Kid and The Arrangement once again with Elia Kazan, but chose instead to work on this film. He also had to turn down a major role in Ryan's Daughter because of this film's production problems.
In his autobiography Brando: Songs My Mother Taught Me, Brando claims: "I did some of my best acting in Burn!".
The film received critical acclaim in the U.S. and abroad. Based on 11 reviews collected by Rotten Tomatoes, the film has an overall approval rating from critics of 82%. By comparison, its 2004 re-release was given an average score of 72 out of 100, based on 4 reviews, by Metacritic, which assigns a rating based on top reviews from mainstream critics.
Natalie Zemon Davis reviewed the film from a historian's perspective and gave it high marks, arguing that it merges historical events that took place in Brazil, Cuba, Santo Domingo, Jamaica, and elsewhere.
The character José Dolores inspired the logo of the socialist magazine Jacobin.