The film is loosely based on a real-life series of killings that took place in France in the 18th century and the famous legend of the Beast of Gévaudan; parts of the film were shot at Château de Roquetaillade. The film has several extended swashbuckling fight scenes, with martial arts performances by the cast mixed in, making it unusual for a historical drama.
The film received generally positive critical reviews, highlighting its high production values, cinematography, performances and Gans' atmospheric direction. At a $29 million budget, it was an international box office success, grossing over $70 million in worldwide theatrical release. The film also enjoyed commercial success in the United States; Universal Pictures paid $2 million to acquire the film's North American distribution rights and went on to gross $11.3 million in limited theatrical release, making it the second highest-grossing French-language film in the United States since 1980. The film also did brisk video and DVD sales in the United States.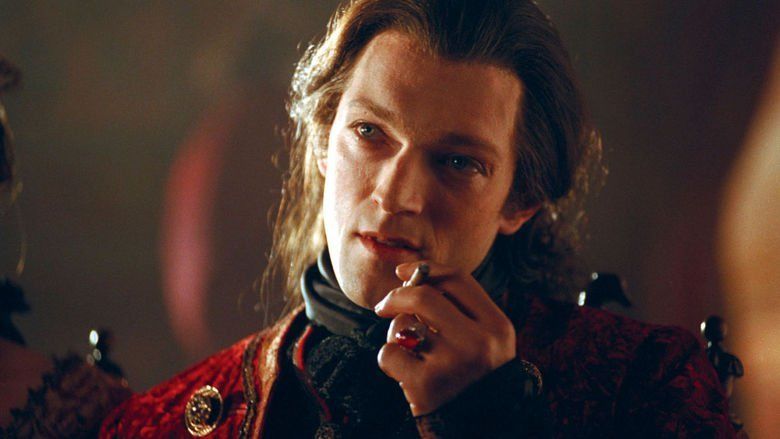 The film begins during the French Revolution, with the aged Marquis d'Apcher as the narrator, writing his memoirs in a castle, while the voices of a mob can be heard from outside. The film flashes back to 1764, when a mysterious beast terrorized the province of Gévaudan and nearby lands.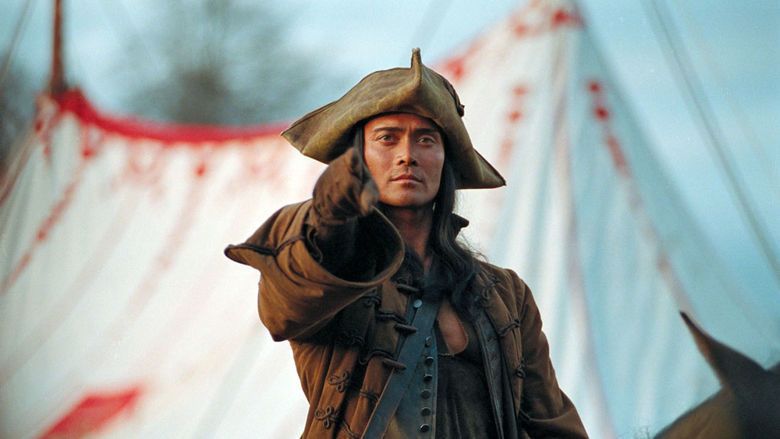 Grégoire de Fronsac, a knight and the royal naturalist of King Louis XV of France, and his Iroquois companion Mani, arrive in Gévaudan to capture the beast. Upon arrival, they rescue Jean Chastel, an aged healer, and his daughter La Bavarde from an attack by soldiers. The young and enlightened Thomas—Marquis d'Apcher—later befriends the two outsiders.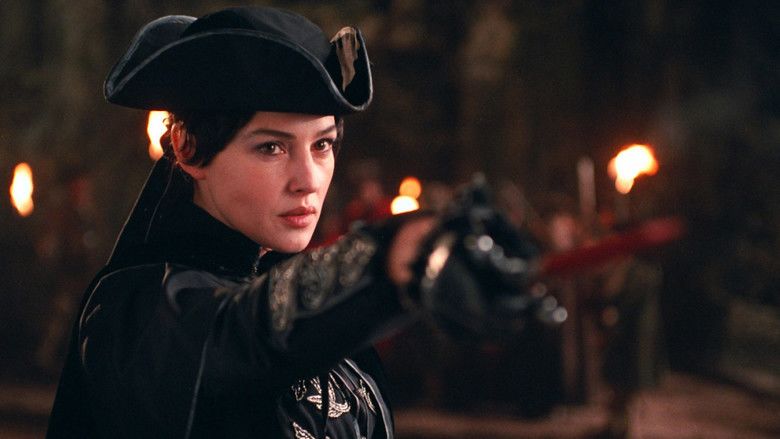 Fronsac is initially skeptical about the beast's existence, since survivors describe it as much larger than any wolf he has ever seen. However, by studying the bite size on a victim of the beast, he deduces that it must weigh roughly 500 lb (227 kg). Captain Duhamel, an army officer leading the hunt for the beast, has killed dozens of ordinary wolves, but has not come close to the actual killer. While staying in Gévaudan, Fronsac romances Marianne de Morangias, the daughter of a local count, whose brother, Jean-François, was also an avid hunter and a world traveler, before losing one arm to a lion in Africa. Fronsac is also intrigued by Sylvia, an Italian courtesan at the local brothel.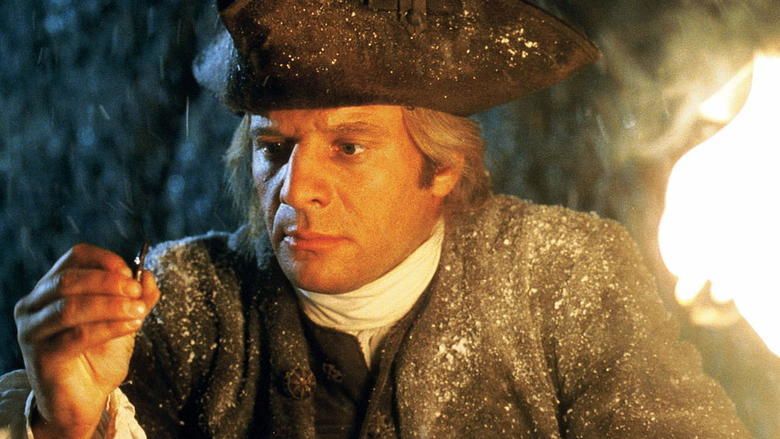 While investigating another victim, Fronsac finds a fang made of steel, which increases his doubts of the beast's existence. Another witness swears that the beast is controlled by a human master. Fronsac studies the patterns of the attacks and victims, trying to find a common thread and reveal a murderer. As the investigation proves to be unfruitful, the king's weapons master, Lord de Beauterne, arrives to put an end to the beast. However, instead of doing so, Beauterne kills an ordinary wolf and tells Fronsac to alter the corpse so it resembles the monster accordingly. Fronsac hesitantly does so, and the bogus wolf is sent back to Paris, where it is put on display, much to the pleasure of the king and the French aristocracy.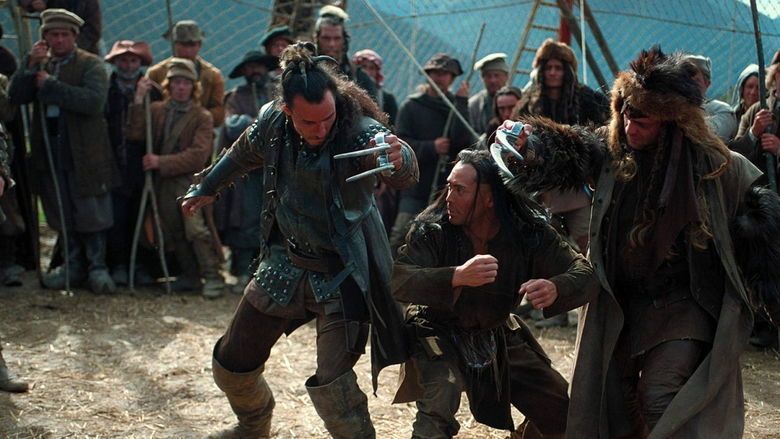 In Paris, the king's advisor shows Fronsac a copy of a book titled L'Édifiante (French for "The Edifying"). Within the book are treasonous theories, such as that the beast has come to punish the King of France for his indulgence of the philosophers, and that the modern embrace of science over religion is heresy. Fronsac realizes that the beast is actually an instrument of a secret society: The Brotherhood of the Wolf, which is working to undermine public confidence in the king and ultimately take over the country. Fronsac is told that "officially" the beast is dead, warned to stay silent, and bribed with an appointment to travel to Senegal. Back in Gévaudan, the attacks by the real beast continue. Ignoring his orders, Fronsac returns to Gévaudan, determined to put an end to the beast's killings, and also to take Marianne away. Upon his return, he finally sees the beast with his own eyes. It kills a man, but mysteriously refrains from attacking Marianne.
Fronsac, Mani, and the Marquis set out into the forest and set up an array of traps to capture the beast, but it proves to be too powerful and intelligent to be captured by any plan they make. After a violent encounter, Mani sets off alone, in pursuit, where he finds a catacomb used as the beast's holding pen, inhabited by the Brotherhood and a band of Gypsies working with them. These include Chastel, the beast's tender, and his daughter, whom Mani saved. Outnumbered and distracted by Chastel's daughter, Mani is shot in the back, overwhelmed and killed, but not before slaughtering a number of his attackers.
Fronsac is devastated when he discovers his best friend has been murdered. Performing an autopsy on Mani's body, he finds a silver bullet—Jean-François' signature choice of ammunition. In a fit of rage, a vengeful Fronsac goes to the catacombs, finding a pile of copies of L'Édifiante. He kills many of the Gypsies and discovers the beast's lair, before leaving so that he can burn Mani's body at dawn. After collecting Mani's ashes, he is overpowered by the local authorities and imprisoned. Sylvia visits him in jail and reveals to him that she is a spy for the Vatican. She explains that Henri Sardis, the local priest and leader of the Brotherhood, believes that he is restoring worship of God to France. Pope Clement XIII has decided that Sardis is insane, and sent her to eliminate him. She then poisons Fronsac, telling him he knows too much.
Henri Sardis decides to kill Marianne, and he persuades Jean-François to do so as a way to combat his incestuous lust for his sister. Jean-François comes to Marianne's room and reveals to her that he is the beast's master; it recognized his scent on her when it came near her, which is why it did not attack. He also reveals that his right arm is in fact intact, albeit badly scarred, and he has kept it hidden (his arm is seen stroking the beast earlier in the film). Jean-François then attempts to rape and nearly kills Marianne.
Sylvia's agents exhume Fronsac, who had not been killed but merely put into a temporary coma, and he appears at one of the Brotherhood's secret sermons. In the resulting climactic battle, he kills several Gypsies and duels Jean-François to the death. The other members of the Brotherhood attempt to flee, but they are corralled and arrested by Captain Duhamel and his men. Sylvia, meanwhile, personally kills Chastel's daughter. Sardis escapes into the mountains, but is mauled to death by a pack of wolves (their leader being the same wolf that survived the previous slaughter, and was seen chasing the beast with its pack and seemingly bonded at a spiritual level with Mani).
Fronsac attempts to heal Marianne with a potion previously carried by Mani. He and the Marquis then go to the beast's lair, where Chastel is tending to it as it lies grievously wounded after the fight in the forest. It turns out the beast was an offspring of a "strange beast" that Jean-François brought back from Africa (which director Christophe Gans verifies is a lion). It was tortured into becoming vicious, trained to attack humans, and dressed in metal armor plating and spikes along with a large mask and metal implants in its jaw to make it more formidable and frightening. Fronsac takes pity on the dying creature and kills the beast in an act of mercy.
The film then returns to the opening time period of the French Revolution. The now-elderly Marquis d'Apcher finishes writing his account of the killings, just before he is led to his execution by a revolutionary mob. In the final scene, the Marquis has a flashback, in which he narrates that he does not know what happened to Fronsac and Marianne; but he hopes that somewhere, they are happy together. Fronsac is shown traveling to Senegal with Marianne to start a new life together, scattering Mani's ashes at sea. It is left unstated whether the two are alive and happy, or whether this is indeed the Marquis' dream.
Samuel Le Bihan as Knight Grégoire de Fronsac
Jacques Perrin as older Thomas d'Apcher / Narrator
Vincent Cassel as Jean-François de Morangias
Émilie Dequenne as Marianne de Morangias
Monica Bellucci as Sylvia
Jérémie Renier as Marquis Thomas d'Apcher
Mark Dacascos as Mani
Jean Yanne as Count de Morangias
Jean-François Stévenin as Father Henri Sardis
Édith Scob as Countess Geneviève de Morangias
Johan Leysen as Antoine de Beauterne
Bernard Farcy as Intendant Pièrre-Jean Laffont
Hans Meyer as Marquis d'Apcher
Philippe Nahon as Jean Chastel
Gaspard Ulliel as Louis
Nicolas Vaude as Maxime des Forêts
Virginie Darmon as La Bavarde
Eric Prat as Captain Duhamel
Jean-Loup Wolff as Duke Gontrand de Moncan
Dee Bradley Baker as Beast vocal effects
Brotherhood of the Wolf garnered mostly positive reviews, with a 72% "Fresh" rating on Rotten Tomatoes, based on 119 reviews with the consensus stating "Brotherhood of the Wolf mixes its genres with little logic, but the end result is wildly entertaining" whereas on Metacritic it accumulated a score of 57 from mixed reviews. The usage of various cinematographic techniques employed by Christoph Gans, the fight sequences, the atmosphere and particularly the performance of Marc Dacascos as the native-American Mani attracted particularly strong praise.
Roger Ebert of the Chicago Sun-Times wrote that this film is "entertaining" awarding it with a 3/4 star rating. Michael Atkinson of Village Voice wrote "It's easily the most disarming and inventive movie made for genre geeks in years." Harry Knowles of Ain't It Cool News wrote that this film is "exciting, alluring and thrilling". whereas Empire gave the film a three star rating out of five stating that "An undeniably handsome creation, but its excessive length and surplus of directorial flourishes merely exacerbate the emptiness of an initially promising plot". Lisa from Variety gave a positive review mentioning that "a little Sergio Leone here, a little "Sleepy Hollow" there and, uh, martial arts-style confrontations are all deftly melded in "Brotherhood of the Wolf," an attempt to elucidate the French urban legend of the Beast of Gevaudan. This is a home-grown French actioner that wears its sincere desire to entertain on its flamboyantly tailored sleeve".
The blend of various movie genres such as martial arts, mystery, costume drama and horror attracted certain amounts of criticism. In particular, Peter Travers of Rolling Stone wrote "This new take on horror is more of the bloody same" whereas Stephen Hunter of Washington Post said that it is "a mad agglomeration of styles and traditions that ultimately results in nothing so much as a mad agglomeration of styles and traditions." ultimately awarding the film a 0.5/4 score.
There are three distinct and very different versions of the film:
- The original French/US theatrical cut, running 143 minutes (sometimes listed as 142 minutes).
- The UK cut, running 139 minutes, released on home video in the UK and Australia, which removes the entire subplot of the Royal Hunter.
- The "Director's Cut", running 150 minutes (sometimes listed as 152 minutes), released on home video in France and Canada in 2002, and later in the US and other territories.
In the United States, Focus Features originally released the 143 minute theatrical cut on DVD, on 1 October 2002. They released a two-disc special edition DVD containing the "Director's Cut" on 26 August 2008.
Won
2001 Cabourg Romantic Film Festival: Best New Actress (Émilie Dequenne)
2001 Sitges Film Festival: Grand Prize of European Fantasy Film in Silver (Christophe Gans)
2002 César Awards: Best Costume Design (Dominique Borg)
2003 Home Entertainment Awards (held by Video Software Dealers Association): Foreign Language Title of the Year (Universal Studios Home Entertainment)
Nominations
2001 European Film Awards: Best Director (Audience Award)-(Christophe Gans)
2002 International Horror Guild Award: Best Horror Film
2002 César Awards: Best Music Written for a Film (Joseph LoDuca), Best Production Design (Guy-Claude François), Best Sound (Cyril Holtz and Jean-Paul Mugel).
2002 Saturn Award: Best Action/Adventure/Thriller Film, Best Costume (Dominique Borg), Best Director (Christophe Gans), Best Music (Joseph LoDuca), Best Special Effects (Arthur Windus, Val Wardlaw, Hal Bertram, Nick Drew and Seb Caudron), Best Supporting Actor (Mark Dacascos), Best Supporting Actress (Monica Bellucci), Best Writing (Stéphane Cabel and Christophe Gans).