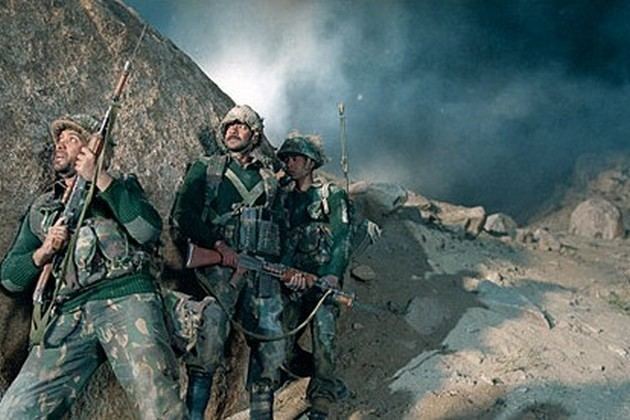 The film opens with a dramatic shot of an Indian soldier's wireless set chirping frantic commands from one of the army bases, calling a patrol to report in while the radio operator lies dead in the snow. After frantic attempts from battalions to locate their lost patrols, the Indian Army HQ in Jammu and Kashmir decides to deploy more troops. They suffer a rude shock when company and even battalion-sized patrols are beaten back by the largely unknown enemy sitting on top of the steep and treacherous peaks surrounding Kargil, Mushkoh Valley, Drass, Batalik and the Kaksar sectors. After these terrible and surprising reverses, the decision is taken to go ahead with maximum mobilisation and move the army's best fighting units into the area of operations.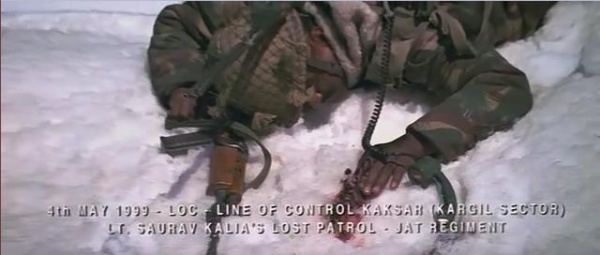 The first unit deployed is the 1st battalion of 11 Gorkha Rifles (1/11 Gorkha Rifles) who are specialists in high-altitude warfare. 1/11 GR's commanding officer is Col. Lalit Rai (Sudesh Berry), and the battalion has the charismatic and brave Lt. Manoj Pandey (Ajay Devgan) leading one of its platoons. Subsequently, the 18th battalion of The Grenadiers (18 Grenadiers), which was in the Kashmir Valley guarding against terrorist infiltration, are deployed in Kargil. The battalion is led by Col. Khushal Thakur (Raj Babbar), and among the officers and soldiers are men like Lt.Vikram Batra(Abhishek Bachchan), Lt. Col. R. Vishwanathan (Mohnish Behl), Maj. Rajesh Adhikari (Karan Nath), Lt. Balwan Singh (Akshaye Khanna), Capt. Sachin Nimbalkar (Vineet Sharma), and Grens. Yogendra Singh Yadav (Ashutosh Rana & Manoj Bajpai). Other units like the 17th battalion of the Jat Regiment (17 Jat), 2nd battalion of the Rajputana Rifles (2 Raj Rif), 22nd and 16th battalions of The Grenadiers (22 and 16 Grenadiers), 2nd battalion of the Naga Regiment (2 Naga), 1st battalion of the Bihar Regiment (1 Bihar), 8th battalion of the Sikh Regiment (8 Sikh), 18th battalion of the Garhwal Rifles (18 Garhwal Rif), 12th battalion of the Jammu and Kashmir Light Infantry (12 JAK LI), 3rd battalion of the Punjab Regiment (3 Punjab) and 13th battalion of the Jammu & Kashmir Rifles (13 JAK Rif) are inducted into the theatre of conflict.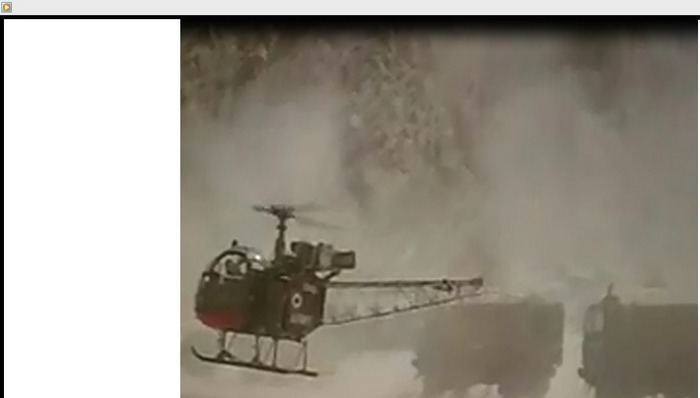 The first assault is by the 1/11 Gorkha Rifles advance platoon led by Lt. Manoj Pandey which links with the beleaguered and severely mauled unit from a Sikh battalion. They follow up to launch its attack on Kukarthang post, a very heavily defended enemy position supported by mortar units and artillery batteries on the Pakistani side of LOC. The Gorkhas take Kukarthang after suffering heavy casualties, revealing that the enemy is a trained Pakistan Army unit being given full fire support from across the LOC.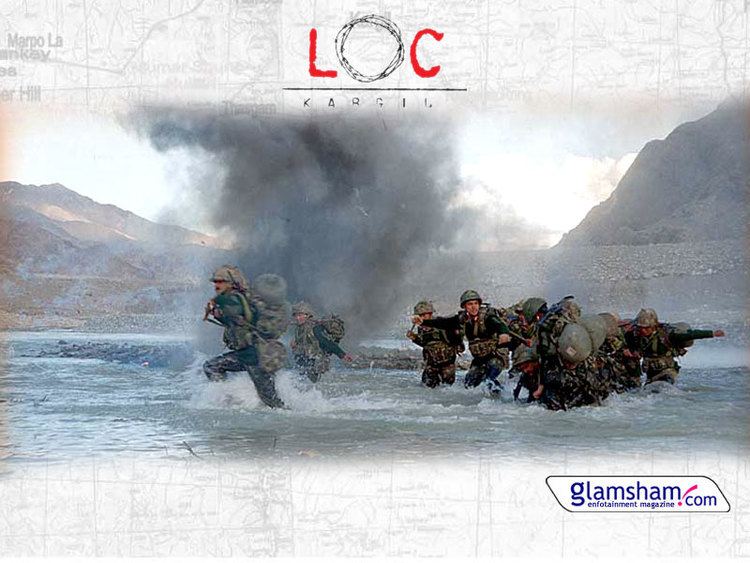 The second battle is at the strategic Tololing mountain which sits astride National Highway 1D, the main supply route for the entire northern Kashmir sector including Siachen and Leh. The first company of 18 Grenadiers, led by Maj. Adhikari, attacks Tololing. The company is held up midway due to heavy fog; it waits for clear weather. The men when resting suffer intense shelling from artillery and mortars, causing casualties and panic. They try to get to safety by moving up the mountain but are pushed down by heavy small arms fire from intruders dug into the well prepared position atop the mountain. Subsequent counter-attacks from the Indians are stifled by stiff resistance, in the absence of artillery support for the Indians, claiming the lives of Maj. Adhikari and Lt. Col. Vishwanathan.
18 Grenadiers are relieved by 2 Rajputana Rifles, commanded by Col. Ravindranath (Ashish Vidyarthi), which moves in with an artillery battery of 110 mm field artillery and acclimatised troops. They launch a multi-pronged attack under artillery cover which ends in success but at the cost of losing many officers and ranks, including Capt. Vijayant Thapar (Amar Upadhyay), Maj. Padmapani Acharya (Nagarjuna Akkineni) and Maj. Vivek Gupta (Himanshu Malik). All this happens while 13 JAK Rif, led by Lt. Col. Yogesh Kumar Joshi (Sanjay Dutt) stands by in case 2 Raj Rif fails.
13 JAK Rif is blooded at Rocky Mount where they take the field after suffering heavy casualties. They follow it up with another victory at Point 5140 where Lt. Vikram Batra (Abhishek Bachchan) distinguishes himself by taking the south face of Pt 5140 without any casualties and is promoted to captain.
The decisive phase of the war has come. 18 Grenadiers are assigned to take Tiger Hill, 17 Jat to Three Pimple complex feature, 1/11 Gorkha Rifles to Khalubar Ridge and 13 JAK Rif to Bunker Complex. 18 Grenadiers take Tiger Hill after a daring stealth attack by the elite Ghatak section, losing its lead Nk. Yogendra Singh Yadav (Ashutosh Rana). Only one of them, the other grenadier Yogendra Singh Yadav (Manoj Bajpayee) survives to link up with the rest of the battalion. 17 Jat suffers heavy casualties with Capt. Anuj Nayyar (Saif Ali Khan) and several others killed and injured, but is able to secure Three Pimple complex.
1/11 Gorkha Rifles links up with 22 Grenadiers at the base of Khalubar Ridge after braving an intense creeping barrage of artillery. Pandey somehow keeps the sagging morale of the weary unit up till the battalion begins its attack. The plans go awry as 1/11 Gorkha's commanding officer Col. Rai is injured by machine gun fire. Pandey volunteers to take out the bunkers which are holding up the attack. The machine guns are taken out, but Pandey is killed in action.
The last battle is fought by the 13 JAK Rif attacking Bunker Complex, but the unit gets split up. Capt. Batra is sent to link up with Capt. Nagappa (Nagender Choudhary) who has been captured one bunker and surrounded by the enemy. Batra links up with Nagappa but is pinned down himself by heavy enemy fire. He single-handedly takes out two bunkers but is mortally wounded. 13 JAK Rif pursues the enemy to the LOC but stops due to orders not to cross it. Finally, India declares Operation Vijay a success and victory and secures all its captured heights.
Just like J. P. Dutta's previous war movie Border, the Indian military provided technical and material assistance during the production and filming of LOC Kargil. Weapons used in Kargil War like different variants of the INSAS rifle family as well as Swedish Bofors artillery guns and BM-21 Grad multiple rocket launchers. Indian Air Force planes like SEPECAT Jaguars in bombing roles and helicopters like Mil Mi-17s and HAL Cheetahs were shown in casualty evacuation roles. Pakistani artillery depicted were Indian field guns and 81 mm mortars. SLRs stood for the G3 rifles used by the Pakistan Army.
Music composed by Anu Malik. Lyrics written by famous Indian lyricist Javed Akhtar. Music released on SAREGAMA Music Company. According to the Indian trade website Box Office India, with around 15,00,000 units sold, this film's soundtrack album was the year's eighth highest-selling.