7.8

/

10

1

Votes

Alchetron

Rate This




Giuseppe De Santis




Goffredo Petrassi




Italian






Drama





Italy






Carlo Lizzani

,

Gianni Puccini




1949 (1949)




September 21, 1949 (Italy)




Giuseppe De Santis, Carlo Lizzani, Mario Monicelli




Vittorio Gassman

(Walter),

Doris Dowling

(Francesca),

Silvana Mangano

(Silvana),

Raf Vallone

(Marco)


Mad Max: Fury Road

,

John Wick

,

Taken 3

,

Blackhat

,

Valkyrie

,

Run All Night




An earthy drama of human passions among women rice workers in the Po Valley.
Francesca (Doris Dowling) and Walter (Vittorio Gassman) are a criminally inclined couple who accidentally part ways while on the run from the law. Luckily, Francesca falls in with a group of peasant women and opts to hide out among them as they toil in the rice fields of the Po Valley. To her surprise, in her cover she discovers a simple but satisfying life filled with hard work and friendship. So when Walter resurfaces, their reunion doesnt go quite as he had expected.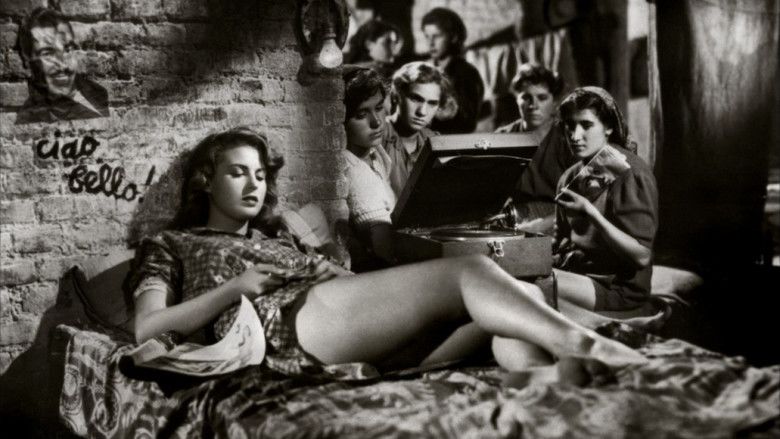 Bitter Rice (Italian: ) is a 1949 Italian film made by Lux Film, written and directed by Giuseppe De Santis. Produced by Dino De Laurentiis, starring Silvana Mangano, Raf Vallone, Doris Dowling and Vittorio Gassman, Bitter Rice was a commercial success in Europe and America. It was a product of the Italian neorealism style. The Italian title of the film is based on a pun; since the Italian word riso can mean either "rice" or "laughter", riso amaro can be taken to mean either "bitter laughter" or "bitter rice".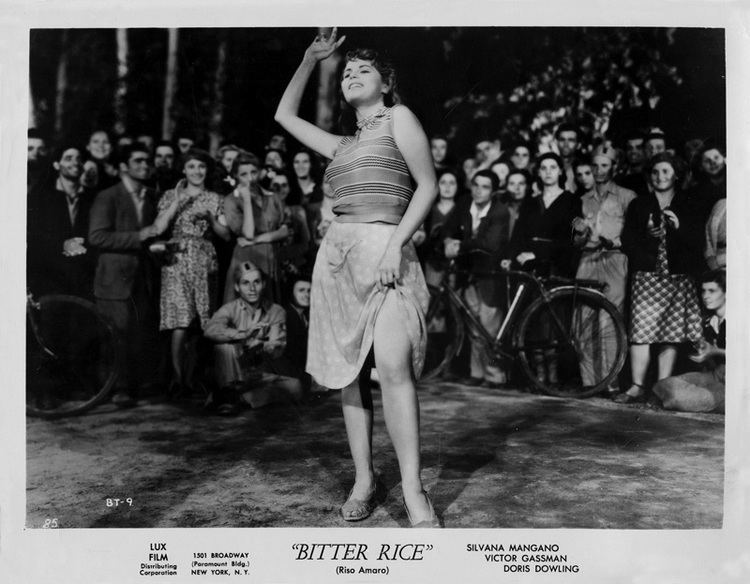 Although Bitter Rice did not win any awards, it was nominated for the 1950 Academy Award for Best Story and entered into the 1949 Cannes Film Festival. It was also selected as one of 100 Italian films to be saved.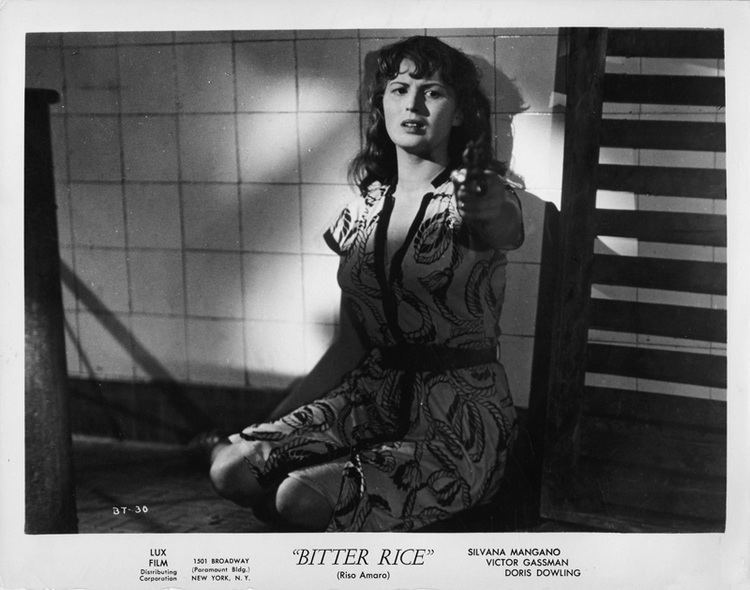 Francesca and Walter are two-bit criminals in Northern Italy, and, in an effort to avoid the police, Francesca joins a group of women rice workers. She meets the voluptuous peasant rice worker, Silvana, and the soon-to-be-discharged soldier, Marco. Walter follows her to the rice fields, and the four characters become involved in a complex plot involving robbery, love, and murder.
The film begins at the start of the rice-planting season in northern Italy. In an effort to escape the law, two small-time thieves, Francesca (Doris Dowling) and Walter (Vittorio Gassman), hide amongst the crowds of female workers heading to the rice fields of the Po Valley. While attempting to board the train for the fields, the pair runs into Silvana (Silvana Mangano), a peasant rice worker. Francesca boards the train with Silvana, who introduces her to the planters way of life. Francesca does not have a work permit, and struggles with the other "illegals" to find a place on the rice fields. After initial resistance from documented workers and bosses, the scabs are allowed a place in the fields. At the fields, Silvana and Francesca meet a soon-to-be-discharged soldier, Marco (Raf Vallone), who unsuccessfully tries to attract Silvanas interest.
Toward the end of the working season, Walter arrives at the fields, intending to steal a large quantity of rice. Excited by his criminal lifestyle, Silvana becomes attracted to Walter. She causes a diversion to help him carry out the heist, but Francesca and Marco manage to stop Walter and his accomplices. Francesca and Silvana face each other, armed with pistols; Francesca confronts Silvana and explains that she has been manipulated by Walter. In response, Silvana turns her gun toward Walter and murders him. Soon afterward, her guilt leads her to commit suicide. As the other rice workers depart, they pay tribute to her by sprinkling rice upon her body.
Vittorio Gassman as Walter
Doris Dowling as Francesca (Italian voice: Andreina Pagnani)
Silvana Mangano as Silvana (Italian voice: Lydia Simoneschi; English dubbing: Bettina Dickson)
Raf Vallone as Marco
Checco Rissone as Aristide
Nico Pepe as Beppe
Adriana Sivieri as Celeste
Lia Corelli as Amelia
Maria Grazia Francia as Gabriella
Dedi Ristori as Anna
Anna Maestri as Irene
Mariemma Bardi as Gianna
Maria Capuzzo as Giulia
Isabella Zennaro as Rosa
Carlo Mazzarella as Gianetto
In the film, the character Silvana represents enchantment with behavior modeled in American films, such as chewing gum and boogie-woogie dancing. Her downfall shows director Giuseppe De Santiss condemnation of these products of American capitalism. In addition, Silvana was considered by many audiences to be overly-sexualized. This sexualization and the melodramatic presence of death and suicide in the film cause it to diverge from typical Italian neorealism.
Vittorio Gassman and Silvana Mangano appear in Bitter Rice and Anna. Vittorio Gassman and Silvana Mangano appear in Bitter Rice and Mambo. Giuseppe De Santis directed Bitter Rice and Rome 11:00. Raf Vallone appears in Bitter Rice and Path of Hope. Dino De Laurentiis produced Bitter Rice and La Strada.
Bitter Rice was entered into the 1949 Cannes Film Festival. The film was nominated for Best Story in the 1950 Academy Awards.
The film was also selected as one of 100 Italian films to be saved, a collection of films that "changed the collective memory of the country between 1942 and 1978". The collection was established by the Venice Film Festival in collaboration with Cinecitta and curated by Fabio Ferzetti, with input from Gianni Amelio and other Italian film critics. Many of the films selected represent the "Golden Age" of Italian cinema, which was manifested in the neorealist movement.
Bitter Rice Wikipedia
Bitter Rice IMDb
Bitter Rice themoviedb.org