Occupation

Actor




Died

April 16, 1987, Kolkata




Role

Actor




Name

Bikash Roy




Years active

1947 - 1985-86







Born

1916

Calcutta, British India




Education

Presidency University, Kolkata




Movies

Bon Palashir Padabali, Neel Akasher Neechey, Jiban Trishna, Uttar Falguni, Dui Purush




Similar People

Uttam Kumar, Mrinal Sen, Asit Sen, Sukhen Das, Premendra Mitra
Court martial play sub balwan singh capt bikash roy mp4
Bikash Roy was an eminent actor in Bengali cinema. He is well known for his character roles and for his own style of acting in Bengali films from the late 1940s until the mid-1980s.
Contents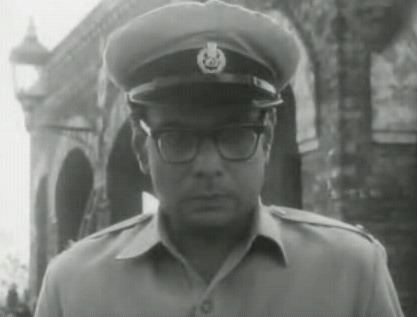 [ বিকাশ রায় ] Bikash Roy Biography In Short | Bengali Actor | Bangla Video By CBJ
Early life and education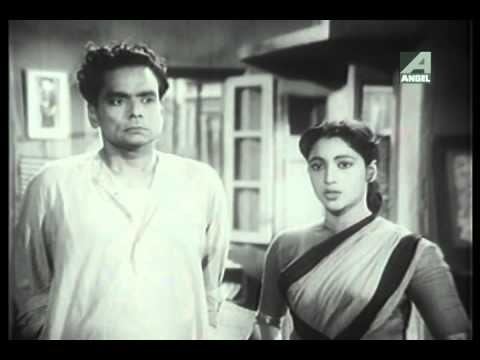 He was born in Kolkata but his ancestral home was Priyanagar, Madanpur in Nadia district. As a scion of a rich and aristocratic family, he grew up in liberal surroundings. He first attended Mitra Institution for his matriculation. Then Roy graduated with a BA from the University of Calcutta (Presidency College), and later earned a B.L (the then LL.B) from the same university.
Acting in films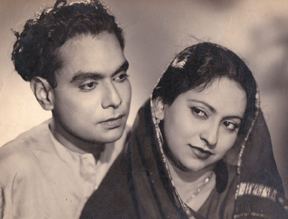 He acted in numerous films some of which are Ratnadeep, 42 , Uttar Phalguni', Surjta Toran, Neel Akaser Niche, Maruthirtha Hinglaj, Jiban-Trishna and Chhadmabesi . He acted as a hero in the romantic comedy such as Chhele Kaarin the early 1950s and also as the funny grandfather-in-law inOgo Bodhu Sundariin 1980, followed by similar roles during the end of his career. But, may be it was the character of the selfless barrister [Manish] whose commitment to his beloved, a courtesan (played by Suchitra Sen) in Uttar Phalguni, for which he is mostly remembered and discussed. He did a number of radio plays in Akashvani and shot into fame after being cast in the role of a ruthless, tyrannic military officer in the film "42" that included stalwarts like Abhi Bhattacharyya, Manju Dey, Sambhu Mitra among others. His acting prowess and versatility could be gauged in films like "Ratnadeep", where he plays the role of an imposter who reforms himself, as the prodigal hero in "Naa", as the strife-torn co-protagonist in "Suryamukhi" (which he also produced), as the affluent businessman who rose from the rags in "Suryatoran", as a protagonist (opposite Uttam Kumar) who aspires to beat his rival but is torn within himself in "Jeeban Trishna", as a patriot in "Masterda Shurjo Sen", as the patriarch in "Kach kata Hire", as a caring brother in "Dhuli", as the quiet and intense husband in "Sritituku Thaak" (opposite Suchitra Sen who plays double role) and as the quarrellsome husband in "Jatugriha" (Directed by Tapan Sinha and starring Uttam Kumar, Arundhati Devi, Binata Roy); in "Baghini" as a Police Officer; in negative roles - "Bibhash", "Agni Sanskar", Jighansa, "Adwitiya", "Bhola Moyra" and "Kacher Swarga"; as the compassionate and humorous doctor in "Aarohi", as a psychological patient in "Aandhar Periye" (both directed by Tapan Sinha), as 'Moshay' - the practitioner of traditional medical knowledge and therapy in "Aarogya Niketan", as a quack in "Ramer Sumati"; as the elder brother and head of the family in "Bindur Chhele", as the hapless and helpless father in "Mayamriga" in the early 1960s and as the proud and high-handed father in "Debdas" (starring Soumitra Chatterjee, Sumitra Mukherjee, Uttam Kumar, Supriya Devi) in the late 1970s and so on.
Acting in theatrical plays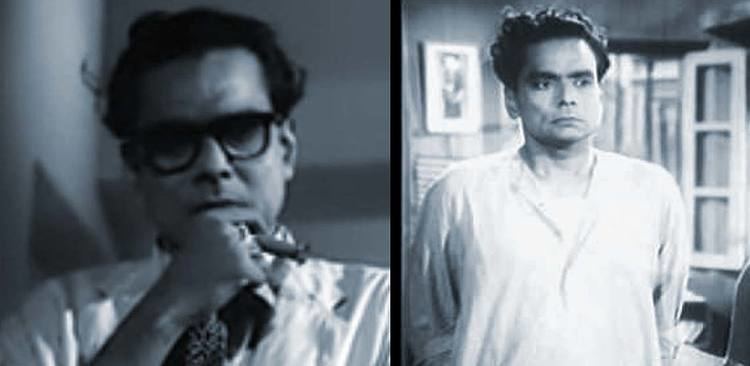 His foray in commercial plays was commendable; most worth mentioning being "Nahabat" which ran for more than 1200 nights. He pioneered the holding of stage-plays where the characters read out the play and their respective roles in front of the audience; known as 'Sruti Natak' [Audio Drama]. The most famous in this genre being Shesher Kobita and Chirakumar Sabha , based respectively on a novel and a play by Rabindranath Tagore. He also acted in a number of radio-plays on Aakasvaani/All India Radio (A.I.R), notable being "Suk Sari" (with Tripti Mitra) and "Dui Bon".
Directing films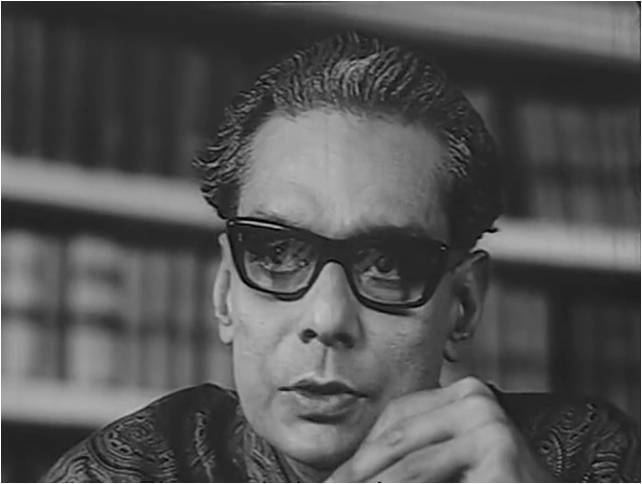 His love for the silver screen drove him to produce and direct a number of films like Marutirtha Hinglaj, Raja saja - both featuring Uttam Kumar as the leading actor, Basantabahaar , Kerry Shaheber Munshi- a film based on the life and times of Ramram Basu (1757-1813), a scholar in Bengali and Persian languages who was entrusted to teach Bengali to the English and other European Missionaries, and Debotar Graash, based on a poem by Rabindranath Tagore.
Autobiography
He remained active well into the 1980s, gradually moving to cameo roles, owing to his failing health. He has few autobiographical titles to his credit - Mone Pore, Kichhu Chhabi, Kichhu Galpo , Prasanga Abhinoy and Aami.
Selected filmography
Abhijatri
42
Masterda Surya Sen
Bhuli Nai
Chhele Kaar
Ratnadeep
Jighansa
Taka Aana Pai
Kirtigarh
Naa
Raatrir Tapasya
Dhuli
Saapmochan
Saajghar
Abhayer Biye
Jeeban Trishna
Rajlakshmi o Srikanta
Agni Sanskar
Ardhangini
Suryamukhi
Annada o Srikanta
Marutirtha Hinglaj
Gali Theke Rajpath
Smritituku Thak
Bibhas
Sesh Anka
Atal Jaler Aahwan
Tahole?
Neel Aakaser Niche
Mayamriga
Raja Saja
Kaacher Swarga
Rajdrohi
Jatugriha
Aarogya Niketan
Chhaya o Surya
Kaach Kaata Heere
Uttar Phalguni
Baaghini
Monihaar
Parineeta
Hansamithun
Kalankita Nayak
Chhadmabesi
Mon Niye
Aarohi
Haar Mana Haar
Nabarag
Aalo Aamaar Aalo
Adwitiya
Banpalasir Padabali
Megh Kaalo
Bhola Moyra
Fariyad
Aandhar Periye
Bindur Chhele
Raamer Sumati
Daur
Debdas
Ogo Badhu Sundari
References
Bikash Roy Wikipedia
(Text) CC BY-SA