Bickram Ghosh (born 20 October 1966) is an Indian tabla player who performs Hindustani classical music and fusion music. His music is strongly influenced by thumri and khayal genres of the Patiala gharana. Ghosh is known to experiment and reinterpret music and culture; he dabbles in a vast repertoire of musical genres, from classical, rock, new-age, fusion to film music.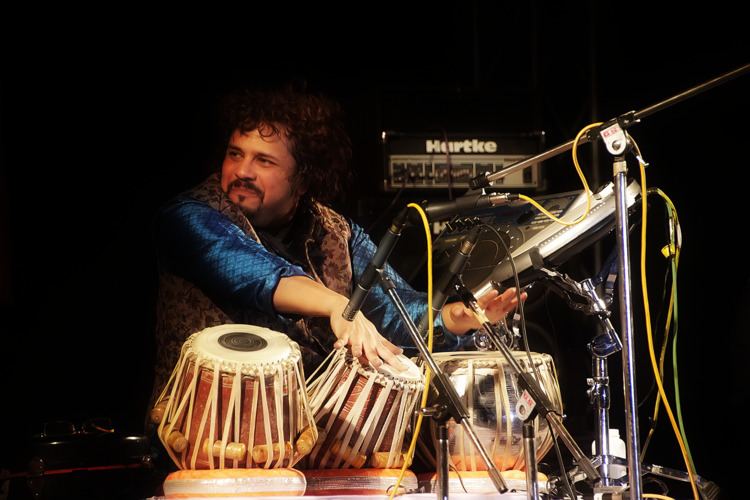 Bickram Ghosh is one of the most well known names in the world of Indo-fusion music. Having performed the world over with the greatest names in classical music (especially Pt. Ravi Shankar with whom he played for over a decade), Bickram went on to form his band Rhythmscape. Bickram played on four albums that were nominated for Grammies including George Harrison's Brainwashed. He played on "Full Circle" with Pandit Ravi Shankar which won Shankar a Grammy. Bickram's subsequent super successful solo albums like Beyond Rhythmscape, Folktail, Drum Invasion. Kingdom of Rhythm, Interface, Electro classical, Transformation etc. have consolidated his position as a pioneer of a new fusion sound.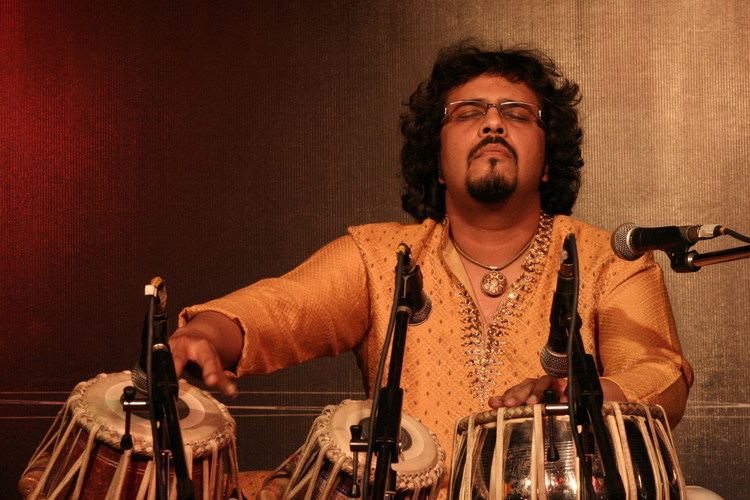 Bickram has composed for 21 feature films so far including the Mira Nair presented, Sooni Taraporewala directed Little Zizou, Bickram has now teamed up with Bollywood singing star Sonu Nigam and together the duo have just begun their journey as co- composers in Bollywood with three films, the first of which - Jal, recently made headline news with an Oscar contention for the best original score.
Rhythmscape, Bickram's band has performed throughout the length and breadth of India made its UK debut in 2003 at the Queen Elizabeth Hall, London. In 2004 Rhythmscape performed at the Forum at Barcelona where the band shared the stage with Sting, Phil Collins, Norah Jones and Bob Dylan. In 2005 yet another concert at the Rhythm Sticks Festival in London the band performed to a sold-out house. The press rightly praised Bickram, "Captivating, colourful and charismatic are the words which popped into my head as I sat enthralled by a performance by one of India's leading artists.
The son of the illustrious tabla maestro Pandit Shankar Ghosh and well known vocalist Sanjukta Ghosh, Bickram also learnt the nuances of Carnatic percussion from the great Maestro of the mridangam Pandit S.Sekhar.
Bickram Ghosh was the brand ambassador for the Indian Election commission in 2011 in West Bengal and his participation led to a record 8.5 percent increase in urban voting. He has over 100 albums to his credit and his albums have won several awards . In 2012 Bickram was awarded the prestigious Banga Bhushan award, the second highest civilian State award in West Bengal and in 2015 the Sangeet Maha Samman, the highest musical recognition in West Bengal.
In 2012 Bickram had recreated the Indian National song Vande Mataram with 22 of India's greatest musical . Bickram has four GIMA(Global Indian Music Award ) awards to his credit. Bickram was the only tabla maestro to perform for the finale of the Commonwealth games in 2010. He was one of the Composer's for the opening of the Indian Super League. This year he added another feather in his cap by composing and presenting an extravaganza with 120 artists for the T20 World Cup finals.
Ghosh was born in Kolkata, West Bengal to the tabla maestro Pandit Shankar Ghosh and classical vocalist, Sanjukta Ghosh. He studied at La Martiniere Calcutta and graduated in English from St. Xavier's College, Kolkata and Masters in English Literature from Jadavpur University.
He started learning tabla from his father, Pandit Shankar Ghosh, who had played with Ustad Ali Akbar Khan.
Ghosh has performed with well-known performers including Ali Akbar Khan and Pandit Ravi Shankar. He also performed in jugalbandis with his father in some concerts. Ghosh worked with George Harrison just before the ex-Beatle's death.
Ghosh performs in various avatars. His long-standing band, Rhythmscape, which performs neo-fusion music, celebrated their 10th anniversary in 2011. To celebrate the occasion Rhythmscape collaborated with Greg Ellis to perform in Kolkata and Mumbai, an event organized by Folktronic. The band also released their second album, Transformation, which went on to win the Best Fusion Album at the Indian Recording Arts Awards 2012. Ghosh performs within Troikala with Assamese folk/indie singer Papon and Scottish singer-songwriter Rachel Sermanni. Troikala was curated and organized by British Council in association with Folktronic. He performed as part of fusion Sufi act, "Sufusion" with vocalists Ambarish Das and Parvati Kumar, keyboardist Indrajit Dey, and drummer Arun Kumar.
Ghosh collaborated with Sonu Nigam to compose the music for the film Jal. Ghosh has also scored music for many movies including the Mira Nair production, Little Zizou.
Ghosh launched his music company, Melting Pot Productions, in October 2010.
On 1 October 2012, Bickram Ghosh won the 2012 Global Indian Music Academy (GIMA) Awards in the Best Pop/Rock Single category for his composition, Vande Mataram, featuring a host of artists across India, including Sonu Nigam, Shankar Mahadevan and Sunidhi Chauhan. In June 2012, Ghosh performed a concert "One World Fusion Extravaganza" at Shilpakala Vedika auditorium in Hyderabad to mark World Music Day. He appeared in an episode of MTV Roots. Ghosh taught a percussion course entitled "Repercussion" for Ace Open University via online streaming.
He married actress Jaya Seal in 2004.
New-age experimental
Collaborations
Classical solo
Classical accompaniment
Experimental accompaniment
Actor :
Hotath Neerar Jonnyo
Choy
Composer (Bengali films) :
Composer (Hindi films) :