Bhiwandi ( pronunciation ) is a city in the Thane district of Maharashtra state in Konkan division, located 20 km to the north-east of Mumbai and 15 km to the north-east of Thane city. The exact location of Bhiwandi is 19.296664°N 73.063121°E / 19.296664; 73.063121. Bhiwandi city, the headquarters of the taluka of Bhiwandi, comes under the administration of the Bhiwandi-Nizampur City Municipal Corporation. The city is not a part of the Greater Mumbai metropolitan agglomeration. According to the 2011 census, the total population of the Bhiwandi-Nizampur Municipal Corporation area was 709,665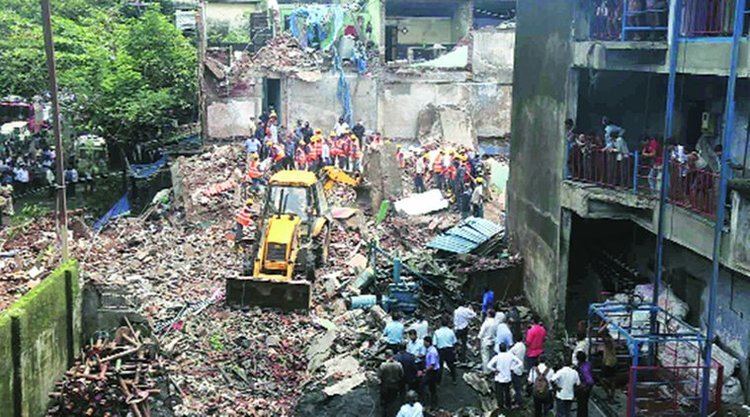 The city of Bhiwandi, known for its textile industry, has the largest number of Power looms in the country and is dubbed as 'The Manchester of India'. A major portion of the population is employed by the Power loom sector. Bhiwandi has been developing as an Industrial hub for the textile industry in the past, and all industries and logistics sector in recent times. Bhiwandi is the next development region for MMRDA, which has developed other regions such as Bandra - Kurla Complex, Mumbai Metro & Monorail Project, Eastern freeway and many more. Close proximity to Mumbai, Thane and Development of region by MMRDA, make Bhiwandi an ideal place for businesses to locate. Also availability of 24hrs power supply, and availability of workers due to proximity to Industrial city of Bhiwandi, facilitates setting up of industrial unit. Availability of Transporters having country wide presence in proximity makes it an ideal location for warehousing.
Bhiwandi citys population was about half a million in 2001. The bulk of the population forms the workforce for a number of textile and other industry. The first textile loom was set-up by Khan Saheb Samad Seth in 1927. Today the city of Bhiwandi has about half a million-power looms, though handlooms are few in number. No wonder Bhiwandi is Manchester of India. The city of Kolis was known by the name Kolwan. The tribal people of the region of Konkan were called Kolis and they are traditional fishermen. Some of the traditional wooden fishing boats can be seen even today in the Bhiwandi area. The Kolis have their own customs and speak a different dialect of Marathi.
According to the 2011 census, the total population of the Bhiwandi-Nizampur Municipal Corporation area is estimated around 709,665.