India




1733




204,587 (2001)




Hindi




Rajasthan




Bharatpur



Bharatpur is a city and Municipal Corporation in the Indian state of Rajasthan. Located in the Brij region, Bharatpur was once considered to be an impregnable city and was the capital of the Jat kingdom. The city is situated 55 km west of the city of Agra and 35 km from Mathura. It is also the administrative headquarters of Bharatpur District and the headquarters of Bharatpur Division of Rajasthan. The Royal House of Bharatpur traces its history to the eleventh Century AD. Bharatpur is a part of Delhis National Capital Region (NCR).
Bharatpur is located at 27.22°N 77.48°E? / 27.22; 77.48. It has an average elevation of 183 metres (600 feet). Bharatpur is also known as "Lohagarh" and the "Eastern Gateway to Rajasthan". It is famous for Keoladeo National Park.
The rulers of Bharatpur were from the Sinsinwar clan of Jat people which is an indo-sythian tribe that migrated in India around AD100. According to Cunningham and William Cook, the city of Gohad was founded in 1505 by the Jats of Bamraulia village, who had been forced to leave Bamraulia by a satrap of Firuz Shah Tughluq. It was a notourious tribe which dug up the tomb of Akbar at Sikandra, where he was buried the Jats then cremenated Akbar in Hindu style. Gohad developed into an important Jat state, and was later captured by the Marathas. The Jat people of Gohad signed a treaty with the British and helped them capture Gwalior and Gohad from the Marathas. The British kept Gwalior and handed control of Gohad to Jat people in 1804. Gohad was handed over to the Marathas under a revised treaty dated 22 November 1805 between the Marathas and the British. As compensation for Gohad, the Jat ruler Rana Kirat Singh was given Dhaulpur, Badi and Rajakheda; Kirat Singh moved to Dhaulpur in December 1805.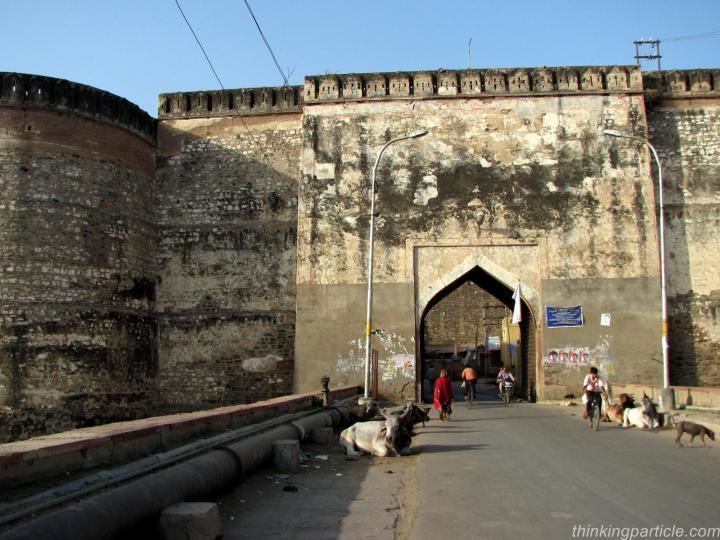 In the 10th century, the Yadav people took control of Dholpur, which had earlier been ruled by the Rajputs. Dholpur was taken by Sikandar Lodhi in 1501, who transferred it to a Muslim governor in 1504. In 1527, the Dholpur fort fell to Babur and continued to be ruled by the Mughals until 1707. After the death of the Mughal emperor Aurangzeb, Raja Kalyan Singh Bhadauria obtained possession of Dholpur, and his family retained it until 1761. After that, Dholpur was taken successively by the Jat ruler Maharaja Suraj Mal of Bharatpur; by Mirza Najaf Khan in 1775; by the Scindia ruler of Gwalior in 1782; and finally, by the British East India Company in 1803. It was restored by the British to the Scindias under the Treaty of Sarji Anjangaon, but in consequence of new arrangements, was again occupied by the British. In 1806, Dholpur again came under the Jat rulers, when it was handed over to Kirat Singh of Gohad. Dholpur thus became a princely state, a vassal of the British during the Raj.
List of the Jat rulers of Bharatpur.
Gokula, ? - 1670
Raja Ram, 1670–1688
Churaman, 1695–1721
Badan Singh, 1722–1756
Maharaja Suraj Mal, 1756–1767
Maharaja Jawahar Singh, 1767–1768
Maharaja Ratan Singh, 1768–1769
Maharaja Kehri Singh, 1769–1771
Maharaja Nawal Singh, 1771–1776
Maharaja Ranjit Singh, 1776–1805
Maharaja Randhir Singh, 1805–1823
Maharaja Baldeo Singh, 1823–1825
Maharaja Balwant Singh, 1825–1853
Maharaja Jashwant Singh, 1853–1893
Maharaja Ram Singh, 1893 - 1900 (Exiled)
Maharani Girraj Kaur, regent 1900-1918
Maharaja Kishan Singh, 1900–1929
Maharaja Brijendra Singh, 1929-1947 (Joined the Indian Union)
laber 17 = 2014 data17 = 320559

Brij Mahotsav: is held in the month of February–March.
Jaswant Exhibition: Jaswant Exhibition is held in the month of September–October during Dussehra.
Gangaur: Gangaur festival is held in March–April.
Teej: Teej festival is held in July–August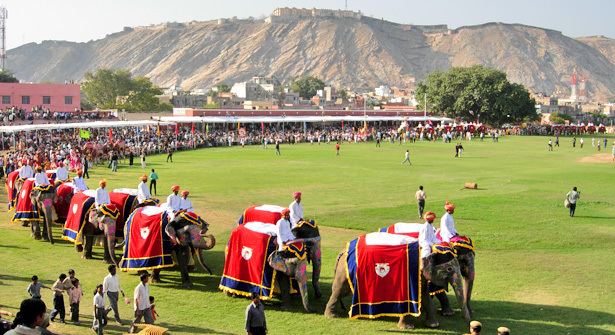 Bharatpur sthapana diwas;Held in the Month of February- 17,18 and 19th every year by Lohagarh Vikas Parishad
Bharatpur, Rajasthan Wikipedia
(,)http://thinkingparticle.com/sites/default/files/imagecache/node-gallery-display/Some%2520building%2520inside%2520Bharatpur%2520Fort.jpg(,)http://thinkingparticle.com/sites/default/files/imagecache/node-gallery-display/Bharatpur%2520Fort%2520Entrance%2520gate.jpg(,)http://www.mapsofindia.com/maps/rajasthan/districts/bharatpur-district-map.jpg(,)http://www.umaidbhawan.com/ranthambore-2.jpg(,)http://upload.wikimedia.org/wikipedia/commons/3/37/Map_rajasthan_dist_all_shaded.png(,)https://41.media.tumblr.com/tumblr_m3kmu0Zh1P1ruhp4po1_500.jpg
(,)http://static-content.springer.com/lookinside/art%253A10.1007%252FBF03024219/000.png(,)http://i1.trekearth.com/photos/36932/landscape_-bharathpur.jpg(,)http://www.naturephotographysimplified.com/wp-content/uploads/2015/04/Day-28-Indian-Peafowl-Silhouette-Photography-Moody-Photograph-Art-in-Nature-Bharatpur-Bird-Sanctuary-Keoladeo-National-Park-Rajasthan-Nature-Wildlife-Bird-Photography-by-Prathap.jpg(,)http://ecomantra.com/files/packages/1/profilepic.jpg(,)https://c2.staticflickr.com/8/7013/6792353613_297ce659de_b.jpg(,)http://peregrinemag.com/wp-content/uploads/2013/07/13.-Bharatpur-National-Park-Rajasthan-1024x644.jpg(,)http://www.naturephotographysimplified.com/wp-content/uploads/2015/03/Day-19-Bluethroat-Portrait-Birds-Portrait-Shallow-Depth-of-Field-Bharatpur-Bird-Sanctuary-Keoladeo-National-Park-Nature-Wildlife-Bird-Photography-by-Prathap-Nature-Photography-Simplified.jpg(,)https://c2.staticflickr.com/8/7324/8746034863_c6c46b40af_h.jpg(,)http://www.indiabirds.com/images/gallery_birds/landscape-bp11.jpg(,)http://www.naturephotographysimplified.com/wp-content/uploads/2015/04/Day-23-Jackal-Yawning-in-Early-Morning-Light-Bharatpur-Bird-Sanctuary-Keoladeo-National-Park-Nature-Wildlife-Bird-Photography-by-Prathap-Nature-Photography-Simplified.jpg(,)http://www.naturephotographysimplified.com/wp-content/uploads/2015/03/Bay-backed-Shrike-in-Beautiful-Light-Clean-Background-Bokeh-Effect-Bharatpur-Bird-Sanctuary-Keoladeo-National-Park-Nature-Wildlife-Bird-Photography-by-Prathap-Nature-Photography-Simplified.jpg(,)http://cache2.asset-cache.net/gc/148759652-weed-cutters-in-the-keoladeo-ghana-national-gettyimages.jpg%3Fv%3D1%26c%3DIWSAsset%26k%3D2%26d%3DEFnAseIjgjrs1x%252BH58xh0Odg2wbyp7o6BzPI7flnSYl0g6mFIQ7lX4Ln5UL7gmL0(,)http://cache2.asset-cache.net/gc/89203124-keoladeo-ghana-bird-sanctuary-bharatpur-gettyimages.jpg%3Fv%3D1%26c%3DIWSAsset%26k%3D2%26d%3DSW41lf1clLOJGaXBPvad7r1Y7sa77KrCuz0kAyDl5%252B5WBBg0zCnxC%252FcwX%252FWqIJWT(,)https://static.crazeal.com/80/16/1324537671680.jpg(,)http://mw2.google.com/mw-panoramio/photos/medium/5512212.jpg(,)http://mw2.google.com/mw-panoramio/photos/medium/20193871.jpg(,)http://mw2.google.com/mw-panoramio/photos/medium/14276167.jpg(,)http://mw2.google.com/mw-panoramio/photos/medium/24463722.jpg
(,)http://www.terragalleria.com/images/india/indi39381.jpeg(,)http://www.holidify.com/images/foodImages/30.jpg(,)http://www.holidify.com/images/foodImages/281.jpg(,)http://www.rajasthandirect.com/wp-content/uploads/2013/01/Bharatpur-Restaurant.jpg(,)http://www.40kmph.com/wp-content/uploads/2014/03/Sharma-Misthan-Bhandar-nearby-Laxman-Mandir-Bharatpur-Rajasthan.jpg(,)http://www.fullstopindia.com/wp-content/uploads/2012/09/DSC05687.jpg(,)http://edge.ixigo.com/ixi-api/resize%3Fi%3Dhttp://ixigo-images.s3-website-us-east-1.amazonaws.com/50855c00da0616bba4e89639.jpg(,)http://rangilapradesh.co.in/ph/thali.jpg(,)http://tourelp.com/wp-content/uploads/2015/03/1819_chole-bhature-bharatpur.jpg(,)http://www.worldexpeditions.com/downloads/spawnit_trip_cropped_images/8470/8470-38-userimage3-500x1000.jpg
(,)http://www.login2yatra.com/rajasthan-festival/festival-image/braj-festival-bharatpur.png(,)http://www.excitingindia.in/wp-content/uploads/2014/07/fairsfestivals.jpg(,)http://www.rajasthanvisit.com/Images/Brijfestival1.jpg(,)https://rajasthantourismbuzz.files.wordpress.com/2015/02/brij3.jpg(,)http://www.indiavisitplanner.com/files/2013/09/rajasthan-festivals.jpg(,)http://www.rajasthantour4u.com/images/hmef.gif(,)http://www.deseotravels.com/themes/images/festival/fast.jpg
(,)http://rajasthan-holidays.net/images/tours/bharatpur.jpg(,)http://www.northindiaholidays.com/rajasthan_tour_images/destinations/magnificent-rajasthan.jpg(,)http://www.rajasthantourindia.in/rajasthan_tour_images/destinations/bharatpur-sariska.jpg(,)http://www.rajasthanhub.com/images/rajasthan-culture.jpg(,)http://www.superbindiatours.com/Rajasthan/images/Bhartpur-Bharatpur-Palace.jpg
(,)http://indoexpedition.com/laxmi-vilas-palace-resort-bharatpur-rajasthan/pool.jpg(,)http://www.goldentriangletouronline.com/images/pack_images/Bharatpur_M.jpg(,)http://www.indiabycaranddriver.com/images/stories/Bharatpur/bharatpur_lohagarh_fort.jpg(,)http://media-cdn.tripadvisor.com/media/photo-s/01/33/a1/6c/bharatpur.jpg(,)http://s3-ap-southeast-1.amazonaws.com/media.thrillophilia.com/site/rich/rich_files/rich_files/000/002/240/original/deeg-palace.jpg(,)http://media-cdn.tripadvisor.com/media/photo-s/01/33/a1/61/bharatpur.jpg(,)http://www.jaipur-tourism.net/wp-content/uploads/2012/07/Bharatpur-Tourism.jpg(,)http://www.visittnt.com/luxury-train-tours-india/gifs/birds-tour-bharatpur.jpg(,)http://blessingsonthenet.com/img/uploads/city/aim_bn_1315890730.jpg(,)http://www.nativeplanet.com/photos/600x450/2012/09/_13467367320.jpg(,)http://www.flyfaraway.net/images/slider/rajasthan5.jpg(,)http://www.superbindiatours.com/Rajasthan/images/Lohagarh-Fort-Bharatpur.jpg