Occupation

Stage, film actress







Born

November 11, 1894 (

1894-11-11

)

Minneapolis, Minnesota, U.S.

Movies

Romeo and Juliet, The Great Secret, Modern Marriage

Similar People

Francis X Bushman, Francis X Bushman - Jr, Edward Carewe, Wesley Ruggles, Theodore Wharton




Children

Richard Stansbury Bushman
Beverly bayne s grave mov
Beverly Bayne (born Pearl Beverly Bain) (November 11, 1894 – August 18, 1982) was an American actress who appeared in silent films beginning in 1910 in Chicago, Illinois, where she worked for Essanay Studios.
Contents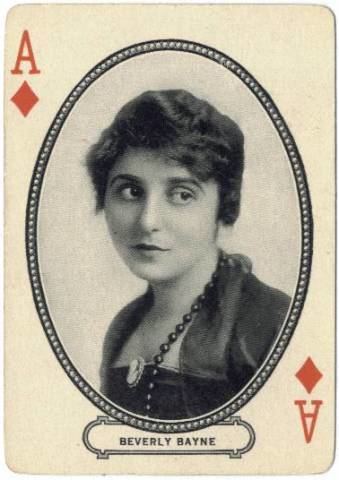 Early life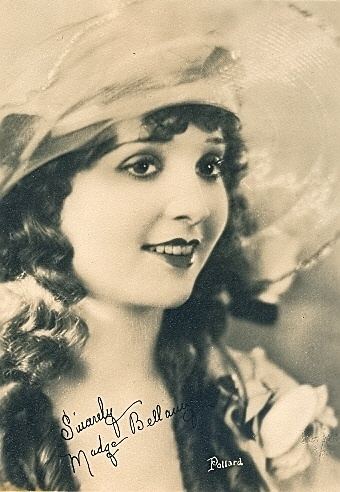 Born in Minneapolis, Minnesota, she moved to Chicago when she was six. She stayed there for a time, and in Philadelphia, Pennsylvania, before she settled in Chicago. She was sixteen when by curiosity she happened by the Essanay Studios. She was told she had a camera face. She began working there at a salary of $35/week. It was soon increased to $75 a week. In a few years the actress was earning $350 weekly.
Film career
Her first films were The Rivals and The Loan Shark, both in 1912. She played the feminine lead in the latter. Under contract to Essanay at this time was Gloria Swanson. It is said that Swanson wept because her eyes were blue and not brown as were Bayne's. Brown eyes were considered preferable for photography then. Other actors on the lot were Wallace Beery, Charlie Chaplin, and Francis X. Bushman. Bushman demanded Beverly as his female lead, and soon they were a romantic duo, appearing in twenty-four films. Their first film together was Pennington's Choice (1915). In 1917 the couple made Romeo and Juliet, which generated a sizeable profit. Bushman and Bayne were married in 1918.
Bayne and Bushman left Essanay and made films for Metro Pictures from 1916–1918 and are credited as the first romantic team in film. In 1920 the couple starred in a play, The Master Thief, which did well. Later they appeared in vaudeville and as guest stars in dramatic stock.
Eventually the two drifted apart. Bayne and Bushman divorced in 1925, and her career went into decline after that. Soon both she and Bushman were out of motion pictures. On reflecting, Bushman believed their demise in films was caused by a new valet who inadvertently snubbed Louis B. Mayer. The movie mogul had called on him during a personal appearance tour. Others contend that the Hollywood establishment disapproved of Bushman divorcing his wife and marrying the much younger Bayne.
Her final silent film was Passionate Youth in 1925. Unable to make a comeback, she worked on stage productions and on Broadway throughout the 1930s and 1940s. During the early 1940s, Miss Bayne performed in radio and did an occasional play. During World War II her serious work involved British War Relief.
Her only sound film was The Naked City (1948) with Barry Fitzgerald and Howard Duff. It was also her last film.
Later years
She retired from performing completely in 1950 and settled in Scottsdale, Arizona, where she died from a heart attack in 1982 at the age of 87.
Filmography
Actress
1955
Star Tonight (TV Series)
- Wanted: Poor Boy (1955)
1952
Hands of Mystery (TV Series)
- Obsession (1952)
1951
The Philco Television Playhouse (TV Series)
- Hour of Destiny (1951)
1948
The Naked City
as
Mrs. Stoneman (uncredited)
1925
Passionate Youth
as
Mary Rand
1924
The Age of Innocence
as
Countess Olenska
1924
The Tenth Woman
as
Willa Brookes
1924
Her Marriage Vow
as
Carol Hilton
1923
Modern Marriage
as
Denise Varley
1920
Smiling All the Way
as
Doubtful Cameo Appearance (unconfirmed, uncredited)
1919
Daring Hearts
as
Louise de Villars
1919
God's Outlaw
as
Ruth Heatherly
1918
The Poor Rich Man
as
Arizona Brown
1918
A Pair of Cupids
as
Virginia Parke
1918
Social Quicksands
as
Phyllis Lane
1918
Cyclone Higgins, D.D.
as
Sally Phillips
1918
With Neatness and Dispatch
as
Geraldine Ames
1918
The Brass Check
as
Edith Everett
1918
Under Suspicion
as
Virginia Blake
1917
Red, White and Blue Blood
as
Helen Molloy-Smythe
1917
The Voice of Conscience
as
Allane Houston
1917
The Adopted Son
as
Marion Conover
1917
Their Compact
as
Mollie Anderson
1917
The Great Secret
as
Beverly Clarke
1916
Romeo and Juliet
as
Juliet
1916
In the Diplomatic Service
as
Beverly Ryerson
1916
A Virginia Romance (Short)
as
Georgia Daniels
1916
A Million a Minute
as
Dagmar Lorraine
1916
The Wall Between
as
Edith Ferris
1916
Man and His Soul
as
Mary Knowles
1915
Richard Carvel
as
Dorothy Manners
1915
Pennington's Choice
as
Eugenia Blondeau / Marie Blondeau
1915
The Crimson Wing
as
Marcelle de Lembach
1915
A Mansion of Tragedy (Short)
as
Nell Kelsey
1915
Hearts and Roses (Short)
as
Ruth Willard
1915
Eyes That See Not (Short)
as
Dorothy Bell
1915
A Bag of Gold (Short)
as
Mildred Mackay
1915
The Reverend Salamander Unattached (Short)
as
Charlotte Bingham
1915
The Counter Intrigue (Short)
1915
The Leather Goods Lady (Short)
as
Annie Whitlock
1915
Providence and Mrs. Urmy (Short)
as
Jeanette Urmy
1915
The Man Who Found Out (Short)
as
The Wife
1915
Whose Was the Shame? (Short)
as
Lady Camilla Lohen
1915
Manners and the Man (Short)
as
Claire Westevelt
1915
Thirty (Short)
as
Ellen March
1915
On the Dawn Road (Short)
as
Helen Armstrong
1915
The Conspiracy at the Chateau (Short)
as
Virginia de Valerie
1915
The Mystery of the Silent Death (Short)
as
Adene Maitland
1915
Graustark
as
Princess Yetive
1915
An Opal Ring (Short)
as
Miss Proctor / Queen Carlotta Marie Victoria of Campania
1915
The Great Silence (Short)
as
Loyal Channing
1915
When the Fates Spin (Short)
as
Pauline Marston
1915
The Accounting (Short)
as
Olga Petroff
1915
Thirteen Down (Short)
as
Jeanne Lamarde
1915
The Ambition of the Baron (Short)
as
Annetta von Tollen
1914
Any Woman's Choice (Short)
as
The Woman
1914
The Volunteer Burglar (Short)
as
Marjorie Trent
1914
The Loose Change of Chance (Short)
as
Eloise - Ned's Sweetheart
1914
Every Inch a King (Short)
as
Elba Allen
1914
The Fable of the Bush League Lover Who Failed to Qualify (Short)
as
Lucy Livingston
1914
Scars of Possession (Short)
as
Louise Cartwright
1914
The Prince Party (Short)
as
Betty Ogilvie
1914
The Private Officer (Short)
as
Muriel March
1914
In the Glare of the Lights (Short)
as
Martha Stedman
1914
Through Eyes of Love (Short)
as
Bessie Morris
1914
The Verdict (Short)
as
The Young Woman
1914
Love's Magnet (Short)
as
Elizabeth
1914
Sparks of Fate (Short)
1914
The Plum Tree (Short)
as
Alice Graham
1914
The Devil's Signature (Short)
as
Ethel Vandiver
1914
Under Royal Patronage (Short)
as
Helen Churchill
1914
Two Men Who Waited (Short)
as
Marian
1914
The Masked Wrestler (Short)
as
Margery Winters
1914
A Gentleman of Leisure (Short)
as
Dolly Fraser
1914
One Wonderful Night
as
Lady Hermione
1914
His Stolen Fortune (Short)
as
Lola Holcombe
1914
The Fable of Napoleon and the Bumps (Short)
as
Mrs. Smalley
1914
The Countess (Short)
as
Countess Ysioff
1914
The Fable of the Brash Drummer and the Nectarine (Short)
as
Clara Louise Willoughby - the Nectarine
1914
This Is the Life (Short)
1914
Three Little Powders (Short)
as
Mrs. Wallace Williams
1914
Making Him Over -- For Minnie (Short)
as
Minnie
1914
Curing a Husband (Short)
as
The Wife
1914
Bridget Bridges It (Short)
as
Mrs. Henry Van Zandt
1914
The Love Route Via Pittman (Short)
as
Hazel
1914
Oh, Doctor (Short)
as
Beulah Crane
1914
The Girl at the Curtain (Short)
as
Mary Burns
1914
Through the Storm (Short)
as
Susan Burton
1914
A Foot of Romance (Short)
as
Beverly
1913
The Stigma (Short)
as
Alice Madden, an Outcast
1913
Smithy's Grandma Party (Short)
as
Chorus Girl
1913
The Little Substitute (Short)
as
Beverly Bayne - The Child's Nurse
1913
The Death Weight (Short)
as
Alice Fisher - Pegg's Ward & Heiress
1913
The Toll of the Marshes (Short)
as
Beverly Rogers
1913
The Love Lute of Romany (Short)
as
Constance - the Farmer's Sweetheart
1913
The Way Perilous (Short)
as
Virginia - The Young Woman
1913
Dear Old Girl (Short)
as
Dora Allen
1913
For Old Time's Sake (Short)
1913
The Right of Way
as
Rosemary
1913
Sunlight (Short)
as
Mary Brown - the Young Woman
1913
The Hermit of Lonely Gulch (Short)
as
Diana Trevor
1913
The Power of Conscience (Short)(uncredited)
1913
The Whip Hand (Short)
1913
Good Night, Nurse (Short)
as
Sylvia Scott - the Sanitarium Nurse
1913
The Forbidden Way (Short)
as
Helen Alden
1913
What's the Matter with Father? (Short)
as
Gertrude Davis
1913
Re-Tagged (Short)
as
Mrs. Bradley
1913
Witness 'A-3 Center' (Short)
as
Florence, the girl
1913
The Divided House (Short)
as
Mrs. Balse
1913
A Brother's Loyalty (Short)
as
Hal's Wife
1913
Hilda Wakes (Short)
as
Mrs. John Woods
1913
Phillip March's Engagement (Short)
as
Mary Adams
1913
The Same Old Story (Short)
as
The Manicurist
1913
A Tango Tangle (Short)
as
Mrs. Jigger
1913
Cousin Jane (Short)
as
Cousin Jane MacArthur
1913
The Rival Salesmen (Short)
as
John Redmond's Daughter
1913
The Wardrobe Lady (Short)
as
Priscilla Wayne
1913
The Will-Be Weds (Short)
as
Helen, Jack's Sweetheart
1913
The Trail of the Itching Palm (Short)
as
Mary Brown
1913
The Tale of a Clock (Short)
as
Dora Dean
1913
The Gum Man (Short)
as
Mary Morgan - the Innkeeper's Daughter
1913
Teaching Hickville to Sing (Short)
as
Dolly Featherheels
1913
The Girl in the Case (Short)
as
Ruth, Old Geaser's Niece
1913
Love and Lavallieres (Short)
as
Gwendoline, Miss Ohlen's Niece
1913
Hypnotism in Hicksville (Short)
as
Susan
1913
The Farmer's Daughter (Short)
as
Nellie Allen
1913
What George Did (Short)
as
Beverly Carney - the Girl
1913
Here's Your Hat (Short)
as
Rosie Sweet
1913
When Soul Meets Soul (Short)
as
1st Egyptian Lady
1913
Seeing Is Believing (Short)
as
The Faithful Stenographer
1912
The Supreme Test (Short)
as
Raymond's Sister
1912
The Iron Heel (Short)
as
The Maid
1912
The Penitent (Short)
as
Alice Danville
1912
The House of Pride (Short)
as
Mrs. James Williams
1912
Miss Simkins' Summer Boarder (Short)
1912
The Thrifty Parson (Short)
1912
The Snare (Short)
as
Mary Clement, the Detective
1912
The Grassville Girls (Short)
as
Rose
1912
The Redemption of Slivers (Short)
as
Alice Prescott
1912
Well Matched (Short)
as
Female Orchestra Member
1912
Billy McGrath's Love Letters (Short)
as
Kitty Reese - Eleanor's Sister
1912
Back to the Old Farm (Short)
as
Mollie
1912
The Hermit (Short)
as
Diana Trevor
1912
The Return of Becky (Short)
as
Becky Lent
1912
The Magic Wand (Short)
as
Cinderella
1912
An Adamless Eden (Short)
as
Eva Dixon, a Waitress
1912
The Old Wedding Dress (Short)
as
Jennie
1912
The New Church Organ (Short)
as
Beverly Barlow - the Minister's Daughter
1912
The Understudy (Short)
as
Mary - the Understudy
1912
The Butterfly Net (Short)
as
Beverly
1912
White Roses (Short)
as
Mary Fuller
1912
Springing a Surprise (Short)
as
Billy's Wife
1912
The Mis-Sent Letter (Short)
as
Sarah, Silverman's Niece
1912
Billy Changes His Mind (Short)
as
Ethel Woodby
1912
The Legacy of Happiness
as
Miss Graft - Will's Sister
1912
A Good Catch (Short)
as
Beverly
1912
A Soul Reclaimed (Short)
as
Mary Turner
1912
The Rivals (Short)
as
Mary Allen
1912
Teaching a Liar a Lesson (Short)
as
Jane Gray
1912
The Loan Shark (Short)
as
Mrs. Richard Montague
Self
1971
The Merv Griffin Show (TV Series)
as
Self
- A Special Salute to the Silent Screen with guests Richard Arlen, Buddy Rogers, Jackie Coogan, Babe London, Chester Conklin, Ken Maynard, Neil Hamilton and many other silent screen stars. (1971) - Self
1949
We, the People (TV Series)
as
Self - Silent Screen Actress
- Kirk Douglas, Hal Hackett (1949) - Self - Silent Screen Actress
1923
Screen Snapshots, Series 3, No. 24 (Documentary short)
as
Self
1920
Screen Snapshots, Series 1, No. 15 (Documentary short)
as
Self
Archive Footage
1942
Screen Snapshots Series 22, No 10 (Short)
as
Self
1939
Screen Snapshots Series 18, No. 12 (Documentary short)
as
Self
References
Beverly Bayne Wikipedia
(Text) CC BY-SA