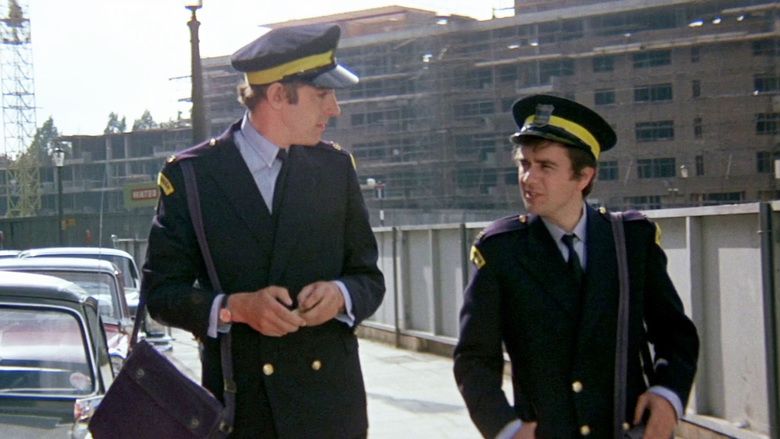 Stanley Moon (Moore) works in a Wimpy's restaurant and is infatuated with the waitress Margaret Spencer (Eleanor Bron). In despair he attempts suicide but is interrupted by the Devil, incarnated as George Spiggott (Cook). ("Mr Spiggott" had previously been one of the characters in the sketch One Leg Too Few).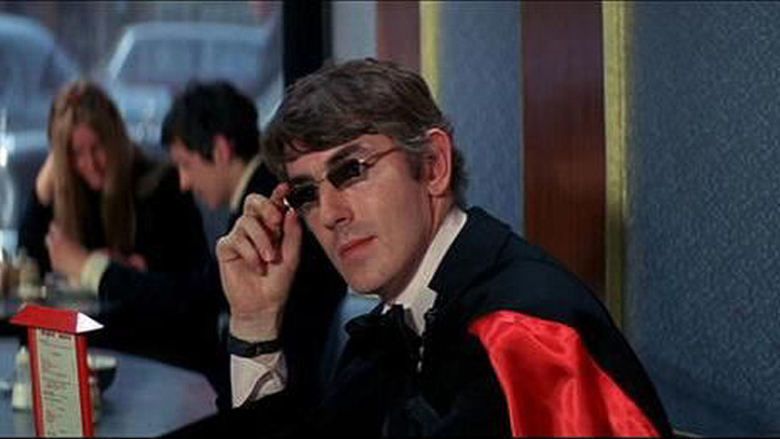 Spiggott is in a game with God, trying to be the first to gather 100 billion souls. If he achieves this first, he will be readmitted to Heaven. He is also busy with minor acts of vandalism and spite, helped by his staff of the seven deadly sins, notably Lust (Raquel Welch) and Envy (Barry Humphries).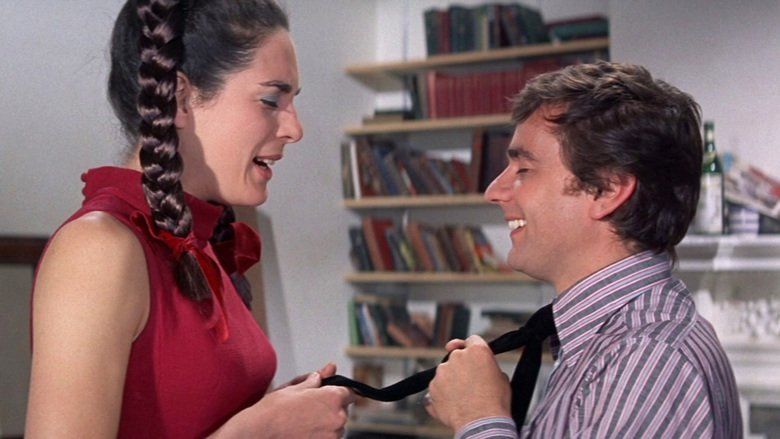 In return for his soul, Spiggott offers Stanley seven wishes. Stanley uses these trying to satisfy his love for Margaret, but Spiggott twists his words to frustrate him.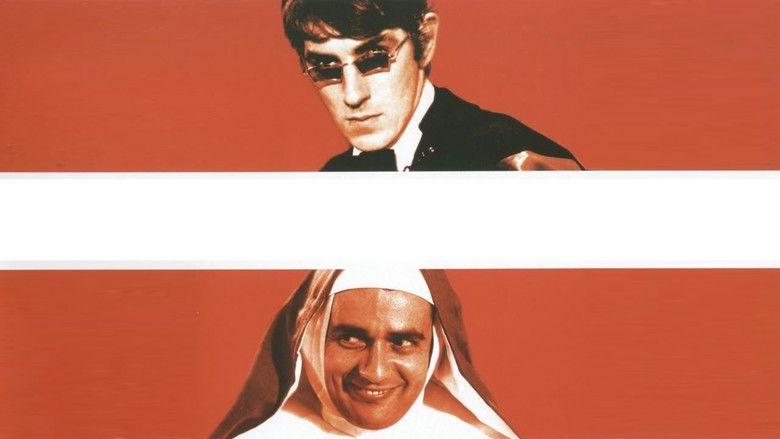 Stanley wishes to be more "articulate". George turns him into a talkative and pretentious intellectual with a strong Welsh accent. Margaret becomes an equally pretentious character, who enthusiastically agrees with all of Stanley's beliefs. Stanley stresses the importance of breaking free from one's social and moral constraints. When Stanley makes his move, however, she is horrified and starts screaming "rape".
In this wish, Stanley is a "multi-millionaire" and Margaret is his "very physical" wife, but it turns out she is "very physical" with anyone except him ... including George.
In the third wish, Stanley is a rock star. However, his fame is short lived, and is usurped by a new band whose lead singer (George) speaks flatly about his lack of interest in anyone except himself. Margaret is a vapid and excitable groupie, as happy to admire one as the other.
Stanley comments that he wishes he was "a fly on the wall" and George seizes on the opportunity to use up one of Stanley's wishes. They become flies on the wall in a morgue, where the inspector is showing Margaret various dead bodies, hoping that she will identify one as Stanley.
George promises Stanley a wish where he has a quiet life in the countryside, with children, and Margaret making the anniversary dinner. It soon becomes apparent, however, that Margaret is actually George's wife. While deeply in love, even the attempt to consummate their affection drives both Stanley and Margaret into emotional agony.
Stanley attempts to frame a wish that George cannot ruin: He wishes that he and Margaret loved one another, lived away from the big city, and would always be together. However, George turns him into a nun of the Order of Saint Beryl, or the Leaping Beryllians, who glorify their founder by jumping on trampolines (expanding on a sketch that appeared in Cook and Moore's Not Only... But Also). Margaret is also a nun in the order, but refuses to consummate their love as they are both women.
When Stanley tries to use his seventh wish, George reveals he has already used it: Before signing the contract, George offers him something to prove he is the Devil, and Stanley asked for a raspberry ice lolly. Stanley was unaware that this counted as a wish until he is unable to escape his sixth wish.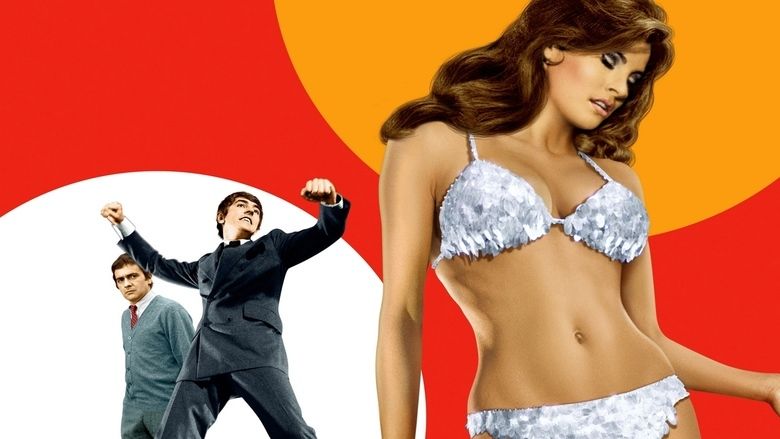 Ultimately, Spiggott spares Stanley eternal damnation because he has exceeded his quota of 100 billion and can afford to be generous. Stanley is returned to his old job and life, wiser and more clear-sighted. Spiggott goes to Heaven to meet God, but is rejected again; St Peter (Lockwood West) explains that when he gave Stanley back his soul, Spiggott did the right thing, but with the wrong motive.
In the closing scene, Stanley and Margaret are back in the restaurant. Stanley finally asks her out but she says she's already doing something, though she does suggest perhaps another night. Stanley smiles, happy that he has found the courage to talk to her. Spiggott tries to entice Stanley again, but Stanley turns him down. Spiggott leaves and threatens revenge on God by unleashing all the tawdry and shallow technological curses of the modern age:
"All right, you great git, you've asked for it. I'll cover the world in Tastee-Freez and Wimpy Burgers. I'll fill it full of concrete runways, motorways, aircraft, television and automobiles, advertising, plastic flowers and frozen food, supersonic bangs. I'll make it so noisy and disgusting that even you'll be ashamed of yourself. No wonder you've so few friends — you're unbelievable!"
Peter Cook as George Spiggott / The Devil
Dudley Moore as Stanley Moon
Eleanor Bron as Margaret
Raquel Welch as Lust / Lilian Lust
Alba as Vanity
Robert Russell as Anger
Barry Humphries as Envy
Parnell McGarry as Gluttony
Danièle Noël as Avarice (as Daniele Noel)
Howard Goorney as Sloth
Michael Bates as Inspector Clarke
Bernard Spear as Irving Moses
Robin Hawdon as Randolph - Harp Teacher
Michael Trubshawe as Lord Dowdy
Evelyn Moore as Mrs. Wisby
Cook and Moore wrote Bedazzled's soundtrack, which was performed by the Dudley Moore Trio. The title track, Moore's best known song, was performed in the movie by the fictional psychedelic rock band Drimble Wedge and the Vegetations. The piece has since been covered widely, including performances by Tony Hatch and Nick Cave. Moore himself recorded several instrumental versions.
The film gained mixed reviews in the United States. Bosley Crowther of The New York Times called it a "pretentiously metaphorical picture" which becomes "awfully precious and monotonous and eventually ... fags out in sheer bad taste." Crowther does, however, compliment Donen for his "colorful and graphic" mise-en-scène. On the other hand, Roger Ebert compared the film's humour to that of Bob and Ray. He called Bedazzled's satire "barbed and contemporary ... dry and understated," and overall, a "magnificently photographed, intelligent, very funny film.".
The unattributed and undated review in the Time Out Film Guide 2009 describes the film as a "hit and miss affair" which is "good fun sometimes", but suffers from a "threadbare" plot. The Virgin Film Guide says "Cook and Moore brilliantly shift from character to character with just a change of voice (not unlike Peter Sellers), and the movie never flags".
Film aggregator Rotten Tomatoes gave it 82% by critics and 74% by audience.