United States of America




117,796 (2013)




5.8% (Dec 2014)




85.9 sq mi




Texas




Lamar University, Lamar Institute of Technology, Kaplan College-Beaumont, Lamar University College of Engineering




McFaddin-Ward House, Spindletop-Gladys City Boomtown Museum, Edison Museum, Ford Park, Fire Museum of Texas



Beaumont ( BOH-mont) is a city in and county seat of Jefferson County, Texas, United States, within the Beaumont–Port Arthur Metropolitan Statistical Area. The citys population was 118,296 at the 2010 census making it the twenty-fourth most populous city in the state of Texas. Beaumonts early history was centered around the lumber, farming, and port industries. A big change occurred in 1901 with the Spindletop gusher. The area transformed into one of the major petro-chemical refining areas in the country. Along with Port Arthur and Orange, Beaumont forms the Golden Triangle, a major industrial area on the Gulf Coast.
Beaumont is home of Lamar University, a national Carnegie Doctoral Research university with 15,000 students. Over the years, several corporations called Beaumont home. For example, Gulf States Utilities had its headquarters in Beaumont until its absorption by Entergy Corporation in 1993. GSUs Edison Plaza headquarters is still the tallest building in Beaumont (as of 2011). With Spindletop, several current energy companies were spawned in Beaumont.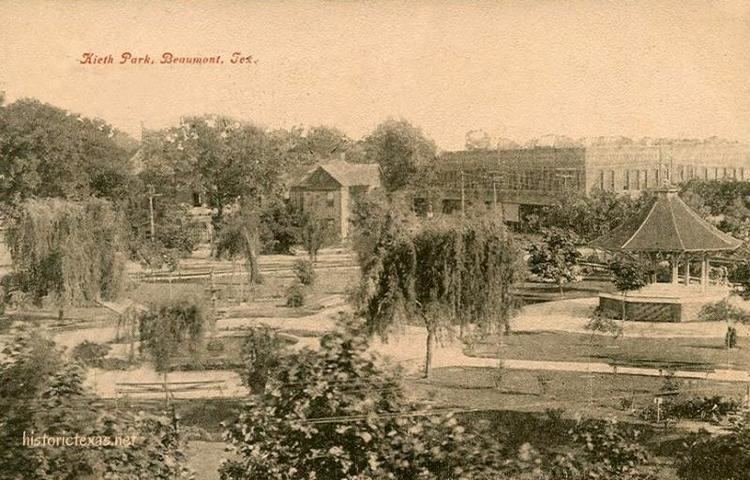 In 1824 Noah and Nancy Tevis settled on the west bank of the Neches River and organized a farm. Soon after that, a small community grew up around the farm, which was named Tevis Bluff or Neches River Settlement. In 1835 the land of Tevises together with nearby community of Santa Anna (in total, 50 acres (200,000 m2) or 200,000 m2) was purchased by Henry Millard (1796?–1844), Joseph Pulsifer (1805–1861) and Thomas B. Huling (1804–1865), who began planning a town to be laid out on this land. This town was named Beaumont, after Jefferson Beaumont the brother in law of Henry Millard.

Beaumont became a town on 16 December 1838. Joseph Perkins Pulsifer was a founding citizen of Beaumont. His firm, J.P. Pulsifer and Company, donated the first 50 acres (200,000 m2) upon which the town was founded. Beaumonts first mayor was Alexander Calder. From its founding in 1835, business activities included real estate, transportation expansion, and retail sales. Later, other businesses were formed, especially in railroad construction and operation, new building construction, lumber sales, and communications. They made Beaumont a successful regional shipping center. Beaumont was a small center for cattle raisers and farmers in its early years, and with an active riverport by the 1880s, it became an important lumber and rice-milling town. The Beaumont Rice Mill, founded in 1892 by Joseph Eloi Broussard, was the first commercial rice mill in Texas. Beaumonts lumber boom, which reached its peak in the late 19th century, was due in large part to the rebuilding and expansion of the railroads after the Civil War. The rise of Beaumonts mill economy drew many new residents to the city, many of them immigrants, among them a group of Jews who would go on to form a congregation. By the early 20th century, the city was served by the Southern Pacific, Kansas City Southern, Atchison, Topeka, and Santa Fe, and Missouri Pacific railroad systems.
Oil was discovered at nearby Spindletop on 10 January 1901. Spindletop became the first major oil field and one of the largest in American history. With the discovery of oil at Spindletop, Beaumonts population grew from 9,000 in January 1901 to 30,000 in March 1901. Oil is, and has always been, a major export of the city, and a major contributor to the national GDP.
Captain W. C. Tyrrell was a leading philanthropist during the early 20th century. He helped fund such projects as the opening of a commercial port in the city, the development of the local rice industry, the development of suburban property, as well as the donation of the citys first public library, the Tyrrell Historical Library.
The city became a major center for shipbuilding during World War II, as tens of thousands of rural Texans poured in for the new high-paying jobs. Housing was scarce and racial tension ran high when a race riot took place in Beaumont in June 1943 after workers at the Pennsylvania shipyard in Beaumont learned that a white woman had accused a black man of raping her. Thus, the riot in Beaumont added to World War II period race riots in Los Angeles, Detroit, Chicago as well as other cities across the country and repeated the war time riots which had occurred in other parts of the country during World War I.
In 1996, the Jefferson County courts, located in Beaumont, became the first court in the nation to implement electronic filing and service of court documents, eliminating the need for law firms to print and mail reams of documents.
In 2005 and 2008, Beaumont and surrounding areas suffered extensive damage from Hurricane Rita and Hurricane Ike. A mandatory evacuation was imposed upon its residents for about two weeks.
According to the Citys 2009 Comprehensive Annual Financial Report the top employers in the city are:
Beaumont is located at 30°4?48?N 94°7?36?W (30.079912, ?94.126653). According to the United States Census Bureau, the city has a total area of 85.9 square miles (222 km2), of which 85.0 square miles (220 km2) is land and 0.9 square miles (2.3 km2) (1.07%) is water.

Beaumont lies on Texas coastal plain, about 30 miles (48 km) inland from the Gulf of Mexico, and just south of the dense pine forests of East Texas. The city is bordered on the east by the Neches River and to the north by Pine Island Bayou. Before being settled, the area was crisscrossed by numerous small streams. Most of these streams have since been filled in or converted for drainage purposes. The island directly across from Riverfront Park is called Trinity Island. There are also three other islands in the Neches River around the downtown area/port: Harbor, Smith and Clark.
Art Museum of Southeast Texas (AMSET), with its Perlstein Plaza, dedicated in memory of pioneer real estate developer Hyman Asher Perlstein (1869–1947), who arrived in Beaumont in 1889 as a poor Jewish immigrant from Lithuania and eventually became one of the citys major builders. The museum stands on the site of the Perlstein building, which was the tallest structure between Houston and New Orleans when it was erected in 1907. Only one column still remains from the building. AMSET, formerly the Beaumont Art Museum, exhibits 19th–21st century American art with a collecting focus on Texas art and Folk Art and offers 10–14 educational programs in any given year. Admission is free, and is the only museum open seven days per week.
Beaumont Childrens Museum New, temporary location opening summer, 2015 in the Beaumont Civic Center
The Art Studio, Inc. (TASI), a non-profit arts cooperative and art gallery space that rents subsidized space to visual artists. Also hosts poetry readings, music events, film screenings. Housed in a converted warehouse in the industrial district of Beaumonts downtown.
Babe Didrikson Zaharias Museum. Museum dedicated to the life of the Beaumont native and accomplished athlete.
The Beaumont Art League is the oldest non-profit art gallery in the area, with 70 years of history. The two gallery spaces (at the old Fairgrounds on Gulf Street) host art exhibitions and juried shows year-round, including the notable BAL National Exhibition (formerly the Tri-State Show), which attracts artists all over the country.
The Chambers House A home open for tours built in 1906 providing a step back in time. The home is filled with furniture, personal items, and artifacts used in the home.
The Clifton Steamboat Museum opened its doors on 26 October 1995 with construction beginning in the earlier months of 1994. The theme of the museum is Heroes... Past, Present, and Future and honors our military and civilian heroes. The Clifton Steamboat Museum consists of a 24,000 square feet (2,200 m2), two-story museum that is handicap accessible, and contains various exhibits. Museum art exhibits bring to life the wars fought in Southeast Texas and Louisiana, as well as the Steamboat Era, World Wars I and II, Korea, and Vietnam. Upper art galleries of the museum feature original bronze sculptures; Native American artists, wildlife, and frontier paintings from famous artists. A special gallery in the museum is dedicated to the Boy Scouts. This boy scouts gallery features many historical scouting artifacts, some dating back before the 1960s. There is also the tugboat, "Hercules", standing at 36 feet (11 m) high, 22 feet (6.7 m) wide, and 92 feet (28 m) long which is included on the museum tour. Tours available by appointment only.
Dishman Art Museum is the University Art Museum located on the campus of Lamar University. The museum features 19th and 20th century European and American Art as well as Tribal Art from Africa and New Guinea.
Edison Museum – about inventor Thomas Edison The museum features exhibits and artifacts about Thomas Edison and his innovations.
Fire Museum of Texas – Home of one of worlds largest fire hydrants. Antique fire trucks and equipment chronicle the history of firefighting in Texas. Educational programs stress the importance of fire safety.
John Jay French Museum. The John Jay French Museum is an historic home that has been converted into a museum. Its purpose is to illustrate the life of a prosperous Texas pioneer family from 1845 to 1865. The home, built in 1845 by French, a tanner and merchant, showcases period furnishings, clothing and pioneer household utensils. Outbuildings on the grounds include a blacksmith shop, tannery, privy and smokehouse.
The McFaddin-Ward House, was built in 1905–06 in the Beaux-Arts Colonial style and is located in the Oaks Historic District. The structure and its furnishings reflect the lifestyle of the prominent family who lived in the house for seventy-five years. A very large historic home with a substantial carriage house. The entire grounds are currently a public museum with a substantial permanent collection of antique furniture and household items. Educational programs focus on history and are geared toward children and adults.
Red Lobsters historical marine museum
Spindletop-Gladys City Boomtown Museum The museum includes several reconstructed buildings reminiscent of the original Gladys City. The buildings contain artifacts from the period.
Beaumont Commercial District is a collection of historic buildings in downtown, a national historic district registered with the NRHP.
Crockett Street Entertainment District The entertainment district includes five vintage buildings dating from around the turn of the 20th century. Each of the buildings have been renovated and many have been re-purposed to restaurants and entertainment.
Jack Brooks Federal Building
Jefferson County Courthouse is an excellent example of Art Deco architecture.
The Jefferson Theatre, built in 1927, is an historic theater that presents musical and stage performances as well as limited revival screenings of classic films. It is featured on the National Register of Historic Places and recognized as a Recorded Texas Historic Landmark.
Julie Rogers Theater was formerly Beaumonts city hall and civic auditorium. The building was renovated with a main purpose of a theater for live performances.
St. Anthony Cathedral Basilica
Temple Emanuel (Beaumont, Texas) has a notable set of stained glass windows by Israeli artist Zeev Raban
Tyrrell Historical Library, formerly First Baptist Church, the building is now a library with an extensive collection of genealogical records.
Beaumont Civic Ballet Chartered in 1971, several performances including The Nutcracker are provided each year.
Beaumont Community Players - Begun in 1925, the Beaumont Community Players have performed several plays and musicals each year except for the World War II period. The Community Players have had several homes over the years including Little Theatre at Fair Park and Jefferson Theatre. Performances are now at the Betty Greenburg Center for Performing Arts.
Mary Morgan Moore Department of Music - Lamar University presents a variety of jazz, orchestral, opera, choir and chorus, brass, and concert band performances throughout the year.
Symphony of Southeast Texas - Founded in 1953 as the Beaumont Symphony Orchestra, the symphony has been performing several performances each year since then. Several guest artists including Van Cliburn and Ferrante & Teicher have appeared with the symphony.
Beaumont, Texas Wikipedia
(,)http://www3.historictexas.net/sites/default/files/images/2014/121914/TXbeaumont-kiethpark1909w.preview.jpg(,)https://www.hgs.org/sites/default/files/images/events/Spindletop%2520old.jpg(,)http://upload.wikimedia.org/wikipedia/commons/b/b0/Balakhani_oil_wells.png(,)http://ww4.hdnux.com/photos/01/30/77/364507/5/628x471.jpg(,)http://www.forttumbleweed.net/Rockdale_Historical_Cars_w.jpg(,)http://pubs.usgs.gov/circ/c1050/fig21.jpg(,)http://ww4.hdnux.com/photos/01/30/77/364523/5/628x471.jpg(,)http://elpasotimes.typepad.com/.a/6a00d83451c9c869e2016305a38b97970d-pi(,)https://tshaonline.org/sites/default/files/images/handbook/KK/ku_klux_klan.jpg(,)https://www.hgs.org/sites/default/files/images/events/gladys-city-1.jpg(,)http://gladyscity.weebly.com/uploads/7/3/6/5/7365455/2578016.jpg%3F488
(,)http://greenthumbservice.biz/wp-content/uploads/2011/09/Landscape-designs.jpg(,)http://www.landscapesunlimitedbeaumont.com/images/theme.jpg(,)http://jayslandscape.biz/wp-content/gallery/berwick/3.jpg(,)http://www.setxchurchguide.com/wp-content/uploads/2014/12/Church-Landscaping-Beaumont-Texas.jpg(,)http://jayslandscape.biz/wp-content/gallery/merlot/5.jpg(,)http://greenthumbservice.biz/wp-content/uploads/2011/09/Landscape-designer.jpg(,)http://jayslandscape.biz/wp-content/gallery/berwick/8.jpg(,)http://www.southernlawntexas.com/images/landscaping_topper.jpg(,)http://jayslandscape.biz/wp-content/gallery/shadow-bend/3.jpg(,)http://www.westerlandscape.com/var/m_7/77/774/48860/CACHED_153322-990-500.jpg(,)http://hernandezmowingandlandscape.com/cs/Satellite%3Fblobcol%3Durlimagefile%26blobheader%3Dimage%252Fpng%26blobheadername1%3DContent-Disposition%26blobheadervalue1%3Dinline%253B%2Bfilename%253Dmowing-and-landscaping-beaumont-tx-hernandez-mowing-and-landscape-main.png%26blobkey%3Did%26blobtable%3DUXImage%26blobwhere%3D1301562340731%26ssbinary%3Dtrue%26moddate%3D2013-02-13%252010:40:53
(,)http://s3-media2.fl.yelpassets.com/bphoto/hUs-kMiKDXOh2WQk3NLtwA/o.jpg(,)http://www.eatdrinksetx.com/wp-content/uploads/2013/11/sugas-bar-9-14-13.jpg(,)http://realfoodtraveler.com/wp-content/uploads/2011/07/Copy_of_IMG_5456.106130659_std.jpg(,)http://ww3.hdnux.com/photos/06/57/03/1765598/3/628x471.jpg(,)http://s3.amazonaws.com/foodspotting-ec2/reviews/316246/thumb_600.jpg%3F1295914410(,)http://www.eatdrinksetx.com/wp-content/uploads/2013/01/P1019406.jpg
(,)http://ww4.hdnux.com/photos/15/71/40/3643415/3/628x471.jpg(,)http://ww4.hdnux.com/photos/15/71/40/3643411/3/628x471.jpg(,)http://www.dogtipper.com/wp-content/uploads/2011/09/Dogtober1-web.jpg(,)http://ww3.hdnux.com/photos/15/71/40/3643430/3/628x471.jpg(,)http://theepicureanexplorer.com/wp-content/uploads/formidable/DSC_17381.jpg(,)http://ww3.hdnux.com/photos/15/41/23/3544298/3/628x471.jpg(,)http://www.elsewhereman.com/wp-content/uploads/2014/08/628x471.jpg(,)http://houstondaytrips.com/wp-content/uploads/Hempstead-watermelon-festival.jpg(,)http://s3-ec.buzzfed.com/static/enhanced/webdr01/2013/2/6/7/enhanced-buzz-27039-1360152526-1.jpg(,)http://ww3.hdnux.com/photos/24/16/72/5303954/5/622x350.jpg(,)http://ww4.hdnux.com/photos/24/16/72/5303951/5/622x350.jpg(,)http://ww4.hdnux.com/photos/24/16/72/5303959/5/622x350.jpg(,)https://texasalmanac.com/sites/default/files/CajunDance.jpg%3F1338902620
(,)http://www.discoveramerica.com/~/media/b3658d7226a3404b933e6c4c1db83b11/03%2520cardinal%2520boat.jpg%3Fw%3D1046%26h%3D380%26bg%3Dffffff(,)http://www.everydaymusiconline.org/assets/images/large/Nobles-9.jpg
(,)http://media-cdn.tripadvisor.com/media/photo-s/01/9b/ab/52/the-stately-mcfaddin.jpg(,)http://media-cdn.tripadvisor.com/media/photo-s/03/1d/a2/87/mcfaddin-ward-house.jpg(,)http://media-cdn.tripadvisor.com/media/photo-s/01/18/05/5e/texas-travel-counselors.jpg(,)http://vivasoutheasttexas.com/wordpress/wp-content/themes/fortress/images/Viva-Southeast-Texas-Tourist-Attraction.jpg(,)http://cdn1.vtourist.com/19/4680923-City_Hall_Beaumont.jpg(,)http://ww4.hdnux.com/photos/03/60/73/986839/3/628x471.jpg(,)https://s-media-cache-ak0.pinimg.com/736x/48/c0/c5/48c0c56f58ba321add6aa01fdd8df280.jpg(,)http://media-cdn.tripadvisor.com/media/photo-s/01/9b/ab/51/the-world-s-largest-working.jpg(,)http://media-cdn.tripadvisor.com/media/photo-s/02/1e/99/b8/crockett-street-offers.jpg(,)https://fbcdn-sphotos-g-a.akamaihd.net/hphotos-ak-xtf1/t31.0-8/c0.0.851.315/p851x315/10562472_10152243012381960_5698983608274276478_o.jpg(,)http://cdn1.vtourist.com/19/4675247-McFaddin_Ward_House_Beaumont.jpg(,)https://res.cloudinary.com/roadtrippers/image/upload/c_fill,h_316,w_520/v1386274674/the-mcfaddin-ward-house-historic-museum-52a0df16bb7c095cf5000076.jpg(,)http://4.bp.blogspot.com/-mww7BfY73-w/TbG80jOOWdI/AAAAAAAAEgQ/xjJO2bSC3yo/s1600/IMG_6526.JPG