The Bangladesh Navy (Bengali: বাংলাদেশ নৌবাহিনী; Bangladesh Nou Bahini) (NATO reporting name:BN) is the naval warfare branch of Bangladesh Armed Forces, responsible for Bangladesh's 118,813 square kilometres (45,874 sq mi) of maritime territorial area, and the defense of important harbors, military bases and economic zones. The President of Bangladesh serves as the Commander-in-Chief of the Navy. The Chief of Naval Staff, usually a four-star officer in the rank of admiral, commands the navy. The Bangladesh Navy came into the existence during Bangladesh Liberation War in 1971, and is headed by Admiral Mohammad Nizamuddin Ahmed.
Contents

Bangladesh Navy has 16,900 personnel on active duty and 8,000 in the reserve. It has 98 combat ships in active service. During wartime, Bangladesh Coast Guard, with strength of additional 57 combat ships and 1,282 personnel also falls under the command of the Navy. Bangladesh Navy has female sailors from 2016's May as in this month's 30th day 44 women were enlisted as sailors in the navy.
The primary role of Bangladesh Navy is to protect country's economic and military interest at home and abroad. The Bangladesh navy is a front line disaster management force in Bangladesh and humanitarian missions abroad. It is a key regional player in counter terrorism efforts and engages in global peacekeeping with the United Nations.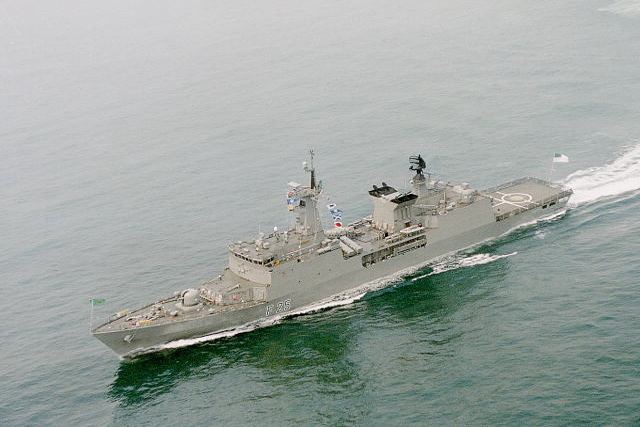 In recent years, the Bangladesh Navy has undergone rapid modernization to expand Naval fleet strength and expand Naval capabilities. The modernization is a part of Forces Goal 2030, with which Bangladesh Navy intends to transform into a Three Dimensional force to develop Blue water economy and to enhance its position in the region.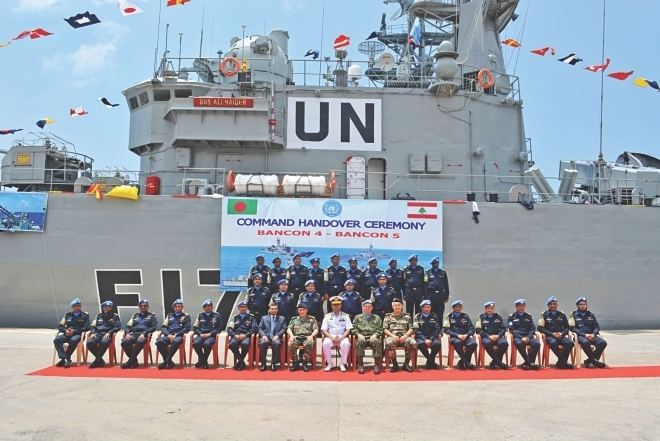 Origins
The Bangladesh Navy was created as part of Bangladesh Forces during Bangladesh's 1971 liberation war against Pakistan. Its official creation date is July 1971 during the Bangladesh Sector Commanders Conference 1971. In 1971, with West Pakistan imposing a brutal military crackdown in East Pakistan, the Bangladesh Liberation War was already underway. Many Bengali sailors and officers in the Pakistan Navy defected to form the nascent Bangladesh Navy. Initially, there were two ships PADMA and PALASH and 45 navy personnel. On 9 November 1971, the first naval fleet consisting of six small patrol vessels were inaugurated. These ships tried to carry out raids on the Pakistani fleet, but were mistakenly hit and sunk by Indian Air Force on 10 December 1971. The next major attack was launched on Mongla seaport. According to official figures from Bangladesh Navy, a total of 334 sailors were involved with the newly created navy with 22 being killed in action.
Independence to the end of the 20th century
Bangladesh Navy (BN) came into being during the liberation War of the country in 1971, in which it suffered a number of fatalities. The navy carried out around 45 operations during the war, including traditional naval operations as well as unconventional commando operations including guerrilla warfare. At the first leg of war, defected Bengali sailors joined the guerrilla forces. It was the eight sailors who defected Pakistan Navy sub-marine PNS Mangro, under construction in France, pioneered the formation of naval element of Liberation War. Later many other naval personnel participated. So far the information could be known, there are 334 naval participants; out of which 22 died. In order to avoid misunderstanding and to get necessary assistance naval planners used to coordinate in the planning phase with other sector commanders to carry out operation in their respective sectors. During the Liberation War East Pakistan was divided into 11 sectors. Each sector had a Commander and demarcated area of responsibility except sector 10. It is said that the area of responsibility of sector 10 was the coastal belt but in reality its operation was spread all over the country.
In 1971, it was imperative for the occupation force to keep ports, harbors operative and the sea lines of communication open. The Bangladesh Navy fought to block the sea lines of communication as well as to make the sea and river ports inoperative. They attacked all the seaports including many river ports. Operation Jackpot is one of the most known successful operations. They carried out mining in Passur River Channel by Patrol Craft. With other fighters they also carried out attack against Pakistan Army. As a result, Bangladesh could become an independent state within the shortest possible time. Naval participation was extended to a great extent.
After independence, especially in the 1970s, additional naval infrastructure was required. Two ex-Royal-Navy frigates joined Navy as BNS Umar Farooq and BNS Ali Haider in 1976 and 1978 respectively. Later, in 1982 a third ex-Royal-Navy frigate joined BN as BNS Abu Bakar. Inclusion of these three frigates is considered as the principal foundation of Bangladesh Navy. This has introduced the new born nation as a Limited Blue Water Navy to the world.
21st century
In 2011, Bangladesh Navy's rescue and medical team, along with Army was deployed to Japan after Tōhoku earthquake and tsunami. Bangladesh Navy have been an active disaster recovery force abroad. In 2013, the Navy deployed BNS Somudra Joy carrying humanitarian assistance worth of $1 million. Navy's medical team were also deployed to Philippines.
Bangladesh Navy joined in the search operation of missing Malaysia Airlines Flight 370 with BNS Bangabandhu, BNS Umar Farooq and a Dornier Do-228NG MPA in March 2014. The aircraft was a Boeing 777-200ER which gone missing from the sky 12 Malaysian crew members and 227 passengers from 14 nations during the flight from Malaysia to China. Later, BNS Umar Farooq was replaced by BNS Somudra Joy. The search was renewed in May 2014 when an Australian exploration company claimed to have traced aircraft debris in the Bay of Bengal. In 2014, During Water Crisis in Maldives, Bangladesh Navy was the first to launch humanitarian aid relief by deploying BNS Somudra Joy with 100 tonnes of bottled water.,
Forces Goal 2030
In 2009, Bangladesh government adopted a long term modernization plan for its armed forces called Forces Goal 2030. Under this plan navy got more importance due to the strategic importance of Bay of Bengal and possibility of getting huge oil and gas in the bay. As a result, several steps were taken to make navy a three dimensional deterrent force.
As part of the modernization plan, BN bought an Ex-RN Roebuck-class survey vessel and two ex-RN Castle-class OPVs which were converted to guided missile corvettes in 2011. BN also procured two refurbished Type 053H2 (Jianghu-III) frigate from China in 2014. Two Durjoy-class Large Patrol Craft (LPC)s were built in China and joined BN in 2013. Two US Coast Guard High Endurance Cutter joined BN in 2013 and 2015 which are being used as patrol frigates. Two Type 056 corvettes joined BN in 2016. Two more such corvettes were ordered in July 2015 and they are under construction now.
Bangladesh Navy opened its aviation wing on 14 July 2011 with the induction of two AgustaWestland AW109 helicopters. Later on, two Dornier Do-228NG MPA was introduced in 2013.
To become a three dimensional force, the Bangladesh Navy is on the process of inducting two off the shelf Type 035G (Ming Class) submarines from China. The boats are expected to arrive by the beginning of the year 2017.
A new base for the Bangladesh Navy is being established at Rabanabad in Patuakhali. It will be Bangladesh's largest naval base with submarine berthing and aviation facilities. Meanwhile, a separate submarine base is under construction at Pekua in Cox's Bazar.
As per the plan, the process of enhancing the indigenous ship building capacity also going on. BN received first Padma-class Patrol Vessel BNS Padma in January 2013 which was followed by four more units of the same class. All of them were constructed at Khulna Shipyard (KSY) and joined BN in 2013. Two units of Durjoy-class LPCs are being built at KSY, started at the end of 2014. Several LCTs and LCUs were also built here. An underway replenishment ship for BN made at the Ananda Shipyard was launched in 2013. The ship will significantly increase the length of stay of BN ships in the deep sea. Recently two Landing craft tank (LCT)s were built at Narayanganj Dockyard.
UN Missions, multinational exercises and naval diplomacy
In 1993 Bangladesh Navy's joined the United Nations Peacekeeping Operations. Its first UN mission came in 2005, when a Bangladesh Navy contingent was sent to Sudan as Force Riverine Unit (FRU).
Bangladesh Navy is currently serving in United Nations Interim Force in Lebanon (UNIFIL) in Lebanon since 2010, when two ships BNS Osman and BNS Madhumati were deployed there in May of that year. BN is the third Asian and only subcontinental navy to serve in that volatile region. BN maintained the two ships thousands of miles from Bangladesh in the Mediterranean Sea for four years until June 2014, when the ships were replaced by BNS Ali Haider and BNS Nirmul.
BN ships regularly participate in exercises with other navies, gaining valuable experience and improving their fighting capabilities. CARAT is a yearly exercise conducted with the US Navy in the Bay of Bengal since 2011. BN has sent an OPV to every MILAN multinational naval exercise held near the Andaman Islands since 2010. AMAN, another multinational exercise held every two years in the Arab Sea, organized by Pakistan Navy, has also been participated by BN frigates since 2009. BNS Bangabandhu participated in Exercise Ferocious Falcon, a Multinational Crisis Management Exercise, held at Doha, Qatar in November 2012, while BNS Somudra Joy participated the same exercise in 2015. BNS Abu Bakar took part in 14th Western Pacific Naval Symposium and International Fleet Review-2014 in Qingdao, Shandong Province of China in April 2014. She also perticipated in Langkawi International Maritime and Aerospace Exhibition (LIMA)-2015 held at Malaysia.
Command and control
According to the Constitution of Bangladesh, the President of Bangladesh is the commander-in chief of Bangladesh Armed Forces. The Chief of Naval Staff (CNS), a four-star Admiral, is the highest admiral, directs the non-combat and combatant operations from the Naval Headquarters (NHQ) in Dhaka. The headquarters has four branches: Operations (O), Personnel (P), Material (M) and Logistics (Log). Each branch is headed by officers who are titled as Principal Staff Officer (PSO) and known as Assistant Chief of Naval Staff (ACNS), e.g., ACNS (O). Under each PSO there are various Directorates headed by Directors with the rank of Captain. Under each Director there are Deputy Directors (DD) and Staff Officers (SO). The Bangladesh Navy has seven major combatant commands, each command is commanded by a Rear admiral or Commodore, who directly reports to Chief of Naval Staff.
Flag officers holding command or important positions in the Bangladesh Navy are as follows.
Headquarters
Chief of Naval Staff: Admiral Mohammad Nizamuddin Ahmed, OSP, BCGM, ndc, psc
Assistant Chief of Naval Staff (Operations): Rear Admiral M Makbul Hossain,(TAS), OSP, BCGMS, ndu, psc
Assistant Chief of Naval Staff (Personnel): Rear Admiral Md Shaheen Iqbal, (TAS), NUP, ndc, afwc, psc, BN
Assistant Chief of Naval Staff (Material): Rear Admiral S M Arshadul Abedin, (E), OSP, BSP, BCGM, ndc, psc, BN
Assistant Chief of Naval Staff (Logistics): Rear Admiral
Personnel
As of 2014, the Bangladesh Navy has approximately 34,000 active duty personnel. Bangladesh Navy (BN) has its headquarters at Banani, Dhaka.
Bangladesh Naval Academy
The Bangladesh Naval Academy, is the home of naval cadets for the future officers of Bangladesh Navy, and offers academic degrees programs at its academy. The academy also provides education, athletic and military training programs to the officers of allied navies, which includes many navy personnel from Qatar, Sri Lanka, Maldivean and Palestinian Navy.
Special operations forces
The Special Warfare Diving and Salvage (reporting name: SWADS) is the principle and elite special operation force of the Bangladesh Navy. The unit was raised by the Bangladesh Navy in 2009 under the guidance of United States Navy SEALs for Direct action, Amphibious reconnaissance, Intelligence gathering and Counter-terrorism. The SWADS operatives are recruited from the Navy and trained in South Korea, Turkey and United States. The operatives go through a long and extremely tough training sessions where the average drop rate during training is approximately 95%. Although the official strength remains classified, estimated strength is thought to be between 1500 and 2000 operatives. The sub-units inside SWADS includes SEAL, UDT, SBS, EOD, BPC and Sniper, giving the unit Sea, Land and Air Strike Capabilities.
Branches
Bangladesh Navy has 6 administrative branches:
The Executive Branch: The Executive branch is responsible for Seamanship, Navigation, Communication, Torpedo Anti Submarine, Gunnery and Hydrographic activities.
The Engineering Branch: The Engineering branch is responsible for maintaining Ships engines, hull, propulsion and other mechanical and hydraulic systems of the ship to keep the Ship operational, ensuring its stability, sea keeping, fire fighting and damage control capabilities.
The Supply Branch: The supply branch is responsible for providing all logistic support to ships / shore establishments and also secretarial duties. In wartime the supply officer works as Action Crypto Officer.
The Electrical Branch: Commonly known as Weapon Electrical branch. The electrical branch is responsible for generation and distribution of power supply in the ship, maintenance of all electrical/electronic equipment, which include Communication Equipment, Radar, Weapon systems and Armaments of the ship.
Education Branch :The Education Branch remains committed for instructional duties. Officers work in the Naval law department are also recruited for the education branch.
Medical Branch: Doctors from Army Medical and Dental core are deputed in the Navy for short duration. They serve in the ship/establishment and also in naval hospital.
Future expansion plan
Bangladesh has made a long term modernization plan for its Armed Forces named Forces Goal 2030. Under this goal, navy will be a three-dimensional deterrent force with air, surface and underwater operational capabilities.
Bangladesh navy has ordered two Type-035G (Ming class) submarines from China worth $200million in 2014. The submarines have already been handed over to the Bangladesh Navy and will be commissioned in 2017.
Two Type 056 corvettes were ordered from China in July 2015 and they are under construction now. Two Durjoy-class patrol crafts are being constructed at Khulna Shipyard now. The shipyard is also constructing two hydrographic research ships for the Bangladesh Navy.
The modernization of the currently used ships is also going on. Two navigational radars with helicopter landing control facilities are being procured for BNS Dhaleshwari and BNS Bijoy. Contract has been signed for the supply of two air search radars for BNS Abu Bakar and BNS Ali Haider.
BN has issued a tender for the procurement of two helicopters with anti-submarine warfare (ASW), anti-surface vessel warfare (ASuW), over-the-horizon targeting (OTHT), maritime search and rescue (MSAR), medical evacuation (MEDEVAC), casualty evacuation (CASEVAC) and special mission capabilities. The helicopters will be inducted in 2017.
A tender has been issued for the supply of Technical Data Link (TDL) system. The system will connect 16 platforms as 2 frigates, 4 corvettes, 1 LPC, 3 shore stations, 2 helicopters, 2 MPAs and two submarines.
Bangladesh Navy is setting up a new base at Rabanabad in Patuakhali, which will be the largest naval base of the country. The base will have submarine berthing and aviation facilities. A separate submarine base is under construction at Pekua in Cox's Bazar.
References
Bangladesh Navy Wikipedia
(Text) CC BY-SA