Years active

2010–present




Labels

Jūonbu Records BMD Fox Records Toy's Factory

Associated acts

Sakura Gakuin, Karen Girl's, DragonForce, Rob Halford

Members

Suzuka Nakamoto, Yui Mizuno, Moa Kikuchi

Genres

Heavy metal, Avant-garde metal, J-pop

Awards

Kerrang! Award for Best Live Band, Kerrang! Spirit of Independence Award

Albums

Metal Resistance, Live at Wembley, Babymetal, Live: Legend 1999 & 1, LIVE AT BUDOKAN ~RED NI




Profiles



Babymetal gimme chocolate official
Babymetal (stylized as BABYMETAL) is a Japanese metal idol band. Their line-up consists of Suzuka Nakamoto as "Su-metal", Yui Mizuno as "Yuimetal", and Moa Kikuchi as "Moametal". The concept of the group is a fusion of the heavy metal and Japanese idol genres. The three teenage girls and their band are managed by the Amuse talent agency. Their vocals are backed by heavy metal instrumentation played by the Kami Band. Babymetal released their eponymous debut album in February 2014. Their second album Metal Resistance was released worldwide on April 1, 2016 (2016-04-01).
Contents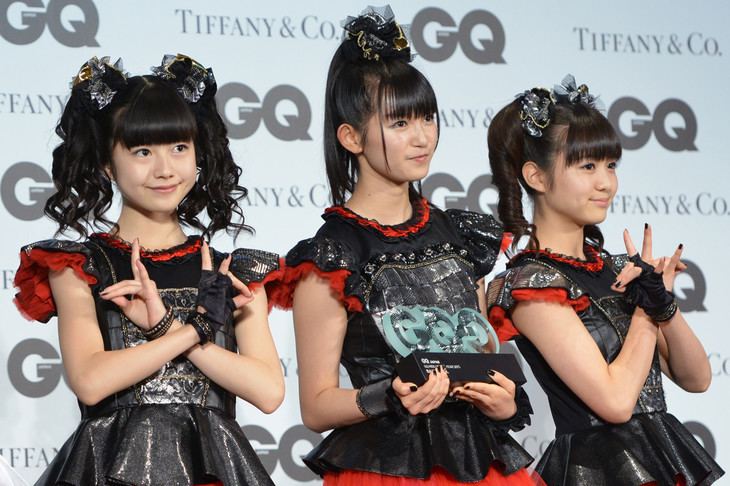 2010–2012: Beginnings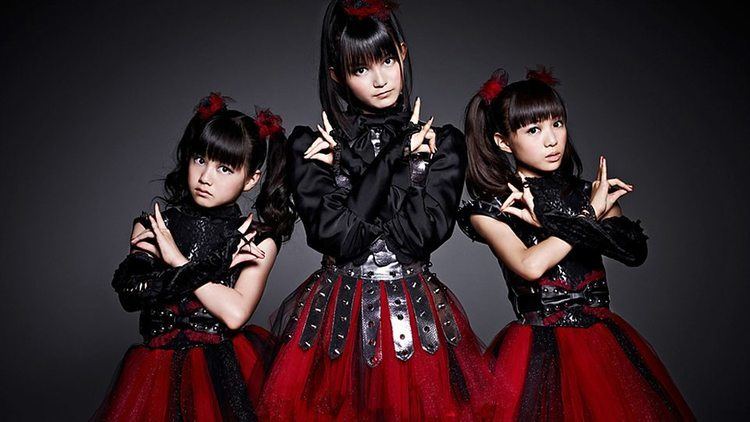 The group was initially formed in 2010 as a subunit of the female idol group Sakura Gakuin, aiming to realize a "fusion of metal and idol [music]". None of the three members knew what metal music was before the inception of the band.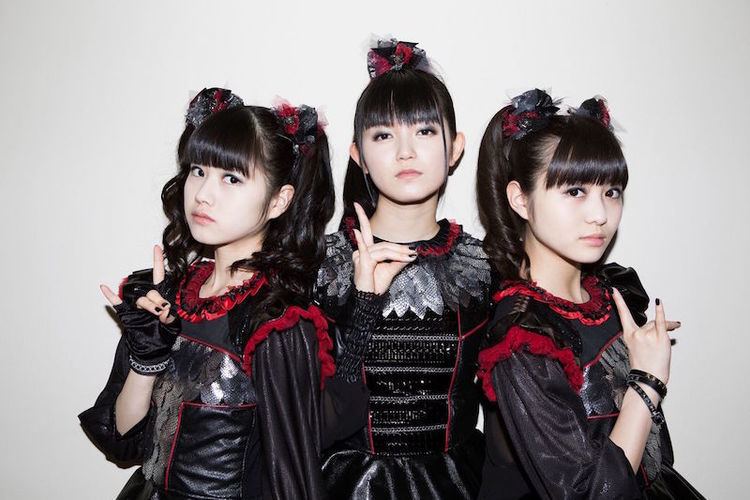 Babymetal's first live appearance was on 28 November 2010, at Sakura Gakuin's first solo concert. Their first song, "Doki Doki Morning", was originally released in April 2011 on the Sakura Gakuin album Sakura Gakuin 2010 Nendo: Message. The band shot a music video for the song and in October 2011 released it as a DVD single intended for limited (live-venues-only) distribution. Having been uploaded to YouTube that same month, by the end of 2012 the video totaled over 1 million views. In July 2011, Babymetal premiered the song, "Ijime, Dame, Zettai" ("No More Bullying"), at a Sakura Gakuin concert, but it would only be performed during live concerts at the time. The first music video, "Doki Doki Morning" was released from the Toy's Factory channel on YouTube at 12 October 2011.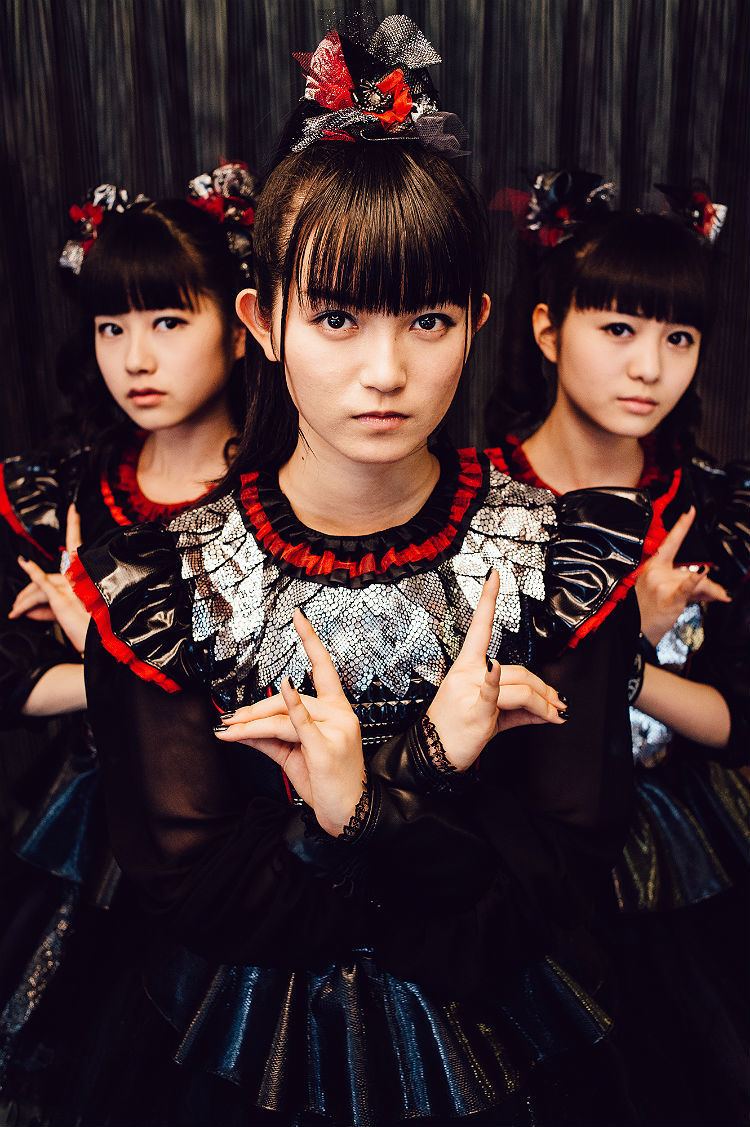 Babymetal's first CD single was a collaboration with the band Kiba of Akiba, titled "Babymetal × Kiba of Akiba". Released on a sublabel of Toy's Factory (Jūonbu Records, same sublabel as "Doki Doki Morning" and later "Headbanger") in March 2012, it ranked 3rd on the Oricon weekly indie chart and number one in the Tower Records Shibuya weekly indie ranking. In July 2012, Babymetal released a single titled "Headbanger". The music video for the title track was directed by Hidenobu Tanabe. In August 2012, Babymetal debuted at Japan's Summer Sonic Festival. With the average age of 12, the band became the youngest act ever to perform there. 2012 also marks Babymetal first Asian tour outside of Japan for the very first time at AFA 2012 Singapore
2013–2015: Major label debut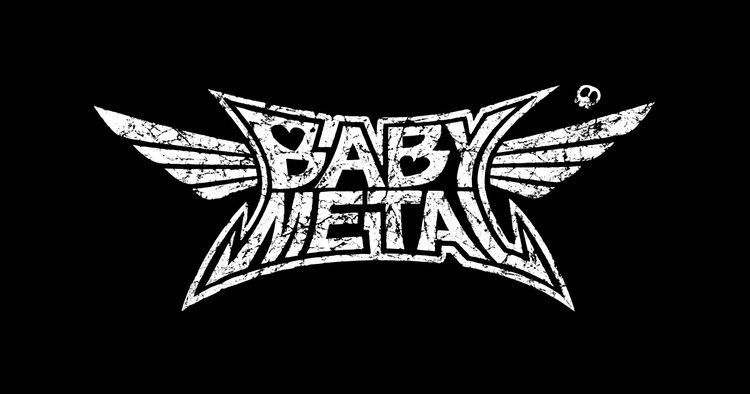 In January 2013, the band debuted on a major record label with "Ijime, Dame, Zettai". It sold 19,000 copies in its first week and debuted at number 6 in the Oricon Weekly Singles Chart. In the spring of 2013, Nakamoto graduated from junior high school and therefore had to "graduate" from Sakura Gakuin (a group of elementary and junior high school girls). However, their management decided that Babymetal would not dissolve and would continue its activities as a band. The group released its next single, "Megitsune", on June 19, followed in November by the live video release Live: Legend I, D, Z Apocalypse, which debuted at seventh place in the weekly Oricon Blu-ray Disc charts, and at the second place among music Blu-rays.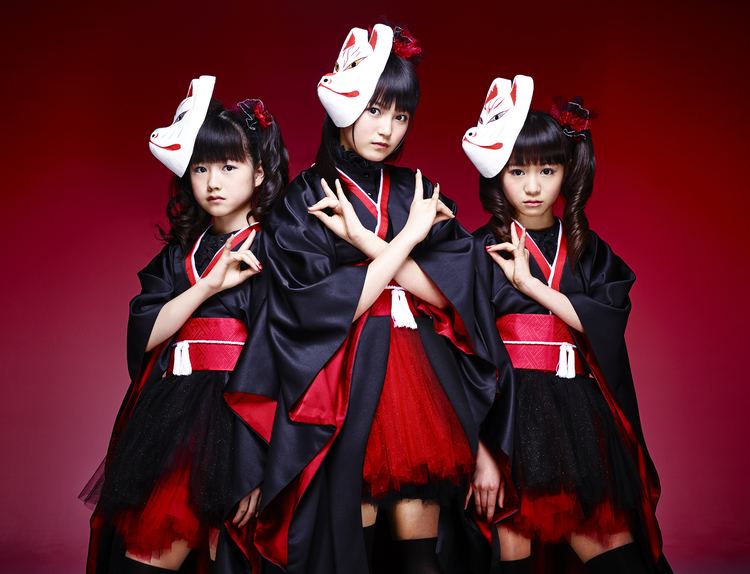 On 10 and 11 August 2013, Babymetal again took part in the Summer Sonic Festival, performing both in Tokyo and Osaka. Later, in October 2013, Babymetal also became the youngest act ever to perform at the heavy metal music festival Loud Park. In November 2013, Babymetal released a promo video for the Japanese premiere of Metallica's movie Through the Never. And near at the end of 2013 Babymetal did another Asian tour in Indonesia at AFAID 2013 and second time for SIngapore after their first overseas Asian tour in 2012.
On 26 February 2014, Babymetal released its first, self-titled album. It contained thirteen tracks and was also available in a limited edition that included a DVD with music videos and live footage. The album was very well received by music critics as well as the public, selling over 37,000 copies in Japan its first week, debuting at number four in Oricon and number 2 in Billboard Japan. It also topped iTunes Metal charts in Germany, UK and US, and reached number 187 on the US Billboard 200 chart on March 22; few Japanese artists have ever entered the chart. Their album also made it into the Heatseekers chart at number four. On March 1 and 2, 2014, the band gave two concerts at Budokan. With the average age of 14.7, they became youngest-ever female act to give a show there. The two concerts were attended by 20,000 people. On 3 April 2014, the reaction video by YouTubers with shock was released from the Fine Brothers channel on YouTube about the Music Videos of "Doki Doki Morning", "line!", and "Gimme Chocolate!!". On 30 April 2016, the video of Babymetal's reaction to their reaction was released on YouTube.
In 2014, Babymetal performed in Paris, Cologne, and in the UK at the Sonisphere Festival 2014. They made their debut appearance in the US on July 27 with a headlining show at The Fonda Theatre in Hollywood. They played Heavy MONTRÉAL 2014 in Canada on August 9 alongside Metallica and Slayer, and also performed at Summer Sonic 2014 in Japan on the Mountain Stage with bands such as Avenged Sevenfold and Megadeth. Babymetal was also the opening act to five of Lady Gaga's concerts in her "ArtRave: The Artpop Ball" 2014 tour in August along the western United States.
In August 2014, it was announced that the band would be returning to England to play another show at London's O2 Academy Brixton on November 8, their final European show of the year as part of the group's "Babymetal Apocalypse" phase. It was later announced that the band would also be returning to New York City, which they had visited earlier in the year without giving an actual performance, performing in the Hammerstein Ballroom on November 4. In September the band announced their second live album titled Live: Legend 1999 & 1997 Apocalypse, released on October 19 on Blu-ray and DVD, featuring their live performances at both the NHK Hall and at Makuhari Messe Event Hall.
At their Brixton performance, the band debuted a new song titled "Road of Resistance." It was later revealed to be a collaboration with Sam Totman and Herman Li of prominent power metal band DragonForce. The song, featuring Li and Totman on guitars, was subsequently released as a bonus track available with the "Red Night" edition of their "Live at Budokan" album on January 7, 2015, and as part of the exclusive Fan Club "The One" edition. Li later revealed via Twitter and Facebook posts that he and Totman had been working on the song's guitar parts since 2013. Shortly after the joint release with Live at Budokan: Red Night, it was released as a single on the iTunes store. In April 2015, the band announced the re-release of their self-titled album via earMUSIC in the UK on June 1. Ahead of their performance at the Metal Hammer Golden Gods Awards on June 15, the trio made a surprise appearance during DragonForce's set at Download Festival, performing "Gimme Chocolate!!", despite event organizer Andy Copping stating that he would never book the band.
2016–present: Touring and Metal Resistance
During the band's 2-day concerts in Yokohama in December 2015, it was announced that they would be releasing a second studio album on April 1, 2016, as well as a new world tour starting in London at the Wembley Arena, and concluding in Japan with the band's debut performance in the Tokyo Dome. On January 15, 2016, the second album's title was revealed to be Metal Resistance. On April 2, one day after the release of Metal Resistance, Babymetal became the first Japanese act to headline Wembley Arena, with the largest sale of merchandise for a single day event in the venue's history, coinciding with the highest ever entry for an album in the UK charts for a Japanese act. The Guardian gave their Wembley performance a rating of five out of five stars. On April 5, Babymetal made their U.S. television debut, performing "Gimme Chocolate!!" on The Late Show with Stephen Colbert.
Babymetal were added as a character skin in the Wii U video game Super Mario Maker in 2016.
On May 26, 2016, it was announced by WWE's Triple H on Twitter that their song "Karate", along with A Day to Remember's "Paranoia", would be used as one of the official theme songs of NXT TakeOver: The End.
On July 18, the band made a special appearance at the Alternative Press Music Awards where they performed "Karate" before being joined onstage by Judas Priest frontman Rob Halford. Halford, along with Nakamoto and the Kami Band, performed an abridged version of "Painkiller", followed by a performance of "Breaking the Law" where they were rejoined by Mizuno and Kikuchi on guitars.
On July 27, Metal Hammer readers voted Babymetal's debut album as the best album of the 21st century.
In September 2016, Warner Bros. announced that a hybrid live action-animation fantasy-adventure short form series featuring the members of the band was under development. The series would be developed by Blue Ribbon Content in collaboration with Amuse Group USA (an Amuse Inc. subsidiary based in the United States). The band's producer, Kobametal, is also involved with production of the series.
On September 19 (Red Night) and September 20 2016 (Black Night), Babymetal ended their Babymetal World Tour 2016: Legend - Metal Resistance by performing at the Tokyo Dome. Both nights were sold out. The attendance for each night was approximately 55,000 people. These included fans from Japan and many others from around the world. Yuimetal admits she is "still in shock" that she's playing here (Tokyo Dome). Moametal feels the same, admitting it is "definitely a big challenge for young girls of our age to stand on that stage". Su-metal explained that "In Japan we have played many big venues like Budokan and others, but Tokyo Dome was always a place that I have been dreaming of performing at."
In December 2016, Babymetal supported the Red Hot Chili Peppers during The Getaway World Tour in the UK. During their final show on the tour, Red Hot Chili Peppers drummer Chad Smith joined Babymetal onstage to perform their covers of Judas Priest's "Painkiller" and "Breaking the Law". After the performance, Smith thanked Babymetal for being on tour with them and led the audience in singing "Happy Birthday" to Su-metal.
In January 2017, Babymetal supported Metallica for their WorldWired Tour at Gocheok Sky Dome and also appeared in Japan's performance of the Guns N' Roses' Not in This Lifetime... Tour as the opening act.
In April 2017, Babymetal will support the Red Hot Chili Peppers during The Getaway World Tour in the US.
Musical style and lyrics
The band defines its style as a new genre called "kawaii metal" ("kawaii" meaning "cute") and clarifies that it is "a mix of J-pop idol and heavy metal" In the music press, the group is most commonly associated with the genres death metal, speed metal and J-pop.
Tristan Peterson, of Metal Obsession, remarked in his review of the band's debut album "This band was created for the demographic of "Music that your Japanese Boyfriend/Girlfriend, who doesn't really like Metal, would enjoy." as well as "[Babymetal] has made metal cute without losing any of its edge."
Patrick St. Michel from Japanese music and culture site MTV 81 praises the "pure, headbang-inducing energy" of the group's live performances and describes their style as a mixture of "...seemingly disparate sounds of heavy metal and idol pop, creating music anchored both by throat-mauling screeches and cuddly choruses." The magazine Metal Hammer described their act using the formula "Short skirts, school girl charm and squeaky voices — just like in the manga comics. But they mix the whole thing with Metal.".
Lyrical themes found in Babymetal's music focus on real-world issues and also typical idol-pop topics such as encouraging young teens to accept and stand up for themselves, the pressure put on teenage girls to remain thin and also bullying while they also sing about what it's like going to your first concert, the concept of an "ideal woman" and chocolate, subjects which critics say are a step away from typical lyrical styles used by most metal bands.
Live performances
Besides dancing, the trio all perform vocals. Su-metal is the main vocalist, credited on Babymetal's official site with vocals and dancing, while Moametal and Yuimetal are credited with scream and dance.
Babymetal's costumes take a variety of cues from the popular Japanese Gothic and Punk Lolita styles, with an emphasis on red and black.
Instead of the sign of the horns, the band uses the hand gesture of the kitsune to symbolise the band's supposed divine inspiration.
In their concerts, Babymetal are accompanied by a backing band. In their early stages, the backing band consisted of the "Babybones" - a group of nameless individuals dressed in skeleton costumes that would mimick live performances while pre-recorded studio tracks were being used. In late 2012, Babymetal debuted a live band for their live performances which they referred to as "Full Metal Band" - a group of live musicians dressed in white robes and corpse paint. They have since been referred to by band members and fans as "Gods of Metal" and more recently "Kami Band". From late 2012 to early 2014, the two groups would alternate, with the Kami Band being used more for festival appearances and special events. As of early 2014, the Babybones band has been quietly retired, and the Kami Band has since been established as Babymetal's primary backing band.
The Kami Band has consisted of a rotating line-up of different musicians since its debut in late 2012. As of late 2013, however, the line-up has been relatively stable, consisting of guitarists Takayoshi Ohmura, Leda, Mikio Fujioka, and Isao, bassist Boh, and drummers Hideki Aoyama and Yuya Maeta with members occasionally substituting for one another if needed. Kami Band member Leda has contributed to Babymetal's music, most notably on their album Metal Resistance (credited as Ledametal).
Public image
According to Kei "Kobametal" Kobayashi, the band's executive producer, the band was formed under the idea of a new type of metal, and the members of the band receive "divine messages" from the Fox God, though Nakamoto explained that the messages received were indirect, as they would be sent to Kobametal first. He stated that it was up to the people's decision to accept or reject the idea. Additionally, he rejected the notion of the band being a "metal" or "pop" act, preferring "the one and only Babymetal." Kikuchi joked that the three members did not decide to join the band, as it was a destiny chosen by the Fox God, whose goal is said to have the band perform and spread their music all over the world.
The band has received varied reception by the public. Some critics praised the band for being "creative" and "rule-breaking" in the metal genre, while others called the band a "novelty group" and a "silly balancing act". When asked about people who do not consider the band's pop-infused music "metal", Nakamoto acknowledged the claims and praised such accusations, warranting how metal "purists" have their own preferences for metal being a certain way, and taking them into consideration for the band's progress. Additionally, the band members believe in staying true to themselves and enjoying what they do, as she agrees is enough for them.
The fanbase, collectively referred to as "The One", has been noted by Mizuno to be a mixed demographic of varying age. Noting the fans of metal and pop, she described the "metalheads" who look like themselves, and the pop fans who dress and cosplay as them. She hopes to be able to continue to reach out to all different types of people. When asked about being role models for their fans and young girls, considered it an honor. She further emphasized the importance of being able to reach out to the youth, especially for younger music fans branching out to the metal genre via Babymetal, noting her own lack of experience of metal before joining the band.
Members
Su-metal (Suzuka Nakamoto) – vocals (lead)
Yuimetal (Yui Mizuno) – vocals (lead and background)
Moametal (Moa Kikuchi) – vocals (lead and background)
Kami Band
Takayoshi Ohmura – guitar
Mikio Fujioka – guitar
Leda – guitar
Isao – guitar
Boh – bass
Hideki Aoyama – drums
Yuya Maeta – drums
Tours
As main act
Babymetal Death Match Tour 2013: May Revolution (2013)
Babymetal World Tour 2014 (2014)
Babymetal Back to the USA / UK Tour 2014 (2014)
Babymetal World Tour 2015 (2015)
Babymetal World Tour 2015 in Japan (2015)
Babymetal World Tour 2016: Legend - Metal Resistance (2016)
Songs
Gimme Chocolate!!Babymetal · 2014
KARATEMetal Resistance · 2016
MegitsuneBabymetal · 2014

References
Babymetal Wikipedia
(Text) CC BY-SA