Directed by

V. T. Thyagarajan

Written by

Balamurugan (dialogue)

Produced by

Vijaya Films Co-operation

Starring

JaishankarNageshVanisriRama PrabhaV. K. Ramasamy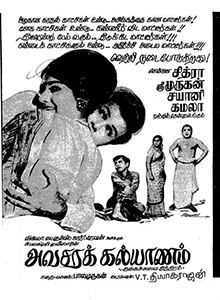 Avasara Kalyanam (தமிழ்: அவசரக் கல்யாணம், English:Urgent Marriage) is a 1972 black-and-white Tamil Comedy Family film was directed by V. T. Thyagarajan and Produced by Vijaya Films Co -Operations. The film script were written by Bala Murugan. Music by T. R. Pappa assets to the movie. The film Starring Jaishankar and Nagesh played lead role with Vanisri Rama Prabha and V. K. Ramasamy portraying supporting roles.
Contents
Cast
Jaishankar as Sekar
Nagesh as Raghu
Vanisri as Advocate Vasanthi
Rama Prabha as Kamala
V. K. Ramasamy as Ranganathan
S. Rama Rao as Street Thief
M. R. R. Vasu as Robbery Gang leader
I. S. R. as Kamla's Manager
Vijayachandrika as Meena
A. Veerappan as Cameo Appearance
V. R. Thilagam as Cameo Appearance
Crew
Director = V. T. Thyagarajan
Script = Bala Murugan
Music = T. R. Pappa
Stills = G. H. Rao
Processing = S. R. Ranganathan (Barani Lab)
Publicity = Eligant
Recording = T. S. Rangasamy
Re - Recording = R. Kannan
Choreography = B. Jayaram
Stunt = Thiruvarur M. S. Dass
Outdoor = A. P. R. Unit
Properties = Cine Crafts and Filmo Crafts
Studio = Saradha, Prasad and Barani.
Soundtrack
Music composed by T. R. Pappa and lyrics written by Kannadasan. Vennila Nerathile Venugaanam solo melodious song was popular hit (starring Rama Prabha and Nagesh Voice by P. Suseela).
References
Avasara Kalyanam Wikipedia
(Text) CC BY-SA