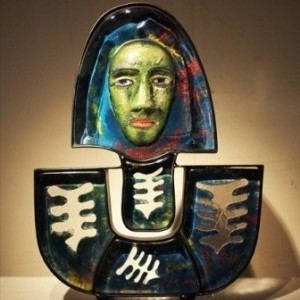 Bakshi was born in Amritsar in Punjab, India into an illustrious family. He is the great grand son of Ganda Singh Datt and son of Bakshi Hardev Singh. It was in Amritsar that he completed his high school education from St.Francis. Post which he enrolled to pursue a course in Merchant Navy at the T.S.Rajendra Mumbai in 1974–76. His travels while in the navy exposed him to different arts and cultures and this exposure was what finally pushed him into quitting his job of 23 years to pursue his interest in the Medium of Glass.
This extraordinary journey began in 1984 in Australia where he first studied the technique of modern stained glass and returned home to set up his own studio by the name Studio Lead Light in Vasant Kunj, New Delhi which is his ideation and conceptualisation hub as well as his workshop for cold glass work. For glass blowing and casting work he has a team at Firozabad, Uttar Pradesh, a city also called the Glass Capital of India about 4 hours from Delhi.
Cold Glass – Stained Glass
Hot Glass – Cast Glass & Blown Glass
Stained glass has been a favourite art form since ancient times and continues to fascinate both the artist and the user even today. It has various applications and adds that special bit of glamour to your décor. With a thousand-year history, the term has been applied almost exclusively to the windows of Churches, Parsi Fire temples and other significant heritage buildings. Originally it was made in flat panels and used as windows, however, modern stained glass artists also work in three-dimensional formats. The design may be figurative or nonfigurative, may depict Biblical themes, history, literature; or present symbolic motifs including flora, fauna, landscape or abstracts designs.
The usage of stained glass has moved far beyond its limitations of ecclesiastical use as in the early days. Stained glass can be used to add glamour to residences, offices, bungalows flats, offices, clubs and restaurants. It can be used in almost any part of the house or office; even in the kitchen. These glasses are available in various shapes, sizes and colours to fit in the frame of your imagination. Stained glass art has grown to become a popular form of art used in interior decoration and is not restricted to making only windows, doors and portico arches but several other decorative works of art too. Stained glass is also used to make trays, glasses, vases, lamp-shades, screens, divider panels, centre pieces, table tops and various excellent gifting items.
The beauty of stained glass is that it allows the light to play truant and offers several perspectives as it does so. Stained glass catches the sun rays or the light present in interiors and work astounding magic with a beautiful interplay of colours, thus creating magical patterns in the room. They are now popular even with the trendier and funky generation.
Cast and blown glass work starts with the thought process where the artist has to sit and visualise before hand as during the casting there is a very short time span where everything must fall into place. Molten glass comes out of the furnace at 1200 degrees Celsius, it's like hot lava and it must be sculpted soon. The glass then starts cooling very quickly. The next stage is to anneal or cool the glass which takes about 4–5 days. Unlike a canvas, one can't sit in front and just work. It's really about a flurry of hands, like your move is frozen in time. Additional elements like German colours, copper plates and ceramic glass fibre paper give more scope for innovation to Cast Glass
• April – May 2012 : Group exhibition at Art Spice Gallery, The Metropolitan Hotel, New Delhi.
• April 2012 Group exhibition at AUDI Gurgaon, showroom, Gurgaon
• Invited by Nobel Society to display cast glass sculptures at the Swedish Ambassador's residence on 30 October 2010. The display was along with Bertil Vallien's and Kjell Engman's glass sculptures.
• 'ATUL BAKSHI- GLASS', Solo exhibition of Cast glass sculptures at Cymroza Art gallery, Mumbai in April 2010
• 'IN MYSTIC MOMENTS' Solo exhibition of cast glass sculptures December 2008 at Epicentre, Apparel House, Gurgaon
• August 2006 at India Habitat Centre, New Delhi along with 9 Swedish artists.
• March 2006 at Linkoping, Sweden with 9 Swedish artists among them the world-renowned "Father" of Casting Glass: Bertil Vallien.
• December 1999 Sculptures in Crystal at Vis-a Vis art and Design Centre, New Delhi.