5.6

/

10

1

Votes

Alchetron

Rate This




Pietro Francisci





Italy, France






Biography, Drama, History




Italian






Ennio De Concini

,

Richard C. Sarafian

,

Primo Zeglio




1954 (1954)




Enzo Masetti, Raoul Kraushaar




Ennio de Concini, Primo Zeglio, Richard C. Sarafian




Anthony Quinn

(Attila),

Sophia Loren

(Honoria),

Henri Vidal

(Aetius),

Irene Papas

(Grune),

Ettore Manni

(Bleda, brother of Attila)


J. Edgar

,

Malcolm X

,

Nixon

,

My Week with Marilyn

,

Mandela: Long Walk to Freedom

,

The Life of Emile Zola



Attila (Italian: Attila, il flagello di Dio; French: Attila fléau de Dieu) is a 1954 Franco-Italian film co-production, directed by Pietro Francisci and produced by Dino De Laurentiis. Based on the life of Attila the Hun, it stars Anthony Quinn as Attila and Sophia Loren as Honoria, with Henri Vidal, Irene Papas, Ettore Manni and Christian Marquand. Scott Marlowe (1932–2001) made his screen debut in this film. It was an enormous box-office success, earning $2 million in the first ten days of its release. Along with The Pride and the Passion and Houseboat it was Loren's biggest success in the 1950s.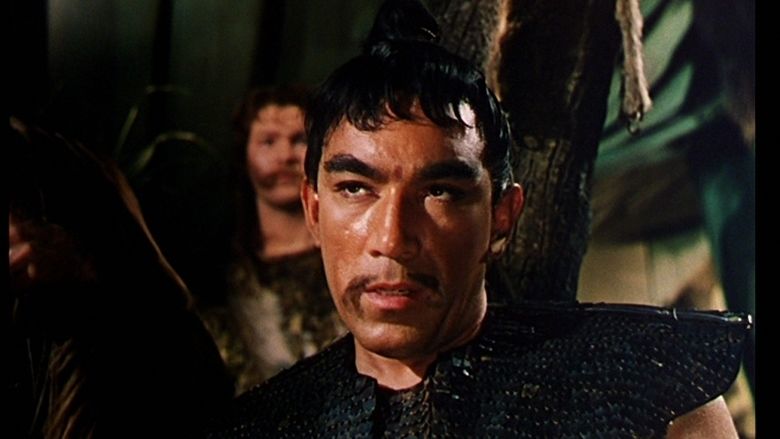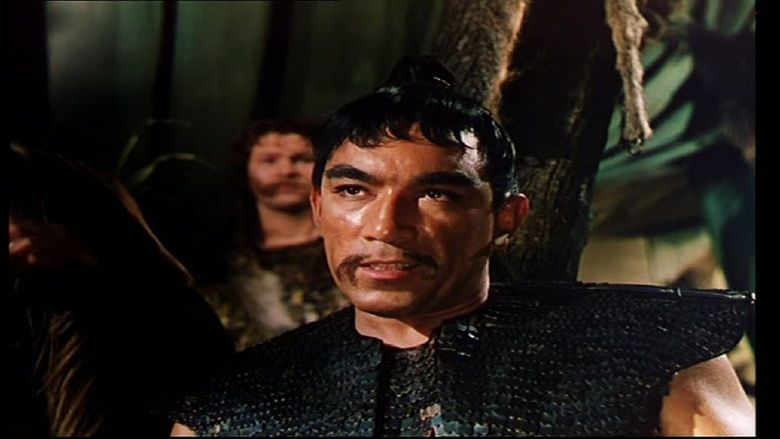 The story is set in 450 A.D. The Huns, a horde of barbarians from the distant plains of Asia, move toward the rich western lands of Germania, led by a savage chief, Attila.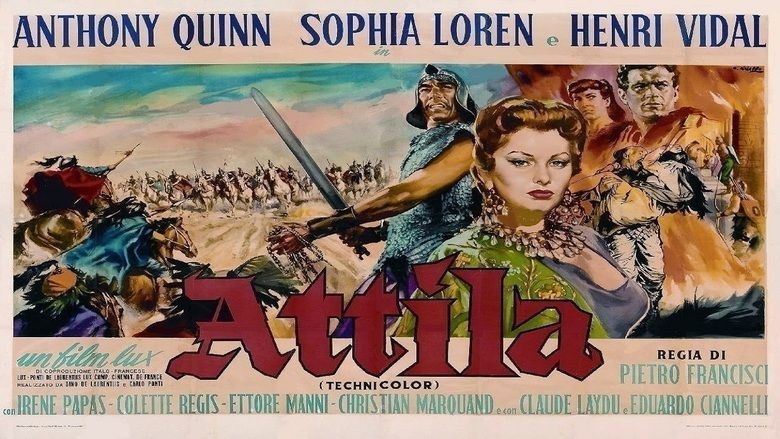 Flavius Aetius, a Roman general, is the only person who knows Attila since he was in a continuation of legation with the Huns for years. Aetius and his companion Prisco carry a message from the Roman emperor Valentinian III to the Hun's king Rua. After reaching their palace, Aetius learns that the king died, and that two brothers Bleda and Attila are now ruling the Hun kingdom. Bleda favours peace and tolerance, but Attila is at odds with him, and tensions develop. Yet Aetius knows to make an alliance between the Western Roman Empire and the Huns.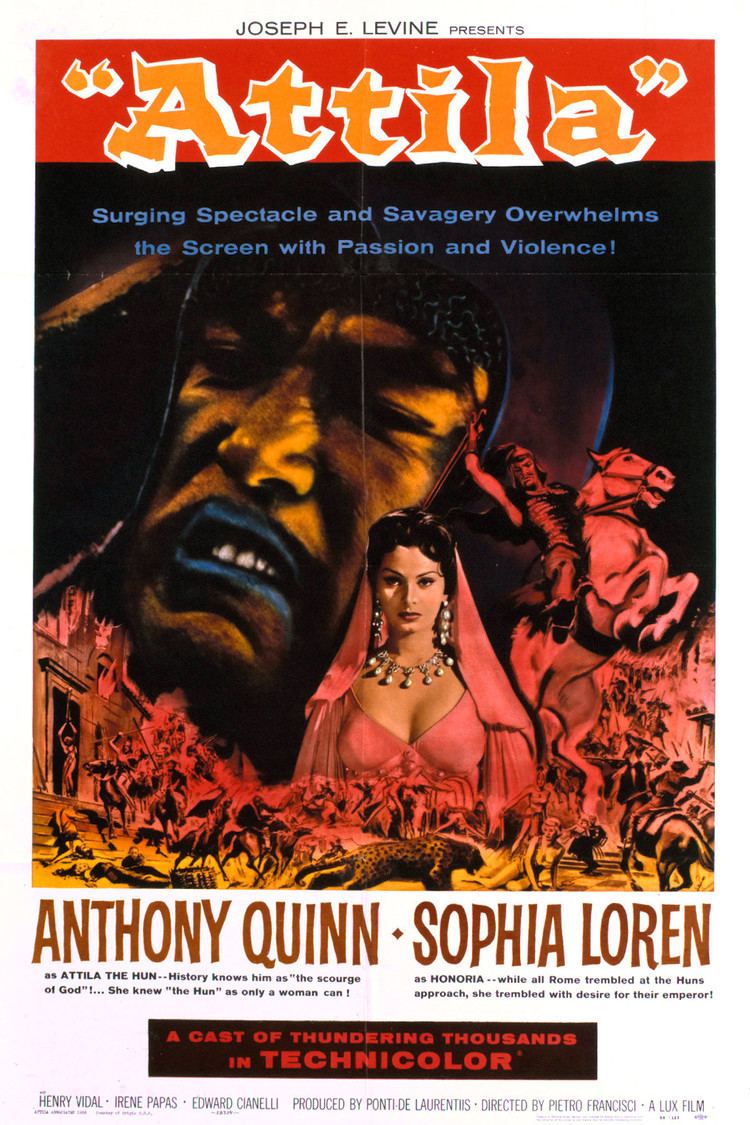 Aetius returns to the Imperial court at Ravenna, where the childish emperor Valentinian III is busy with Roman parties in his palace and enjoying himself, while ignoring the fact that the Empire is beginning to fall apart. Because of this, his mother Galla Placidia is ruling the Empire. Honoria, daughter of Galla Placidia and sister of Valentinian hopes to get rid of them, but needs help to do so. She asks Aetius to join her in a coup d'état, but he has vowed an oath to serve the Empire and refuses, even if he's arrested and stripped of his military rank by Valantinian and Galla Placidia due to his alliance to the Huns.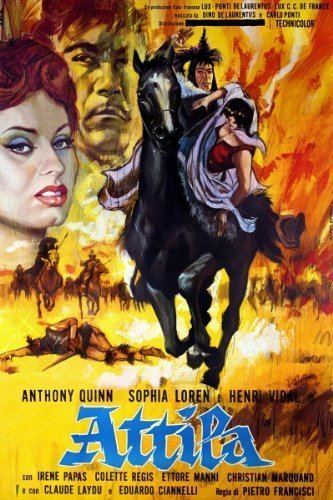 The two brothers battle, Attila wins by ordering his bodyguard to fire arrows at Bleda and his bodyguard during the hunt, and declares himself the sole leader of the Huns, riling them to support his aspirations of conquering the Roman Empire.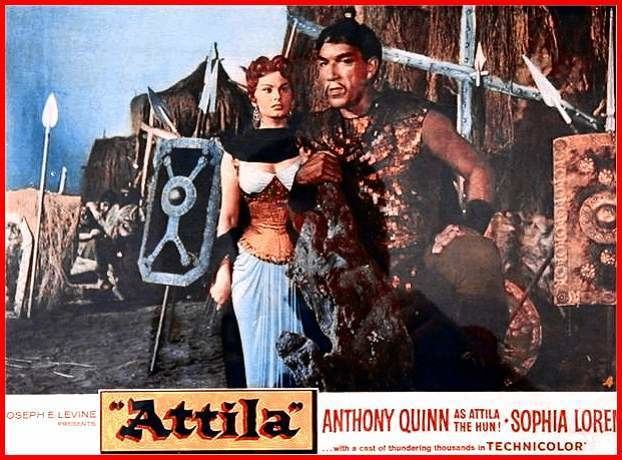 Flavius Aetius returns to Ravenna where emperor Valantinian is distracted by an attempt to poison him. His mother Galla Placidia realizes that the Empire is on the edge of destruction and gives Aetius full military power. Honoria decides to leave the Imperial court and join the Huns. Aetius decides to stop Attila's horde at a river near Italy. The battle starts with a number of Hunnic cavalrymen killed, but when Aetius is in pursuit of the Huns the main cavalry attacks him. His main foot army comes to help, but he is shot in his neck by a Hunnic archer. The entire Roman army loses it's morale to fight on and flee, killing Honoria on the way back. On the eve of victory, Attila takes his son Bleda, (who was named after Atilla's brother) to the battlefield to witness their helpless situation. Aetius, badly injured, fires an arrow at Attila, but misses, and kills Bleda. This traumatizes Attila. Aetius regrets his failed shot, and dies seconds later. Finally on their way to Rome, the Huns face a sacred procession of priests, led by Pope Leo I. Attila is about to kill the Pope, but he says to him calmly, "You can kill everybody...old people, women, children. But remember, Attila, innocent blood won't be washed away. It will come back to you." Attila turns back towards the Alps, leaving Rome untouched.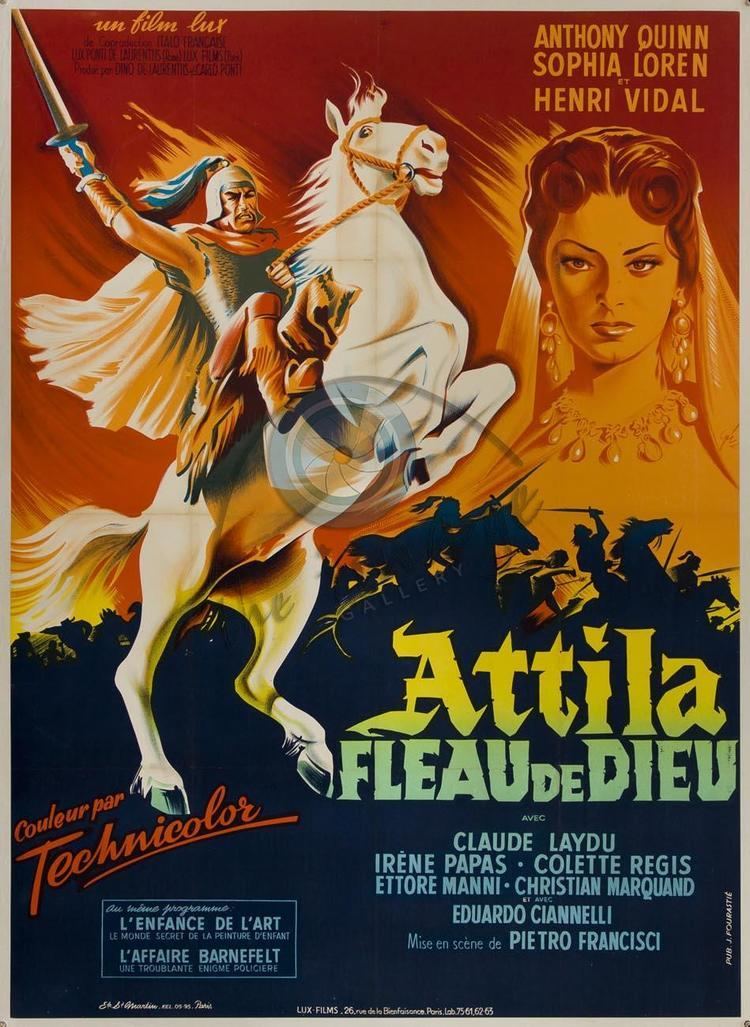 Anthony Quinn: Attila
Sophia Loren: Honoria
Henri Vidal: Aetius
Irene Papas: Grune
Ettore Manni: Bleda
Christian Marquand: Ezio
Claude Laydu: Valentiniano Caesar
Colette Règis: Galla Placidia
Guido Celano: Tribe Chieftain
Marco Guglielmi: Kadis
Eduardo Ciannelli: Onegesius, counsellor to Attila
Carlo Hintermann: Tribe Chieftain
Mimmo Palmara: Lottatore
Mario Feliciani: Ippolito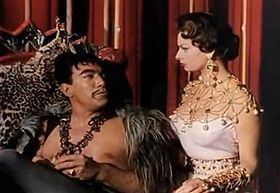 Joseph E. Levine bought the US rights to the film for $100,000 and spent $590,000 on newspaper advertising and $350,000 on radio and TV. It paid off and the film earned over $2 million.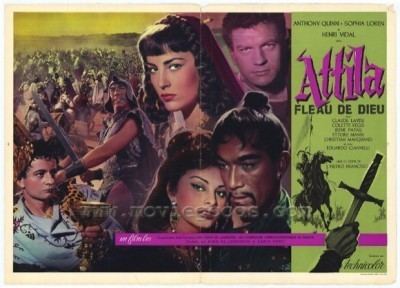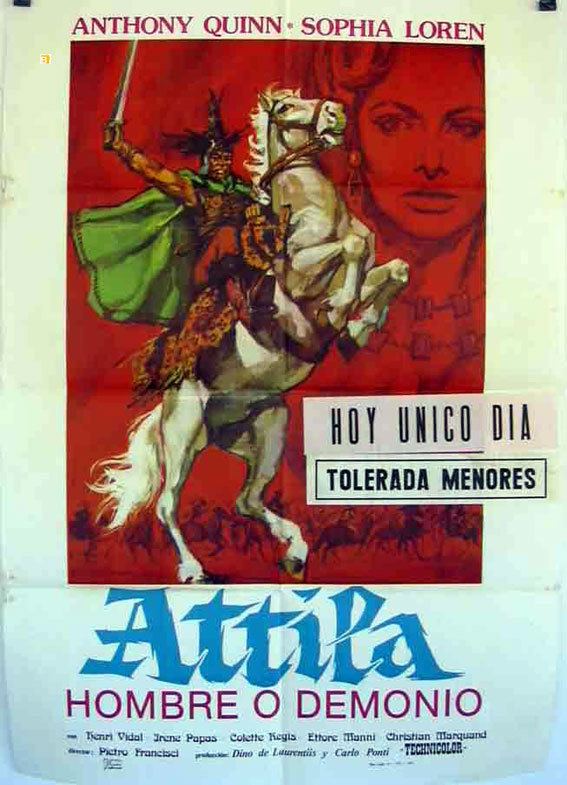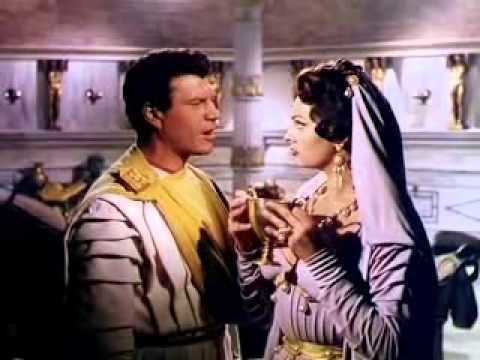 Attila (1954 film) Wikipedia
Attila (1954 film) IMDb
Attila (1954 film) themoviedb.org