9

/

10

Alchetron

10

Rate This




Duration




Country

France, Denmark




Director

Stefan Fjeldmark and Jesper Moller




Language

French





Release date

April 5, 2006 (2006-04-05) (Belgium)April 12, 2006 (2006-04-12) (France)




Writer

Stefan Fjeldmark

,

Jean-Luc Goossens

,

Rene Goscinny

, Albert Uderzo


Adaptations

Asterix & Obelix: Mission Cleopatra (2002)


Main character

Obelix, Asterix, Dogmatix, Getafix, Impedimenta, Assurancetourix, Geriatrix, Cetautomatix, Vitalstatistix




Books

Asterix the Gaul (1959), Asterix and the Golden Sickle (1960), Asterix and the Goths (1961), Asterix the Gladiator (1962), Asterix and Cleopatra (1963)



Northmen a viking saga official international trailer 1 2014 ryan kwanten movie hd
Asterix and the Vikings (working international English title for Astérix et les Vikings) is a 2006 French-Danish animated feature film, produced in France and Denmark, and directed by Stefan Fjeldmark and Jesper Møller. The story was adapted from the graphic novel Asterix and the Normans, which was written by René Goscinny and illustrated by Albert Uderzo. The film was written by Stefan Fjeldmark in collaboration with Jean-Luc Gossens, with supplementary dialogue by Philip LaZebnik. The story has seen some changes from the original comic book: for example, the prolonged journey of the heroes back to Norway (the comic takes place almost entirely in Gaul) and the banquet and fight scenes therein. Also, the inclusion of the strong-willed daughter of Timandahaf, Abba, Justforkix's father, Doublehelix (a mentioned, but unseen character in the book) and dim-witted son of Crypthograf, Olaf and anachronist references about modern technology such as SMS. The resolution to the Vikings' quest for fear remained the same, but was minimalized to a brief gag in the movie's finale wedding scene. The film also makes use of cover versions of pop songs, such as Get Down on It by Kool and the Gang, Survivor's Eye of the Tiger, and Super Freak by Rick James.
Contents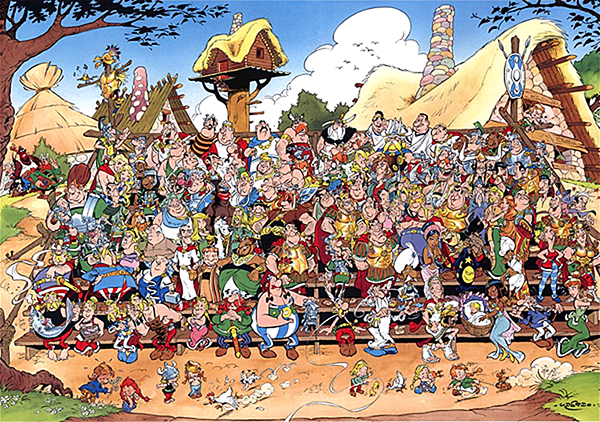 Plot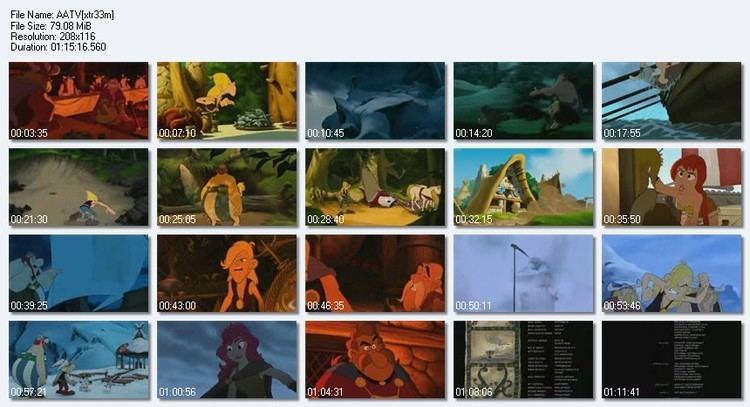 A tribe of Vikings feel flustered because in every raid they find their target locations devoid of people. Cryptograf, an advisor to Viking chief Timandahaf, says that the enemies always disappear because "Fear gives them wings". Timandahaf excitedly concludes that they must find a "Champion of Fear", who can teach them to be great cowards so they can fly, making them invincible. The chief says he'll give anything to whoever can bring him this Champion of Fear. Cryptograf hatches a secret plan to seize power and tells the chief they'll find the Champion of Fear in Gaul.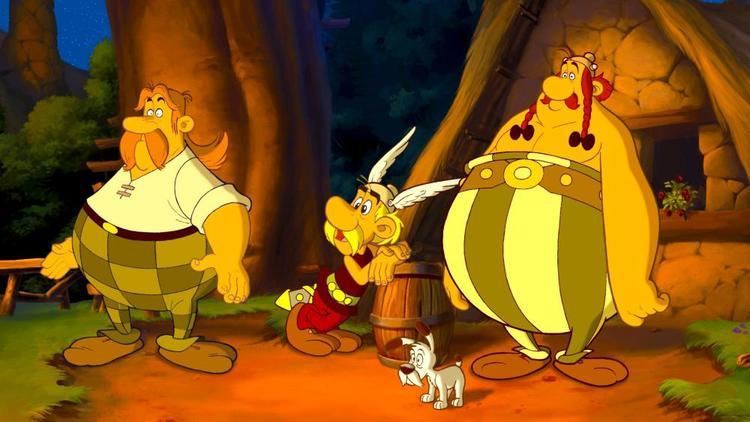 During a typical day in the Gaulish village, chief Vitalstatistix announces the imminent arrival of his nephew Justforkix, who is to be trained to be a man. When Justforkix arrives from Parisium, he doesn't look like warrior material. He uses his bird SMS (Shortmessageservix) to send messages to his "babes". Besides chasing girls, he's into hi-tech, nightlife, and dancing — and he's a vegetarian, much to the dismay of Obelix, who can't get him to try wild boar.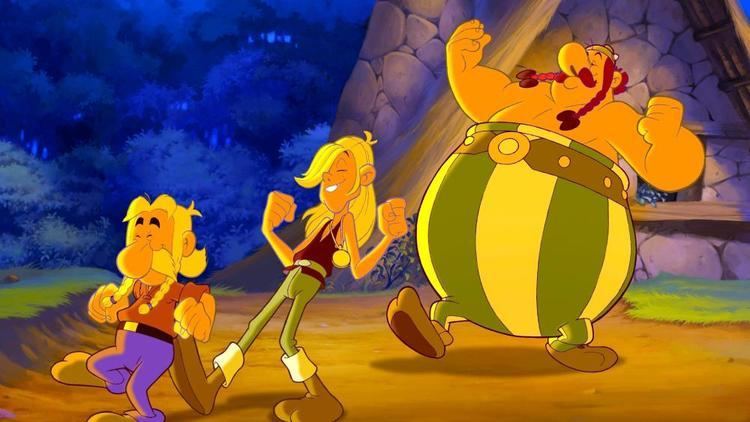 In Norway, as the Vikings prepare to start their quest, the chief's wife, Vikea, orders her husband to get her some flat-packed easy-to-assemble furniture from his raids, while his daughter, Abba, insists on going along, but meets with a flat refusal. Abba disguises herself as a man and goes anyway.
Meanwhile, Asterix and Obelix proceed with training Justforkix, but with little (if any) success. He runs screaming from any danger and refuses to drink (non-organic) potion. Upon the Vikings' arrival in Gaul, Cryptograf explains to his incredibly stupid son, Olaf, that he must capture the Champion of Fear, and claim the prize of anything he wants, which Cryptograf says is the chief's daughter, Abba. Since the chief has no son, this would put Olaf in line to become the next chief (with Cryptograf calling the shots, of course).
Olaf captures Justforkix, and Asterix and Obelix have to retrieve him before the next full moon when his father, Doublehelix, plans to return to their village. Asterix and Obelix arrive on Iceland shortly after the Vikings, but they can't rescue Justforkix. He doesn't want to leave because he considers the Vikings (especially Abba) as his friends. However, the Vikings decide to test Justforkix's flying skills by throwing him off a cliff. Cryptograf secretly rigs up a rope to Justforkix, allowing him to be suspended in the foggy air and thus convincing the Vikings that he really can fly.
The Vikings rush off to Olaf's wedding ceremony, leaving the Champion of Fear dangling. Asterix and Obelix return just in time to rescue Justforkix before the rope breaks. On the way to Gaul, Justforkix sneaks some magic potion from Asterix and swims back to stop the wedding and to rescue Abba. Later, he discovers that he really can fly as he rescues Abba from another precarious spot - using a hang-glider improvised from a ship's mast and sail.
Back in the Gaulish village, everyone gathers to celebrate the wedding of Justforkix and Abba. All the Vikings (except Abba because of her improvised ear muffs) finally experience real fear when they hear a ballad sung by Cacofonix. When Asterix asks him what fear is good for, Getafix explains that we can only be courageous when we have some kind of fear to overcome.
Reception
Critical reaction to Asterix and the Vikings was generally mixed, with much praise on the animation and voice acting, but with criticisms on the film's script.
Source material
The movie is primarily based on Asterix and the Normans, but there are some elements from other Asterix books:
Box office
References
Asterix and the Vikings Wikipedia
(Text) CC BY-SA