7.6

/

10

Alchetron

7.6

Rate This





Genre

Drama, Musical, Romance




Duration




Language

Hindi






Director

Shakti Samanta


Music director

S.D. Burman




Country

India





Release date

24 October 1969




Writer

Sachin Bhowmick (story), Ramesh Pant (dialogue)


Release date

September 27, 1969 (India)




Songs

Roop Tera Mastana




Cast

Sharmila Tagore (Vandhana Tripathi), Rajesh Khanna (Arun / Suraj Prasad Saxena), Sujit Kumar (Madan Verma),

Pahadi Sanyal

(Gopal Tripathi),

Anita Dutt

(Mrs. Prasad Saxena), Madan Puri (Prison Warden)

Aradhana (English: Worship) is a 1969 Indian romantic drama film directed by Shakti Samanta, starring Sharmila Tagore and Rajesh Khanna. It was voted as the best film of the year by the Filmfare Awards. Sharmila Tagore would win her first Filmfare Best Actress Award for playing the lead role in this film. Originally released in Hindi and dubbed in Bengali, Aradhana's huge success led to two remakes, both starring Vanisri in Tagore's role: the Tamil film Sivagamiyin Selvan (1974) and the Telugu film Kannavari Kalalu (1974). This film is counted among the 17 consecutive hit films of Rajesh Khanna between 1969 and 1971, by adding the two hero films Marayada and Andaz to the 15 consecutive solo hits he gave from 1969 to 1971.
Contents
Plot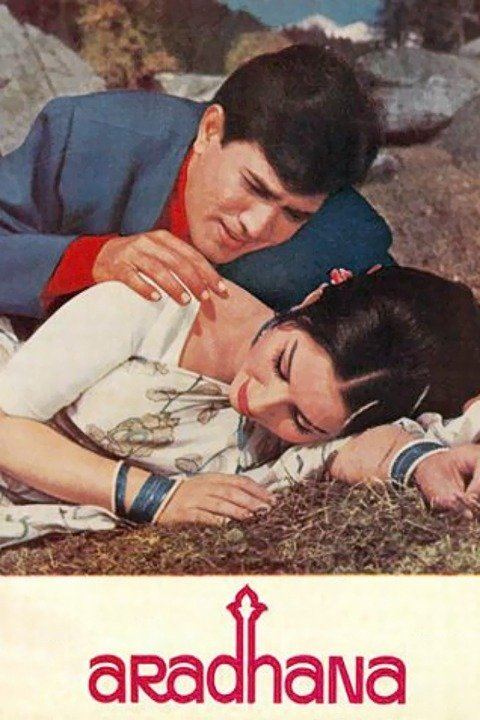 In an idyllic hilly terrain, Indian Air Force officer Arun Varma (Rajesh Khanna) sings "Mere Sapno Ki Rani" atop an open jeep along with his co-pilot Madan (Sujit Kumar), while Vandana (Sharmila Tagore), the daughter of a doctor Gopal Tripathi (Pahadi Sanyal) demurely sneaks glances at him from a mini train. After a brief romance, they have a secret wedding.
Soon afterwards, Arun dies in an air crash leaving behind a heartbroken and pregnant Vandana. His family refuses to accept the unwed mother-to-be since her marriage with Arun is never formalised. Meanwhile, her father also dies, leaving her destitute. Vandana's son is finally born, but she is forced to let a childless couple adopt him. Determined to be a part of his life, she accepts the responsibility of becoming his nanny. The boy is named Suraj. Her employer's brother Shyam (Manmohan) arrives and lusts for Vandana. He tries to rape her when no-one is around, but Suraj arrives and stabs him to death to save his nanny. When the police arrive, Vandana takes the blame for the murder and is arrested while Suraj runs away and forgets this mishap as he grows up.
Several years later, when Vandana is released from jail she is befriended by the jailer (Madan Puri) who takes her home and introduces her to his daughter Renu (Farida Jalal). Vandana comes face to face with Suraj (Rajesh Khanna) when she discovers that Renu is dating him. Suraj, just like how his father wished, is an air-force officer. He slowly starts remembering that he has seen Vandana somewhere, although Vandana wants to hide the truth as she feels Suraj may be embarrassed upon realising his parent's background and history. Vandana makes herself home at the jailer's house.
Suraj is injured in an air crash like his real father Arun, but survives. While he is recuperating in the hospital, Vandana meets Madan, who knows that Suraj is Arun and Vandana's son. He wants to tell Suraj the truth, but Vandana denies wanting to let Suraj know that he is her son, fearing the consequences. Later when Vandana is not around, Suraj sees her diary where Arun's photo is found. Realising that Arun and Vandana are his true parents, he salutes Vandana's self-sacrificing attitude and accepts her as his own mother.
Cast
Sharmila Tagore as Vandana Tripathi
Rajesh Khanna as Flight Lieutenant Arun Verma / Suraj Prasad Saxena
Sujit Kumar as Madan Verma
Pahadi Sanyal as Gopal Tripathi
Anita Dutt as Mrs. Prasad Saxena
Abhi Bhattacharya as Ram Prasad Saxena
Madan Puri as the jailer
Asit Sen as Tikaram
Farida Jalal as Renu
Manmohan as Shyam
Subhash Ghai as Prakash
Dulari as a doctor
Production
The film was scripted by Sachin Bhowmick. The theme of the movie was based on the 1946 film To Each His Own. A day prior to the shooting of Aradhana, producer Surinder Kapoor showed Samanta his latest film, Ek Shrimaan Ek Shrimati with Shashi Kapoor as the lead which was also written by Sachin Bhowmick. Much to his surprise this film had similar ending as his own film. The following day Samanta decided to scrap his film, when writers Gulshan Nanda and Madhusudan Kalelkar visited his office. Upon hearing the issue, it was Gulshan Nanda who suggested to have a double role of father and son in the film. Originally the first hero was to die by the interval and a new hero was to step in. The same evening, while Aradhana was being cancelled, Nanda recited a story of Kati Patang to Samanta, which he instantly liked, so for the next couple of hours they first rewrote the second half of Aradhana, and subsequently went on to discuss, Kati Patang. The "Roop Tera Mastana" song sequence, which lasted more than three minutes and 30 seconds, was filmed in a single take. Sharmila Tagore believes this was done due to time constraints.
Soundtrack
The soundtrack of the film was composed by S. D. Burman, with lyrics by Anand Bakshi. Burman had written the music for the songs of Aradhana and completed the recording of the songs in the voices of Lata Mangeshkar,Asha Bhonsle,Mohd. Rafi,Kishore Kumar & S.D.Burman himself.Name of Kishore Kumar as the voice of Rajesh Khanna was suggested by Sakti Samanta when the original choice Mohd Rafi left India for a world tour for a pretty long time. Three songs were composed & recorded by composer S.D.Burman in the voice of Kishore Kumar, two solos & one duet.These SDB composed Aradhana songs gave big boost to the career of Kishore Kumar as a singer as the songs became extremely popular & broke all records.Details can be found in the interview of renowned musicologist H.Q.Chowdhury,who interviewed Sakti Samanta regarding music of Aradhana, taken by well known SDB researcher Moti lalwani.According to music and film expert Rajesh Subramanian, in "Roop tera mastana",Kersi Lord played the accordion, Homi Mullan played the duggi and Manohari Singh played the saxophone.
Awards
1969 Filmfare Awards
Best Film - Shakti Samanta
Best Actress - Sharmila Tagore
Best Male Playback Singer - Kishore Kumar for the song "Roop Tera Mastana"
Impact
Aradhana had a large impact on Indians in general. It inspired many to take up films as a vocation, one of them being the popular Indian actor Tom Alter, who confessed in an interview that he headed to Film and Television Institute of India after being impressed watching Rajesh Khanna in Aradhana in 1970.
References
Aradhana (1969 film) Wikipedia
(Text) CC BY-SA
Aradhana (1969 film) IMDb
Aradhana (1969 film) Rotten Tomatoes
Aradhana (1969 film) themoviedb.org