As a player from 1988 to 2006, he was a right winger, and is remembered for his spells with English clubs Manchester United and Everton, and in Scotland with Rangers. He is the only player in history to have scored in each of the Glasgow, Merseyside and Manchester local derbies. He also played in the top flight of English football with Southampton and Manchester City, as well as also appearing as a professional for Dynamo Kyiv, Shakhtar Donetsk, Fiorentina, Al Hilal, Saturn Moscow Oblast and Krylia Sovetov. He was capped internationally by the Soviet Union, CIS and Russia. He moved into management in 2010 with FC Torpedo-ZIL Moscow after two years as general director of FC Nosta Novotroitsk.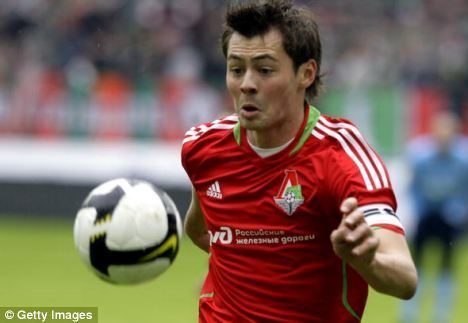 Born in Kirovohrad in the Ukrainian Soviet Socialist Republic to Lithuanian parents, Kanchelskis started his career with Dynamo Kyiv in 1988 and then went to Shakhtar Donetsk in 1990.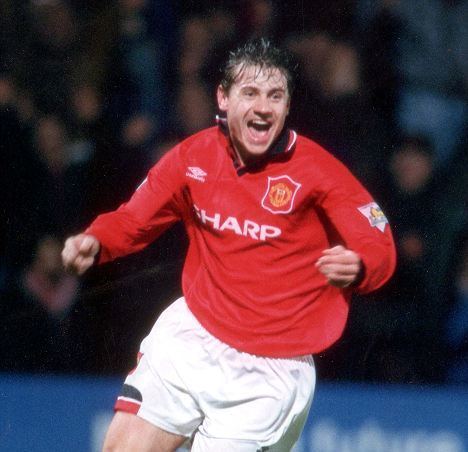 Kanchelskis signed for Manchester United in a £650,000 deal on 26 March 1991 and made his debut in the penultimate league game of the 1990–91 season, which United lost 3–0 to Crystal Palace at Selhurst Park. At the time of his arrival at Old Trafford, United were in the process of finishing sixth in the Football League First Division and had won the previous season's FA Cup. They won the European Cup Winners' Cup on 15 May 1991, but Kanchelskis was not in the squad. It had been 26 years since their last top division title, and manager Alex Ferguson signed Kanchelskis in a bid to find an attacking right-sided midfielder to give him a younger and quicker option to the older right-sided midfielders Bryan Robson and Mike Phelan, as well as the skilful but lightweight Russell Beardsmore, whose once promising United career was nearing its end by this stage.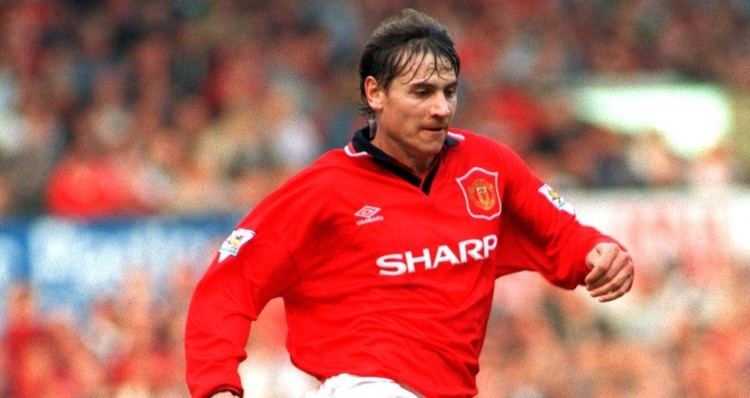 Kanchelskis won the 1991 European Super Cup with United and wore the number 7 shirt during the match. He was a regular member of the United team, playing in 34 out of 42 league games in the 1991–92 season as United finished second to Leeds United in a title race that they had led for most of the season before being overhauled during the final few weeks. However, compensation for Kanchelskis and his team mates had come at Wembley Stadium on 12 April 1992 when a 1–0 win over Nottingham Forest gave them their first ever Football League Cup triumph. Kanchelskis managed five league goals that season, finding the net eight times in all competitions. His first United goal was against Sheffield United in a 2–0 league win at Old Trafford on 2 November 1991.
In 1992–93, Kanchelskis established on the right side of midfield for the first half of the season before being replaced for the second half of the season by Lee Sharpe, a star of the 1991 Cup Winners' Cup season who returned from long-term injury and illness, with Ryan Giggs now the favoured choice in Sharpe's previous position on the left flank. Nevertheless, Kanchelskis was a key part of the team who won the first ever Premier League title, scoring three goals in 27 league games appearances albeit 13 of these were as a substitute, as United's 26-year league title wait came to an end. He was one of only 13 non British or Irish players to play on the opening weekend of the Premier League along with Jan Stejskal, United's goalkeeper Peter Schmeichel, Robert Warzycha, Roland Nilsson, Eric Cantona (who began the season still with Leeds United before his November arrival at Old Trafford), Hans Segers, John Faxe Jensen, Anders Limpar, Gunnar Halle, Craig Forrest, Michel Vonk and Ronnie Rosenthal.
1993–94 brought more success as United won the Premier League title and the FA Cup, and Kanchelskis was now United's first choice right-sided midfielder, and their first "proper" right-winger since Steve Coppell in the early 1980s, as the likes of Bryan Robson and Mike Phelan had player a deeper role. 1993–94 was also the first season of squad numbers in the Premier League, and Kanchelskis was issued with the number 14 shirt. On the downside, he was sent off in the League Cup final that season for a handball which saw opponents Aston Villa awarded a penalty. United lost that game 3–1, denying them the chance of a unique domestic treble.[2]
Kanchelskis was United's leading goalscorer in the 1994–95 season with 15 goals in 32 games (14 of them in the Premier League), but missed the final few weeks of the season due to a hernia and during that time United surrendered the league title to Blackburn and the FA Cup to Everton. United were also without the suspended Eric Cantona (who was banned for eight months after he assaulted a spectator against Crystal Palace in late January), while Andy Cole was cup-tied for the FA Cup games.
His highlight of the 1994–95 season came on 10 November 1994, when he scored a hat-trick for United in their 5–0 home win over neighbours City in the Manchester derby. He had also found the net twice against Blackburn Rovers in a crucial match at Ewood Park on 24 October which United won 4-2.
Kanchelskis had played 145 times for United and scored 48 goals in the space of four years, but he had fallen out with manager Alex Ferguson earlier in the season and failed to patch up his differences with the manager. He was promptly put on the transfer list in early July, and on his departure, he was eventually replaced on the right-hand side of United's midfield by David Beckham.
Bryan Robson made an unsuccessful bid to sign Kanchelskis for Middlesbrough when it was announced that United would be selling him, and there was also speculation that he would sign for Liverpool. In the end, Kanchelskis was sold to Everton just after the start of the 1995–96 season. The £5 million fee paid by manager Joe Royle made him Everton's biggest signing at the time.
His first season with the club saw him score 16 goals to cap a season of excellent performances which made him arguably the best right-winger in the country. He rapidly gained cult status with Everton fans especially after his two goals against rivals Liverpool at Anfield and his performances helped the club to a sixth-place finish, their best finish since 1988, though it wasn't quite enough to secure a UEFA Cup place. Before Kanchelskis had been able to reproduce that form in his second season he was sold midway through, joining Fiorentina for £8 million in January 1997 (ca. 15 billion Italian Lira).
Kanchelskis signed a three-year deal with Fiorentina for a fee of 15 billion lira (5 billion per year). A hard tackle by Roma defender Vincent Candela ended his 1996–97 season prematurely.
In the third matchday of 1997–98 Serie A, Kanchelskis suffered an ankle injury after a hard tackle from Internazionale defender Taribo West, punished only with a yellow card. Returning to action after 40 days in a 1998 FIFA World Cup qualifiers against Italy in Moscow, he collided with Gianluca Pagliuca and suffered a fracture in his knee, being sidelined until the end of the season after only contributing with 17 appearances and two goals.
After struggling to make an impact in Italy, he later went on to play for Rangers (1998–2002), Manchester City (2001) (on loan, scoring once in the FA Cup against Liverpool), Southampton (2002–2003), Al Hilal (2003), FC Saturn Moscow (2004–2005), and Krylia Sovetov (2006). Whilst playing over 70 games for the Ibrox side, he only showed glimpses of his earlier career success, and found himself yet again on the fringes of the first team.
After leaving Krylia Sovetov he was without a contract and despite expressing interest in continuing playing, he retired on 12 February 2007. He played his last competitive game on 25 November 2006 in Round 30 of the Russian League.
Kanchelskis, who was born to Lithuanian parents in the Ukrainian SSR, was capped 23 times for the Soviet Union (including its brief successor, the CIS), scoring three goals. He scored, on November 1991 in Cyprus, the last goal in Soviet national team history. After the dissolution of the Soviet Union Kanchelskis chose to represent Russia, considered the USSR's official successor team by FIFA.
After leading a player boycott against Russia's head coach Pavel Sadyrin and therefore missing the 1994 FIFA World Cup, the only senior major international tournaments Kanchelskis played in were Euro 92 (for CIS) and Euro 96. Overall, Kanchelskis earned 59 international caps, scoring seven times.
In 2007, Kanchelskis became the sporting director of Russian 1st division football club FC Nosta Novotroitsk. After Nosta was relegated to the third-tier Russian Second Division, Kanchelskis was appointed in December 2009 as the manager of FC Torpedo-ZIL Moscow. For 2011 season, he moved to FC Ufa. On 31 August 2014 Kanchelskis became the manager of the Latvian Higher League club FC Jūrmala. He left the club in November, failing to avoid relegation.
In his autobiography, Managing My Life, Alex Ferguson alleged that he was offered a £40,000 bribe to sell Kanchelskis. When this was refused, he claimed that death threats were made to Martin Edwards, the chairman of Manchester United at the time. There was no suggestion that Everton or Kanchelskis were aware of either the bribe or the threats.
Manchester United
Premier League: 1992–93, 1993–94
FA Cup: 1993–94
Football League Cup: 1991–92
FA Charity Shield: 1993, 1994
UEFA Super Cup: 1991
Rangers
Scottish Premier League: 1998–99, 1999–2000
Scottish Cup: 1998–99, 1999–2000, 2001–02
Soviet Union
UEFA European Under-21 Championship: 1990
Sir Matt Busby Player of the Year: 1994–95