De Grasse is the first Canadian sprinter to win three medals in a single Olympics. His feat bettered the two medals in a single Olympics that were won by Canadian legends Donovan Bailey and Percy Williams.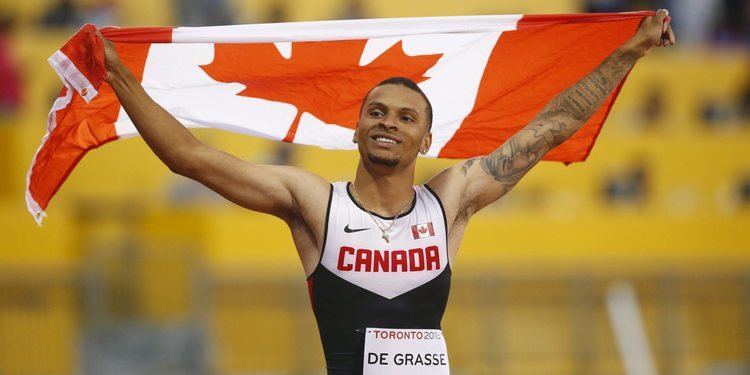 Andre De Grasse was born in Scarborough, Ontario. His mother, Beverley De Grasse, was a high school sprinter in Trinidad and Tobago before she moved to Canada at age 26. His father, Alexander Waithe, moved from Barbados to Canada as a teenager.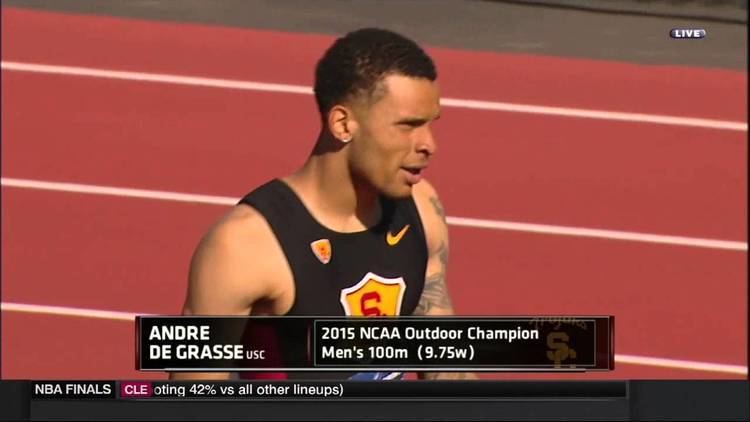 Raised in Markham, Ontario, he went to St. Marguerite Bourgeoys Catholic Elementary School in Scarborough from kindergarten to the second grade and later transferred to Mother Teresa Catholic Elementary School in Markham to continue until grade eight where he won his first race in 2006. He also attended Father Michael McGivney Catholic Academy and Milliken Mills High School. De Grasse is a Roman Catholic having been influenced by his mother's faith. He has the word "hope" and a prayer tattooed on his arm.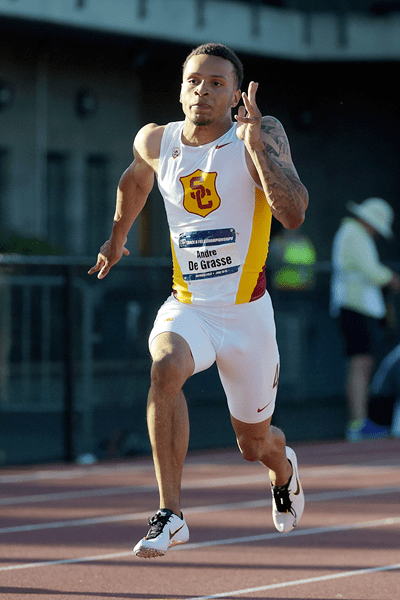 De Grasse started racing in grade eleven. Wearing basketball shorts and Converse shoes and using no starting blocks, he secured second position in his first 100 m race with a time of 10.9 seconds. He was spotted by future coach Tony Sharpe who noticed his potential because of this. At the 2013 Canada Games De Grasse won three gold medals in the 100, 200, and 4×100 metre relay. He attended Coffeyville Community College in 2013 and 2014 before transferring to USC for his junior season in 2015.
De Grasse's legal 100 m time of 9.97 to win the Pac-12 championship in May 2015 was the first time he ran under 10 seconds. At the 2015 100 m NCAA championships De Grasse ran a wind-assisted time of 9.75 to win; the wind was +2.7 m/s. The 9.75 made him the seventh fastest man in the world and fastest Canadian in any conditions. Also at the 2015 NCAA Championships, De Grasse produced a wind-aided 19.58 (+2.4) 200 metres. That was nearly a half a second faster than his own national record set four weeks earlier. After the race, with encouragement from his friends to keep going in the pursuit of titles, he said "So I ask myself...world champion? Olympic champion? Why not me? I've come this far, and I've only scratched the surface. I want to keep it going. Track is fun to me, and as long as it stays this way, I expect to keep getting better."
De Grasse's next major event was the 2015 Pan American Games held in his home province of Ontario, Canada where he won the gold medal in the 100 m with a time of 10.05. Earlier in the semi-finals he ran a 9.97 on his way to the final. After the race De Grasse said of the home crowd that "Aw, it was great. I think they gave me an extra boost of energy, the crowd was amazing, I hear them cheering my name and screaming my name." De Grasse also won the gold medal in the 200 m at the 2015 Pan American Games with a time of 19.88. De Grasse became the first Canadian in history to run both a sub-10 in the 100 metres and sub-20 in the 200. He appeared to win a third Pan Am Games gold when he ran the second leg of the 4 x 100 m relay, in which the Canadian team came first in the race with a Games record of 38.06. However, the team was later disqualified two hours after the race for a lane infringement by Gavin Smellie.
The 2015 World Championships in Athletics took place in Beijing. At the event De Grasse ran sub-10 second times in the heat and semifinal on his way to the eighth lane in the final. There, De Grasse tied for the bronze medal with American Trayvon Bromell in the 100 metres, running a 9.92. He became the first Canadian to win a medal in track's marquee event since Bruny Surin raced to silver in 1999. After the final De Grasse said "I didn't know who had won the race, I didn't know you could actually tie with someone for a bronze medal. So I am very happy for Trayvon and proud of myself to come away with a personal best. To race against these guys and make the final, I couldn't end the season any better than that. I can't let [the lane assignment] distract me. At the end of the day it's the 100 m final. This was the biggest race of my life so I wasn't going to think about no lane assignment. I had a lot of confidence after the semifinals, being that close to Bolt, and that raised my confidence for the final." De Grasse also participated in the 4 × 100 m relay where he won a second bronze medal, running a 38.13 together with Aaron Brown, Brendon Rodney, and Justyn Warner.
De Grasse turned professional in December 2015, signing with Puma for $11.25 million.
In July 2016, he was named to Canada's Olympic team. De Grasse advanced to the finals of the 100 m at the 2016 Summer Olympics after running a time of 10.04 in his heat and then 9.92 in the semi-finals. De Grasse placed third and received the bronze medal behind Usain Bolt and Justin Gatlin, at 9.91 seconds, which was also his personal best time. He was the first male athlete to win a medal for Canada at the 2016 Summer Olympics. Bolt was visibly supportive of De Grasse during both the semis and finals, hugging him after the race and saying to reporters "He came through again. He's going to be good, he runs just like me, I mean he's really slow at the blocks but when he gets going, he gets going." De Grasse said of his relationship with Bolt after that "We were just having some fun. Me and Usain met back in January, we did a lot of things together. He feels like I'm the next one, and now I'm just trying to live up to it." Former Canadian Olympic Champion Donovan Bailey was seen jumping up and down in the CBC Sports studio, cheering on De Grasse. After, he said, "I'm shaking. This is great for track and field in Canada."
De Grasse followed up his bronze medal win in the 100 m by advancing to the semi-finals of the 200 m with a time of 20.09, the fastest time in the first round. In the semi-finals, De Grasse set a new Canadian record and advanced to the finals with a time of 19.80, thereby becoming the first Canadian to make it to the finals of the 200 m since Atlee Mahorn at the 1988 Olympics in Seoul. In the 200 m final, De Grasse won a silver medal taking 20.02 seconds to earn his second Olympic medal, the first Canadian to win a medal in the 200 m since Percy Williams at the 1928 Olympics in Amsterdam.
De Grasse ran the anchor for the finals of the 4 x 100 m relay and initially placed fourth with a Canadian record of 37.64s. However, the American team that placed third was disqualified for a zone violation (handing over the baton outside of the designated zone) at the first baton change, and so the Canadians were awarded the bronze medal. De Grasse ran in the finals with Aaron Brown, Brendon Rodney, and Akeem Haynes, while Mobolade Ajomale ran in his stead in the heats.
Going into the 2017 World Championships in Athletics De Grasse was performing strongly, a gold medal favourite in the 200 m and relishing an opportunity to beat Bolt in his final 100 m in London. DeGrasse ran a wind-aided 9.69 over the 100m at the Stockholm Diamond League event, putting his chances of beating Bolt very high. Unfortunately just days before the world championships De Grasse strained his hamstring and was forced to pull out of the event.
De Grasse's success at the Olympics led to his winning the Lionel Conacher Award as the Canadian Press' male athlete of the year, and be presented with the Rising Star Award by the IAAF. In April 2017 De Grasse was a recipient of a Harry Jerome Award.