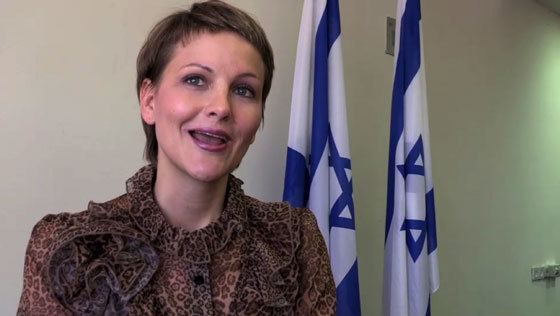 Michaeli was born in Leningrad in the Soviet Union (now Saint Petersburg in Russia) to a Christian ethnic Russian family. Gaining her education in a school focusing on the English language, she was able to help provide for her family by tutoring English to children. At this time, she headed the International Friendship Club active in her school and aimed at hosting foreign delegations and strengthening international relations between youth. In her teens she practiced various sports, such as cross country skiing.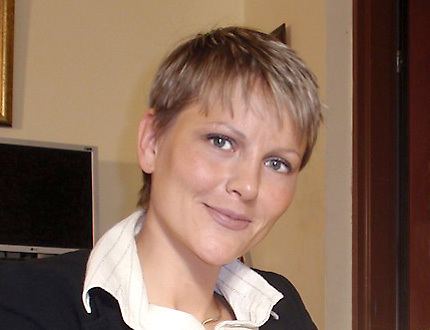 Michaeli studied for a year in a local university with a major in humanities. She holds a master's degree in electrical engineering and communications from the Saint Petersburg University of Telecommunications. During her studies she became Miss St. Petersburg in 1995, she took a year off of her university studies to live in Paris, where she worked as a model.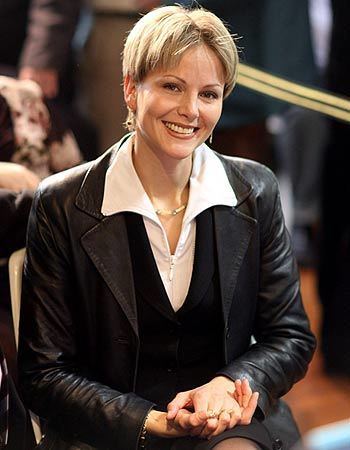 She met Josef Samuelson, an Israeli businessman of Latvian-Jewish extraction at a technology exhibition in Saint Petersburg. At the time she met Samuelson, he was employed in Moscow by Tadiran, an Israeli electrical supplier. He is 10 years her senior, originally from Riga, Latvia, and immigrated to Israel in 1971, at the age of 11. They married and made Israel their home in 1997.
Michaeli wed her husband twice. Having no Jewish background of her own, Michaeli has since then converted to Judaism, the couple remarried by practices of Halakha. In Israel, after the birth of her second son, she underwent an Orthodox Jewish conversion, culminating with the couple's remarriage, this time according to strictly religious rites in 2000.
After studying in an ulpan, Michaeli graduated from Bar-Ilan University with a certificate in business administration.
Her media career began in 1998. In 2002 she joined the new Israel Plus Russian-language television station, where she worked as a journalist and presenter of Life's Pleasures, and the daily Morning program.
Michaeli, after having had an Orthodox conversion, keeps a kosher home and has enrolled her children in state religious schools. Michaeli adheres to a Zionist philosophy within her family as well as in her career, stating "Judaism is at the basis of why we have this country to begin with. It's not just a religion." She lives in Rishon LeZion with her husband and their eight children. Her eighth child was born during her parliamentary term.
In 2005, major politicians began approaching Michaeli to join their party and run for office. She joined Ariel Sharon's Kadima party towards the 2006 elections but it failed to win enough votes to secure her with a Knesset seat.
In December 2008, Michaeli accepted Avigdor Lieberman's offer to join his Yisrael Beiteinu party. She was placed ninth on its list for the 2009 elections. Michaeli became a member of the 18th Knesset when the party won 15 seats.
Michaeli was reprimanded by the Knesset Ethics Committee for attempting to physically disturb Israeli-Arab MK Hanin Zuabi while Zuabi was delivering a speech about the 2010 Gaza flotilla raid. The Ethics Committee statement read, "The committee could not find a precedent in which an MK attempts to physically disturb another MK's speech by taking the stand without permission. A line was crossed that cannot be ignored."
In January 2012, Michaeli threw a cup of water on Israeli-Arab MK Raleb Majadele during an argument about an Arab high school principal who had taken students to the annual Human Rights Day march in Tel Aviv. On 10 January the Ethics Committee suspended Michaeli from the participation in the Knesset plenum or committees for four weeks, but still allowed her to take part in house votes during that period. Labor party leader Shelly Yachimovich attacked Michaeli's "wild and violent" behavior and said it must have had a racist motivation.
Speaking at a Knesset committee meeting in June 2012, Michaeli stated that most gay people had suffered sexual trauma at a young age and committed suicide by age 40. Specifically, Michaeli said: "I think that most gays are guys that suffered very difficult experiences of sexual harassment at a very young age and it just gets worse. ... In the end they commit suicide when they reach the age of 40 and it's those same guys that want to be women. I hope our awareness will rise too ... This is a campaign that needs to be done with professionals, also with psychologists." Gay groups were outraged by the statements, and 300 protested in a gay pride march in Tel Aviv.
In an interview a week after the first controversial comment, Michaeli said that "Young girls become pregnant and have abortions that hurt their chances to get pregnant in the future, and in the end they become lesbians." The statements were made in connection with her work to ask television broadcasts to be regulated for violent and sexual content. At the same interview, Michaeli refused to apologize for the earlier statement on gays and sexual trauma. She said, "If a man would say the same things instead of me, there wouldn't have been such a wide and robust response to it. I expressed my opinion and it should be respected. A sexual preference forms because we don't have enough advertising for normative family values and proper sexual education."
Michaeli's priorities as a Member of Knesset were social and family issues, education, science and sports, as well as homeland national security and international relations. Michaeli endorsed more than seventy bills, completing the legislative process for five of them: Prohibition on sales of multiple school books in a sealed package, prevention of violence against medical personnel, minimal penalty on desertion of hit and run victims, stopping payments and pensions to convicted Knesset members, and annulment of conditions preventing payment of alimony due to multiple travels abroad.
Michaeli advocated on the following issues:
Education system: Michaeli worked to enhance equality in education, both financially and pedagogically. In 2010 she presented a national work plan on school books including long-term planning, uniformity in school books for all schools, mandatory disqualification of books before issuing new editions, etc. In her capacity as chairperson of the Lobby for the Promotion of Family Rights, Michaeli followed up on the implementation of the government resolution to promote employment among mothers of children aged 0–5.
Women and family rights: As chairperson of the Lobby for the Promotion of Family Rights, Michaeli worked to reduce living costs and the family budget, among other things by subsidization of day care centers and the encouragement of women to enter the labor market. As a member of the Committee on the Status of Women she initiated committee sittings on salary gaps, firing of pregnant women, and assistance to patients of rheumatoid arthritis.
Informal education: Services of informal education include a wide range of services by various providers. A research ordered by Michaeli pointed out the lack of a clear understanding of responsibilities between the local government and central government, as well as the extent of their involvement in the field. In her actions to enhance supervision on educational institutes, she began legislation for mandatory supervision on all educational institutions.
Media: Michaeli introduced a work plan to oversee the classification of broadcasts of harmful nature, containing violent or sexual contents. Through legislation and enhancing regulation over broadcasting authorities, the Age of Information will enable more parental control and setting of boundaries.
Science: Michaeli focused on the challenges of the Age of Information, the dangers of the internet and social networks. She also worked to promote scientific education, promotion of low-tech industries and women in science.
Sports: Promotion of various sport fields (women in sports, disabled sports, etc.) and prevention of violence in sports.
Foreign relations: Continuous work with decision makers in international forums, alongside activity in the Knesset lobbies for promotion of relations with Europe and with Christian communities worldwide. Aside from acting as chairperson of the Parliamentary Friendship Leagues Israel-Estonia, Israel-Austria and Israel-Switzerland, she represented the Knesset in delegations to the European Union, British Parliament, France and Taiwan. She was also a board member in the World Jewish Congress.
As 2013 elections approached Michaeli decided to withdraw her name from the list of candidates.