Genres

Worship, CCM




Role

Singer




Name

Ana Valadao





Years active

1997–present




Instruments

Voice




Spouse

Gustavo Bessa (m. 2000)






Birth name

Ana Paula Machado Valadao Bessa




Born

May 16, 1976 (age 39) Belo Horizonte, Minas Gerais, Brazil (

1976-05-16

)


Occupation(s)

Singer, songwriter, pastor, author, television presenter




Labels

Diante do Trono, Hosanna!, Integrity, Som Livre




Children

Benjamim Valadao Bessa, Isaac Valadao Bessa




Albums

Preciso de Ti, Creio, As Fontes do Amor, Ainda Existe uma Cruz, Tetelestai




Profiles




Facebook

Twitter
You are ana paula valad o bessa diante do trono cd desert rain paul wilbur english
Ana Paula Machado Valadão Bessa (born May 16, 1976) is a Brazilian Christian worship leader and singer-songwriter. She is the leader of the ministry of praise Diante do Trono, which has sold more than 15 million albums.
Contents
An award-winning worship leader, Ana Paula Valadão, is the founder of the music ministry Diante do Trono. She has recorded multiple worship CDs in Portuguese and English, serves as a worship pastor at Lagoinha Church in Brazil and has led millions in worship throughout the world. Ana Paula has sold over 15 million worship albums globally and has led worship gatherings of as many as two million people in attendance. She believes that worship is a major instrument for the restoration of a nation.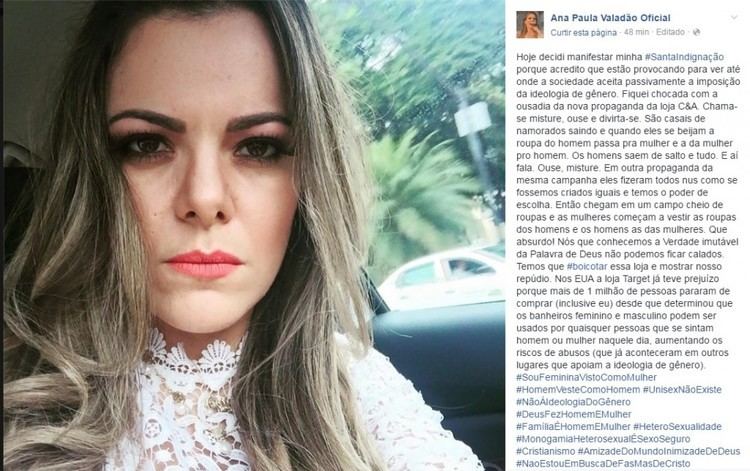 ReBuild 2018 Main Sessions | Ana Paula Valadao Bessa
Life and career
Ana Paula Valadão is the daughter of Pastors Márcio Valadão and Renata Valadão, pastors and founders of the Lagoinha Church. She is the older sister of André Valadão and Mariana Valadão. She started her music career by participating in a group called King's Kids and her first album was Expressão de Fé, recorded by the King's Kids. Some time later, she participated in the choir El-Shammah and recorded the album Ele Tem Sido Fiel.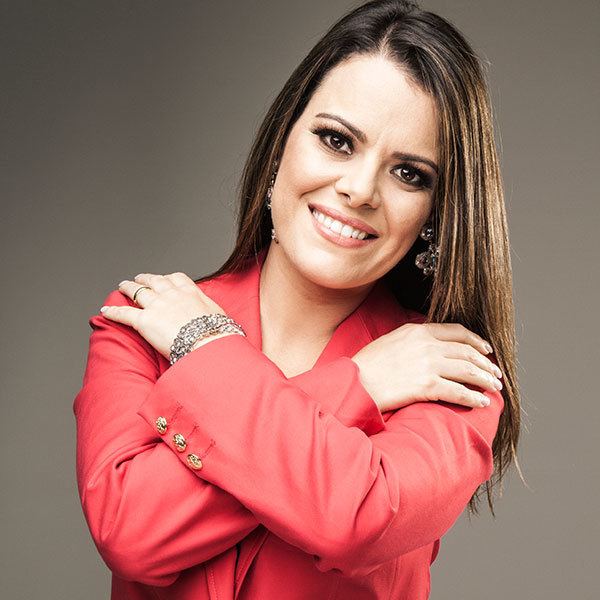 Valadão studied Law at the Universidade Federal de Minas Gerais (UFMG), but locked up the course in 1996, and therefore decided to attend the Christ for the Nations Institute (CFNI) located in the state of Texas in the United States. When she returned to Brazil, she began writing songs, and she recorded her first album entitled Diante do Trono in 1998. Its creation marked the beginning of the group Diante do Trono. Ana Paula married the pastor Gustavo Bessa on September 13, 2000, one year and eleven months after they met. Afterward she struggled to conceive and portrayed this difficulty in her CD Esperança, especially in the title track "Esperança". While recording her next CD, Ainda Existe Uma Cruz, Ana Paula was pregnant with her first son Isaque Valadão Bessa, who was born on January 3, 2006, and on May 23, 2009 her second son, Benjamim Valadão Bessa was born.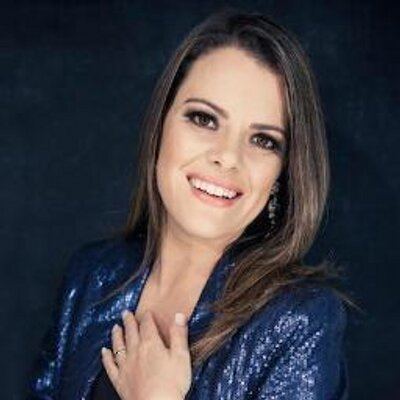 In August 2009, Ana Paula and her family moved to Dallas, Texas where her husband continued his ministerial studies.> However, she explained at the official website of Diante do Trono that she decided that she would not leave the band and would continue to appear in all the group's main events. In May 2011, the family returned to Brazil.
Ana Paula Valadão has received more than 32 awards on behalf of her group. In 2004, of the 8 nominations that were submitted for Troféu Talento (a Brazilian award similar to the Dove Awards) she won 7, and was also nominated for awards in various categories in the 38th GMA Dove Awards for the album In The Father's Arms, though she won none. Diante do Trono has traveled to several countries in America, Europe, the Middle East, Africa, and Asia. Throughout its history, Ana Paula has remained head of the ministries, compositions and organizations of the group.
In July 2012 Ana Paula Valadão was considered one of the 100 most important Brazilians of all time by the Brazilian television network SBT in partnership with the BBC, where through the Internet the public suggested names of people who should be considered the great icons of Brazil. Ana Paula has occupied the 97th position and participated in the program (with the name, O Maior Brasileiro de Todos os Tempos; English translation: The Greats) by singing on Brazilian national television. In July 2013, the singer was in a meeting with the president of Brazil, Dilma Rousseff, with other Christian representatives of the nation. In December of that year, Ana Paula was cited by the American publication Forbes as the 89th most influential celebrity in Brazil.
In September 2015, Ana Paula Valadão was invited by the Christian Embassy of Jerusalem to minister at the Feast of Tabernacles in Ein-Ged desert. At the event there were representatives of 95 nations, the singer participated representing Brazil and Latin America. Earlier in the same year, the singer had been invited to attend the global conference Empowered21 held in Israel. At the end of 2015, Ana Paula and her family moved back to Dallas, where the singer serves as a teacher at CFNI and worship pastor at Gateway Church. In this new period, the singer has ministered in diverse chapels and conferences by the United States, as at IHOPKC, Oral Roberts University, among others. She has also participated in television materials of CBN and Daystar Television Network.
Diante do Trono
Valadão is the leader and lead singer of the worship ministry Diante do Trono since 1997, when it was founded in the Lagoinha Church. The band has sold over 15 million albums, has received over 32 awards and is regarded internationally as the greatest worship ministry in Latin America and one of the world's greatest. The Diante do Trono has attracted more than 7 million people only in their annual recordings.
Discography
Solo Career
As Fontes do Amor (2009)
Ana Paula Valadão Live in Finland (2010)
With El-Shammah
Ele Tem Sido Fiel (1997)
With Diante do Trono
Diante do Trono (1998)
Exaltado (2000)
Águas Purificadoras (2000)
Aclame ao Senhor (2000)
Shalom Jerusálem (2000)
Preciso de Ti (2001)
Brasil Diante do Trono (2002)
Nos Braços do Pai (2002)
Quero Me Apaixonar (2003)
Esperança (2004)
Ainda Existe Uma Cruz (2005)
Por Amor de Ti, Oh Brasil (2006)
In the Father's Arms (2006)
En los Brazos del Padre (2006)
Tempo de Festa (2007)
Príncipe da Paz (2007)
Com Intensidade (2008)
A Canção do Amor (2008)
Tua Visão (2009)
Aleluia (2010)
Sol da Justiça (2011)
Glória a Deus (2012)
Creio (2012)
Global Project: Português (2012)
Renovo (2013)
Tu Reinas (2014)
Tetelestai (2015)
Deus Reina (2015)
Imersão (2016)
With Crianças Diante do Trono
Crianças Diante do Trono (2002)
Amigo de Deus (2003)
Quem é Jesus? (2004)
Vamos Compartilhar (2005)
Arca de Noé (2006)
Samuel, O Menino Que Ouviu Deus (2007)
Para Adorar ao Senhor (2008)
Amigos do Perdão (2010)
Davi (2012)
With Nations Before the Throne
Suomi Valtaistuimen Edessä (2012)
Läpimurto (2014)
Participation in International Albums
Desert Rain (2010) – Paul Wilbur – solo in the song "You Are" for Integrity Music.
Lluvia En El Desierto (2010) – Paul Wilbur – solo in the song "Eres Nuestro Dios" for Integrity Music.
Respondiendo (2010) – Christ for the Nations Institute – solo in the song "Bajo La Sombra" for Integrity Music.
Espera En Dios (2011) – Mike Herron – solo in the song "Dad A Jehová" for Integrity Music.
Television program
Programa Diante do Trono (2001–2010) / (2013–2015)
Nos Bastidores com o DT (2011–2013)
Songs
Aos Olhos do PaiCrianças Diante Do Trono · 2002
Muito ObrigadoA Arca de Noé · 2006
Canção do ApocalipseAleluia · 2010

References
Ana Paula Valadão Wikipedia
(Text) CC BY-SA