5.9

/

10

Alchetron

8.6

Rate This





First episode date

30 May 2011




Theme music composer

Von de Guzman

Final episode date

13 January 2012

Genre

Historical fiction Epic

Written by

Onay Sales Marlon Miguel Geng Delgado

Starring

Marian RiveraGlaiza de CastroSid LuceroMikael DaezAljur AbrenicaGardo VersozaRaymond BagatsingLani MercadoGina AlajarAyen Munji-Laurel

Cast




Similar

Munting Heredera, Temptation of Wife, Indio, Marimar, Dyesebel
Amaya is a Filipino historical fiction and period drama series created and developed by Suzette Doctolero and directed by Mac Alejandre. Dubbed as the very first epicserye on Philippine television, Marian Rivera takes on the title role as a tribal princess born and destined to change a culture and society dominated by men. With Sid Lucero, Mikael Daez and Aljur Abrenica as her leading men, the story is set in the pre-colonial period of the 1500s. The series premiered in the Philippines on May 30, 2011 replacing I Heart You, Pare! on GMA Network's primetime block and aired internationally on June 1, 2011 on GMA Pinoy TV. It ended on January 13, 2012 and was replaced by Legacy.
Contents
Before the series started, a one-hour primer titled Amaya: The Making of An Epic was aired on May 28, 2011. The show, hosted by Cesar Montano and Miguel Tanfelix, presented behind the scenes of Amaya from the brainstorming of the management including interviews from Jun Lana and Doctolero, the creative minds behind the story with the guidance of historians from the University of the Philippines.
In 2012, Malaysian TV Network acquired the rights to air the show through their network, TV3. It was also aired on CTN-MyTV, a local channel in Cambodia in 2013. The epic series was also available on Viki, a video streaming website where you can watch the episodes in more than 20 different languages.
On March 2, 2015, Amaya was re-aired on GMA News TV and ended on October 20 of the same year. Re-runs of the show are also broadcast on Fox Filipino.
Plot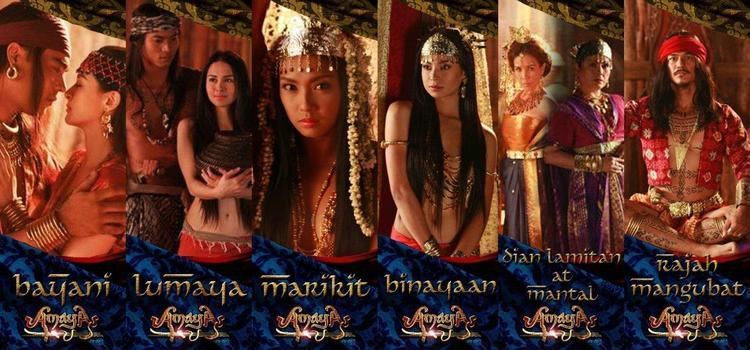 Set in Central Visayas during the period of pre-colonial in the 1500s, Rajah Mangubat (Gardo Versoza), who is known as a great and undefeated warrior but with a reputation of being a ruthless leader, is the ruler of a puod (a pre-Hispanic collection of city states called "banwa", akin to that of a modern-day province). Not long after, a babaylan (village priestess) prophesies that a day will come when he will be defeated and be killed by a female warrior with a twin snake. Anxious about the prophecy, Rajah Mangubat ordered his warriors to kill all pregnant women in every tribe. The only village that survives Rajah Mangubat's terror is the banwa of Datu Bugna (Raymond Bagatsing), his long-time friend and ally.
However, unbeknownst to Rajah Mangubat is that the baby girl he's been wanting to kill is born in Datu Bugna's village. The girl is named Amaya (Edelweiss Tuzon), Datu Bugna's daughter from an uripon (slave) named Dal'lang (Lani Mercado). In hopes of protecting his newborn daughter, Datu Bugna orders his men to separate Amaya from her mother. He hides Amaya in a secret chamber as a binukot (young women, usually the daughters of a Datu or Rajah, who are kept inside the house away from the public eye) while her twin snake is released into the forest and is told that it may only come back if and when Amaya is in dire need of help.
While growing up, Datu Bugna tells Amaya that her mother, Dal'lang, is already dead. She then lives with her half-sisters, Marikit (Rochelle Pangilinan), the older daughter of Datu Bugna from his wife Dian Lamitan (Gina Alajar) and Binayaan (Glaiza de Castro), who finds a source of comfort and friendship from Amaya who has the same age as her. But unlike her sisters, Amaya receives more attention from their father. Aside from reading and writing, she also learns sword fighting from Datu Bugna.
Years pass and Amaya grows into a very beautiful young woman (Marian Rivera). She has once attempted to escape from her chamber when she wanted to see the outside world for the first time. That is when she sees Ginoong Bagani (Sid Lucero). They immediately fell in love with each other and no matter the distance and the years that have passed, they still have not forgotten that day when they first met. Meanwhile, Dian Lamitan's hatred towards Dal'lang and Amaya never ceases and at every chance she has, she finds a way to make Amaya miserable. Because of Dian Lamitan's evil desire to get rid of Amaya, she betrays her husband Datu Bugna and tells Rajah Mangubat about her husband's plan of revolt. Rajah Mangubat's men take Amaya from her chamber and uses her as a blackmail to make Datu Bugna confess. He eventually does and Rajah Mangubat kills him in front of Amaya.
Rajah Mangubat takes Amaya to his village and there, turns her as one of her slaves. Amaya sees the treacherous Lamitan and becomes enraged with her father's double-crossing wife. She promises that she will do anything to avenge her father. Rajah Mangubat still has no idea about Amaya's true identity - the girl with the twin snake who will some day bring his reign and his life to an end.
Amaya is surprised to see her long lost love, Bagani, but is devastated to find out that he is Rajah Mangubat's son. Bagani is shocked as well when he finds out that the girl he once fell in love with is now a slave. In spite of this, he still remains in love with her. However, Amaya tries to get rid of her feelings for him all for her father's sake. In order to protect Amaya from all the cruelties of Marikit and Dian Lamitan, Bagani marries Marikit to be able to save Amaya. But Bagani is stripped of his title as the successor and he becomes an outcast when Angaway (Ryan Eigenmann) revealed that his very first batuk (a tattoo symbolizing a person's accomplishments) is just a fraud. Because of this, Dian Lamitan and Marikit's social standing were affected and in order to regain the power they had, Dian Lamitan forced Marikit to become a sandil (second wife or concubine of a Datu or Rajah) to Rajah Mangubat.
Amaya is forced to go into hiding when Dian Lamitan reveals her true identity after discovering that she is the warrior in the prophecy and she has a twin snake. When Dian Lamitan started losing faith in Rajah Mangubat, feeling her hold on his power is slipping, she decided to side with the secret rebellion led by Angaway. On the day of the rebellion, Amaya tries to talk to Rajah Mangubat to clear her name but the Rajah, thinking that it is Amaya who plans the rebellion attacks her. Amaya accidentally kills Rajah Mangubat and the prophecy is done. Angaway becomes Rajah and Dian Lamitan becomes his chief adviser.
Bagani is enraged when he finds out that the girl he loves killed his father. He sets out to find Amaya to avenge his father but his love still overcomes his thirst for revenge. Amaya on the other hand becomes an outcast and ends up in a village of the Lumads wherein she opens their eyes to education and progress and teaches them what she knew. She later gains their favor and the love of the chief of Lumad's son, Dayaw (Aljur Abrenica). She tries to move on by trying to love Dayaw but still loves Bagani.
Bagani and Amaya's paths crosses when Amaya tries to find a new village to stay. The two plans a revolt to take back the entire puod from Angaway and put Bagani as the rightful Rajah. The attack kills Angaway but the village and the colonies are still not fully theirs. Dian Lamitan uses this chance to live her dream and proclaims herself as the leader of the puod. Amaya along with Bagani and Marikit, who marries another Datu, combines their armies to finally stop Dian Lamitan. After the successful revolution, Bagani is proclaimed as the new Rajah while Dian Lamitan is sentenced to death.
Amaya, now called as Bunggaitanthe or the most powerful woman of her time, stays away from Rajah Bagani for many years to focus on her own puod and Rajah Bagani did likewise. When Bagani's brother Banuk (Rocco Nacino) becomes a grown man, he passes his leadership to him in order to reunite with Amaya, it is then when he meets their son named Bugna. It is said that Amaya and Bagani died together at the same time, hand in hand.
At the end, the series appears to be just a flashback as Alunsina (Kris Bernal) tells the story to the younger generation. Before the series concludes, Spanish ships are seen coming towards the island signaling the end of Ancient Philippine History and the coming of the Age of Spanish colonization.
Production and development
Amaya was conceived in late 2009 and was presented at the GMA Network Trade Launch for the first quarter of 2010 as part of the future programs to be launched by the network for that year. Initially given the working-title "Sultana", the show underwent major title changes before arriving to the final title "Amaya", which was announced on November 2010.
Due to production requirements, GMA Network did not push the program's scheduled 4th quarter of 2010 airing but instead opted to delay the show's premiere to the 2nd quarter of 2011. Extensive research has taken much of the time spent on preproduction, with the creators consulting various experts on Philippine history. The Boxer Codex served as a guide in creating the various costumes for the different cultures portrayed in the series. The producers involved historians during the conception of the show. Dr. Vic Villan and Prof. Neil Santillan of the University of the Philippines Diliman History Department served as history consultants for the show. Theater director and independent filmmaker Dennis Marasigan was hired as movement director.
Language
Tagalog is the predominant language of the series. But, since the events took place during the period before Spanish colonization, much of the dialog avoids the use of words or phrases derived from European languages, namely Spanish. In many cases, if a Spanish word and a more "indigenous" word existed, the latter was favored. A very striking example of this is the conjunction nguni't or subali't in favor of pero; all mean but, however. As the setting is the Visayas, many words from Cebuano are incorporated in the dialog too, e.g. "uripon". There is also a smattering of Malay early on as Lamitan is shown speaking with traders in that language.
Even with a strict policy of no Spanish loans, a handful crept in. Whether this was because no succinct or corresponding word exists or due to insufficient research or that these instances were an oversight, is not known.
Boses < Voces < Voz "'Voice'"
Lugar < Lugar "Place"
Mundo < Mundo "'World'"
Saklolo < Socorro "Help, succor"
Sige < Sigue "Continue, follow"
Sigurado and derived words, e.g. "siguraduhin" < Segurado "Assured, secure"
Sugal < Jugar "To play, to gamble"
The series is successful in avoiding Spanish words and phrases now common in modern Tagalog, it's only glaring failure is the consistent pronunciation of the word rajah as in the name of the ruler of the realm Rajah Mangubat. It reflects a Spanish reading, (/'ra:.ha/), instead of a Sanskrit pronunciation due to the early contact with Buddists and Hindus as would have been expected, i.e., /'ra:.dʒa/.
Filming
The plot of the series, which involved pre-colonial setting, urged the producers to build sets on various locations such as Pagsanjan in Laguna, Bolinao, Pangasinan, and Bagac, Bataan. The scope of the series would require the filming of the integral scenes on-location as opposed to what the producers have done for Encantadia (a television series) a previous high fantasy production which was shot mostly in soundstages. However, to avoid the need for the reconstruction of some of the sets as the on-location shoots are usually ravaged by storms, and also to lessen maintenance cost as well as for the production to avoid acoustic issues by shooting in a controlled environment, they also used the network's temporary soundstages at Marilao, Bulacan for most of the indoor scenes.
The production gave much attention to details with regards to the recreation of historical elements vital to the show's production design. Guided by the academe, they attempted to recreate ancient elements of early Filipino culture from the architecture, to fashion, weaponry and jewelry. Jewels were made in cooperation with the jewellers of Meycauayan. Some textile used in making the costumes were imported from various Southeast Asian countries.
The production also built an ancient warship known as Karakoa. It was made from an existing hull of a modern boat and was redesigned to fit the ancient descriptions of the legendary warship. The production spent more or less Php 2 million for a single unit of Karakoa.
Casting
The series' cast is known as one of the biggest ever assembled for a Philippine drama series. Actors from different fields were gathered to fill out the roles crafted for the show. Actors from the television and film industries as well as those from the theater circuits were recruited to be part of the large cast.
Marian Rivera was the first actor to be attached to the show. Auditions were held to fill out the remaining cast. Newcomer Mikael Daez was cast as Lumad in January 2011. Sid Lucero was invited to audition, even though at that time he was still associated with rival network ABS-CBN. Lucero eventually got the role of Bagani and was signed up for the project.
Glaiza de Castro, Rochelle Pangilinan, Gardo Versoza, Lani Mercado, Gina Alajar, Daniel Fernando Ayen Munji-Laurel and Raymond Bagatsing were also secured in important roles. Ryan Eigenmann, Sheena Halili, Roxanne Barcelo, Dion Ignacio, Buboy Villar, AJ Dee, Jan Manual and Ana Capri signed in major recurring roles.
Aubrey Miles and Tanya Garcia also joined the cast in special guest recurring roles. Later in September, Diana Zubiri filled out the final cast.
In August 2011, there were speculations about Aljur Abrenica joining the cast and being featured in a subplot crafted for the series' two-month extension. In September 2011, the management confirmed the news and Aljur Abrenica was introduced as Dayaw on October 4, 2011. Also signed up to play parts in the new subplot were Ronnie Lazaro and Yasmien Kurdi.
Music
The Entertainment TV Group of GMA Network commissioned an all-original musical score for the series, with film composer Von de Guzman creating the themes for the series. The series used music as a tool for character development and story progression, thus giving a show a musical flavor. Some of the narrations are presented in a musical format, with characters singing about their emotions and their current situation. The first sequence of the series involves an epic chanter (Bituin Escalante) who narrates the epic backstory of Rajah Mangubat.
The theme song to the series is titled Tayong Dalawa composed by Ogie Alcasid and sung by Gian Magdangal.
Special citation
National Historical Commission of the Philippines and Department of Education
Amaya is promoted by the National Historical Commission of the Philippines and Department of Education due to its cultural concept that shows and depicts the Filipino material culture, beliefs, traditions and mores in the Pre-Hispanic era. It also teaches the history of the Philippines by means of epics and legends passed as oral literature through generations. The show's creators relied heavily on classic Philippine history reference materials such as the Boxer Codex, an early pictographic account of Filipino culture and physical appearances around the time the Spaniards began colonizing the islands. Historical references include the names of the characters in the series, such as Alunsina, from the epics Hinilawod and the Labaw Donggon.
Meycauayan Jewelry Industry Association, Inc.
Amaya was recognized by the Meycauayan Jewelry Industry Association, Inc., an organization composed of 135 jewellers in Meycauayan, Bulacan, for the promotion of the country's rich jewelry-making heritage. Apart from Filipino customs and traditions, the series also features native costumes and jewelries patterned after the popular designs of the era. Most of the jewelries in the series were crafted by jewellers from Meycauayan, Bulacan.
Ratings
According to data from the more widely recognized industry ratings provider, AGB Nielsen Philippines, Amaya had a rousing start with an impressive 26.2% in the household ratings while it received a 14.3% in the people ratings. The series landed in second place on both household and people ratings, behind ABS-CBN's Mara Clara on May 30, 2011.
On its finale episode, the hashtag #AmayaEpicFinale became the talk of the day on the microblogging website, Twitter after trending to the number one spot both in the Philippines and worldwide during the finale episode of the epic series. The program, likewise, concluded with high TV ratings after it posted an impressive 43.5% household audience share points in Mega Manila, way ahead of ABS-CBN programs Ikaw Ay Pag-Ibig's 28.6% points and Budoy's 29.8% points, according to data by AGB Nielsen Philippines.
References
Amaya (TV series) Wikipedia
(Text) CC BY-SA