Ahn also played for clubs in Japan, France, Germany and China, as well as being selected for South Korea in two more World Cups, in 2006 and 2010. After his retirement as a football player, he restarted his career as a television show host (JTBC's Please Take Care of My Refrigerator and many others) and also as a football commentator.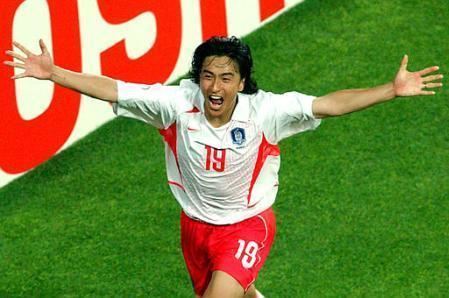 Ahn is sometimes called "the Lord of the Ring" by Korean fans. He married former Miss Korea Lee Hye-won (Hangul: 이혜원) in 2001 and got this nickname by kissing his wedding ring after every goal he scores.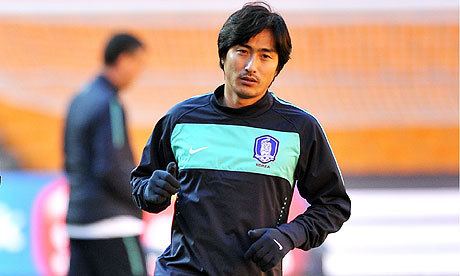 Other than football, Ahn is noted for his model-like looks and has appeared in numerous make-up ads. The Korean media often states the similar facial appearance between the footballer and actor Cha In-pyo. Both view the statement as a compliment.
After starting his professional career with K League's Busan Daewoo Royals, Ahn joined Serie A's Perugia on loan in 2000–01. In a 2013 interview, he claimed to have been ostracised at the club, and bullied by his captain, Marco Materazzi.
In the 2002 FIFA World Cup, Ahn scored an extra-time header in the round of 16 game against Italy that sent the South Koreans through to the quarter-finals. The next day, Perugia owner Luciano Gaucci cancelled his contract and was quoted as saying, "I have no intention of paying a salary to someone who has ruined Italian football." Gaucci stated that his decision was not due to the goal, alleging comments by Ahn about the Italian nation. South Korean national manager Guus Hiddink criticised the decision. Gaucci later took back what he had said, and attempted to take up the £1.2 million option to sign Ahn on a permanent basis. Ahn rejected the offer of a three-year contract and refused to turn up for pre-season training despite Perugia claiming ownership of his registration, saying "I will no longer discuss my transfer to Perugia, who attacked my character instead of congratulating me for a goal in the World Cup." Busan also claimed that they had not been paid by Perugia.
Ahn then attempted to secure a permanent move to another European club but failed and returned to Asia, joining J1 League's Shimizu S-Pulse. After one season, he moved to another J1 League team, Yokohama F. Marinos. After this successful spell in Japan, he returned to Europe to play for French team FC Metz in July 2005. He scored 2 Ligue 1 goals (Round 1 & 18) in 16 outings.
On 16 January 2006, Ahn was invited to train with Blackburn Rovers but twice failed to show up, one of the dates being on his birthday. In February, he secured a 17-month deal with MSV Duisburg in Germany. He scored two goals (Round 31 and 32) in 12 outings. However, the German club was relegated from the Bundesliga, as Ahn saw a move to Heart of Midlothian of the Scottish Premier League fall through. On 31 August 2006, he was released by Duisburg, and returned to South Korea in January 2007, joining Suwon Samsung Bluewings on a one-year deal.
Previously, Ahn was selected for South Korea's 2006 FIFA World Cup squad in Germany, and came off the bench to score the winner in Korea's 2–1 opening match win over Togo, after coming from a goal down at halftime. Thus, he became Asian football career leader in goals scored in the World Cup, with three.
On 14 March 2007, Ahn scored his first goal of the season against Daejeon Citizen, with a first-half pass from Lee Kwan-woo. He went on to score a hat-trick in a 4–0 win, in only his third game of the season. He was quoted after the match: "I felt good before the game and I knew I was ready. It feels wonderful to have a great game and make the Suwon fans happy."
After the 2006 World Cup, new South Korea manager Pim Verbeek announced his new 23-man squad for the 2007 AFC Asian Cup, and Ahn was left out. Verbeek then said that his decision was not based on Personal lifeissues, as the player was clubless.
In 2008, Ahn returned to the Daewoo Royals, now renamed Busan I'Park. In 2008, he steadily improved his game and overall performances and, for the first time in 22 months, was recalled to the national team for the 2010 FIFA World Cup qualifications match against Jordan.
According to reports, Ahn's agent investigated the possibility of a move to several Major League Soccer sides, but there were no teams interested in using a Designated Player slot to sign him. He has also been linked with Australian A-League club Sydney FC.
In March 2009, Ahn signed a three-month contract with Chinese Super League side Dalian Shide. He became the key player in the club and scored his first CSL goal on 18 April 2009. He extended his contract to December 2010 with Dalian Shide in June, despite that J-League club Oita Trinita had an intention to sign him. Ahn was promoted to team captain in season 2010.
Ahn officially announced his retirement on 30 January 2012. He departed football knowing that many people viewed him as one of South Korea's greatest-ever players.
Source
Results list South Korea's goal tally first.
J1 League Champions: 2004
FIFA World Cup fourth place: 2002
EAFF East Asian Cup (1) : 2003
K League player of the year: 1999
K-League's best eleven: 1998, 1999
AFC footballer of the year nomination: 2002
SBS Entertainment Award Best Challenge, 2013 (2013년 SBS 연예대상 베스트 첼린지상)
Hyundai Oil Bank K League Grand Prize Achievement Award (2012년 현대오일뱅크 K리그 대상 공로상)