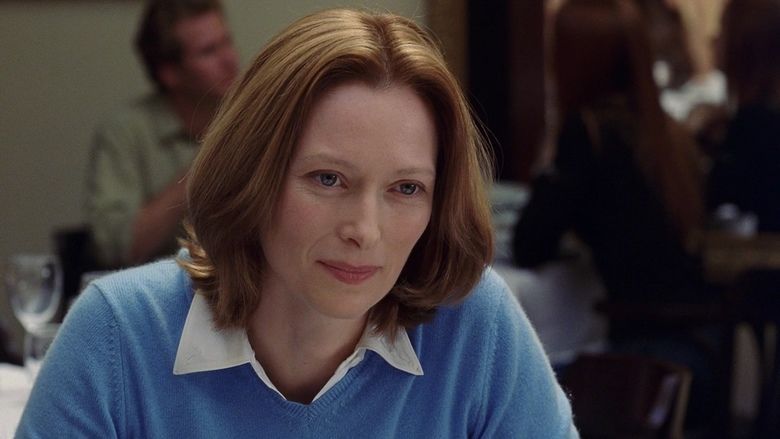 The self-loathing Charlie Kaufman is hired to write the screenplay adaptation for Susan Orlean's The Orchid Thief. Kaufman is going through depression and is not happy that his twin brother, Donald, has moved into his house and is taking advantage of him. Donald decides to become a screenwriter like Charlie and attends one of Robert McKee's famous seminars.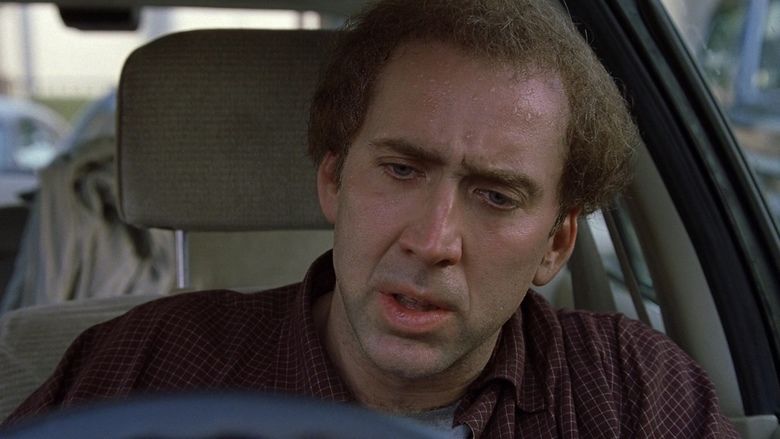 Charlie, who rejects formulaic script writing, wants to ensure that his script is a faithful adaptation of The Orchid Thief. However, he comes to realize that the book does not have a usable narrative and that it is impossible to turn into a film, leaving him with a serious case of writer's block. Already well over his deadline with Columbia Pictures, and despairing at writing his script with self-reference, Charlie travels to New York City to discuss the screenplay with Orlean directly. Unable to face her and with the surprising news that Donald's spec script for a clichéd psychological thriller, called The 3, is selling for six or seven figures, Kaufman resorts to attending McKee's seminar in New York and asks him for advice. Charlie ends up asking Donald to join him in New York to assist with the story structure.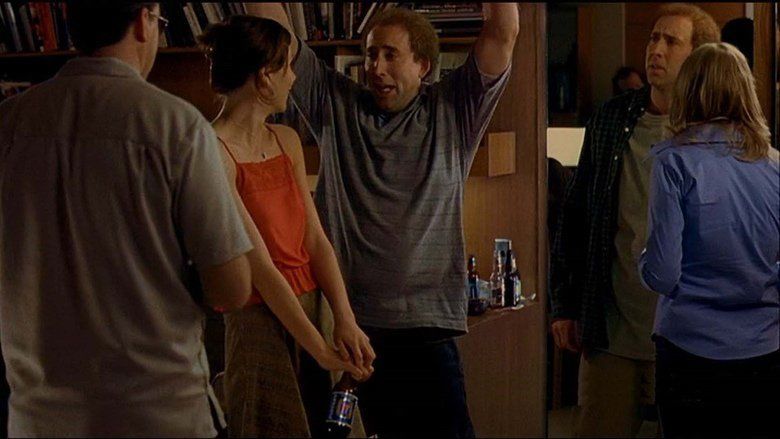 Donald pretends to be Charlie and interviews Orlean, but is suspicious of her account of the events of her book because she acts as though she is lying. He and his brother Charlie follow Orlean to Florida where she meets John Laroche, the orchid-stealing protagonist of Orlean's book and her secret lover. It is revealed that the Seminole wanted the ghost orchid in order to manufacture a drug that causes fascination – Laroche introduces this drug to Orlean. After Laroche and Orlean catch Charlie observing them taking the drug and having sex, she decides that Charlie must die.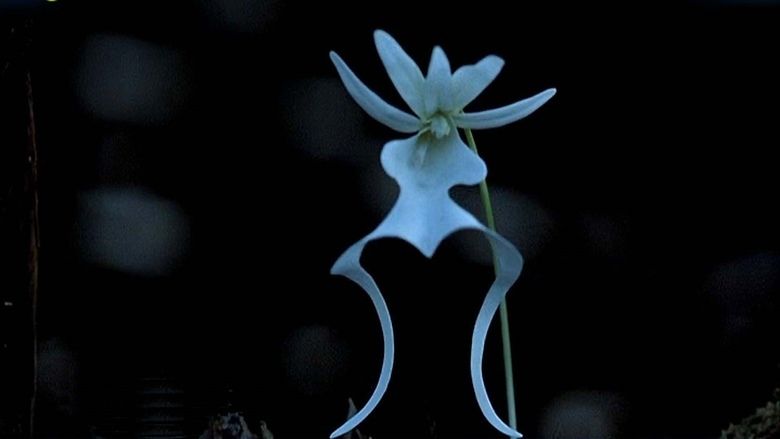 Orlean forces Charlie at gunpoint to drive to the swamp, where she intends to kill him. Charlie and Donald escape and hide in the swamp, where they resolve their differences and Charlie's problems with women. Laroche accidentally shoots Donald. Fleeing, Charlie and Donald drive off but crash into a ranger's truck – Donald dies in the accident. Charlie runs off into the swamp to hide but is spotted by Laroche. However, Laroche is killed by an alligator before being able to kill Charlie.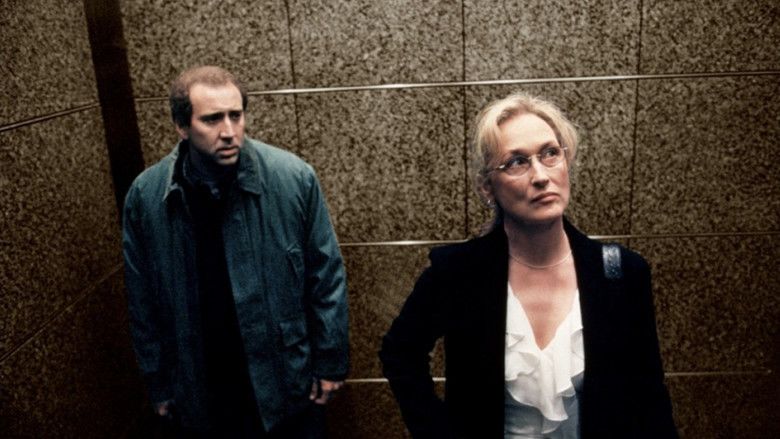 Orlean is arrested. Charlie makes up with his mother, tells his former love interest Amelia that he is still in love with her, and finishes the script. It ends with Charlie in a voice-over announcing the script is finished and that he wants Gérard Depardieu to portray him in the film.
Nicolas Cage as Charlie Kaufman / Donald Kaufman
Meryl Streep as Susan Orlean
Chris Cooper as John Laroche
Cara Seymour as Amelia Kavan
Brian Cox as Robert McKee
Tilda Swinton as Valerie Thomas
Ron Livingston as Marty Bowen
Maggie Gyllenhaal as Caroline Cunningham
Judy Greer as Alice
Stephen Tobolowsky (deleted scenes) as Ranger Steve Neely
Bob Yerkes as Charles Darwin
Jim Beaver as Ranger Tony
Tom Hanks was originally set for the double role of Charlie and Donald Kaufman. Variety reviewed the film as if Donald were a real person. Cage took the role for a $5 million salary, and wore a fatsuit during filming.
Streep expressed strong interest in the role of Susan Orlean before being cast, and took a salary cut in recognition of the film's budget. John Turturro was approached to portray John Laroche. Cooper strongly considered turning down Laroche, but accepted it after his wife urged him to. Albert Finney, Christopher Plummer, Terence Stamp and Michael Caine were considered for the role of Robert McKee, but McKee personally suggested Brian Cox to filmmakers.
Litefoot and Jay Tavare have small roles as Seminole. John Cusack, Catherine Keener, John Malkovich, Lance Acord and Spike Jonze have uncredited cameos as themselves in scenes where Charlie Kaufman is on the set of Being John Malkovich, which he also wrote. Additional cameos include Doug Jones as Augustus Margary, director Curtis Hanson as Orlean's husband, and David O. Russell as a New Yorker journalist.
The idea to do a film adaptation of Susan Orlean's The Orchid Thief dates back to 1994. Fox 2000 purchased the film rights in 1997, eventually selling them to Jonathan Demme, who set the project at Columbia Pictures. Charlie Kaufman was hired to write the script, but struggled with the adaptation and writer's block. Kaufman eventually created a script of his experience in adaptation, exaggerating events, and creating a fictional brother named Donald Kaufman. Kaufman put Donald Kaufman's name on the script and dedicated the film to the fictional character. By September 1999, Kaufman had written two drafts of the script; he turned in a third draft in November 2000.
Kaufman explained,
The idea of how to write the film didn't come to me until quite late. It was the only idea I had, I liked it, and I knew there was no way it would be approved if I pitched it. So I just wrote it and never told the people I was writing it for. I only told Spike Jonze, as we were making Being John Malkovich and he saw how frustrated I was. Had he said I was crazy, I don't know what I would have done.
In addition Kaufman stated, "I really thought I was ending my career by turning that in!"
Adaptation went on fast track in April 2000, with Kaufman making some revisions. Scott Brake of IGN gave the script a positive review in June 2000, as did Drew "Moriarty" McWeeny of Ain't It Cool News in October. Columbia Pictures committed to North America distribution only after Intermedia came aboard to finance the film in exchange for international distribution rights. Filming started in late March 2001 in Los Angeles, and finished by June. The "evolution" fantasy sequence was created by Digital Domain, while Skywalker Sound was responsible for the audio mixing of Adaptation. The makeup effects (the Nicolas Cage double, Chris Cooper's teeth, and the alligator attack) were the handiwork of Makeup Effects Designer Tony Gardner (designer), and his effects company Alterian, Inc.
Columbia Pictures had at one point announced a late 2001 theatrical release date. Adaptation opened on December 6, 2002 in the United States for a limited release. The film was released nationwide on February 14, 2003, earning $1,130,480 in its opening weekend in 672 theaters. Adaptation. went on to gross $22.5 million in North America and $10.3 million in foreign countries, coming at a total of $32.8 million.
Adaptation was released on DVD and VHS by Columbia TriStar Home Entertainment in May 2003.
On Rotten Tomatoes, the film holds a 91% "Certified Fresh" rating, based on 198 reviews, with an average rating of 8.2/10. The site's critical consensus reads: "Dizzyingly original, the loopy, multi-layered Adaptation is both funny and thought-provoking." On Metacritic, the film holds a score of 83 out of 100, based on 40 reviews, indicating "universal acclaim."
Roger Ebert of the Chicago Sun-Times gave the film a perfect four star rating, believing that the film "leaves you breathless with curiosity, as it teases itself with the directions it might take. To watch the film is to be actively involved in the challenge of its creation." He later added the film to his "Great Movies" collection. At the end of 2009, Ebert named the film one of the best of the decade. Peter Travers of Rolling Stone also gave the film a four star rating, and praised Kaufman's writing, stating "Screenwriting this smart, inventive, passionate and rip-roaringly funny is a rare species. So all praise to Charlie Kaufman, working with director Spike Jonze to create the most original and outrageous film comedy since the two first teamed on Being John Malkovich, in 1999." Wesley Morris of The Boston Globe wrote, "This is epic, funny, tragic, demanding, strange, original, boldly sincere filmmaking. And the climax, the portion that either sinks the entire movie or self-critically explains how so many others derail, is bananas." David Ansen of Newsweek felt Meryl Streep had not "been this much fun to watch in years", while Mike Clark of USA Today gave a largely negative review, mainly criticizing the ending: "Too smart to ignore but a little too smugly superior to like, this could be a movie that ends up slapping its target audience in the face by shooting itself in the foot."
Chris Cooper won the Academy Award for Best Supporting Actor, while Nicolas Cage (Actor in a Leading Role) and Streep (Supporting Actress) were nominated. Charlie and Donald Kaufman were nominated for Best Adapted Screenplay. Cooper and Streep won their respective categories at the 60th Golden Globe Awards. Spike Jonze, Cage and Kaufman were nominated for awards while Adaptation was nominated for Best Motion Picture – Musical or Comedy. Cage, Cooper and Streep received nominations at the 56th British Academy Film Awards, with Kaufman winning Best Adapted Screenplay. The film was also nominated for the prestigious Grand Prix of the Belgian Syndicate of Cinema Critics.
In a 2005 survey, the Writers Guild of America named Kaufman's screenplay for Adaptation the 77th best movie screenplay ever written.