Kingdom

Animalia




Order

Orthoptera




Superfamily

Acridoidea




Higher classification

Grasshopper




Phylum

Arthropoda




Suborder

Caelifera




Scientific name

Acrididae




Rank

Family






Lower classifications

Migratory locust, Schistocerca, Desert locust, Gomphocerinae, Bandwing
The Acrididae are the predominant family of grasshoppers, comprising some 10,000 of the 11,000 species of the entire suborder Caelifera. The Acrididae are best known because all locusts (swarming grasshoppers) are of the Acrididae. The subfamily Oedipodinae is sometimes classified as a distinct family Oedipodidae in the superfamily Acridoidea. Acrididae grasshoppers are characterized by relatively short and stout antennae, and tympana on the side of the first abdominal segment.
Contents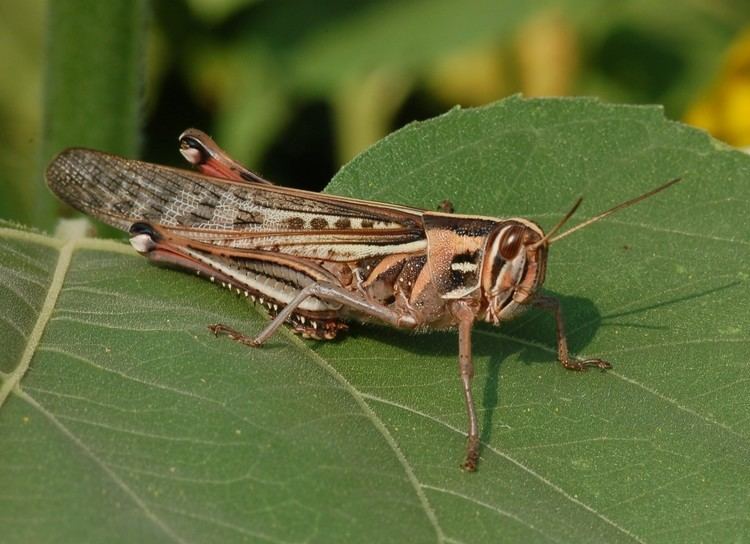 Two striped grasshopper acrididae melanoplus bivittatus mating
Subfamilies and selected genera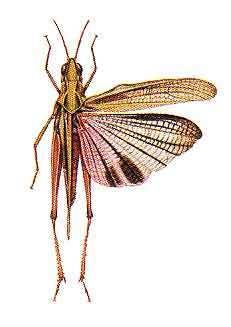 Subfamily Acridinae – silent slant-faced grasshoppers
Subfamily Calliptaminae
Subfamily Catantopinae – spur-throated grasshoppers
genus Chondracris
Subfamily Copiocerinae
Chlorohippus
Monachidium
Subfamily Coptacrinae
Epistaurus
Eucoptacra
Subfamily Cyrtacanthacridinae – bird grasshoppers
Acanthacris
Anacridium
Austracris
Nomadacris
Schistocerca
Valanga
Subfamily Egnatiinae
Egnatius
Leptoscirtus
Subfamily Eremogryllinae
Eremogryllus
Notopleura
Subfamily Euryphyminae
Acrophymus
Phymeurus
Subfamily Eyprepocnemidinae
Eyprepocnemis
Heteracris
Subfamily Gomphocerinae – slant-faced grasshoppers
Achurum (sometimes placed in Acridinae)
Chorthippus
Cibolacris (sometimes placed in Oedipodinae)
Dociostaurus
Mermiria (sometimes placed in Acridinae)
Omocestus
Paragonista
Subfamily Habrocneminae
Habrocnemis
Subfamily Hemiacridinae
Acanthoxia
Hemiacris
Hieroglyphodes
Subfamily Leptysminae – spur-throat toothpick grasshoppers
Subfamily Marelliinae
Subfamily Melanoplinae – spur-throated grasshoppers
Subfamily Oedipodinae – band-winged grasshoppers
Subfamily Ommatolampinae
Subfamily Oxyinae
Oxya
Oxycrobylus
Praxibulus
Pseudoxya
Subfamily Pauliniinae
Subfamily Proctolabinae
Subfamily Rhytidochrotinae
Subfamily Spathosterninae
Subfamily Teratodinae
Subfamily Tropidopolinae
Afroxyrrhepes
Tristria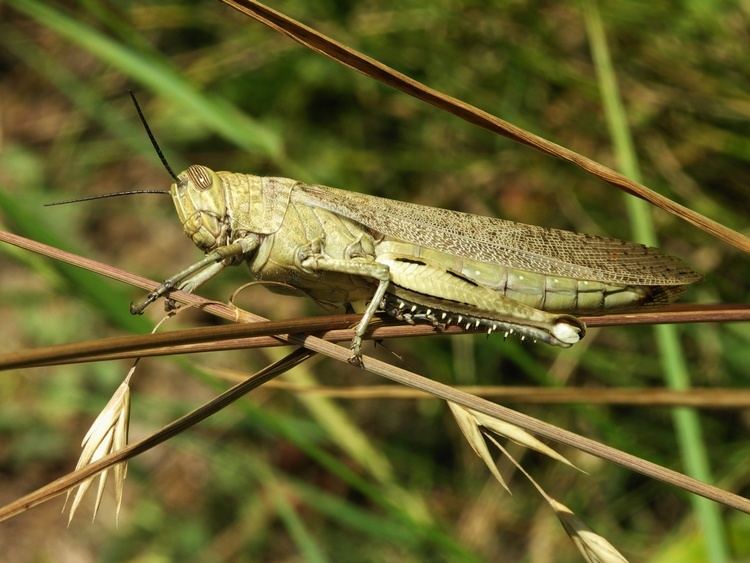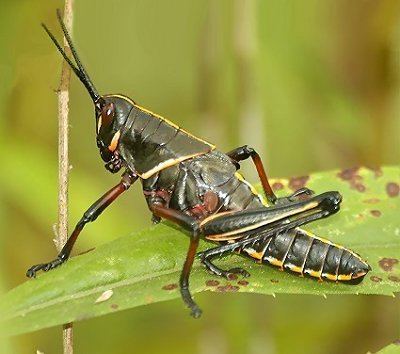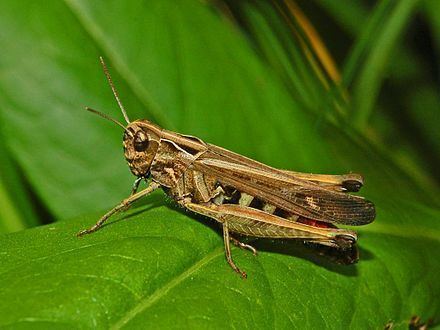 References
Acrididae Wikipedia
(Text) CC BY-SA