The film features soundtrack composed by Shankar-Ehsaan-Loy and background score composed by Mahesh Mahadevan. The film was dubbed and some scenes were re-shot in Hindi with actor Navin Nischol replaying the role of Sarath Babu, Smita Jaykar in the role of Fathima Babu and Vallabh Vyas as the Psychiatrist, it was released as Abhay (English: Fearless). It was also dubbed in Telugu under that same title. The film is an adaptation of the Tamil novel Dhaayam that was written by Kamal Haasan in 1984. Although a commercial failure during its release, Aalavandhan won the National Film Award for Best Special Effects, and has since become a cult classic.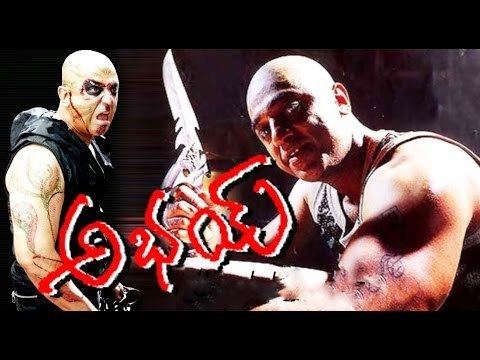 Major Vijay Kumar, an army officer working in the National Security Guard (NSG) in Delhi is due to marry his girlfriend Tejaswini "Teju", a television news presenter. Vijay's twin brother Nanda Kumar aka Nandu is a psychopath. They both were separated as children and Nandu spent most of his life in an mental asylum for killing his stepmother. Vijay cares about Nandu and looks forward to his release, but Nandu's psychiatrist states that he is a danger to society and should not be released.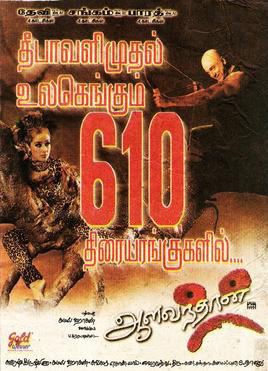 Vijay and Teju visit Nandu to share the news about their upcoming wedding, which turns disastrous when Nandu sees in Teju his stepmother Jayanthi, who he hates for ruining his life. Seeking to save Vijay from Teju, who he sees as the "witch", Nandu later manages to escape custody after killing two other inmates. Nandu later meets his maternal uncle—responsible for admitting him in the asylum—who dies of a heart attack upon seeing him. After their wedding, Vijay and Teju are shocked to learn of Nandu's escape. The doctor believes it was another patient who escaped, but Vijay is convinced that it was Nandu.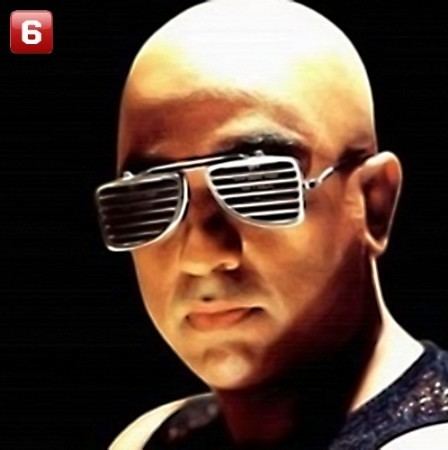 Nandu visit's Vijay's home when he is not there and leaves a message to kill Teju. He keeps conversing with his deceased mother in his imagination. While searching for Teju, Nandu meets film-actress Sharmilee and both develop a liking for each other. Soon, Nandu gets hallucinations where he sees Sharmilee as his stepmother and brutally murders her. Regretting his actions, he burns her corpse before exiting the room, but leaves behind evidence through which Vijay deduces him as the murderer.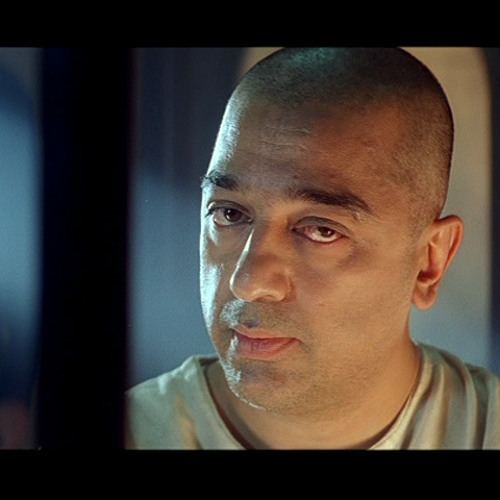 Vijay and Teju leave for Vijay's ancestral home in Ooty to stay safe from Nandu, but he secretly follows them. Vijay and Teju find Nandu's old diary in the house through which they read his past: Vijay and Nandu's mother committed suicide due to their father Santosh's affair with Jayanthi, who later became their stepmother. Both brothers hate her and Nandu becomes violent at school. The teacher complains about it and Nandu justifies that he is only reflecting the home environment. An enraged Santosh beats both his sons for abusing his wife. One day, the brothers see Jayanthi having an affair with another person and Nandu tries telling this to his father who pays no heed, and instead beats him. Nandu pleads to his maternal uncle to take him along with him. But as he is suffering from throat cancer, he refuses and suggests a boarding school. Eventually, Vijay leaves with his uncle to a boarding school while Nandu remains home.
The situation gets worse at home with Nandu and Jayanthi turning violent and Santosh gets a heart attack. Nandu overhears a conversation between his stepmother and a lawyer, and realises that she is after his father's wealth. Seeing this, Santosh dies due to another heart attack. Nandu is now shocked to see both his deceased parents in his hallucination. His mother gives him the mission of killing Jayanthi, which Nandu does. Nandu stays with the corpses in the house before being incarcerated at the asylum.
In the present, Vijay learns from his old friend Thenkoshut that Nandu has reached Ooty. Vijay reaches on time to save Teju from Nandu, who entered their hotel room and leaves with her. Nandu chases the car in which they escape. After a long chase, Vijay manages to push Nandu's car into an abyss and assumes he is dead. However, Nandu escapes and continues his trail. Vijay plans to leave the city and notices Nandu coming to the hotel secretly.
Vijay and other NSG members try to nab him but he takes on everyone. He even finds and corners Teju who starts whacking him with a belt in self-defence, mirroring Jayanthi's manner of punishing Nandu, convincing him that Teju is indeed Jayanthi's reincarnation. Vijay reaches by then and there is a fight between the brothers, in which the much stronger Nandu overpowers Vijay. Suddenly, Nandu sees his mother asking him to join her as Jayanthi is torturing her up there. He realises his mistake and apologises to Vijay for chasing Teju. To kill his stepmother, he lights up some cylinders despite Vijay's request not to do so and to return. The cylinders explode and kill Nandu. Teju is later revealed to be pregnant with twins and fears that if their child becomes like Nandu, listening this Vijay tells her that there is no possibility because they will become good parents and will provide good upbringing.
Kamal Haasan as Major Vijaykumar 'Vijay' and Nandakumar 'Nandu', Nandu's name is Abhay in Telugu and Hindi versions
Raveena Tandon as Tejaswini 'Teju'
Manisha Koirala as Sharmilee (cameo)
Gollapudi Maruti Rao as the Psychiatrist Doctor (Tamil version)
Vallabh Vyas as Psychiatrist Dr. Srinivasa Rao (Hindi version)
Milind Gunaji as Colonel Santhosh Kumar (Vijay and Nandu's father)
Sarath Babu as Tejaswini's father (Tamil version)
Fathima Babu as Tejaswini's mother (Tamil version)
Navin Nischol as Tejaswini's father (Hindi version)
Smita Jaykar as Tejaswini's mother (Hindi version)
Anu Haasan as Vijay and Nandu's real mother
Kitu Gidwani as Jayanthi, Vijay and Nandu's stepmother
Riyaz Khan as Sulthan
Vikram Gokhale as Vijay and Nandu's maternal uncle
Yashpal Sharma as the terrorist
Kamal Haasan first wrote the story, then titled Dhaayam for the film in the early 1980s in the journal, Idhayam Pesugiradhu. He had discussed making the story into a film with K. Balachander during the period, but felt that the story was ahead of its time. In 2000, he picked up the story again and agreed to make the film with director Suresh Krissna, a former assistant of Balachander, and producer S. Thanu. When Thanu had agreed to produce a film for Haasan, he had initially rejected the storylines of Pammal K. Sambandam and Nala Damayanthi. This prompted the pair to begin work on Dhaayam instead, and the film was revealed to be called Aalavandhan in Tamil and Abhay in Hindi. The film's Hindi version Abhay was distributed by reputed Shringar Films. Shankar Mahadevan was signed on to make his debut as music composer, Tirru was selected to be the cinematographer and Sameer Chanda was picked to be the art director. Actor Jayam Ravi also worked on the film as an assistant director.
The film was first announced with Haasan and Simran in lead roles and Bollywood actress Rani Mukerji in a special appearance. Both actresses left the project for its delay in start, being replaced by Raveena Tandon and Manisha Koirala. The film featured Haasan in two distinct roles, for one of which he had his head shaved bald and gained ten kilograms. To play the other in the film, he went to the National Defence Academy for a crash course. Stunt choreographer Grant Page, who had worked in the American film It's a Mad, Mad, Mad, Mad World, was assigned to compose stunt sequences in Kashmir. Another fight sequence was shot in Delhi for 15 days using 39 cars with 3 cameras with a machine called Airramp brought from abroad for jumping scenes. Several years after release, American director Quentin Tarantino acknowledged that the animated violence shown in this film inspired the anime scenes in his Kill Bill films.
The soundtrack was composed by music trio Shankar-Ehsaan-Loy. Tamil lyrics were penned by Vairamuthu and Hindi by Javed Akhtar. The album created a record by selling over 2,00,000 copies (Tamil version) in less than eight hours of its release.
Started on a budget of ₹7 crore, Aalavandhan costs trebled by the time of release The film was released on the Diwali day of 2001. The Hindi version Abhay was bought over in Maharashtra by the reputed Shringar Films. The number of prints in Tamil Nadu had been increased by almost 5 times the average. Both Aalavandhan and Abhay got A certificate from the CBFC. Later, both were re-examined upon request to get a UA certificate.
The film was the top opener of the Deepavali weekend at the box office but was not successful. According to Bollywood Hungama, Abhay collected ₹93.35 lakh at the box Office.
The film received polarizing reviews upon release. Reviewer Prabhu of the Lollu Express said, "The movie is below average and violent movie, which is good for few "A" center moviegoers and it, gets 40/100 only for "KAMAL's" Good acting in few places". Malathi Rangarajan of The Hindu said, "Too much publicity can sometimes affect a film adversely, because of the great expectations triggered. In the case of 'Aalavandhan,' the hype and hoopla built up for months seems justified — to a certain extent". The film won the National Film Award for Best Special Effects at the 49th National Film Awards in 2002.
Contemporary response to this film has become much more lenient, and very positive in social media. The film was shown in the 2016 Fantastic Fest, where it was acclaimed by the American audiences.
Following the film's positive response at the 2016 Fantastic Fest, a digitally restored version was announced.