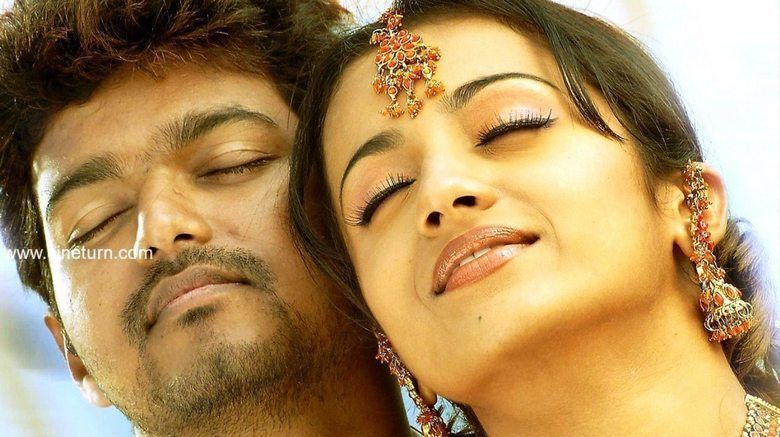 The opening scene shows Anjali (Trisha Krishnan) sitting on a bench feeding a white pigeon by a calm ocean, and a retd. police officer Shankar (Devan) coming and sitting by her side and exchanging pleasantries, and suddenly she whips out a knife and kills him with the help of her maternal uncle Ramachandran (Nassar) saying that she has been waiting for this moment for many years.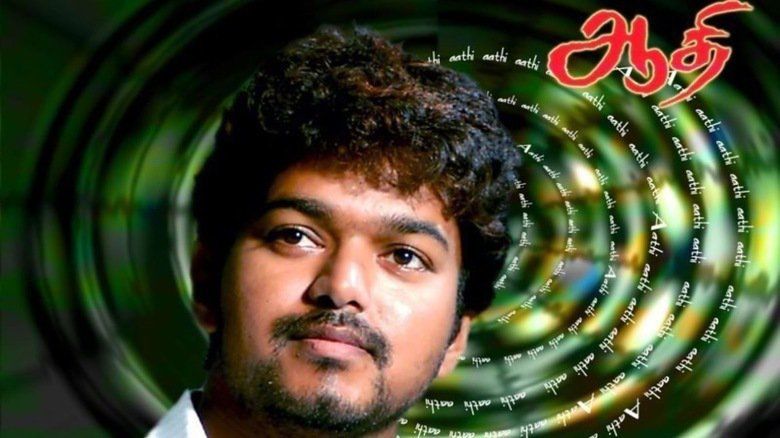 After that, the scene shifts to Aadhi (Vijay) who lives with his foster & loving parents (Manivannan and Seetha) and sister in New Delhi. He takes up a course in a Chennai college against his parents' wishes, while he is actually on mission to eliminate the people behind the murder of his blood family. Unable to be separated from Aadhi, his foster parents and their daughter come to Chennai along with him.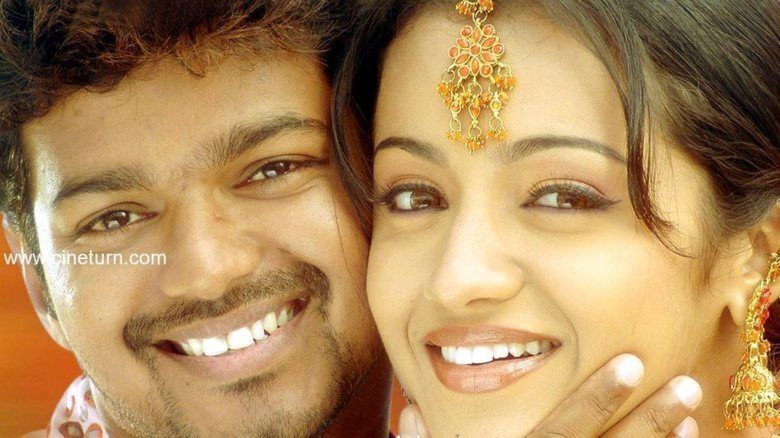 It is revealed that Anjali is studying in the same college as Aadhi and she also has her own agenda to seek revenge on her family's killers, and she is assisted by Ramachandran. Now the villain RDX(Sai Kumar), a local gangster enters and is shown to have a dispute with another person Pattabhi (Rajan P. Dev). To exact their revenge Anjali's uncle attempts to kill one of RDX's henchmen Sada but fails to do so since Aadhi kills him. Naturally RDX assumes that the killer can be none other than Pattabhi and so kills him. However Aadhi arrives on the scene and with help from Bullet (Vivek), threatens RDX telling that he was the one who killed Sada and that he will also kill Abdullah (Adithya Menon). As typical, Abdullah gets angry, and goes to kill Aadhi but fails, and Aadhi kills Abdullah while his foster parents are watching with horror. On being questioned Aadhi tells his story.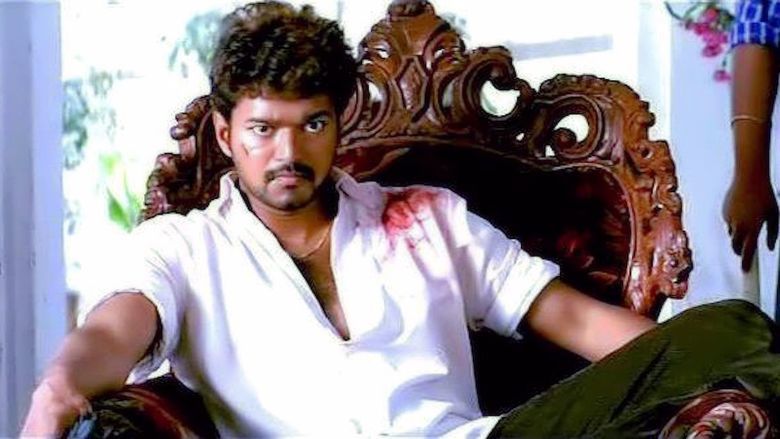 Aadhi's biological father (Prakash Raj) was an honest cop who arrested one of the henchmen of RDX. It is revealed that Anjali and Aadhi are from the same family as Anjali's father (Livingston) is Aadhi's father's brother-in-law. RDX pays Aadhi's house a visit and asks his grandfather to let his henchmen go. When Aadhi's grandfather (Vijayakumar)refuses, RDX threatens them only to find knives held at him by Aadhi and his cousins. Aadhi's father arrives and arrests RDX. Enfuriated, he pays them a visit with some of his henchmen and Shankar. Together, they murder their whole extended family. Only Anjali, her uncle Ramachandran and Aadhi survived the blast that annihilated their family. After the house is blown up by RDX, Aadhi escapes and is taken in by his foster parents.
On finding out his past, Aadhi's foster parents request him to come back but he refuses. He then takes them to the railway station but is nearly ambushed. He succeeds on defeating them and meets RDX and warns him to bring his brother (Subbaraju) from Dubai. Soon he arrives and in revenge kills Anjali's and Aadhi's uncle and challenges Aadhi to meet him at his brother's place. Aadhi comes and after finding out that RDX had Anjali kidnapped, escapes after shooting RDX'S brother. In a thrilling climax Aadhi kills RDX and is shown to be leaving with Anjali, the only one left in his family.
Vijay as Aadhi
Trisha Krishnan as Anjali
Sai Kumar as RDX
Prakash Raj as Aadhi's father
Vivek as Bullet
Subbaraju as RDX's brother
Adithya Menon as Abdullah
Nassar as Ramachandra
Manivannan as Mani
Seetha as Lakshmi
Livingston as Anjali's father
Vijayakumar as Aadhi's grandfather
Malavika Avinash as Ramachandra's Wife
Amritha as Aadhi's mother
Sneha Nambiar as Anjali's mother
Karate Raja
Madhan Bob as Taxi Driver
Raj Kapoor as a corrupt minister
Rajan P. Dev as Pattabhi
Santhana Bharathi as Pottabhi
Dhamu as an auto driver
Five Star Krishna as Aadhi's friend
Devan as Inspector Shankar
Sampath Ram
Nandha Saravanan
Aathi was directed by Ramana, who had teamed up with Vijay earlier for the film Thirumalai. Aathi is the remake of the successful Telugu film, Athathanokkade, which had Kalyanram, grandson of NTR, playing the hero.
Jyothika was the first Choice for the Lead Actress but was later replaced by Trisha. Vijay is paired with Trisha in the Tamil film, this coming after their pairing for Gilli and Thirupachi. The others in the cast are Nasser, Sneha Nambiar, Livinston, Malavika, Rajan P. Dev, Manivannan, Rajkapur, Damu and Sita. Vivek has been roped in for comedy.
A romantic song was illustrated on Vijay and Trisha on a set designed at a cost of Rs 40 lakh. Accompanying them were 50 dancers and a crowd comprising about 75 children and some junior artistes.
The satellite rights of the film were sold to Kalaignar.
Made on a high budget of ₹8 crore, the film received mixed reviews from critics and was flop at box office. Sify stated that "It is only Vijay's strong screen presence that makes Aathi, somewhat credible. At best, this hit-and-run revenge flick adds up to an action feast for the festival audience". Nowrunning rated 2 out of 5 stars and called the film "Though not bracingly pleasurable, the movie is worth for its well etched out dialogues, racy action sequences and Vijay's brisk acting"
The film has five songs composed by Vidyasagar with lyrics by Palani Bharathi, Pa. Vijay & Yugabharathi.
The film includes two more songs not included in the audio soundtrack which are:
"Varran Varran" sung by Tippu
"Iruvar Vazhvum" sung by Karthik & Kalyani Nair