Étienne Brûlé ([etjɛn bʁyle]; c. 1592 – c. June 1633) was the first European explorer to journey beyond the St. Lawrence River in what is today Canada. Taking on the lifestyle of the First Nations peoples, particularly the Hurons, Brûlé became an interpreter and guide for Samuel de Champlain, who later sent Brûlé on a number of exploratory missions. Among his many travels were explorations of Georgian Bay and Lake Huron, as well as the Humber River watershed in today's Toronto. In 1629, during the Anglo-French War, he betrayed his friend and patron. Not long after, Brûlé was killed and eaten by the Bear tribe of the Huron people.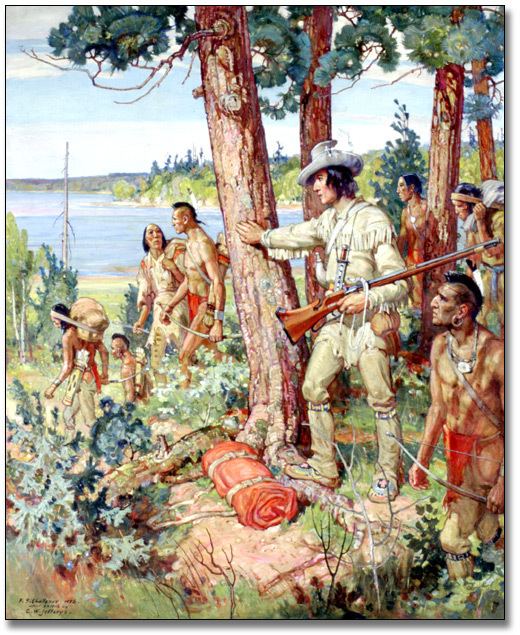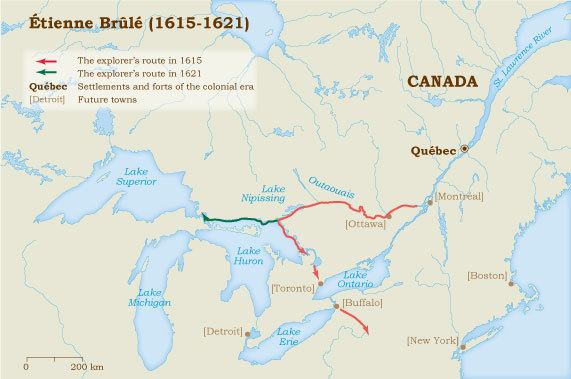 Brûlé was born c. 1592 in Champigny-sur-Marne, France. Brûlé has not left any recollection or description of his early life, his life among the indigenous peoples, or of his expeditions. Therefore, his existence has been viewed through the works of Champlain, Sagard, and Brébeuf.

Champlain wrote of a youth who had been living in New France since 1608, and whom many believe to have been young Brûlé. In June 1610, Brûlé told Champlain that he wished to go and live with the Algonquins and learn their language as well as better understand their customs and habits. Champlain made the arrangement to do so and in return, the chief Iroquet (an Algonquin leader of the Petite nation who wintered his people near Huronia), requested that Champlain take Savignon, a young Huron, with him to teach him the customs and habits of the French. Champlain instructed Brûlé to learn the Huron language, explore the country, establish good relations with all Indian nations, and report back in one year's time with all that he had learned. On June 13, 1611, Champlain returned to visit Brûlé, who astonishingly had done all that Champlain had asked of him. Brûlé was dressed as though he was one of the indigenous people and was extremely pleased with the way he was treated and all that he had learned. Champlain requested that Brûlé continue to live among the Indigenous peoples so that he could fully master everything, and Brûlé agreed.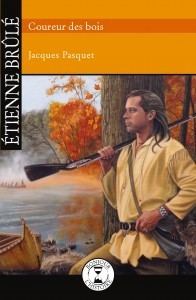 For four years, Champlain had no connection or communication with Brûlé. In 1615, they met again at Huronia. There, Brûlé informed Champlain of his adventures and explorations through North America. Brûlé explained that he was joined by another French interpreter by the name of Grenolle. He reported that they traveled along the north shore of what they called la mer douce (the sweetwater sea), now known as Lake Huron, and went as far as the great rapids of Sault Ste. Marie where Lake Superior enters Lake Huron.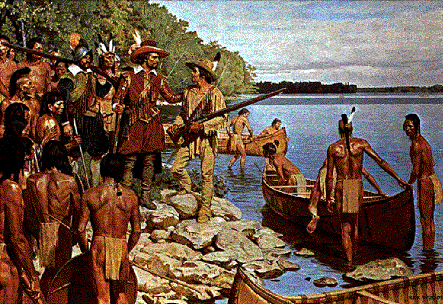 In 1615, Brûlé asked permission from Champlain to join 12 Huron warriors on their mission to see the Andaste (Susquehannock) people, allies of the Hurons, to ask them for their support during an expedition Champlain was planning. Champlain ordered the party to travel west of the Seneca country because they needed to arrive there quickly and the only way to do so was by crossing over enemy territory. This proved to be dangerous but semi-successful for Brûlé did reach the Andastes; however, he arrived at the meeting place Champlain chose two days too late to assist Champlain and the Hurons, who had been defeated by the Iroquois.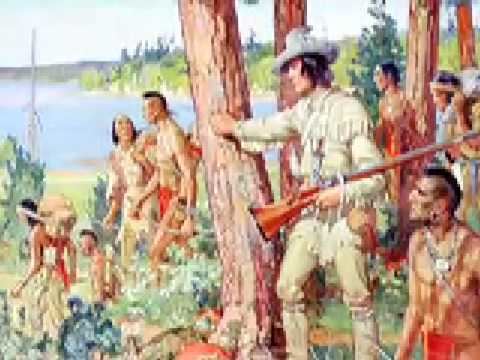 Brûlé probably visited four of the five Great Lakes—Lake Huron, Lake Superior, Lake Erie, Lake Ontario—and may have also seen Lake Michigan. Brûlé was more than likely the first white European to complete these expeditions across North America. In these expeditions he visited places such as the Ottawa River, Mattawa River, Lake Nipissing, and the French River to Georgian Bay. From Georgian Bay, Brûlé was able to cut into Lake Huron. He paddled up the St. Marys River and portaged into Lake Superior. He journeyed through Lake Simcoe and portaged through what is now Toronto to Lake Ontario. From Lake Ontario Brûlé was able to travel in Upstate New York and explore Pennsylvania and cross down the Susquehanna River to Chesapeake Bay. It is also said that it is very probable that Brûlé was one of the first Europeans to stand along the shores of Lake Erie and Lake Michigan. He had spent months visiting indigenous peoples that lived along Lake Erie between the Niagara and Detroit Rivers, but because he left no writings of his own, almost nothing identifiable is known about the tribes he visited, many of which would be obliterated a few decades later in the Beaver Wars (in contrast, Joseph de La Roche Daillon, who conducted a missionary journey among the tribes of Western New York in 1627, kept meticulous notes of his journeys; it is de La Roche's writings that serve as the primary history of pre-Beaver Wars native occupation of Western New York).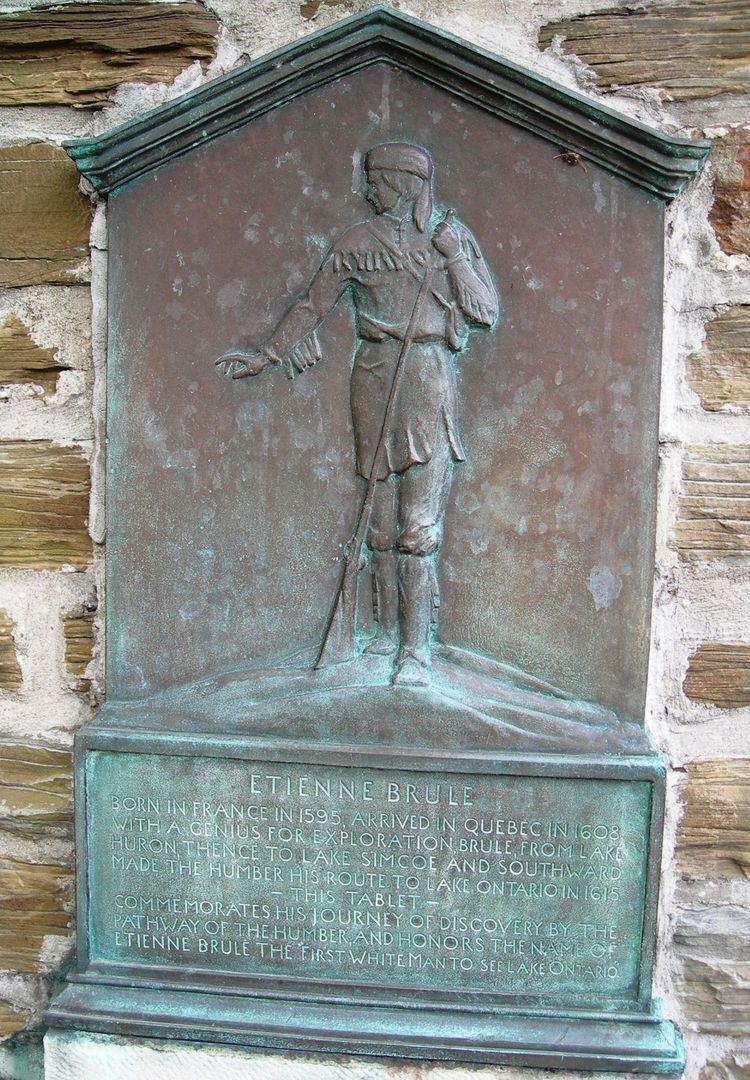 Champlain and the Jesuits often spoke out against Brûlé's adoption of Huron customs, as well as his association with the fur traders, who were beyond the control of the colonial government. Brûlé returned to Quebec in 1618, but Champlain advised him to continue his explorations among the Hurons. Brûlé was later confined in Quebec for a year, where he taught the Jesuits the natives' language.
After 1629, Brûlé continued to live with the natives, acting as an interpreter in their dealings with the French traders. Though the circumstances of his death are unclear, the prevailing view is that he was captured by the Seneca Iroquois in battle and left for dead by his Huron group. He managed to escape death by torture, but when he returned home, the Hurons did not believe his story and suspected him of trading with the Senecas. Treated as an enemy, Brûlé was stabbed to death, his body was dismembered, and his remains were consumed by the villagers in 1633. He died at Toanche, on the Penetanguishene peninsula, Ontario, and was eaten by the Hurons, who interred only those who met death by violence.