6.9

/

10

Alchetron

7.8

Rate This




Genre

Educational




Country of origin

United States




No. of seasons

6




First episode date

9 January 1972




Language

English






Created by

Christopher Sarson




Original language(s)

English




No. of episodes

130




Final episode date

24 March 1978




Network

PBS






Similar

The Electric Company, Peep and the Big Wide World, Arthur (TV series)
ZOOM is a half-hour educational television program, created almost entirely by children, which aired on PBS originally from January 9, 1972 to March 24, 1978. It was produced by WGBH-TV in Boston.
Contents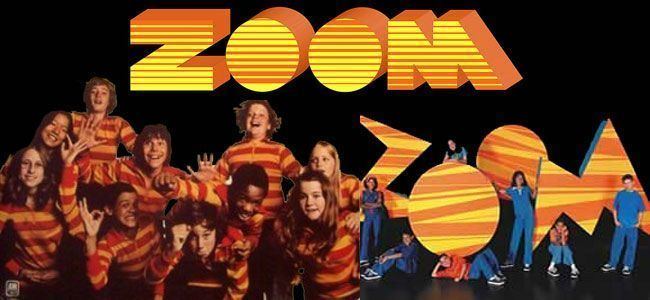 Description
ZOOM encouraged children to "turn off the TV and do it!" On the show, a cast of (usually) seven kids (known as ZOOMers) present or perform various activities such as games, plays, poems, recipes, jokes, songs, movies, science experiments, and informal chats on such subjects such as hospitals, prejudice, etc., all suggested by viewer contributions. These activities were introduced by such titles as ZOOMovie, ZOOM Play of the Week, ZOOMrap (later ZOOMchat), ZOOMgame, ZOOMdo, ZOOMgoody, ZOOMphenomenon, etc.
The mail-in request became a pop culture reference for its music exhortation to "Write ZOOM, Z-Double-O-M, Box 3-5-0, Boston, Mass 0-2-1-3-4: send it to ZOOM!". The line was mostly rapped, but the ZIP code was sung.
The program also had various language games, including Ubbi-Dubbi, where the syllable "ub" was added before each vowel sound in each syllable of each word ("H-ub-i, fr-ub-iends," etc.). A deductive example is "Fannee Doolee," in which a series of absurd statements about the titular character (e.g., "Fannee Doolee likes sweets but hates candy") is presented to the audience without further explanation. Eventually, it is hoped, they will deduce the key: that the character likes any person, place, thing or concept with double letters in it, but hates its non-double-lettered equivalent.
Each show had a "ZOOMguest" sequence, a short film documentary about a child with a special talent for singing, piano-playing, tap-dancing, instrument-making, performing in the Ice Capades, etc. The premiere episode featured a boy building a boat by making a ring of brush and covering it with a tarp.
In the show's first two seasons, Tracy hosted a "Tracy Asks..." sequence in which she asked a question, e.g., "Which came first, the chicken or the egg?" or "What is the world's longest word?", and local children are interviewed to give their answers to the question in a "man on the street" vein. The first season had "quickie" comedy routines modeled on those on Rowan and Martin's Laugh-In.
The performers in the original series were known for wearing striped rugby shirts and jeans and for performing barefoot, although the cast members started performing in shoes from the third season (1973) on.
ZOOM was a new kind of series when it premiered on January 3, 1972. Unlike other children's fare at the time, it was, for the most part, unscripted. Far from seeking to make stars of the child performers, the contracts prohibited them from making any television appearances or doing commercials for three years after they left the show.
ZOOM was intended to inspire children to be active investigators, creators, and problem-solvers as well as introduce them to the principles of ethnic diversity. The show's ZOOMSci segment, for example, featured on the later incarnation, encourages viewers to try the activities shown on ZOOM and to send in their results.
The first ZOOM series lasted six seasons (1972–1978) and featured 49 ZOOMers. During the first three seasons, cast members were transitioned with a catchy production number which introduced the new cast members to the continuing cast members. The same song was used for each transition ("How do ya do do-dee-do, how do ya do-dee-do-dee-do, how's your sister, how's your brother, how are you? (Como esta?)"). In the last three seasons, an entirely new cast was used, usually with no reference to the former cast (i.e., a "cold" transition). Zoom was also presented in most episodes with captions for the hearing impaired before the development of closed-captioning.
Season 1 (1972)
1. Joe Shrand
2. Jon Reuning
3. Nina Lillie
4. Tommy White
5. Kenny Pires
6. Nancy Tates Walker
7. Tracy Tannebring
Season 2 (1972–1973)
Cast 1
1. Kenny Pires
2. Nancy Tates Walker
3. Tracy Tannebring
4. Ann Messer
5. David Alberico
6. Jay Schertzer
7. Maura Mullaney
Cast 2
1. Ann Messer
2. David Alberico
3. Jay Schertzer
4. Maura Mullaney
5. Luiz Gonzales
6. Bernadette Yao
7. Leon Mobley
Cast 3
1. Luiz Gonzales
2. Bernadette Yao
3. Leon Mobley
4. Danny McGrath
5. Edith Mooers
6. Lori Boskin
7. Neal Johnson
Season 3 (1973–1974)
Cast 1
1. Danny McGrath
2. Edith Mooers
3. Lori Boskin
4. Neal Johnson
5. Donna Moore
6. Mike Dean
7. Timmy Pruce
Cast 2
1. Donna Moore
2. Mike Dean
3. Timmy Pruce
4. Hector Dorta
5. Rose Clarkow
6. Shawn Reedmore
7. Danny Malloy
Season 4 (1974–1975)
1. Andrae Wyatt
2. Carmen Hernandez
3. Cate Wadsworth
4. David Azzoto
5. Harvey Reed
6. Norman Christian
7. David "Red" O'Brien
8. Tishy Flaherty
9. Tommy Schultz
10. Tracey Dunlap Delaria
Season 5 (1976)
1. Arcadio Gonzales
2. Chris Blackwell
3. Jennifer Gold Hangley
4. Karen Wing
5. Levell Gethers
6. Nell Cox
7. Ron Richmond
Season 6 (1977–1978)
1. Amy Ross
2. Carolyn Malcolm
3. Chee Kim
4. John Lathan
5. Nicholas Butterworth
6. Shona De Nile
7. Susan Wolf
Some PBS stations continued to broadcast reruns of the series until August 29, 1980.
Merchandise
In 1974, A&M Records released an album of songs from the show titled Come on and ZOOM (LP OCLC 3060311; cassette OCLC 18900529), featuring cast members from the second season. The catalogue number of the album was SP-3402 (213 402 under PolyGram system).
In 1975, the cast members from the first version came out with an album called Playgrounds that was available by mail order.
There were two books published for children that were based on the 1970s ZOOM series:
The ZOOM Catalog (ISBN 0394825322), published by Random House in 1972, was a collection of stories, poems, plays, jokes and activities from the show, featuring the second cast.
Do a ZOOMdo, published by Little Brown in 1975, featured activities from the show
In 1997, WGBH released the video and book set Best of the 70s and ZOOMers Revisited—Where Are They Now? (ISBN 1578072077).
In 2008, WGBH released a two DVD set ZOOM: Back to the '70s. The first DVD was a reissue of Best of the 70s, with extras consisting of behind the scenes stills set to the theme song and a 10 question quiz asking what a few of the cast members are doing today. The second DVD consisted of four episodes from the 1970s series.
References
Zoom (1972 TV series) Wikipedia
(Text) CC BY-SA