Zenobia (also known as Elephants Never Forget (UK) and It's Spring Again) is a 1939 comedy film starring Oliver Hardy, Harry Langdon, Billie Burke, Alice Brady, James Ellison, Jean Parker, June Lang, Stepin Fetchit and Hattie McDaniel. It is one of the few films after the teaming of Laurel and Hardy that features Hardy without Stan Laurel, the result of a contract dispute between Laurel and producer Hal Roach, who maintained separate contracts for each performer, rather than a team contract, which would have offered them more control over their careers. Zenobia was Roach's attempt to create a new comedic pair without Laurel, and a series of films with Hardy and Langdon was planned. The dispute was short-lived, however, and Laurel and Hardy were reunited shortly thereafter.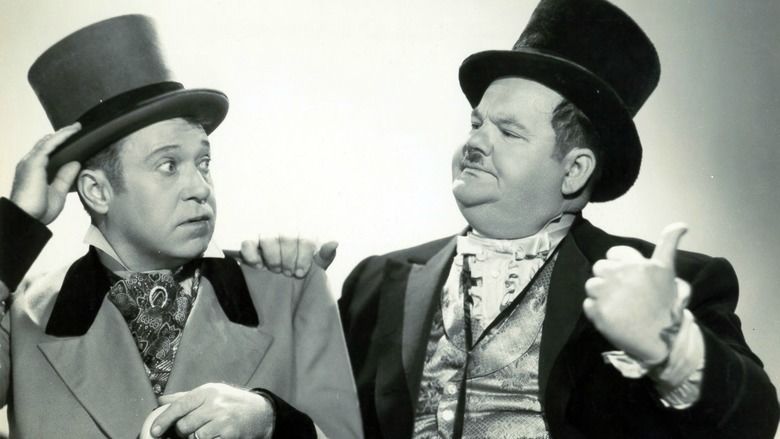 Hardy plays Dr. Henry Tibbett, a country doctor who is called on by a travelling circus trainer to cure his sick elephant. After the doctor heals the grateful beast, the elephant becomes so attached to him that it starts to follow him everywhere. This leads to the trainer suing Dr. Tibbett for alienation of affection.
Oliver Hardy as Dr. Tibbett
Harry Langdon as Prof. McCrackle
Billie Burke as Mrs. Tibbett
Alice Brady as Mrs. Carter
James Ellison as Jeff Carter
Jean Parker as Mary Tibbett
June Lang as Virginia
Olin Howland as Attorney Culpepper
J. Farrell MacDonald as the Judge
Stepin Fetchit as Zero
Hattie McDaniel as Dehlia
Philip Hurlic as Zeke (Declaration of Independence)
Hobart Cavanaugh as Mr. Dover
Clem Bevans as the Sheriff
Tommy Mack as the Butcher
Robert Dudley as the Court Clerk
Zenobia as 'Miss Zenobia' - the Elephant
The Hall Johnson Choir
Oliver Hardy enacted his role in straight comedic leading man fashion, eschewing most of his trademark "Ollie" mannerisms.
The film, itself, enjoyed some success. The reviewer for The New York Times wrote on May 15, 1939, that the film:
"...[was] a rough idea of what would happen to
Gone With the Wind
if Hal Roach had produced it...[it was] an antebellum, costume romance in slapstick...".
Then—playing on the potential for a new comedy team of Hardy and Langdon—the reviewer said:
"...Harry Langdon has adopted the partnership prerequistes formerly reserved for Stan Laurel...Harry Langdon's pale and beautifuly [
sic?
] blank countenance...has probably already excited the professional jealousy of Mr. Laurel..."
When seen today, though, Langdon's role is not so much that of a teammate to Hardy as simply a comic co-star.
The source of the film was the novel Zenobia's Infidelity by H.C. Bunner and was originally purchased by Roach as a vehicle for Roland Young. Other points of interest about Zenobia include the fact that the music was by Marvin Hatley, the composer of "The Cuckoo Song," Laurel and Hardy's famous theme song.