Director

Yahoo Serious


Initial DVD release

February 15, 2005




Country

Australia






Genre

Comedy, History




Duration




Language

English






Release date

December 1988 (Australia)4 August 1989 (1989-08-04) (U.S.)




Writer

David Roach, Yahoo Serious


Music director

Martin Armiger, William Motzing, Iva Davies, Tommy Tycho, Simon Walker, Maurie Sheldon


Cast

Yahoo Serious

(Albert Einstein),

Odile Le Clezio

(Marie Curie),

Peewee Wilson

(Mr. Einstein), Su Cruickshank (Mrs. Einstein), John Howard (Preston Preston),

Christian Manon

(Darwin's Bodyguard)


Similar movies

Joe Bonamassa: An Acoustic Evening at the Vienna Opera House

,

Walk Hard: The Dewey Cox Story

,

Straight Outta Compton

,

Slash: Made in Stoke 24/7/11

,

Evanescence: Anywhere But Home

,

Coldplay: Live 2003




Tagline

E=mc²
Young einstein 1988 movie
Growing up on an apple farm in Tasmania, youthful Albert Einstein (Yahoo Serious) makes various scientific discoveries and winds up in plenty of unusual circumstances, even rescuing kittens from being cooked in a pie. The goofy, shock-haired Albert also develops the theory of relativity and subsequently promotes his revelation in Sydney, where he falls for the lovely Marie Curie (Odile Le Clezio) and somehow manages to invent rock n roll along the way.
Contents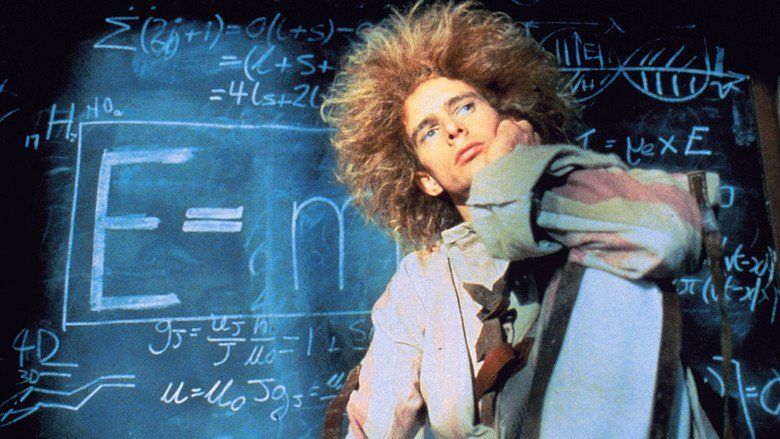 Young Einstein is an Australian comedy film directed by and starring Yahoo Serious, released in 1988. It was based loosely on the life of Albert Einstein, but relocated the theoretical physicist to Australia and had him splitting the atom with a chisel, inventing rock and roll and surfing. Although the film was highly successful in Australia, and won an award from the Australian Film Institute Awards, it was poorly received by critics in America.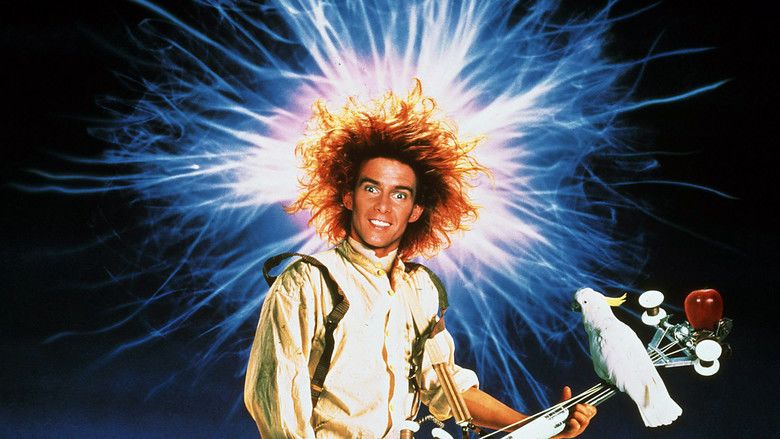 Albert Einstein is the son of a Tasmanian apple farmer, who discovers the secret of splitting the beer atom to put the bubbles back into beer. When Albert travels to Sydney to patent his invention he meets beatuiful French scientist Marie Curie, as well as several unscrupulous types who try to take advantage of the naive genius and his invention.
Plot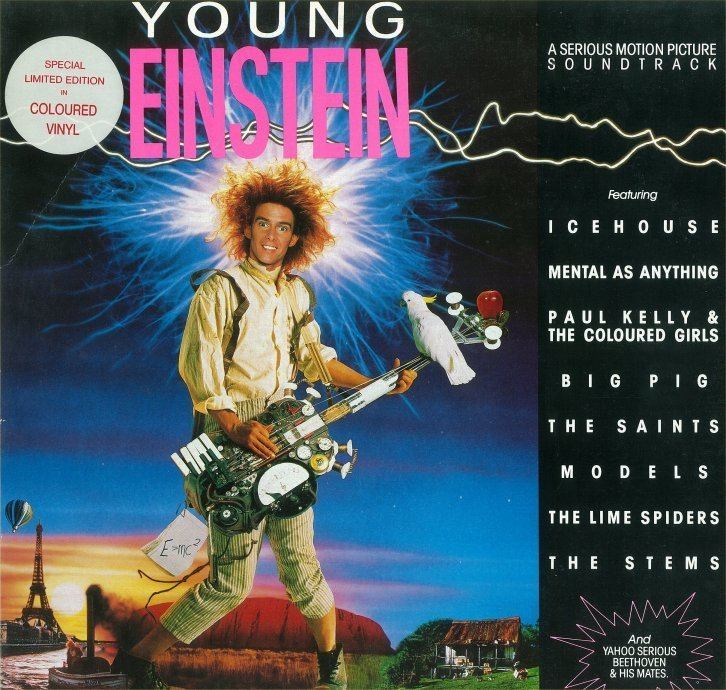 Albert Einstein, the son of an apple farmer in Tasmania in the early 1900s, splits a beer atom with a chisel in order to add bubbles to beer, discovers the theory of relativity and travels to Sydney to patent it. While there, he invents the electric guitar and surfing while romancing Marie Curie. He invents rock and roll and uses it to save the world from being destroyed due to misuse of a nuclear reactor under the watchful eye of Charles Darwin.
Yahoo serious talks young einstein on aca
Cast
Yahoo Serious - Albert Einstein
Odile Le Clezio - Marie Curie
John Howard - Preston Preston
Peewee Wilson - Mr. Einstein
Su Cruickshank - Mrs. Einstein
Lulu Pinkus - The Blonde
Kaarin Fairfax - The Brunette
Michael Lake - Manager
Jonathan Coleman - Wolfgang Bavarian
Johnny McCall - Rudy Bavarian / Tasmanian Devil
Michael Blaxland - Desk Clerk
Ray Fogo - Bright Clerk
Zanzi Mann - Young Kid
Terry Pead - Inventor Couple
Alice Pead - Inventor Couple
Frank McDonald - Nihilist
Basil Clarke - Charles Darwin
Production
Serious first became interested in Albert Einstein when he was travelling down the Amazon River and saw a local wearing a T-shirt with a picture of a physicist on it. The image was that of Einstein sticking out his tongue, taken by photographer Arthur Sasse.
On returning from the Amazon, Serious adapted a previous screenplay called The Great Galute which he had written with David Roach. It was a story about an Australian who invents rock and roll. The two developed The Great Galute into Young Einstein.
The film was created on an extremely low budget, so low that Serious sold his car to generate funds, cameras were borrowed, and his mother cooked for the crew.
Serious managed to get Australian Film Commission support for the movie. By March 1984, an hour of the film had been shot, partly by the AFC and partly by private investment. Serious was then able to pre-sell the film to an American company, Film Accord, for $2 million. This enabled him to raise the films original budget of $2.2 million. The movie started filming again late in 1985 and went for seven weeks, from 23 September, taking place in Newcastle and Wollombi, near Cessnock in the Hunter Valley, with second unit at various locations throughout Australia. A 91 minute version of the film was entered in the 1986 AFI Awards where composer William Motzing won Best Music.
In 1986, Film Accord sued the production to recover its distribution guarantee and the rushes, claiming the film delivered was not the one it had contracted to buy. The dispute was settled out of court.
Serious was unhappy with his first version of the film. Graham Burke from Roadshow saw it and became enthusiastic about its possibilities. Roadshow bought out Film Accord in March 1987, persuaded Warner Bros. to take on the film for international distribution outside Australia, and financed re-shooting, re-editing and re-scoring, resulting in an hour of new material (including a new ending) and new music score (including the addition of songs by bands such as Mental As Anything). This pushed the budget of the film up to $5 million. Warner Bros. contributed A$4 million to the full version of the film, and would go on to spend eight million on marketing the film in the United States alone.
Serious key collaborators in the movie were co-writer David Roach, co-producer Warwick Rodd and associate producer Lulu Pinkus. He has said it helped that they all shared the same vision for the movie which got them through the long production process.
Serious refused to consider making a sequel to the film, as he stated in interviews that he was opposed to them in general.
Critical response
The film overall received mixed to negative reviews in the United States, with Spin describing the release as a "marketing misfire" due to Warner Bros. "PR departments penchant for overkill". Roger Ebert called it a "one-joke movie, and I didnt laugh much the first time." He postulated that the possible lack of appeal to an American audience was because "By moving Einstein to Australia, he was able to set up comic situations that appeal to the vast and inexhaustible fascination the Australians have about their own isolation and gawky charm. But the jokes dont travel very well." He gave the film one star out of a possible four. The reviewers at the Washington Post were unimpressed: Rita Kempley called the film "dumber-than-a-bowling-ball" and questioned its mass appeal; Desson Howe noted that distributor Warner Bros. had made it a "pre-processed legend" regardless of merit. The New York Times was more tempered, noting that though the film was "an uneven series of sketches strung along an extended joke", that the first time director Serious "is a much more adept film maker than his loony plot suggests."
The Los Angeles Times gave a favorable review, saying the film would appeal to younger audiences and that "its just about impossible to dislike a movie in which examples of the heros pacifism include his risking his life to save kitties from being baked to death inside a pie." Neil Jillett of Australias The Age reviewed the film positively, noting that despite some "directorial slackness", the film was "a lively work that is sophisticated and innocent, witty and farcical, satirical and unmalicious, intelligent but not condescending, full of concern with big issues but not arrogantly didactic, thoroughly Australian but not nationalistic." Variety meanwhile thought that the film relied on the performance of Yahoo Serious, who they described "exhibits a brash and confident sense of humor, endearing personality, and a fondness for sight gags."
In the UK, William Russell for the Glasgow Herald described the film as trying "too hard to be funny for its own good." The film currently holds a 35% rating on Rotten Tomatoes based on 31 reviews.
Box office
Young Einstein grossed A$13,383,377 at the box office in Australia. It grossed over US$11 million in its United States theatrical run. On release in Australia, it became the fifth biggest opening in Australian film history behind "Crocodile" Dundee and its sequel, Rocky IV and Fatal Attraction. It grossed A$1.26 million in the opening weekend, despite being released in only three states. It was only the third film of 1988 to break the A$1 million barrier at the Australian box office. Young Einstein became the tenth most successful film released at the Australian box office, after being the second most successful Australian film ever on release after "Crocodile" Dundee.
The film has been released on DVD in region 1. The DVD is available in Australia by LA Entertainment.
Awards and nominations
References
Young Einstein Wikipedia
(Text) CC BY-SA
Young Einstein IMDb
Young Einstein themoviedb.org