Yi Yi (Chinese: 一一; pinyin: Yī Yī; literally: "one one") is a Taiwanese/Japanese film written and directed by Edward Yang. The film's theme centers around the emotional struggles of an engineer named NJ (played by Wu Nien-jen) and the lives of his middle-class Taiwanese family in Taipei (seen through three generations).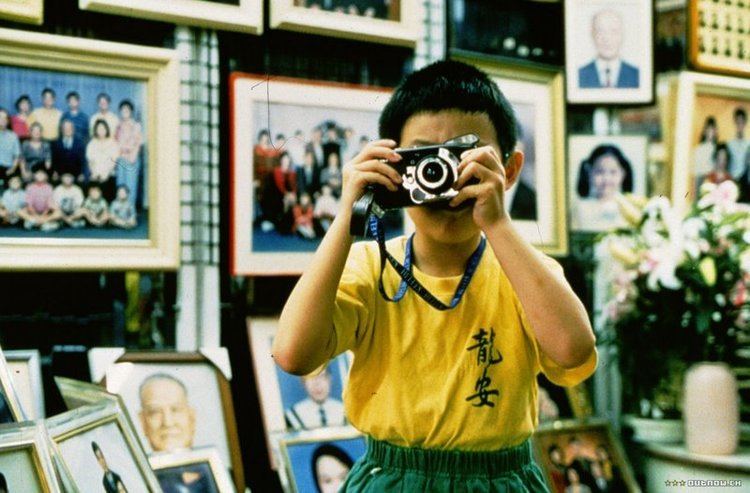 The title in Chinese means "one by one" (meaning "one after another"). When written in vertical alignment, the two strokes resemble the character for "two": (二).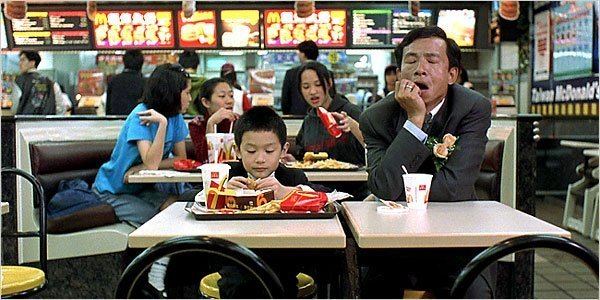 Yi Yi premiered at the 2000 Cannes Film Festival, where Yang won the Best Director Award. It is now generally regarded as one of the major films of the 21st century.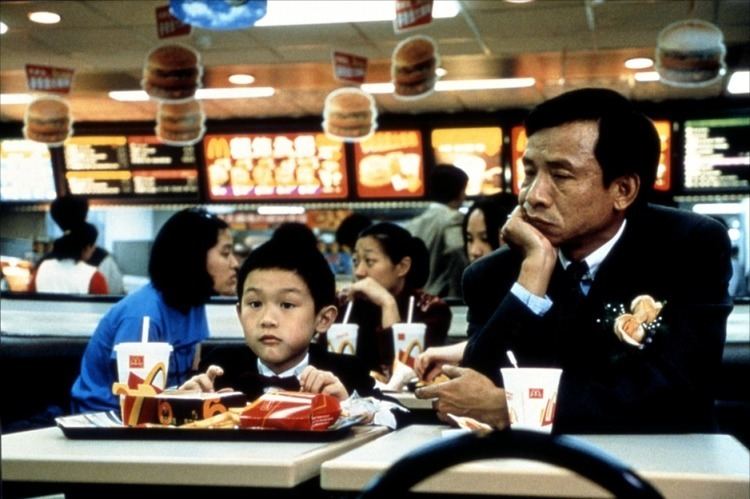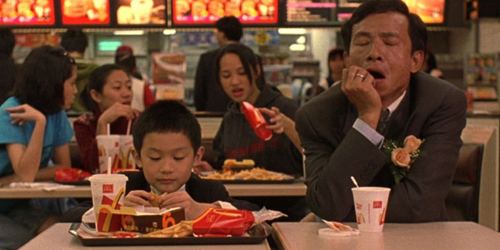 Yi Yi is an epic story about the Taipei Jian family seen through three perspectives: the middle-age father NJ (Wu Nien-jen), the young son Yang-Yang (Jonathan Chang), and the teenage daughter, Ting-Ting (Kelly Lee). The three-hour piece starts with a wedding, concludes with a funeral, and contemplates areas of human life in between.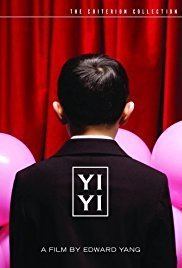 The father, NJ, is unsatisfied with his work and the desire of his business partners to enter into a deal with a well-known Japanese videogame company. While his partners are only concerned about making money, NJ finds that his honest nature is unappreciated in the commercial realm. To his surprise, he finds a connection with the Japanese software mogul, Ota. An old flame, Sherry, tries to walk into his life after a chance reunion.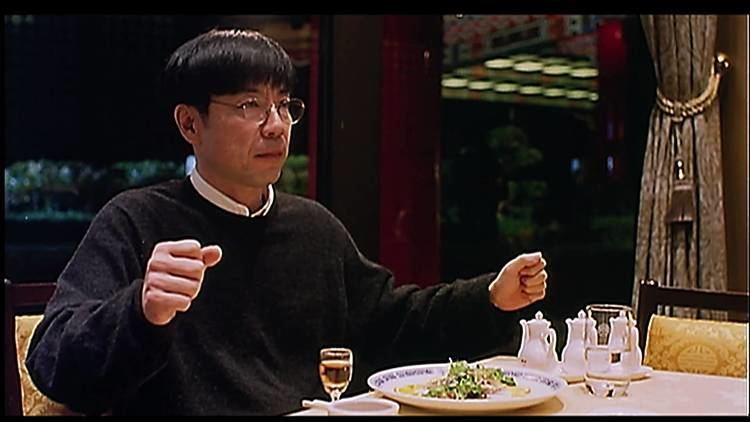 His youngest son has troubles at school with his teachers, while his daughter has to handle a love triangle involving her friend next door and her troubled boyfriend. All three try to deal with their problems while caring for NJ's mother-in-law, who is in a coma, and in the absence of NJ's wife, who has left for a Buddhist retreat after facing a midlife crisis. In addition, A-Di, NJ's overweight brother-in-law who marries a starlet at the start of the film, has to wrestle with his demanding wife and a former love, complicating matters within this extended family.
The other Taiwanese cast members include Elaine Jin as NJ's wife, Min-Min, Su-Yun Ko as NJ's former love Sherry, Hsi-Sheng Chen as A-Di, and Pang Chang Yu as Fatty. The film also stars Japanese comedian Issey Ogata as a Japanese software mogul, Ota.
Director Edward Yang presents Yi Yi as an epic film about the everyday struggles which people have to endure in order to comprehend their human nature. Edward Yang portrays these struggles as internal battles that are waged in a silent but overwhelming fashion, a feature highlighted by the subtle and distant camera work of cinematographer Wei-han Yang. By involving several characters in all the conflicts of the film, Yang is able to illustrate the need humans feel to interact with others so as to reach a deeper and more nuanced level of self-awareness. The characters seem to live under a constant state of angst and despair that some don't hesitate displaying (as Sherry does when she confesses her traumatic love memories to NJ) while others opt to repress it and suffer it alone (Ting-Ting doesn't share with anybody the details of her liaison with her neighbour's ex-boyfriend). As a result, the characters find themselves questioning their milieu and its inhabitants as a way to resolve the quandaries and appease the worries relating to their own bewildering identity. Yang-Yang wanders through his school, NJ doesn't feel at ease at his workplace and puts forward new entrepreneurial plans to make it more exciting, A-Di can't stop wrestling with his new life as a married man, and NJ's wife temporarily gives up on her household to find a promised shelter in a Buddhist retreat. Despite the efforts, none of them obtain the satisfying, definitive answers they were seeking, mainly because reality can never provide satisfying, definitive answers, but only tenuous, open suggestions that are up to each one to interpret, a realization all characters appear to grasp by the end of the film with the notable exception of Ting-Ting's lover who, in a dramatic twist, resorts to murder because he can't bear his own confounding human nature.
Another recurring theme in the film is the towering presence that time exerts upon the daily lives of all the characters. The film focuses on some of the most important stages of life: birth (A-Di's newborn child), sexual awakening (Ting-Ting), graduation (as remembered by NJ and Sherry), marriage (A-Di's wedding, the opening scene), midlife crisis (suffered by NJ's wife) and death (the funeral of the family's grandmother, the final scene). The characters are bound to experience the changes, both positive and negative, that time brings upon them. This exhausting experience is channeled by contemplation (Yang-Yang's noiseless curiosity), confrontation (the heated arguments between the newly weds), evasion (the Buddhist retreat), retrospection (Sherry's painful memories) or experimentation (Ting-Ting's forbidden love).
Time is introduced as such a looming threat that the characters feel compel to explicitly verbalize their frustrations regarding it. Sherry is perhaps the character that better represents the exasperations that the passing of time can induce. In several scenes, she becomes unable to hide her distress and resentment, even though she has managed to conceal it over the years. To directly face the man who is the source of all her sorrows is a task impossible to fulfill in her usually calm, poised behaviour. Weary of pretending she has forgotten him for the sake of her new life in Chicago, Sherry vehemently confronts NJ in search of answers which he can't provide, much to her chagrin. At the end, both characters resume their lives after realizing that dwelling in the past impedes any possibility of real progression.
By contrast, the character of Ota, the eccentric japanese video game mogul, is introduced as a person who has already reached a higher level of self-awareness and is able to enjoy life without feeling the pressure of the inevitability of time. His happy-go-lucky, flippant demeanor serves as a foil to NJ's conventional, lackluster role as a father figure, a contradistinction to which NJ feels strangely drawn to. In one of the most memorable scenes of the film, Ota tells NJ: "Every day in life is a first time. Every morning is new. We never live the same day twice. We're never afraid of getting up every morning". He then asks "Why?". Another significant reference to time is that of Yang-Yang's brief, thoughtful letter to her grandmother which he tenderly reads in the very last scene of the film. Yang-Yang regrets not having talked more to her grandmother while she was in a comma and asserts his wish to become older in order to know "more things" and tell people all those things. He concludes by saying: "Grandma, I miss you. Especially when I see my newborn cousin who still doesn't have a name. He reminds me that you always said you felt old. I want to tell him that I feel I am old, too".
Yi Yi's filming began on April 8, 1999 and lasted until August 21, 1999. Before this, Yang's script had required the children to be ages ten and fifteen, but Yang later found Jonathan Chang and Kelly Lee (who had never acted before). When filming began, they were eight and thirteen years. Yang made amendments to the script accordingly.
Following its debut at the 2000 Cannes Film Festival, Yi Yi has collected a host of awards from prestigious international festivals. Yi Yi garnered director Edward Yang the Best Director at Cannes in 2000 and was nominated for the Palme d'Or in the same year. Yi Yi also won the Karlovy Vary International Film Festival's Netpac Award ("For the perceptive and sensitive portrayal of a generation and cultural gap in Taiwan and the painful choices to be made in these difficult times."), the Vancouver International Film Festival's Chief Dan George Humanitarian Award and tied with Topsy-Turvy to win the 2000 Sarajevo Film Festival's Panorama Jury Award.
It won Best Foreign Film from the French Syndicate of Cinema Critics in 2001, the Grand Prix at the Fribourg International Film Festival in Switzerland in 2001, The Best Foreign Film from the Los Angeles Film Critics Association Awards in 2000, Best Film from the National Society of Film Critics in 2001 (where Yang also won 2nd place for a Best Director Award), and Best Foreign Language Film from the New York Film Critics Circle Awards in 2000. The film was nominated for the prestigious Grand Prix of the Belgian Syndicate of Cinema Critics. The film also won a "Best Film - China/Taiwan" award and "Best Director" award from the 2002 Chinese Film Media Awards, a "Best Film" award at the 2001 Chinese Film Media Awards, It was named one of the best movies of 2001 by many prominent publications and intellectuals, including the New York Times, Newsweek, USA Today the Village Voice, Film Comment, the Chicago Reader, and the author Susan Sontag, among others. Specifically, Yi Yi was named "Best Film of the Year" (2000) by the following film critics and writers: A.O. Scott of The New York Times, Susan Sontag writing for ArtForum, Michael Atkinson of the Village Voice, Steven Rosen of the Denver Post, John Anderson, Jan Stuart and Gene Seymour writing for Newsday, and Stephen Garrett as well as Nicole Keeter of Time Out New York.
The film also won 2nd place for Best Director, Best Film and Best Foreign Language Film in the 2000 Boston Society of Film Critics Awards, and was also nominated for: a Best Foreign Language Film award from the Awards Circuit Community Awards, a Best Non-American Film award from the 2003 Bodil Awards, a Best Foreign Language Film award from the 2001 Chicago Film Critics Association Awards, the Best Cast, a Best Foreign Film award from the 2001 Cesar Awards, a Screen International Award from the 2000 European Film Awards, a Best Asian Film award from the 2002 Hong Kong Film Awards, a Best Foreign Language Film award from the Online Film & Television Association, a Best Foreign Language Film award from the 2001 Online Film Critics Society Awards, and a Golden Spike award from the 2000 Valladolid International Film Festival.
In 2002, Yi Yi was selected by the British film magazine Sight & Sound as one of the ten greatest films of the past 25 years.
Yi Yi also placed third in a 2009 Village Voice Film Poll ranking "The Best Film of the Decade," tying with La Commune (Paris, 1871) (2000) and Zodiac (2007), and also placed third in a 2009 IndieWire Critics' Poll of the "Best Film of the Decade." The film was summarized by film critic Nigel Andrews, who stated in the Financial Times that "[t]o describe [Yi Yi] as a three-hour Taiwanese family drama is like calling Citizen Kane a film about a newspaper."
Aggregation site They Shoot Pictures, Don't They has named it as the third most acclaimed film of the 21st century among critics. It also received 20 total votes in the 2012 Sight & Sound polls, and was ranked the eighth greatest film of the 21st century in a 2016 BBC poll.
The film is also currently available on The Criterion Collection as a "Director-approved Special Edition", and features a newly restored digital transfer a long with a DTS-HD Master Audio soundtrack (on the Blu-ray), audio commentary from Yang and Asian film critic Tony Rayns,a taped interview with film critics Rayns about Yang and the New Taiwanese Cinema movement, the U.S. theatrical trailer, an original English subtitle translation by Yang and Rayns, and an essay by writer Kent Jones as well as notes from Yang himself.
The piano pieces in Yi Yi's soundtrack are mostly performed by Kaili Peng, Yang's wife. They include well-known pieces like Beethoven's Moonlight Sonata and J.S. Bach's Toccata in E minor (BWV 914). Peng has a small cameo in the film as a concert cellist, playing the Beethoven's Cello sonata No. 1 with her husband posing as a pianist.