Yeh Dillagi (English: This Romance) is a 1994 Indian Hindi romantic film, produced by Yash Chopra and directed by Naresh Malhotra under the banner of Yash Raj Films. It stars Akshay Kumar, Saif Ali Khan and Kajol. Karisma Kapoor has a special appearance. It was the sixth highest-grossing film of 1994. Akshay Kumar was nominated as Best Actor and Kajol for Best Actress at the Filmfare Awards. This was the first of several films in which Akshay Kumar and Saif Ali Khan acted together.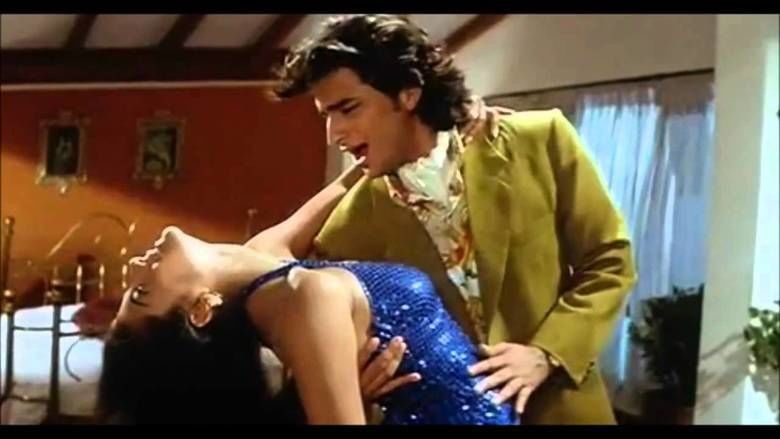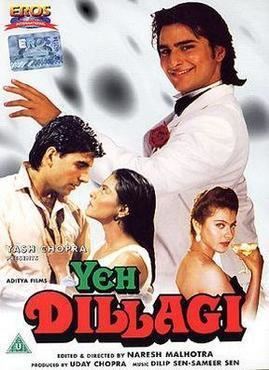 Sapna (Kajol), the daughter of the Saigal family's driver, is a simple fun-loving girl, but she dreams about riches.
Vijay (Akshay Kumar) and Vicky Saigal (Saif Ali Khan) are both heirs to Saigal Industries. Vijay spends all his time working and Vicky is a flirt. Vicky notices Sapna when she becomes a successful model. But Sapna's success does not change the fact that she is a driver's daughter. Mrs. Shanti Devi, Vijay and Vicky's mother, may overlook her son's affairs with rich girls but not with a driver's daughter. As Vijay tries to help, he finds himself falling in love with Sapna, too. Before it's too late, Sapna falls in love with him, too, and the pair decide to get married.
On Vicky's birthday, Vijay comes back with Sapna and sees his brother has changed. The man who used to be a flirt now doesn't drink liquor, smoke cigarettes, or flirt with girls. The only one he sees is Sapna. The boys talk: both want to marry Sapna. Vicky mistakenly thinks that his brother supports his pursuit of Sapna.
One afternoon, Vicky goes out for lunch with Vijay and Sapna. In the middle of their journey, they have a flat tire, and Vijay tries to fix it. Instead, the jackbox breaks and Vicky offers to get it from a garage. Sapna realizes that Vicky wants to marry her at that point and starts to cry, so Vijay tries to calm her down by giving her a hug. Just then, Vicky arrives and realises that there is a connection between his brother and Sapna. He returns home drunk. Their mother has had enough and tells Sapna's father to tell her to go back to Bombay or get fired.
Sapna storms off with her dad to the train station. Vicky threatens to commit suicide if his mother does not accept Sapna as her daughter-in-law; his mother accepts. Sapna returns and Vicky sacrifices his love for his brother. Vicky is seen driving and comes across a girl (Karisma Kapoor). He instantly falls for her.
Akshay Kumar as Vijay Saigal
Saif Ali Khan as Vicky Saigal
Kajol as Sapna Bannerjee alias Sapna
Reema Lagoo as Shanti Saigal
Saeed Jaffrey: Bhanupratap Saigal
Deven Verma: Gurdas Bannerjee
Karisma Kapoor: Special appearance
Pankaj Udhas: Special appearance as himself in song "main deewana hoon"
The film's soundtrack album contains seven songs composed by Dilip Sen-Sameer Sen with lyrics by Sameer. The song "Ole Ole" sung by Abhijeet was a hit. The other artists who contributed in this album are Lata Mangeshkar, Kumar Sanu, Pankaj Udhas and Udit Narayan.
Nominations
Best Actor – Akshay Kumar
Best Actress - Kajol
Best Music Director – Dilip Sen-Sameer Sen
Best Male Singer – Abhijeet for the song "Ole Ole"