Designer

Alexander Sergeyevich Yakovlev
The Yakovlev Yak-26 was a tactical supersonic bomber version of the Soviet Yakovlev Yak-27 (NATO reporting name 'Flashlight') developed in 1956.
Contents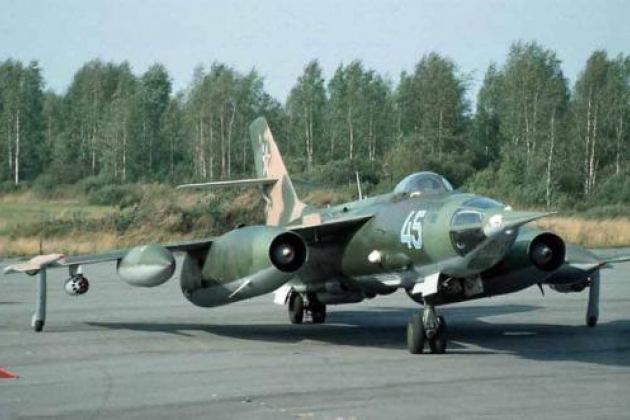 The Yak-26 was developed from the Yak-25, along with the Yak-27 family of interceptor fighter and reconnaissance aircraft. The main goal was to increase the speed to supersonic. Although it kept the Yak-25's layout, it had a more streamlined and longer fuselage with a glazed nose for a navigator/bombardier, replacing the Yak-25's radome, modified wings and stronger engines. The Nudelman N-37 cannon was replaced with four NR-23 23 mm weapons (two in the tail), and an internal weapons bay was added for 1,000 kg (2,205 lb) of bombs, including the nuclear bomb Tatyana. Additional bombs could be carried on underwing pylons.

Although flown at the Tushino air show on 24 June 1956, only ten were produced, and the type did not enter service.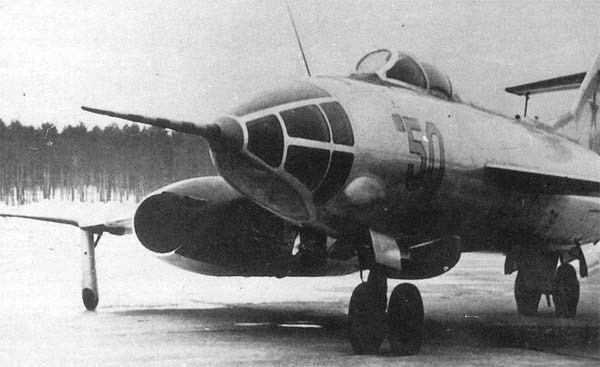 Operators
Soviet Air Force
Specifications (Yak-26)
General characteristics

Crew: two, pilot and bombardier
Length: 17.16 m (56 ft 3 in)
Wingspan: 10.96 m (35 ft 11 in)
Height: m (ft)
Wing area: 29 m² (312 ft²)
Empty weight: kg (lb)
Loaded weight: 11,200 kg (24,684 lb)
Max. takeoff weight: kg (lb)
Powerplant: 2 × Tumansky RD-9F , 19.6 kN (4,400 lbf) each
Performance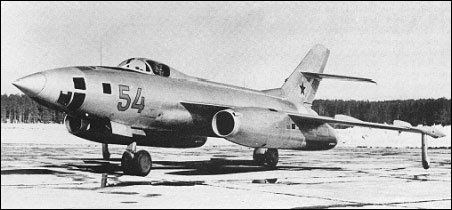 Maximum speed: 1,200 km/h (750 mph)
Range: 2,200 km (1,375 miles)
Service ceiling: 16,000 m (52,480 ft)
Rate of climb: m/s (ft/min)
Wing loading: 386 kg/m² (79 lb/ft²)
Thrust/weight: 0.36
Armament

4 x 23 mm Nudelman NR-23 cannon with 1,200 rounds
Bombs in internal bay
Underwing hardpoints

References
Yakovlev Yak-26 Wikipedia
(Text) CC BY-SA